Ve středu 20. 2. 2019 proběhl v areálu Pragovky v Praze slavnostní galavečer Zlatý volant, během kterého bylo udělováno několik cen v různých kategoriích. Cenu Zlatá řídítka za loňskou sezónu získal Jakub Kornfeil.
Zdroj: vlastní, tisková zpráva Foto: vlastní, Jakub Kornfeil
Anketa Zlatý Volant je nejstarší českou anketou v oblasti motorsportu, když byla založena už v roce 1976. Letos byl vyhlášen 42. ročník. I přes to, že jde hlavně o udělování cen automobilovým jezdcům, jednou z kategorií jsou také Zlatá řídítka, kde se oceňuje nejlepší motocyklový jezdec.
Slavnostního večera se zúčastnil také Alex Barros, bývalý závodník MotoGP a vítěz několika Velkých cen. Brazilský závodník převzal cenu Zlatá řídítka za celosvětový přínos motorsportu.
"Jsem potěšen, že jsem tady. Děkuji za pozvání. Je to pro mě poprvé, co jsem v takové roli. Je to pro mě čest, hlavně takhle daleko od mého domova," pověděl Alex Barros při přebírání ceny.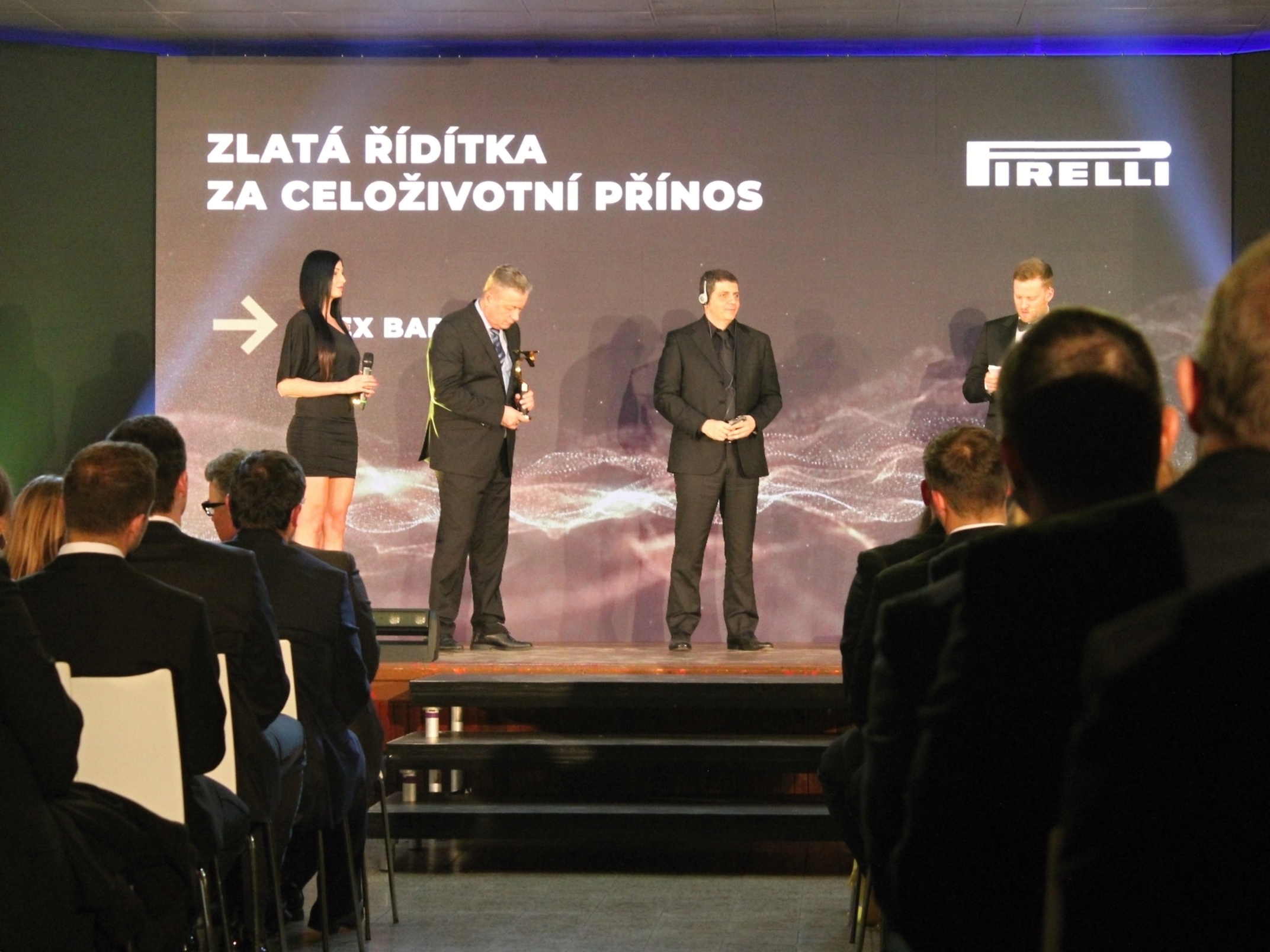 Následně byla vyhodnocena kategorie Zlatá řídítka. Do ní byli zahrnuti motocykloví závodníci bez ohledu na třídu, ve které závodí. Do finálové trojice se dostali Karel Abraham, Jakub Kornfeil a Libor Podmol. Vítězem se nakonec stal Jakub Kornfeil, který v loňském roce obsadil celkové 8. místo ve třídě Moto3 v mistrovství světa silničních motocyklů a zazářil hlavně při domácí GP, kde startoval z první pozice a v závodě skončil na stupních vítězů. Druhé místo v anketě získal Libor Podmol a třetí Karel Abraham.
Jakub Kornfeil se předávání nemohl zúčastnit, kvůli testům v Jerezu ve Španělsku. Proto poslal krátké video. "Všechny moc zdravím do Prahy na předávání cen ankety Zlatý volant a Zlatá řídítka. Já jsem právě v boxu našeho týmu v Jerezu, kde nás s Filipem Salačem čeká první ostrý zimní test před sezónou. Všem chci popřát hodně štěstí a zdraví do sezóny, také hodně úspěchu a abyste si užili slavnostní udílení cen."
Cenu za něj proto převzal jeho otec, který byl dotazován na to, zda s ním jezdí na závody a zda se o něho pořád bojí. "S Kubou jsem dříve jezdil na všechny závody, asi prvních šest nebo sedm sezón v mistrovství světa. Nyní mi to práce nedovoluje, tak už jezdím jen na dva až tři závody do roka. Samozřejmě, že o něj mám strach, když sedá na motorku. Je úplně jedno, když mu bylo 6 let nebo 25 let. Děkujeme všem."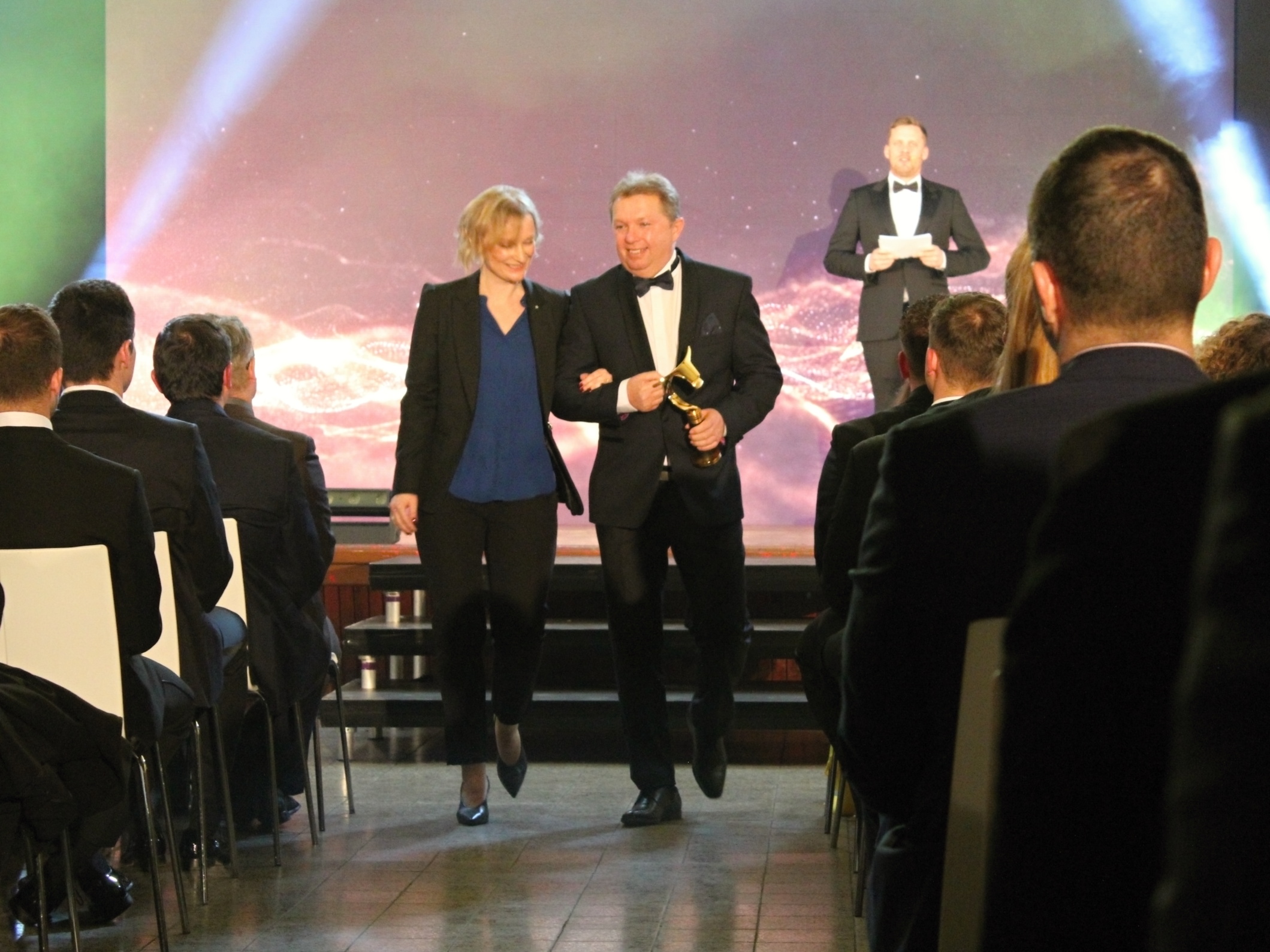 V kategorii Talent roku skončil mezi nejlepší trojící Filip Salač. V kategorii Motoristická událost roku soutěžila mimo jiné Grand Prix České Republiky, která se také dostala do Top3. Motorkou roku se v rámci této ankety stala BMW R1250 RT. Cenu Elišky Junkové nakonec získala Olga Roučková jako první Češka, která dokončila rallye Dakar. Na třetím místě končila Gabriela Novotná, motocyklová závodnice také z Dakaru. Jednou z kategorií je také cena Zlaté oko, kde se oceňuje nejlepší fotografie roku. Tu vyhrál Jiří Křenek z fotografií "Rozloučení Fernanda Alonsa s Formulí jedna," zachycující nehodu Fernanda Alonsa v první zatáčce belgického okruhu Spa-Francorchamps v srpnu 2018. Do soutěže se přihlásilo téměř 200 snímků od 68 fotografů.
Kompletní výsledky ankety:
Autokros a rallycross: Petr Nikodém, Václav Fejfar, Jakub Kubíček
Závod do vrchu: Lukáš Vojáček, Vladimír Vitver, Václav Janík
Motokáry: Patrik Hájek, Adam Kout, Roman Staněk
Závody na okruzích: Adam Lacko, Josef Král, Filip Salaquarda
Rally a maratony: Jan Kopecký (také absolutní vítěz), Martin Prokop, Martin Macík
Zlatá řídítka: Jakub Kornfeil, Libor Podmol, Karel Abraham
Cena Elišky Junkové: Olga Roučková, Sandra Pokorná, Gabriela Novotná
Talent roku: Petr Semerád, Petr Ptáček Jr., Filip Salač
Zlaté Oko: Jiří Křenek
Sportovní auto roku: Subaru BRZ
Motoristická událost roku: Barum Czech Rally Zlín
Motorka roku: BMW R1250 RT
ECOCAR: SUV Mitsubishi Outlander PHEV
Osobnosti: Ralf Schumacher (Zlatý volant za celoživotní přínos motorsportu), Alex Barros (Zlatá řídítka za celoživotní přínos motorsportu), Gabriele Tarquini (čestné ocenění Osobnost světového motorsportu)
Zlatá linie: cena za design – Karl Clauss Dietel