Mistrovství světa Superbiků tento víkend pokračovalo závody ve francouzském Magny-Cours. Zde se tentokrát český ACCR Czech Talent Team – Willi Race představil v jiném složení a jak víkend hodnotí?
Zdroj: TZ, Foto: Václav Duška Jr.
Mistrovství světa Superbiků tento víkend zavítalo na francouzský okruh Magny-Cours. Podmínky byly pro jezdce náročné, když se střídalo počasí, nicméně i tak se s tím český ACCR Czech Talent Team – Willi Race snažil vypořádat co nejlépe. Závodů se tentokrát nemohl zúčastnit Oliver König, který sice do Francie odcestoval, ale lékaři ho na motorku nepustili. V sedle ho vystřídal britský závodník Taylor Moreton. Na trati byli také Vojtěch Schwarz a Miloslav Hřava. I přes veškerou snahu se ani jeden do hlavního nedělního závodu nedostal.
Vojtěch Schwarz
"Víkend bych shrnul tak, že bych se chtěl omluvit týmu za výsledek. Po poslední zkušenosti z vody jsem se necítil vůbec dobře a také to tak vypadalo. Nevím, co k tomu říct víc, tohle se mi nikdy nastalo. Jinak chci za celou sezónu poděkovat svým sponzorům a partnerům, kteří mě celý rok provázeli. Byla to pro mě sezóna, která byla hodně složitá a také dost tvrdá. Nasbíral jsem mnoho zkušeností, které mi už nikdo nikdy nevezme. Ještě jednou bych chtěl poděkovat mé rodině a týmu, jmenovitě: Kubovi, Tomášovi, Vencovi, Míšovi, Mílovi, Pepovi, Joe, Oliverovi, Mílovi jr. a Evě za celou sezónu."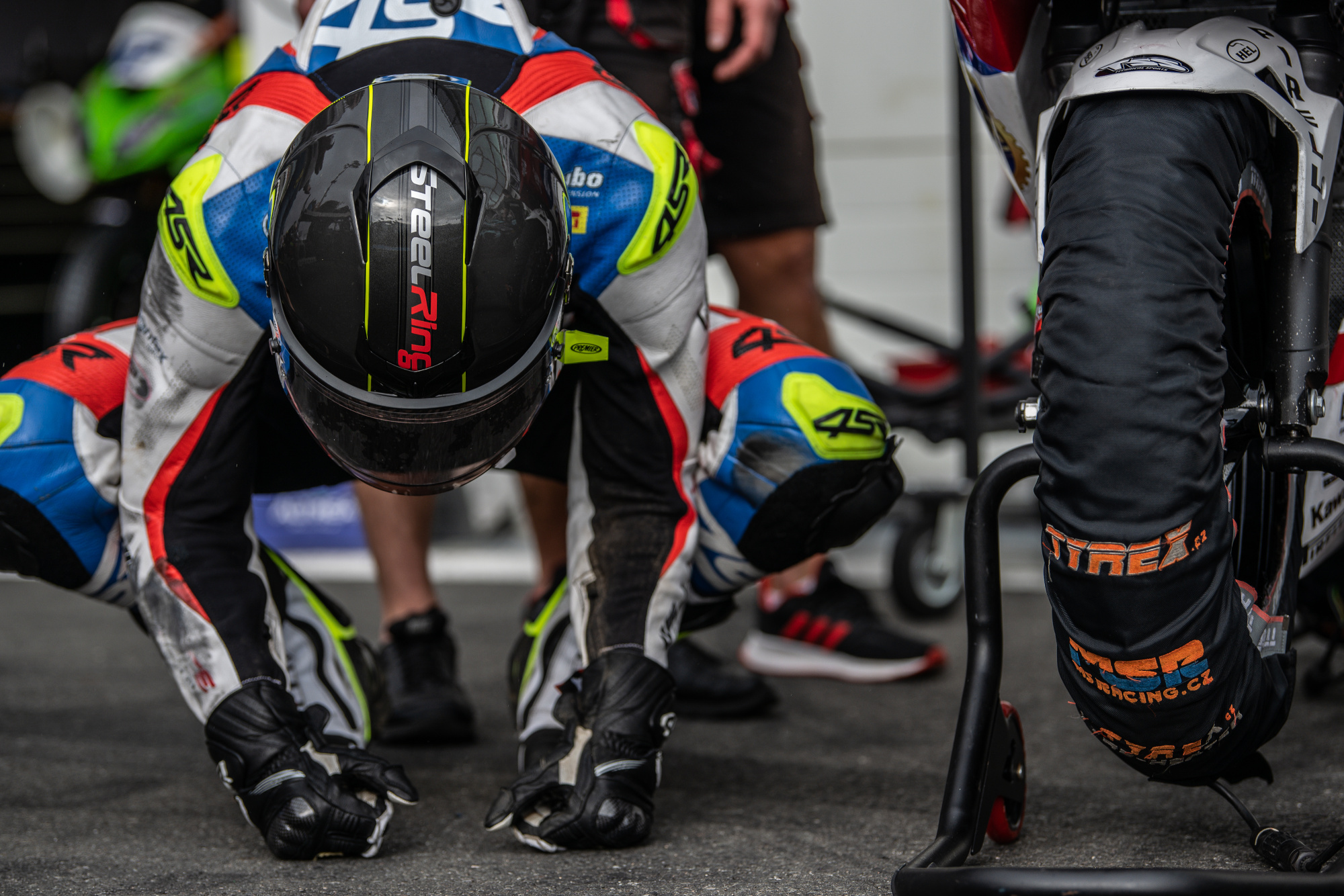 Miloslav Hřava
"Tento víkend probíhal lépe, než jsem očekával. V pátečním prvním tréninku jsem jel na suchu a poznával trať. Ve druhém tréninku jsem jel poprvé v životě na vodě na velké motorce, takže jsem si to hlavně zkoušel. V sobotním ranním tréninku jsem jel znovu na suchu, takže bylo náročné zvolit nastavení pro kvalifikaci. Kvalifikace se jela na vodě a moc se mi to nepovedlo. V závodě Last Chance jsem dojel jedenáctý, což není tak špatný výsledek. Děkuji týmu za podporu."
Taylor Moreton
"Nejprve chci moc poděkovat všem, kteří mi umožnili se sem dostat, hlavně klukům z PR Racing a Kubovi Smržovi. Byla to úžasná příležitost a jsem opravdu rád za tuto zkušenost. V pátek to začalo opravdu dobře, když jsem po odjetých pěti kolech na suché trati skončil čtrnáctý. Během tréninku začalo pršet a podařilo se nám zajet tři měřená kola na mokru. Ve druhém volném tréninku jsem se na mokru cítil okamžitě dobře, takže jsem byl připraven na to tlačit. Bohužel se mi zavřel předek v první zatáčce a tím pro mě trénink skončil. V sobotu ráno jsme měli třetí volný trénink a bylo sucho. Podařilo se nám zlepšit časy na kolo o dvě vteřiny. Věděli jsme o dvou místech, kde zlepšit nastavení a na základě analýzy dat jsme provedli nějaké změny do kvalifikace. Do kvalifikace se drasticky změnilo počasí a bylo mokro. Skončil jsem na 25. místě, takže jsem musel nastoupit do závodu Last Chance. V závodě se mi podařilo z 25. místa na startovním roštu dojet desátý v boji o šest míst. Opět jsem zlepšil čas na kolo o tři vteřiny na 1:57,9. Bohužel jsme se nedostali do hlavního nedělního závodu, ale dali jsme do toho všechno. Chválím práci mých týmových kolegů a také přeji Oliverovi rychlé uzdravení! Tým během celého víkendu odváděl fantastickou práci. Je to opravdu profesionální tým se skvělým výhledem do budoucna. Přeji týmu jen to nejlepší ve zbytku sezóny a v příštím roce!"
Jakub Smrž – manažer týmu
"Pro tým to nebyl nejlepší víkend. Ani jeden z jezdců se nedostal do nedělního závodu. Oliver se bohužel zranil při soukromém testování a i když dorazil do Magny Cours, doktoři ho nenechali jet. Celý víkend se měnilo počasí a ani jednomu z kluků se nepovedla kvalifikace a Vojta nesplnil kvalifikační limit, takže nejel ani Last Chance Race. Míla i Taylor zajeli výborný Last Chance závod a i když se nedostali do hlavního závodu, jeli perfektně. Ani jeden nebyl daleko od postupu a to Mílovi je 15 let, je to jeho druhý víkend ve světě a Taylor před závodem odjel na naši motorce na suchu jen pár kol.
"Chtěl bych poděkovat celému týmu za perfektní práci. Byla to pro nás první sezóna a jsem hrdý na to, jakou jsme dali dohromady partu. Nestalo se nám, že by motorka nedojela kvůli technickému problému a i po pádu vždy vyjela na trať jako nová. Zároveň bych chtěl poděkovat Oliverovi, Vojtovi, Mílovi a Taylorovi, protože i když by si někdo mohl myslet, že měli mít lepší výsledky, dali do každé jízdy maximum. Závodili s nejlepšími jezdci na světě v této kategorii a rozhodně neudělali ostudu!"
#WorldSSP300 #FRAWorldSBK #WorldSBK
Sledujte ACCR Czech Talent Team – Willi Race na sociálních sítích:
Facebook: https://www.facebook.com/CzechTalentTeam/
Instagram: https://www.instagram.com/accr_czech_talent_willi_race/