Zdroj: TZ, foto: Václav Duška Jr.
Závěr letošní sezóny českého týmu ACCR Czech Talent Teamu – Willi Race a Smrz Racing – Willi Race je hlavně o shánění náhradních jezdců. Jakubovi Smržovi se daří vždy najít adekvátní náhradu a ne jinak tomu bylo i při závodech ve Francii. Na okruh Magny-Cours nemohl dojet ani jeden ze stálých jezdců, tak se v barvách týmu představili Lukáš Simon (náhradník za Matyáše Červenku) a závodnice Sharni Pinfold z Austrálie (náhrada za Alexe Carriona). Motocykl Míly Hřavy zůstal neobsazen.
Lukáš Simon při své premiéře v Mistrovství světa zapůsobil, když se kvalifikoval do hlavních závodů a startoval z 27. místa. V prvním závodě dojel na 17. místě a ve druhém na 22. místě, takže za sebou nechal spoustu soupeřů. Sharni Pinfold nastoupila do závodu Last Chance Race, který kvůli pádu ve 13. zatáčce nedokončila a zlomila si klíční kost. Počasí závodům vůbec nepřálo, když celý víkend pršelo a teploty vzduchu se pohybovaly jen kolem 13°C.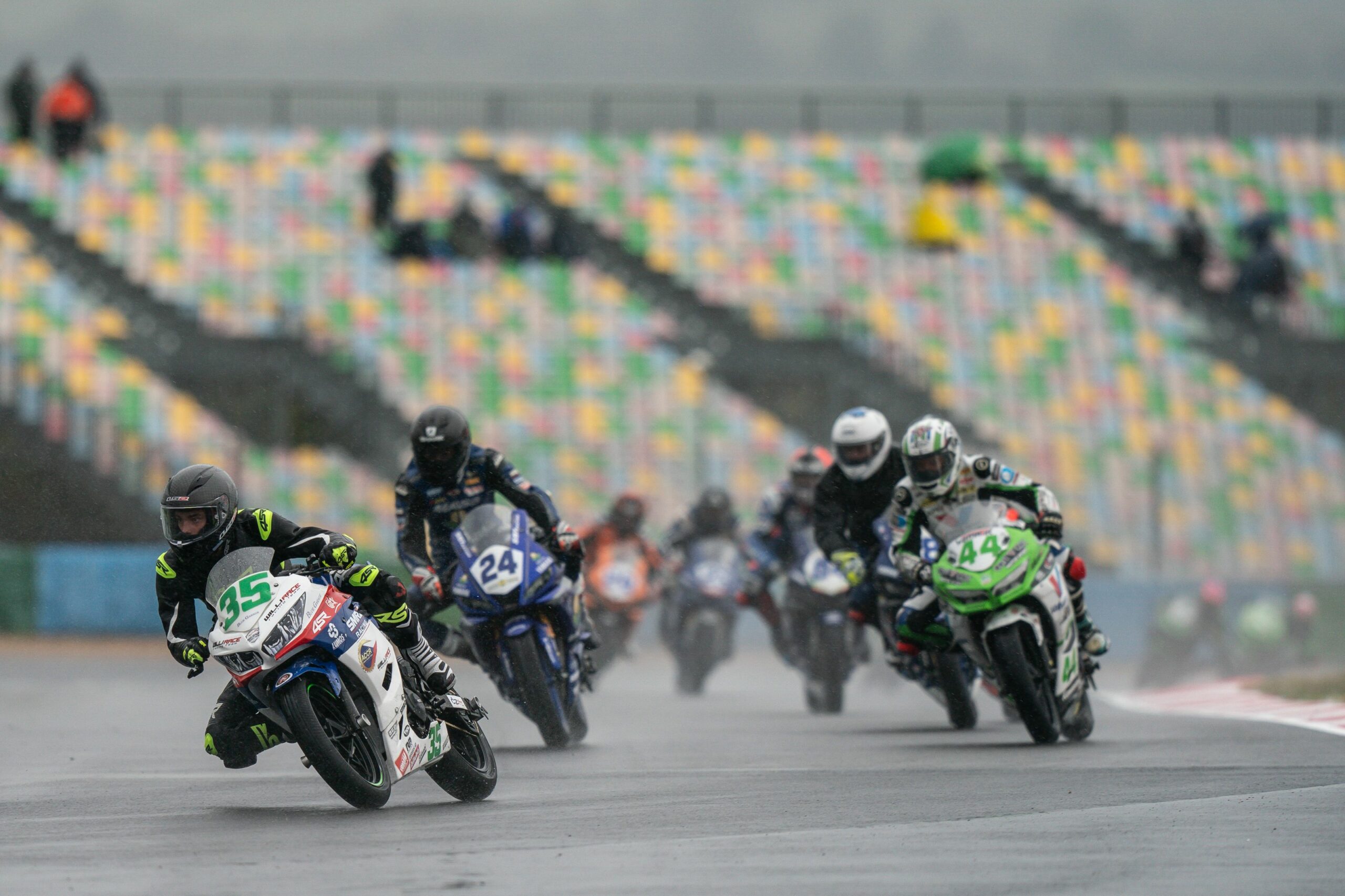 #35 Lukáš Simon
"Tento víkend pro mě nebyl vůbec jednoduchý, protože jsem nikdy na Kawasaki nejel. Na motorku jsem si proto zvykal hlavně během prvních dvou tréninků. Motorka mi sedla dobře a ve třetím volném tréninku se mi podařilo zajet dobrý čas. Díky tomu jsem se dostal rovnou do závodu. V kvalifikaci jsem měl menší pád, takže jsem na startu stál na 27. místě. I přes to jsem se dokázal propracovat v prvním závodě na 17. místo. Ve druhém závodě se jelo na osychající trati, takže jsme museli nastavit podvozek na sucho, ale pneumatiky jsme měli pořád mokré. Tento závod jsem dokončil na 22. místě. Chci poděkovat týmu za skvělou práci a za možnost účasti v Mistrovství světa."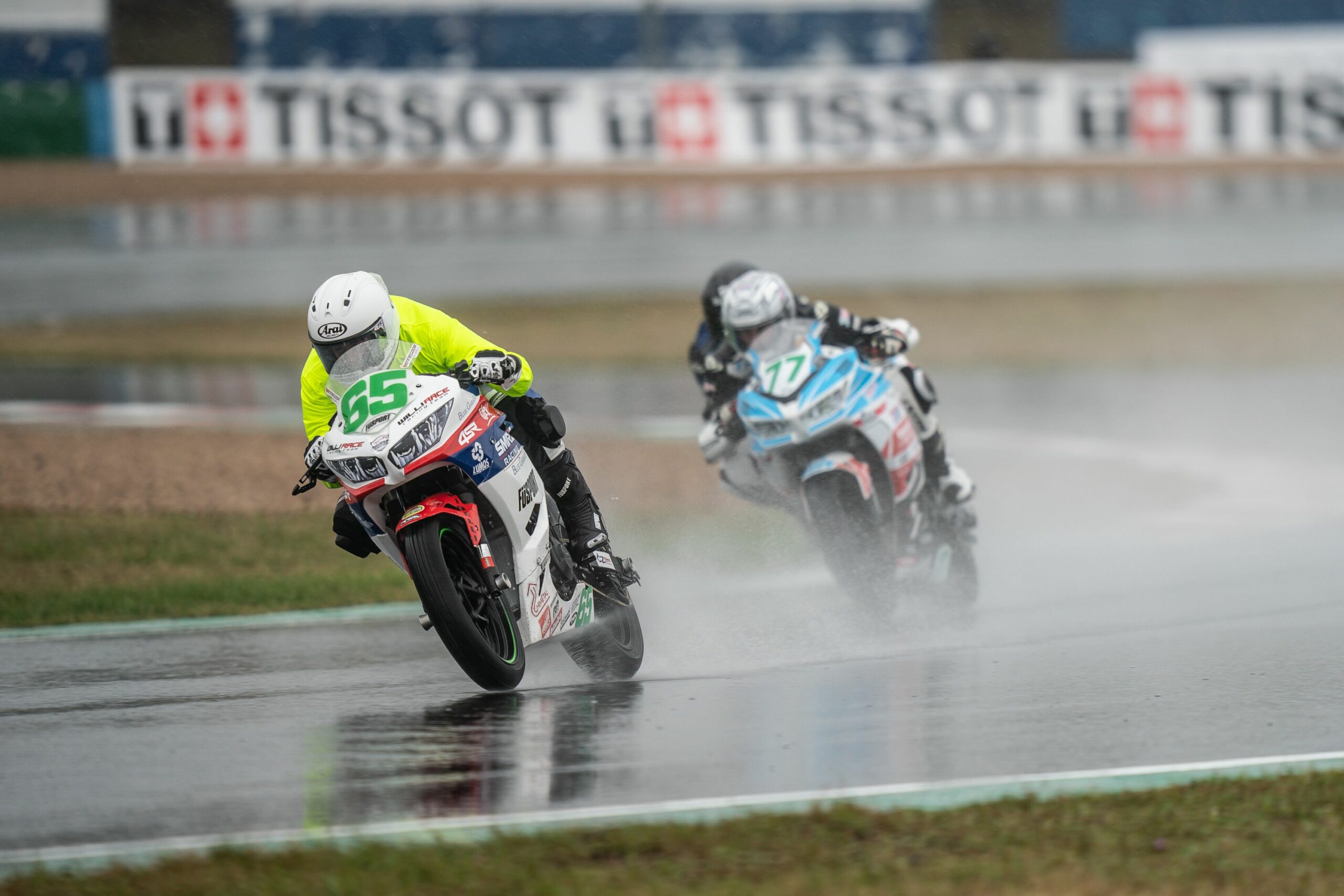 #65 Sharni Pinfold
"V Magny-Cours to byl skvělý víkend. Kvůli nepříznivému počasí bylo těžké se učit na nové motorce, ale opravdu jsem si jízdu na Kawasaki užívala a zároveň se učila okruh. V každém tréninku se mi s motorkou dařilo zlepšovat. S sobotu jsem měla malý pád ve třetím volném tréninku. Do závodu Last Chance Race jsem startovala z 15. místa a bohužel jsem spadla ve 13. zatáčce a zlomila si klíční kost. Chci opravdu moc poděkovat Smrz Racing za příležitost tento víkend závodit. Tým měl profesionální přístup jak na trati, tak mimo ni. Celkově to pro mě byla velká příležitost a získala jsem cenné zkušenosti."
Jakub Smrž
"Před předposledním závodním víkendem v Magny Cours jsem byl postaven před nelehký úkol. Tím bylo sehnat jezdce, protože ani jeden z našich nemohl. Nakonec se povedlo, byť částečně. Podmínky byly hodně složité a jak Lukáš Simon, tak Sharni Pinfold neměli snadný úkol a tím bylo poznat nový tým, novou trať a novou motorku. Sharni se průběžně zlepšovala a bylo poznat, že je pro ní vše hodně nové a v Last Chance Race upadla a zlomila si klíční kost. Takže pro ní víkend nedopadl nejšťastněji, ale rozhodně to pro ní byla velká zkušenost. Lukáš Simon od začátku potvrzoval, že je dalším z českých talentovaných jezdců a vedl si velice dobře. Přímo se probojoval do hlavních závodů a především v prvním předvedl skvělý výkon. Jen díky chybě v předposledním kole nedosáhl na body. Ve druhém závodě se po špatném začátku probojoval těsně za druhou desítku. Lukáš určitě ukázal, že oslovit ho mělo smysl. Teď mě čeká další složité rozhodování ohledně jezdecké sestavy pro Estoril. Každopádně musím to vymyslet tak, ať je to co nejlepší pro výsledek týmu a zároveň s výhledem na další sezónu."
Poslední závody Mistrovství světa Superbiků se pojedou o víkendu od 16. do 18. října 2020 na okruhu Estoril v Portugalsku. Pro třídu Supersport 300 půjde o sedmé závody sezóny.