Sezóna 2019 mezinárodního mistrovství České republiky – Miniracing bude zahájena prvními závody v Českých Budějovicích. Těšit se můžeme na závody tří tříd a doplňkové jízdy akademií.
Zdroj: TZ
V sobotu 20. dubna 2019 se rozjede letošní sezóna mezinárodního mistrovství České republiky – Miniracing. Závody se měly původně jet již 13. dubna 2019, ale kvůli nepřízni počasí byly o týden odloženy. První závodní podnik letošní sezóny hostí trať v Českých Budějovicích. Během roku následně závodníci zavítají i na tratě v Chebu, Třinci, Písku, Pardubicích, Mostě a Vysokém Mýtě. V Třinci a Českých Budějovicích se pojede dvakrát a právě České Budějovice, které sezónu otevírají, ji také na začátku října uzavřou.
Závodní okruh disponuje asfaltovým povrchem a závodí se proti směru otáčení hodinových ručiček. Během prvních závodů na jihu Čech se proti sobě utkají jezdci ve třech kategoriích, konkrétně Minimoto Junior A, Minimoto Junior B a Senior Open 50. Závody tříd Minimoto Junior A a B jsou vypsány na 10 minut + 2 kola, Senior Open 50 pojedou na 12 minut + 2 kola.
V loňském roce ve třídě Minimoto Junior A úřadoval Vít Bromovský, který má před sebou jasný cíl – navázat na tyto výsledky. S většími zkušenostmi tento rok pojedou Viktor Čech, Adam Vyskočil a Jindřich Škopek, kteří loni tvořili silnou skupinu a všichni tři rozhodně patří mezi hlavní favority. Ve skupině B loni zářil Michal Prokeš, ale bohužel je tato třída méně zastoupená, takže i letos budou jezdit dohromady se skupinou A.
Třída Senior Open 50 je naopak určená pro dospělé závodníky, kteří si chtějí užít jízdu na minibicích. Oproti dětem na trati je to pěkný kontrast a při pohledu na tyto jezdce je vždy o zábavu postaráno. Budeme věřit, že nám stejně jako loni předvedou i v této sezóně pěkné závody.
Závodní program kromě zmíněných tříd doplní jízdy akademií, takže se všem představí ti nejmenší talenti a budoucí závodnické naděje.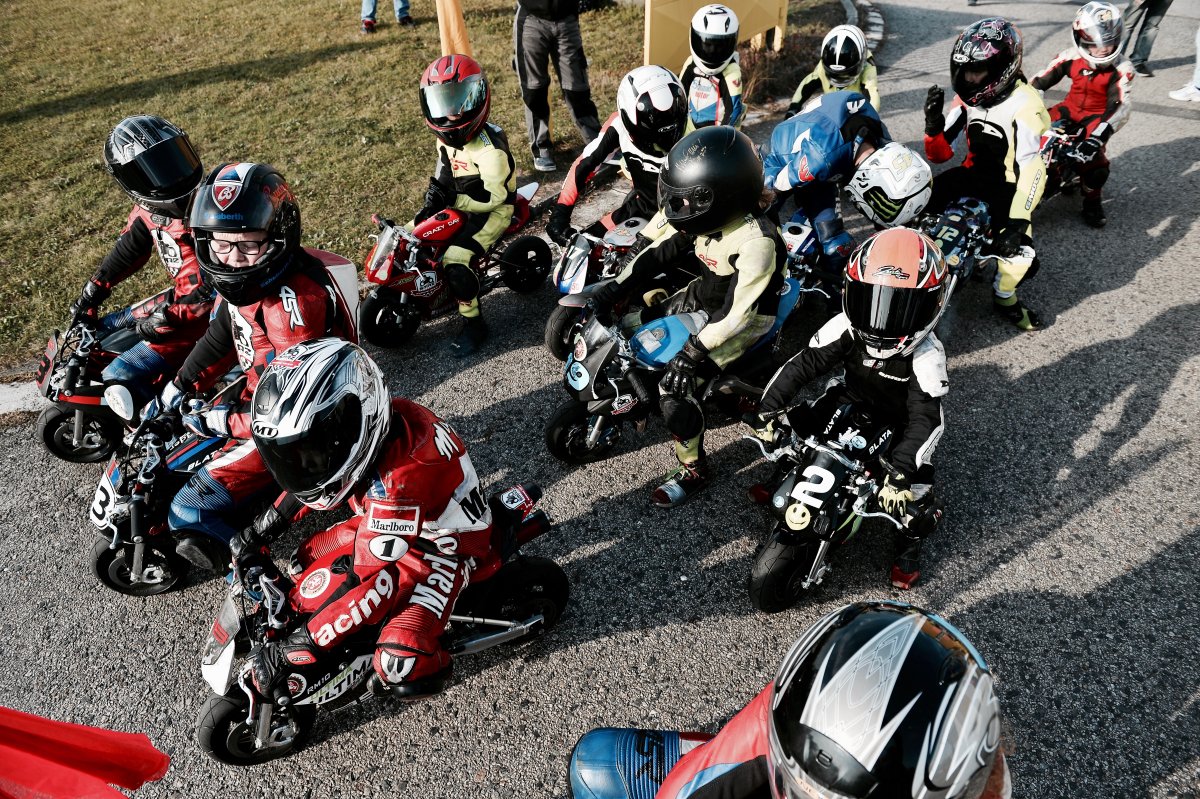 Kdo chce, může využít pátku k volným jízdám. V pátek večer a v sobotu ráno proběhnou administrativní a technické přejímky. Letos se nově závodí jen v sobotu, což je pro rodiny výhodnější a mělo by to do šampionátu vrátit více závodníků. I přes to, že je závodní harmonogram vměstnán do jednoho dne, jezdci si užijí dva volné tréninky, dvě kvalifikace a na závěr i dva závody. Díky tomu se mohou diváci těšit na spoustu akce na trati.
Jezdci by si měli dát pozor na účast při rozpravě. Ta se bude konat před závody a všichni účastníci závodů budou seznámeni se náležitostmi týkající se trati a bezpečnosti. Informace a vydané instrukce na tomto setkání jsou oficiální a na následky absence jednotlivých jezdců a týmů plynoucí z případné neinformovanosti nebude později brán zřetel.
Kdo to nemá na trať v Českých Budějovicích daleko, přijďte se podívat a podpořit naše nejmenší závodníky.
Harmonogram víkendu
Pátek 19. 4. 2019
18:00 – 20:00
formální a technická přejímka
Sobota 20. 4. 2019
08:00 – 09:30
formální a technická přejímka
Čas
Trénink
Třída
08:30 – 08:45
1. volný trénink
Minimoto Junior A + B
08:50 – 09:05
1. volný trénink
Senior Open 50
09:10 – 09:25
1. volný trénink
jízda akademií
09:30 – 09:45
2. volný trénink
Minimoto Junior A + B
09:50 – 10:05
2. volný trénink
Senior Open 50
10:10 – 10:25
2. volný trénink
jízda akademií
10:30 – 10:45
1. kvalifikace
Minimoto Junior A + B
10:50 – 11:05
1. kvalifikace
Senior Open 50
11:10 – 11:25
1. kvalifikace
jízda akademií
11:30 – 11:45
2. kvalifikace
Minimoto Junior A + B
11:50 – 12:05
2. kvalifikace
Senior Open 50
12:10 – 12:25
2. kvalifikace
jízda akademií
12:30 – 13:15
přestávka
13:20 – 13:50
rozprava
14:00 – 14:15
1. závod
Minimoto Junior A + B
14:20 – 14:35
1. závod
Senior Open 50
14:40 – 14:55
1. ukázková jízda
jízda akademií
15:00 – 15:15
2. závod
Minimoto Junior A + B
15:20 – 15:35
2. závod
Senior Open 50
15:40 – 15:55
2. ukázková jízda
jízda akademií
16:00 – 16:30
přestávka
16:35 – 16:50
vyhlášení vítězů
Kalendář závodů Miniracing 2019