Mezinárodní mistrovství České republiky silničních závodů motocyklů na závodních okruzích se dostává do poloviny letošní sezóny. O nadcházejícím víkendu pokračuje čtvrtými závody, které se jedou v německém Oscherslebenu spolu s mezinárodním šampionátem Alpe Adria.
Zdroj: TZ, foto: Dušan Belica
Čtvrtý závodní podnik letošní sezóny mezinárodního mistrovství České republiky silničních závodů motocyklů na závodních okruzích se odjede o víkendu od 19. do 21. července 2019. Závodníky tentokrát čeká německý okruh Oschersleben, kde se stejně jako v předchozích závodech jede při mezinárodním motocyklovém šampionátu Alpe Adria promotéra LUTEC. Letošní sezóna našeho šampionátu čítá sedm závodních podniků, takže se v Německu dostává přesně do poloviny.
Závodní okruh v Oscherslebenu je ve světě dobře znám, když se tu kromě německých závodů jezdí také vytrvalostní závod mistrovství světa Endurance. Díky tomu okruh nabízí dobré podmínky a zázemí. Závodní trať je dlouhá 3,667 km a jezdí se po směru hodinových ručiček.
Tak jak je letos standardem, při MMČR SZM na závodních okruzích se jezdci utkají ve třídách Supersport 300, Superstock 600, Superstock 1000 a Superbike. Při Alpe Adria se jedou ještě další kategorie a stejně jako při závodech na Pannoniaringu se v Německu představí také jezdci mistrovství světa sidecar. Třídy Supersport 300 a Superstock 1000 se zároveň jedou jako evropské poháry.
Průběžné vedení ve třídě Supersport 300 si stále drží Jiří Nespěšný, který už má 99 bodů. O jedenáct bodů za ním je na druhé pozici Miloslav Hřava, jezdec juniorského týmu ACCR Czech Talent Team – Willi Race. Míla si po minulých závodech na Pannoniaringu polepšil o jednu pozici v celkovém hodnocení. Trojici nejlepších doplňuje David Kubáň, který má 67 bodů.
Ve třídě Superstock 600 se pořadí na čele také nezměnilo a ve vedení je Rakušan Kevin Ranner se 110 body. Rovných dvacet bodů ztráty má Tomáš Šubrt, který poskočil na průběžné druhé místo po vítězství na Pannoniaringu. Jaromír Chlup se dostal na místo třetí a jeho rozdíl je jen sedm bodů, takže to bude mezi druhým a třetím ještě zajímavé.
Po těžkém začátku sezóny s ošklivým pádem měl Michal Prášek na svém kontě dvě nuly. Michal se ale rychle dostal zpátky do sedla, vše napravil a nyní už je v průběžném vedení třídy Superstock 1000 s 91 body. To díky tomu, že tři ze čtyř závodů, vyhrál a vždy byl na stupních vítězů. Jeho nejbližším konkurentem je Michal Šembera, který na něj ztrácí 13 bodů. Třetí průběžně je polský jezdec Marek Szkopek s 57 body.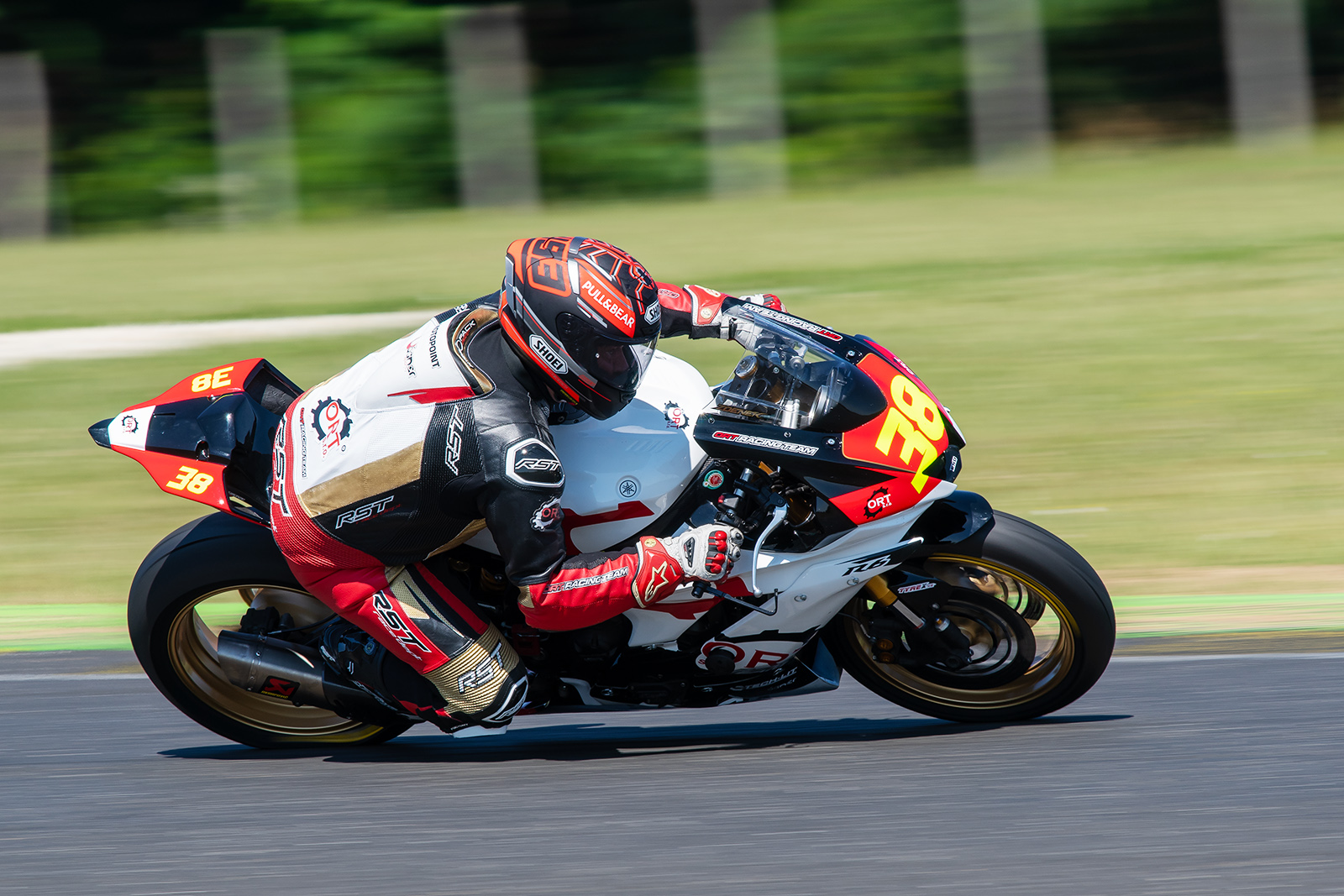 V nejsilnější třídě Superbike si průběžnou první pozici stále drží Ondřej Ježek, který letos neskončil hůř, než druhý. Vyjma výhry ve druhém závodě na Slovakiaringu byl vždy druhý, takže má 125 bodů a náskok 25 bodů na svého týmového kolegu. Karel Hanika to má letos jako na houpačce, buď vyhraje nebo spadne, ale výher měl zatím více – čtyři – oproti dvěma pádům. O sedm bodů za ním třetí Marko Jerman.
Kompletní výsledky po závodech budou zveřejněny v tiskové zprávě a také na webu Autoklubu ČR u stránky závodu:
https://www.autoklub.cz/podnik/mmcr-na-zavodnich-okruzich-2019-oschersleben-rr-04/
Dění na trati můžete sledovat živě:
přes live timing: http://www.chronomoto.hu/livetiming/aa/
a přenosy na YouTube: https://www.youtube.com/channel/UCty4sO0xBj65HvLbyJbod8g
Harmonogram víkendu
Pátek 19. 7. 2019
| | | |
| --- | --- | --- |
| Čas | Třída | Trénink |
| 08:30 – 08:55 | Honda TC Dunlop | 1. volný trénink |
| 09:00 – 09:25 | Supersport 300 | 1. volný trénink |
| 09:30 – 10:00 | Superstock 600 | 1. volný trénink |
| 10:05 – 10:35 | Superstock 1000 | 1. volný trénink |
| 10:40 – 11:20 | Superbike | 1. volný trénink |
| 11:25 – 11:45 | Alpe Adria Cup 600 | 1. volný trénink |
| 11:50 – 12:10 | Alpe Adria Cup 1000 | 1. volný trénink |
| 12:10 – 12:40 | Přestávka | |
| 12:50 – 13:10 | FIM Sidecar WCH | 1. volný trénink |
| 13:15 – 13:45 | Honda TC Dunlop | 2. volný trénink |
| 13:50 – 14:20 | Supersport 300 | 2. volný trénink |
| 14:25 – 15:00 | Superstock 600 | 2. volný trénink |
| 15:05 – 15:40 | Superstock 1000 | 2. volný trénink |
| 15:45 – 16:30 | Superbike | 2. volný trénink |
| 16:35 – 17:00 | Alpe Adria Cup 600 | 2. volný trénink |
| 17:05 – 17:30 | Alpe Adria Cup 1000 | 2. volný trénink |
| 17:30 – 17:50 | FIM Sidecar WCH | 2. volný trénink |
Sobota 20. 7. 2019
Čas
Třída
Trénink
08:30 – 08:55
Honda TC Dunlop
Kvalifikační trénink
09:00 – 09:25
Supersport 300
Kvalifikační trénink
09:35 – 09:55
FIM Sidecar WCH
Kvalifikační trénink
10:00 – 10:30
Superstock 600
Kvalifikační trénink
10:35 – 11:05
Superstock 1000
Kvalifikační trénink
11:10 – 11:40
Superbike
Kvalifikační trénink
11:45 – 12:05
Alpe Adria Cup 600
Kvalifikační trénink
12:10 – 12:30
Alpe Adria Cup 1000
Kvalifikační trénink
12:30 – 13:00
Přestávka
ZÁVODY
Start
Třída
Délka závodu
13:20
Honda TC Dunlop
11 kol (40,33 km)
14:00
Supersport 300
12 kol (44,00 km)
14:40
Superstock 600
14 kol (51,33 km)
15:20
Superstock 1000
15 kol (55,00 km)
16:00
Superbike
17 kol (66,33 km)
16:50
Alpe Adria Cup 600
10 kol (36,67 km)
17:25
Alpe Adria Cup 1000
10 kol (36,67 km)
18:00
FIM Sidecar WCH sprint
11 kol (40,33 km)
Neděle 21. 7. 2019
Čas
Třída
Trénink
08:30 – 08:50
Honda TC Dunlop
Warm Up
08:55 – 09:15
Supersport 300
Warm Up
09:20 – 09:40
Superstock 600
Warm Up
09:45 – 10:05
Superstock 1000
Warm Up
10:10 – 10:30
Superbike
Warm Up
10:35 – 10:55
Alpe Adria Cup 600
Warm Up
11:00 – 11:20
Alpe Adria Cup 1000
Warm Up
11:35 – 11:55
FIM Sidecar WCH
Warm Up
DRUHÉ ZÁVODY
Start
Třída
Délka závodu
12:15
Honda TC Dunlop
11 kol (40,33 km)
12:55
Supersport 300
12 kol (44,00 km)
Přestávka
13:30
FIM Sidecar WCH
21 kol (77,00 km)
14:20
Superstock 600
14 kol (51,33 km)
15:00
Superstock 1000
15 kol (55,00 km)
16:30
Alpe Adria Cup 600
17 kol (66,33 km)
17:05
Alpe Adria Cup 1000
10 kol (36,67 km)