Letošní sezóna v motocyklové škole Cuna de Campeones pokračovala druhý červencový víkend závody na MotorLandu v Aragónu. Výborně zde zajel český závodník Štěpán Zuda, který v obou závodech bojoval o výhru. Druhý český reprezentant Jakub Gurecký hlavně sbíral zkušenosti.
Zdroj: TZ
O uplynulém víkendu se jezdci účastnící se závodů při španělské Cuna de Campeones přesunuli na okruh v Aragónu, kde je čekali třetí závody letošní sezóny. Poslední víkend, který se odjel v Cartageně, byl testovací, takže nyní se všichni opět pustili do ostrých bojů o co nejlepší umístění. Závody se jely navíc spolu se španělských šampionátem FIM CEV Repsol, což je víceméně další možnost, kam se v budoucnu přesunout. Letos můžeme v Cuna de Campeones sledovat dva české zástupce, kterými jsou ve třídě PreMoto4 Štěpán Zuda a Jakub Gurecký.
Víkend se nesl v tradičním duchu, takže v pátek byly na programu dva volné tréninky. V nich se oba naši jezdci snažili s mechaniky najít co nejlepší nastavení. Sobota už byla zajímavější, kdy jezdce kromě dvou kvalifikací čekal první závod. Po kvalifikacích si Štěpán Zuda vyjel 6. místo a Jakub Gurecký 9. místo na startovním roštu. V prvním závodě výborně zajel Štěpán, který dokázal zvítězit! Jakub zajel také dobře, když zůstal v Top10 na 9. místě. V nedělním závodě to vypadalo podobně a Štěpán se opět pustil do soubojů o vítězství. To se nakonec nepodařilo a cílem projel čtvrtý se ztrátou jen 0,221 s. Jakub jel opět o umístění v Top10, ale bohužel přišel pád, který zhatil naděje na dobrý výsledek. Kuba se nevzdal a závod dokončil na 16. místě.
V celkovém hodnocení je Štěpán Zuda na 3. místě s 61 body a ztrátou 38 bodů a Jakub Gurecký na 14. místě s 20 body a ztrátou 79 bodů. Příští závody se jedou na přelomu srpna a září v Albacete.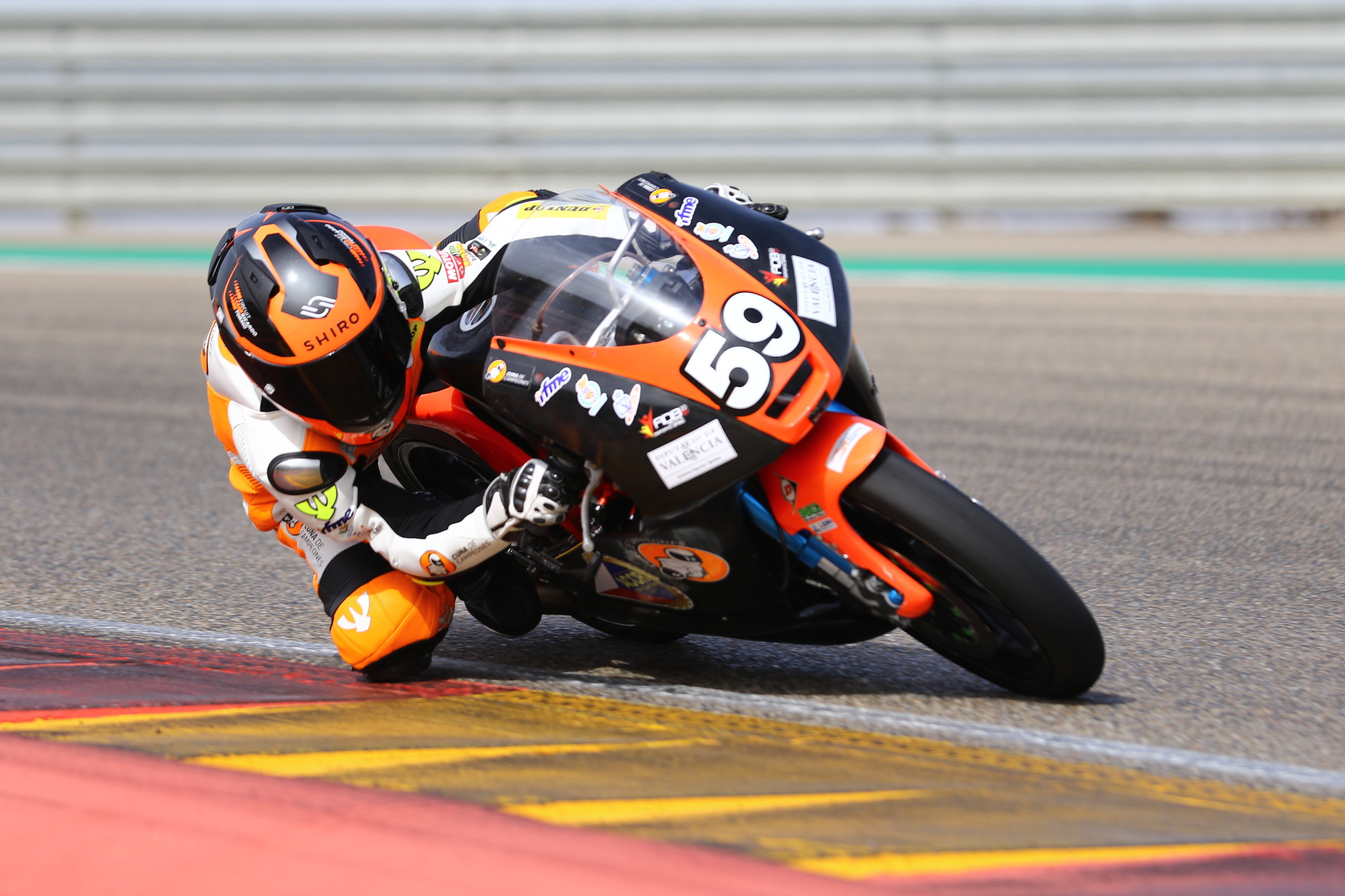 #59 Jakub Gurecký
"V pátečních trénincích jsem se v seznamoval s tratí, ale bohužel ke konci druhého tréninku přišel pád na předek. Pro závodní víkend byla klíčová byla sobota, která se nepovedla dle představ. V kvalifikacích se mi nepodařilo zajet slušný čas a výsledkem bylo 9. místo na startovním roštu. Toto umístění jsem zopakoval i v sobotním závodě. Nedělní desetiminutový Warm Up kvůli dešti vynechali všichni jezdci. V odpoledním suchém závodě přišel pád v pátém kole ze 7. místa, který ukončil boj o lepší výsledek. V sobotu jsem v sobě nenašel ten správný sportovní mód a to se projevilo na výsledcích v kvalifikacích a závodech. Gratulace Štěpánovi, který jel výborně."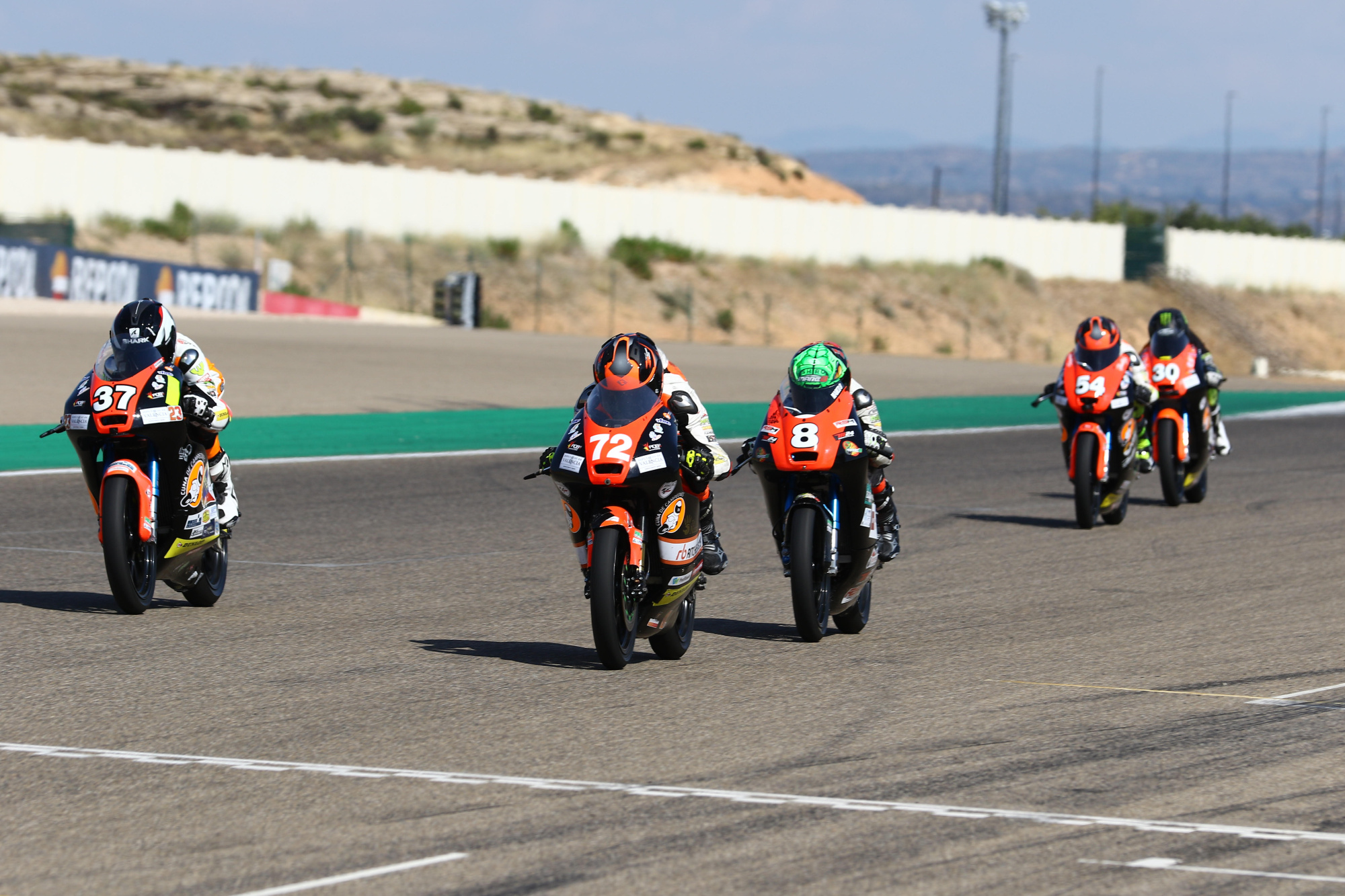 #37 Štěpán Zuda
"Na trať v Aragónu jsme dorazili ve čtvrtek a ihned večer jsem si ji jel projet na kole, protože jsem tu byl poprvé. V pátečních trénincích jsem se s mechaniky snažili najít co nejlepší nastavení. První kvalifikace se jela v sobotu ráno a časy šly oproti pátku rapidně dolů. Já jsem stáhnul čas o 5 vteřin a skončil šestý. Druhá kvalifikace se jela odpoledne a na trati, která byla rozpálená, se již nikomu nepodařilo zrychlit a pořadí na roštu zůstalo podle první kvalifikace. Pro mne to byla druhá řada. V 17 hod se jel 1. závod na 7 kol. Start se mi úplně nepovedl a propadl jsem se na sedmé místo. Během dvou kol jsem se propracoval na místo čtvrté a společně s třetím jsme za jedno kolo stáhli náskok prvních dvou. Během dalšího kola jsem se prokousal na první místo a svedl několik soubojů. V dalším kole jsme si opět prohodili několikrát pozici mezi prvním a čtvrtým. Na brzdách do pátého kola jsem se dostal opět na místo první a od té chvíle se snažil si vytvořit náskok. To se podařilo, ale na poslední rovince před nájezdem do cílové rovinky mne soupeři opět dotáhli, ale na útok to již nebylo. Do posledního kola jsem jel zase s mírným náskokem, ale znovu mne dotáhli před nájezdem do cíle. Cílovou čáru jsem projel na prvním místě s náskokem 0,013 vteřiny."
"Druhý závod se jel v neděli opět v 17 hod a ráno v 8:25 byl vypsán Warm up, který jsme kvůli dešti vzdali. Sice mi voda nevadí, ale nechtěli jsme přijít o super nastavení na sucho, které do závodu bylo předpovídáno. Tentokrát se mi start povedl lépe a ihned jsme si s dalšími třemi jezdci vytvořili náskok. Náskok se zvyšoval i přes to, že jsme sváděli snad v každé zatáčce souboje o první místo. Tyto souboje mi daly mnoho zkušeností a nádherný zážitek ze závodu. Cílem jsem však projel na 4. místě o 0,056 vteřiny. Ještě v poslední zatáčce jsem byl první, pak čtvrtý, pak druhý… prostě mazec. Celkově se mi závody i nová trať moc líbily a mimo zkušeností jsem si odvezl pohár za 1. místo. V celkovém hodnocení jsem se posunul na třetí místo. Musím poděkovat novým mechanikům z Cuna de Campeones, kteří mi perfektně připravili motorku a velké díky všem sponzorům."