Filip Salač má za sebou poslední závody letošní sezóny, ve kterých se představil při juniorském mistrovství světa ve Valencii. Filipa čekaly dva závody, ve kterých předvedl skvělou stíhací jízdu i přes to, že mu před druhým závodem přestala jet motorka a musel startovat z posledního místa.
Zdroj: TZ AČR
Během posledního listopadového víkendu skončila letošní sezóna juniorského mistrovství světa, které se jede v rámci španělského šampionátu FIM CEV Repsol. Jeho pravidelným účastníkem byl letos i český reprezentant Filip Salač, který chtěl sezónu ukončit co možná nejlépe. Závody se jely ve španělské Valencii, kde se ještě víkend předtím proháněly stroje MotoGP.
Závodní víkend jako vždy začal volnými tréninky, nicméně ty tentokrát začaly až v pátek. Kvůli špatnému počasí nebylo moc prostoru se dobře připravit na kvalifikace. Filip k tomu uvádí: "Letos se poprvé trénovalo jen v pátek. První volný trénink se jel na vodě a ve druhém to bylo napůl mokré, takže jsme toho moc před kvalifikací nenatrénovali. Do první kvalifikace jsme všichni šli spíš s tím, že jsme jeli poprvé na suchu. Neměli jsme optimální nastavení, ale bylo to pro všechny stejné. V první kvaldě byla trochu mokrá první zatáčka, takže jsme se domluvili na strategii, že nebudeme dávat nové pneumatiky, ale necháme si dvě nové sady na druhou kvalifikaci. Ve druhé kvalifikaci jsem jezdil sám a zajížděl stabilní časy. Konkurence byla velká a stačilo to jen na 23. místo, takže jsem z toho byl velmi zklamaný. Na druhou stranu jsem věděl, že jsem měl jako jeden z mála rytmus, který oni neměli, protože dali jen jedno rychlé kolo."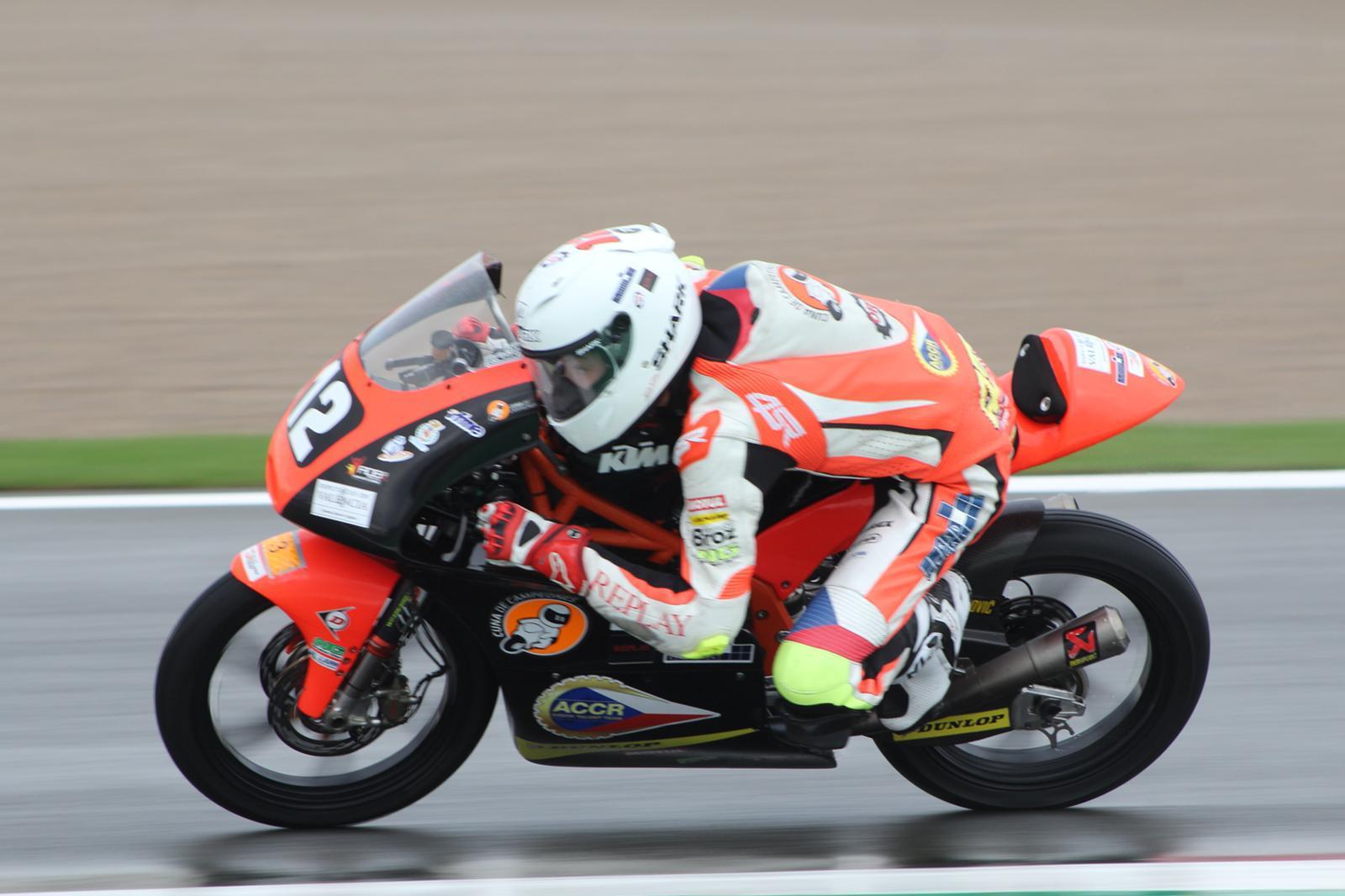 Nedělní program na okruhu Ricarda Torma ve Valencii rozjely krátké zahřívací tréninky. V něm se chtěl Filip trochu vyvést za vítězem posledního závodu Moto3 Canem Öncu, ale ten před ním ve druhém kole spadl. Poté už jezdil sám a připravoval se na první závod.
"Do prvního závodu jsem byl trochu nervózní, ale nakonec se mi podařilo dobře odstartovat a postupně jsem se probojovával dopředu. Mrzí mě, že mě v posledním kole vystrčil Ryusei Yamanaka a přišel jsem tak o možnost bojovat o páté místo. Kvůli tomu jsem musel dohánět ztrátu a ještě přede mnou spadl Carlos Tatay, což mě také zpomalilo. Dojel jsem na 8. místě. Na to, že jsem startoval z 23. místa, tak to nebylo špatné, ale spokojený jsem nebyl," uvedl po prvním závodě Filip Salač.
Během neděle Filipa čekal ještě druhý závod. Cílem bylo ještě lépe odstartovat a co nejdříve se dostat do první skupiny a bojovat o stupně vítězů. Bohužel před závodem se motorka postarala o velké drama a Filip do něj málem neodstartoval.
"Do druhého závodu jsem chtěl ještě lépe odstartovat. Navíc jsem věděl, že můžu jet v první skupině, protože ostatní nebyli rychlejší a druhá skupinka mě předtím brzdila. Bohužel když jsem vyjel na startovní rošt, tak mi motorka ve druhé zatáčce zhasla. Musel jsem ji přes celou trať rychle tlačit do boxů, což mě stálo hodně sil. Přišlo se na to, že to byla elektronická chyba, kterou jsme naštěstí opravili. Do zahřívacího kola jsem vyjížděl z boxů, takže jsem musel startovat z posledního místa. V tu chvíli bylo jasné, že je naděje na boj vpředu ztracená," popsal Filip chvíle před startem do druhého závodu.
"Do závodu jsem dobře odstartoval a v prvním kole předjel dvacet jezdců. Do teď jsem moc nepobral, jak se mi to podařilo. Dohnal jsem přední skupinku a snažil se je předjíždět. Poté jsem dostal lehkého highsidera, což mě rozhodilo z rytmu, navíc kvůli tomu, jak jsem na to na začátku tlačil, se mi opotřebovaly pneumatiky a už to nedrželo tak, jako ostatním. Závod jsem se snažil dojet, protože mi také docházely vzhledem k tlačení motorky před závodem síly. To mě hodně vyčerpalo, takže jsem měl celý závod velkou žízeň a sucho v puse."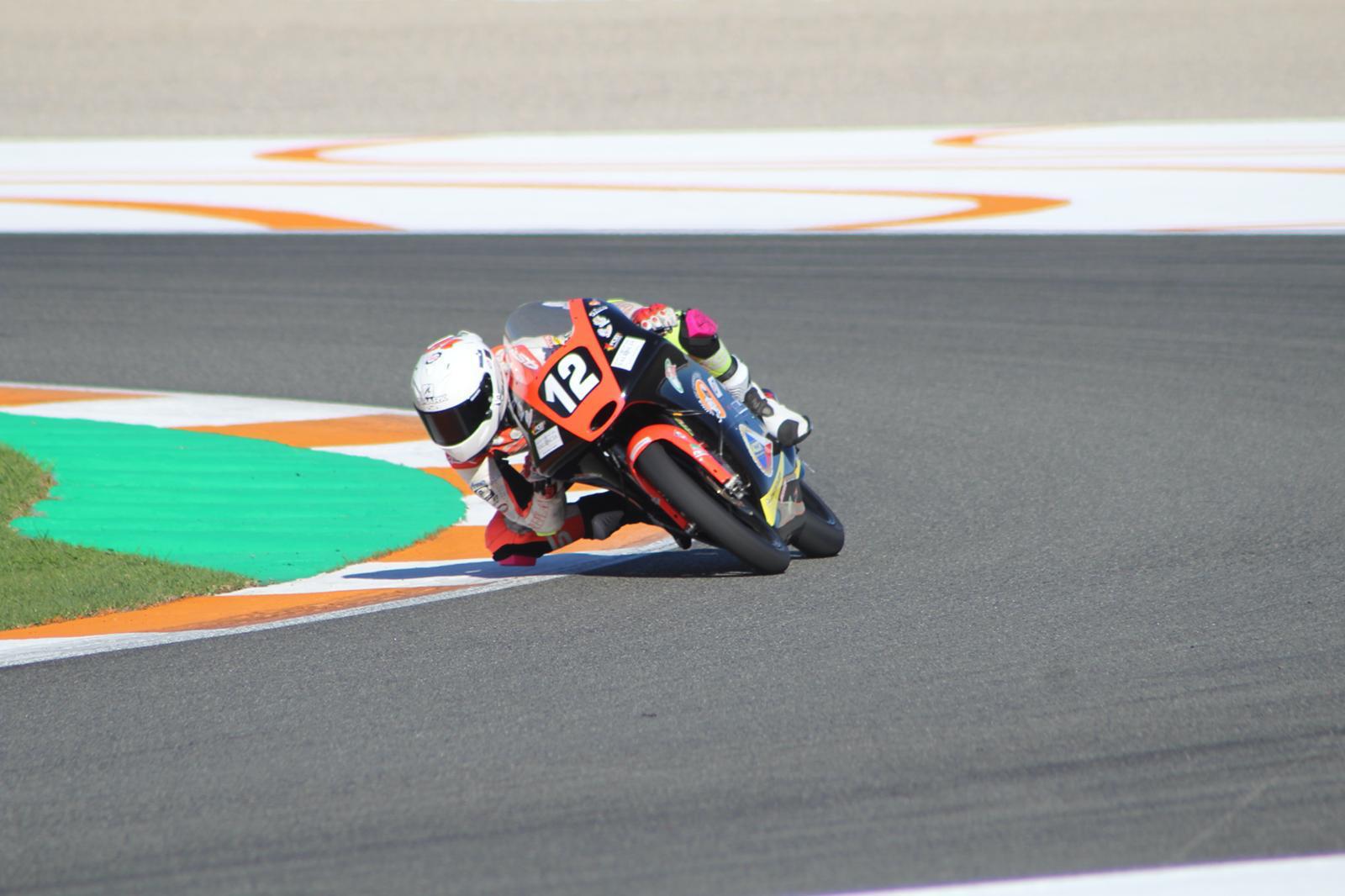 Druhý závod byl pár kol před koncem ukončen červenou vlajkou po pádu jednoho závodníka, takže se braly výsledky po odjetí patnácti kol.
"Závod byl ukončen o chvíli dříve červenou vlajkou a já dojel jedenáctý. Nakonec jsem dostal penalizaci tří vteřin za překročení limitů trati, takže jsem ve výsledcích obsadil patnácté místo. To mě mrzí, protože jsem přišel o 10. místo v šampionátu. Mám stejně bodů jako Ital Celestino Vietti, svěřenec Valentina Rossiho, ale letos získal pódium a já ne, takže je na tom lépe. Tohle mě docela mrzí, ale myslím si, že to byl jeden z mých nejlepších závodů v kariéře, protože jsem hodně předjížděl. Startovat z 41. místa a dojet 11. mi přišlo jako dobrý výsledek."
"Jsem spokojený, že jsem se toho v prvním kole nebál a hodně předjížděl. Jakmile jsem měl někoho před sebou, tak jsem ho okamžitě předjel. Dopadlo to tak, jak to dopadlo. Chtěl jsem sezónu ukončit nejlepším výsledkem, což se nakonec kvůli elektronické chybě nepodařilo. Chci poděkovat celému týmu, všem sponzorům a také panu Šťovíčkovi za podporu, dále Dorně a těm, kdo mají na starost tento seriál, protože si myslím, že je tohle nejlepší příprava na mistrovství světa. Úroveň a konkurence je tady stejná," dodal na závěr Filip Salač, kterého nyní čeká zimní příprava na nadcházející sezónu v mistrovství světa silničních motocyklů.