První závodní víkend v mistrovství světa Superbiků ve třídě Supersport 300 má za sebou český tým ACCR Czech Talent Team – Willi Race. Po úvodních pátečních trénincích se jezdci dál zlepšovali a víkend zakončili sobotním kvalifikačním závodem Last Chance.
Zdroj: TZ, Foto: Václav Duška Jr.
První dubnový víkend se ve španělském Aragónu rozjela sezóna třídy Supersport 300 v mistrovství světa Superbiků. Závodů této kategorie se od letošku nově účastní také český tým ACCR Czech Talent Team – Willi Race. Premiéru ve světě si tak užili nejen jezdci Oliver König a Vojtěch Schwarz, ale i všichni ostatní členové týmu.
Jak se během víkendu ukázalo, motorky i tým byly připraveny dobře. Vše fungovalo jak má a jezdci s každým výjezdem na trať zrychlovali. Po pátečních trénincích je v sobotu čekal nabitý program s tréninkem, kvalifikačním Superpole a závodem Last Chance (poslední šance). Vzhledem k tomu, že ve třídě Supersport 300 letos startuje více než 50 závodníků, jsou všichni rozděleni do dvou skupin. Ze Superpole do nedělního závodu v kombinaci časů postupuje jen 30 jezdců a zbytek se následně utká v závodě Last Chance o dalších šest postupových míst.
Oba naši jezdci se i přes velké zlepšení po Superpole do třicítky nejlepších nedostali, takže vyrazili do jedenáctikolového závodu Last Chance. Oliver König celou dobu bojoval ve vedoucí skupině a na nějakou chvíli se dostal i na první pozici. Kvůli neustálým soubojům se někdy dostal za obrubníky, takže mu za to byla signalizována penalizace. I po jejím splnění a další stíhací jízdě však penalizace nezmizela, tak aby z toho nebyly problémy, pustil před sebe soupeře podruhé. Na základě toho přišel o dost míst a v cíli závodu byl čtrnáctý. Nakonec se ukázalo, že měl být trest jen jeden. Jeho týmový kolega Vojtěch Schwarz také zaznamenal zlepšení a celý závod se pohyboval ve druhé skupině. Nakonec z toho bylo desáté místo. Tím pádem ani jeden z našich jezdců nepostoupil do nedělního závodu a víkend pro ně skončil.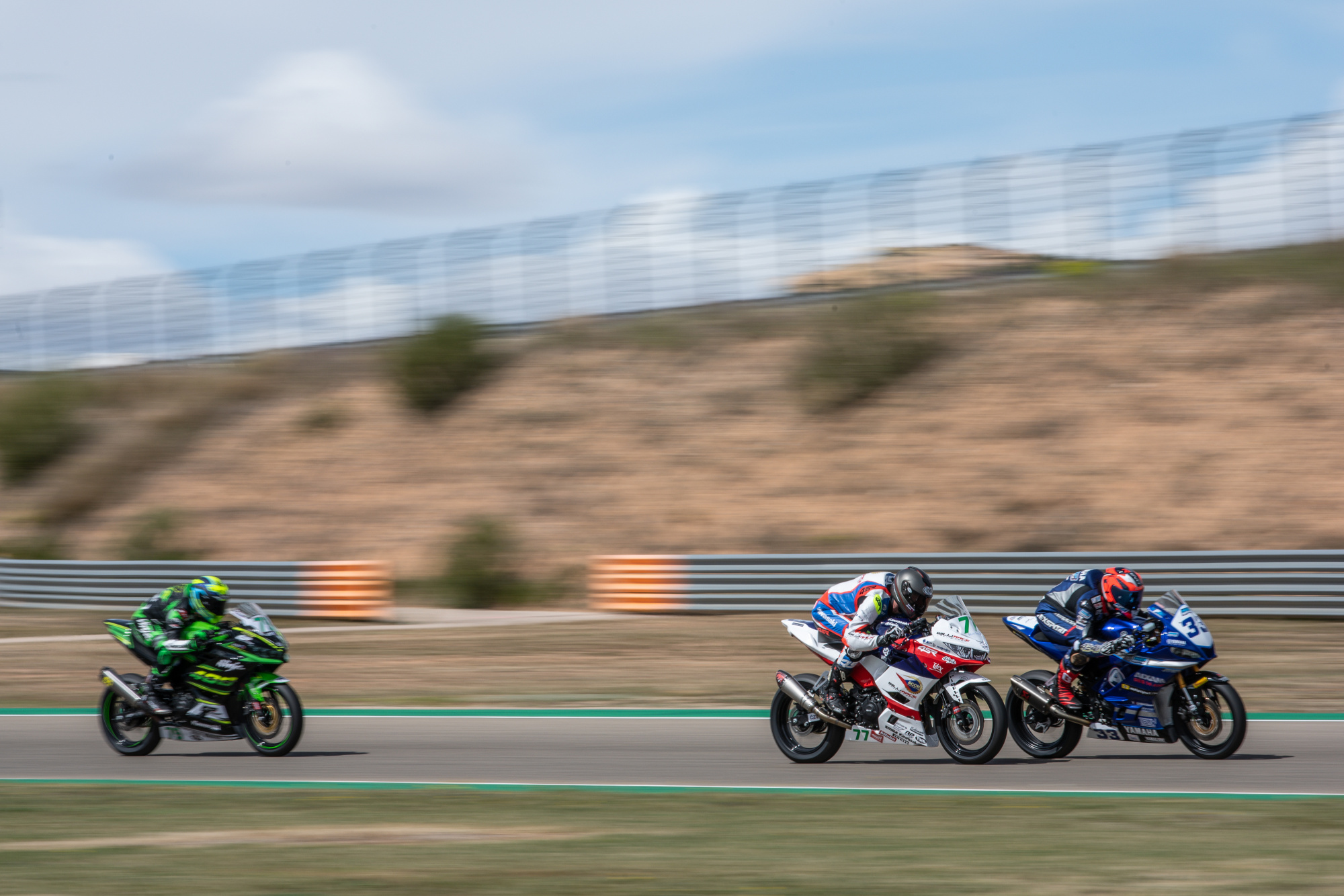 Vojtěch Schwarz
"Víkend celkově hodnotím kladně, až na osobní zklamání ze soboty, kdy se nám nepodařilo postoupit. Tým fungoval skvěle a motorka také. Teď už se těšíme do Assenu, kde se budeme snažit zamezit tomu, abychom vůbec Last Chance race jeli."
Oliver König
"Sobota pro mě začala skvěle. Ráno jsem zrychlil o dvě vteřiny oproti předešlému dni. Byl jsem na slušné pozici, takže jsem měl radost. Do kvalifikace jsem vyjel mezi prvními a chytil se skupinky, se kterou jsem zajel svůj nejlepší čas. Poté jsem zkusil styl kvalifikace, kterou jsem doposud jezdil. Bohužel se to nepovedlo a čas na kolo si nezlepšil. Výsledný čas mi stačil na 35. místo celkově a to znamenalo závod Last Chance."
"V závodě jsem si vedl v celku dobře, i jsem se dostal do vedení, ale bohužel v důsledku ostatních jezdců jsem byl občas nucen překročit limity trati. Na to jsem doplatil, když mě byla dána penalizace, kde jsem musel pět jezdců pustit. To jsem udělal a propadl se, ale zvládl se propracovat zpátky. Tabule s penalizací mi byla stále ukazována, takže jsem raději splnil to, co mi bylo ukazováno, abych nezpůsobil nějaké problémy mě a týmu."
"Tento víkend beru jako nabrání zkušeností. Sezóna se rozjela z toho horšího a teď doufejme, že budeme postupovat jen dopředu. Je to úplně něco jiného, než na co jsem byl doposud zvyklý, ale už teď vím, co udělat příští týden jinak. Věřím, že se nám bude více dařit. Moc děkuji všem, co mě podporují a fandí a doufám, že jsem je moc nezklamal. Pro mě to byl velký skok, ale určitě se posouváme dopředu a to je důležité."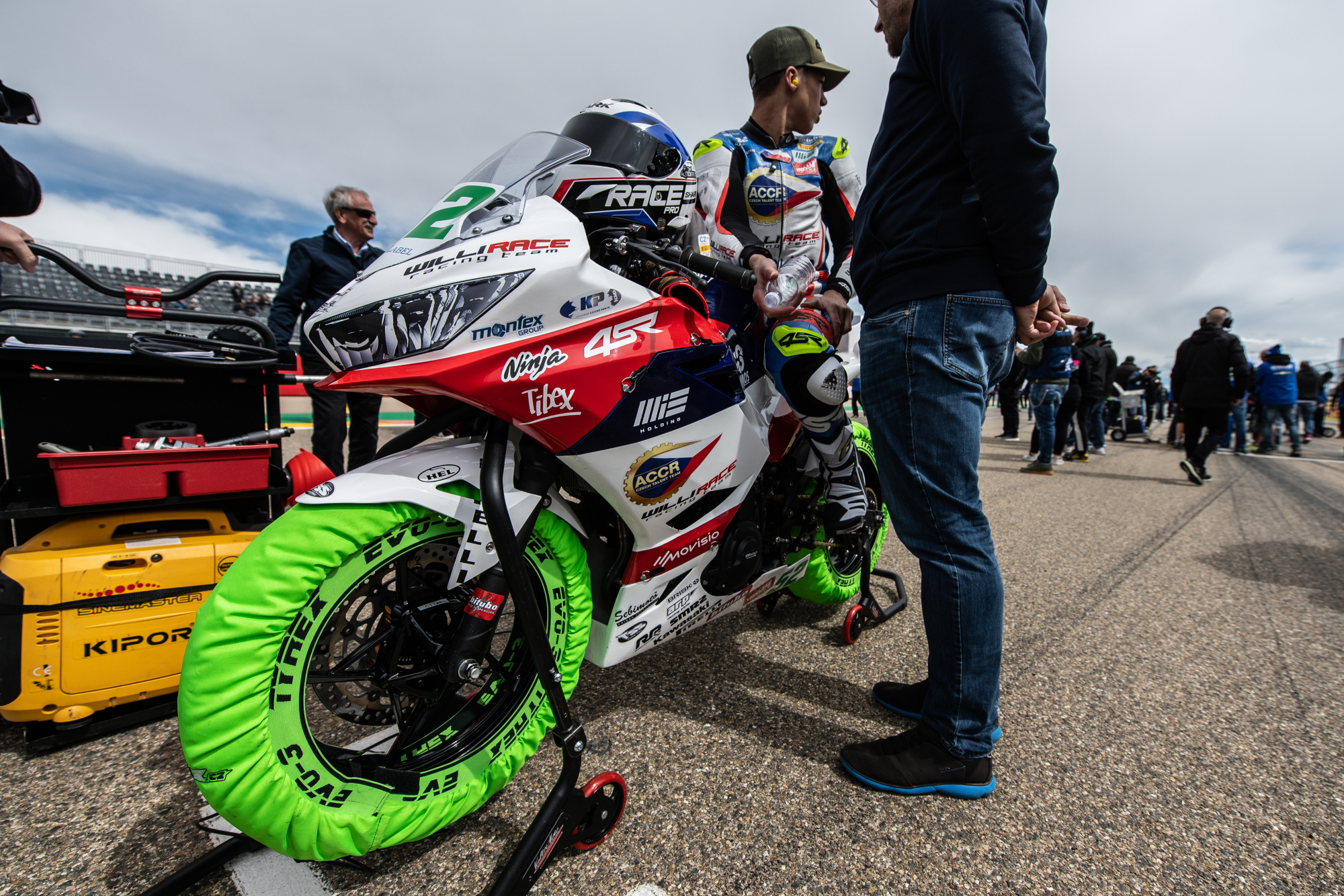 Jakub Smrž – manažer týmu
"Samozřejmě, že by byla lepší nálada, když bychom měli jezdce v zítřejším závodě. Každopádně musím vyzdvihnout progres jak jezdců, tak nastavení, kdy oba kluci od pátku zrychlili o tři vteřiny. Oliver v kvalifikaci doplatil na to, že jel sám a v boji v Last Chance závodě předvedl úžasný výkon. Bohužel doplatil na penalizaci, která byla při nejmenším sporná. Vojta se během víkendu zlepšoval a v závodě předvedl výborný výkon. Mám radost, že jsme první víkend zvládli bez problémů, motorky fungují dobře, jedou rychle a celý tým odvedl perfektní práci. Díky všem, kteří tomuto projektu přispěli. V Assenu to bude zase úplně něco jiného a budeme se pohybovat na lepších místech."
Matěj Smrž – předseda komise SZM AČR
"Ano, výsledek mohl být pro oba jezdce lepší, to je jasné a každý by to tak chtěl. Byla to ale pro celý tým nová zkušenost a vezmeme-li v potaz, že ACCR Czech Talent Team – Willi Race ve třídě WordSSP300 vznikl za pouhé čtyři měsíce, dopadlo to dobře a jen naivka a neznalec mohl čekat zázrak. Jsem hrdý na to, co se za tak krátkou dobu povedlo. Tým v čele s Kubou odvedl neskutečnou porci práce. Jezdci se zlepšují každým výjezdem a nebojím se v budoucnu o dobré výsledky. Zájem o tým byl v průběhu víkendu veliký, jak v depu, tak na odborných webech i sociálních sítích a to je přesně to, co naše silnice potřebuje!"
Tým se z Aragónu přesouvá do holandského Assenu, kde se již příští víkend od 12. do 14. dubna 2019 jede další kolo mistrovství světa Superbiků.
Sledujte ACCR Czech Talent Team – Willi Race na sociálních sítích:
Facebook: https://www.facebook.com/CzechTalentTeam/
Instagram: https://www.instagram.com/accr_czech_talent_willi_race/