Povedený víkend v Le Mans ukončil Filip Salač ziskem prvního bodu v mistrovství světa silničních motocyklů i přes to, že ve Francii nebyly úplně ideální podmínky a doplatil na chybu soupeře.
Zdroj: TZ, Foto: Redox Prüstel GP Team (Steve Wobser)
Doposud nejlepší víkend letošní sezóny v mistrovství světa silničních motocyklů prožil Filip Salač při Grand Prix Francie v Le Mans. Jezdec týmu Redox Prüstel GP měl od prvního výjezdu na trať dobré tempo, s týmem pracoval na nastavení motorky a i přes náročné podmínky se zlepšoval.
Dobrá forma se potvrdila i v nedělním závodě kategorie Moto3, ve kterém jel Filip Salač o mistrovské body. Kvůli chybě soupeře však přišel o ještě lepší výsledek, ale i přes to dojel do cíle závodu na 15. místě. Díky tomu si připsal první bod do celkového hodnocení mistrovství světa. Výsledek je to o to lepší, protože spousta jezdců, včetně favoritů, závod nedokončila.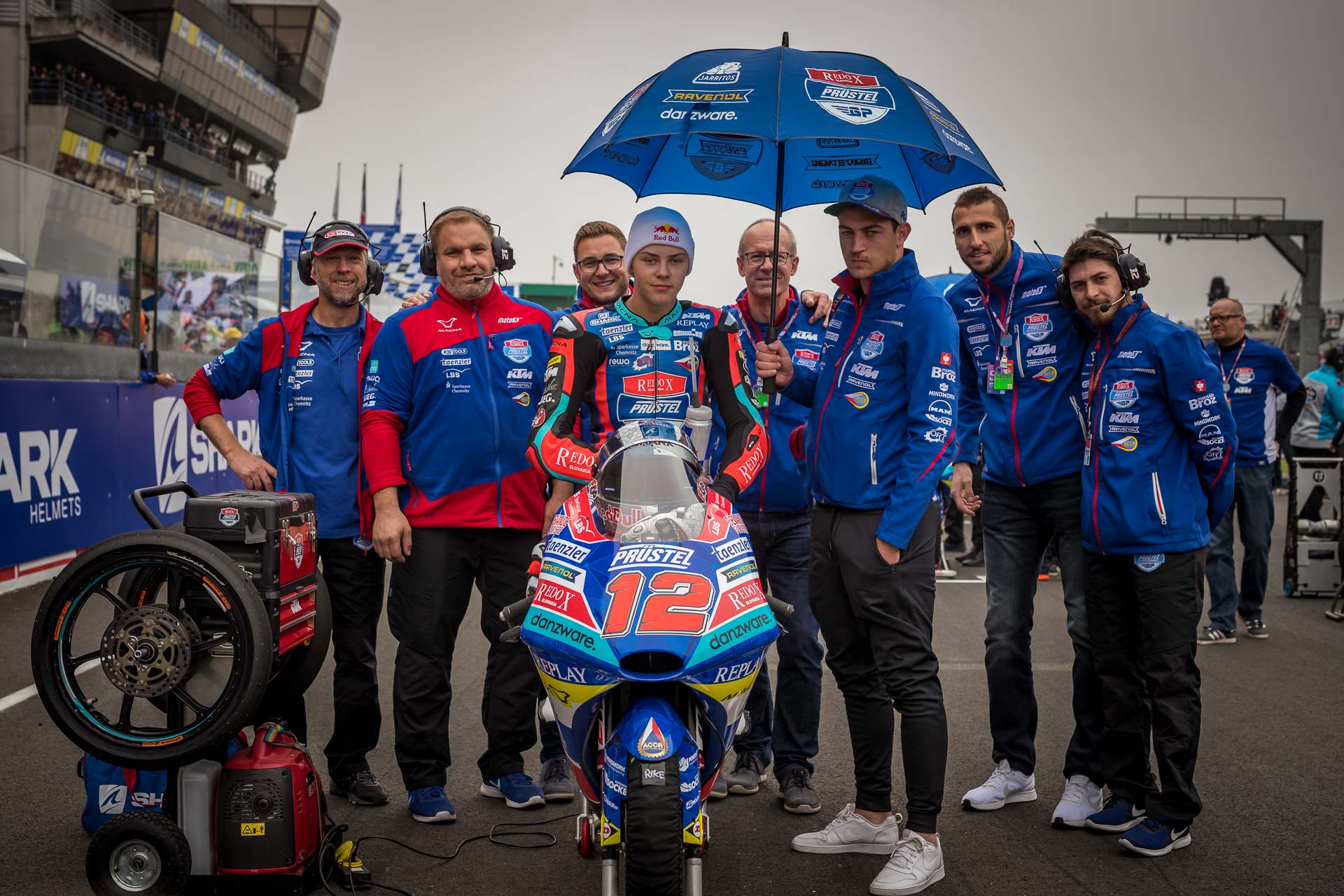 Filip Salač
"Ve Warm Upu se nám nepodařilo nastavit motorku tak, jak jsme chtěli. Opět se mi hodně zavíral předek a měl jsem s tím velké problémy. Kvůli tomu se mi nepodařilo zajet čas, který by stačil na přední příčky. Do závodu byly téměř stejné podmínky, teplota trati se o moc nezměnila a byl tam rozdíl asi jen 3°C, bylo zataženo a velká vlhkost."
"Do závodu jsem dobře odstartoval a hned v prvním esíčku se vše podařilo tak, jak jsem si představoval a předjel pár jezdců. Poté udělal chybu Sergio Garcia, který uprostřed zatáčky narazil do mé nohy a motorky. Úplně mě to odhodilo, přišel highsider a skončil jsem v kačírku. V tu chvíli jsem byl opravdu naštvaný a říkal si, že je po závodě a velké šanci získat body. Nevzdával jsem to a bojoval dál. Moje závodní tempo bylo stejné jako měla první skupina. Se slipstreamem se dá jet kolo o půl vteřiny lépe, ale i bez něj jsem jel 43 nízkých. Proto mě mrzí, že jsem se s nimi neudržel. Po pár kolech jsem dojel skupinu, se kterou jsem jel tři kola a poté jim ujel. Mrzí mě, co se stalo, je to smůla, ale i štěstí. Hodně jezdců spadlo a mě to dalo na 15. místo a první bod do mistrovství. Za to jsem opravdu šťastný. Je to první světový bod a dobrý pocit. Jsem rád, že jsem to ustál a sám dokázal jezdit dobré časy na kolo."
"Na závěr chci poděkovat všem fanouškům, mému týmu, panu Šťovíčkovi, rodině a všem, co mě podporují a podporovali. Je vidět velký pokrok, změnil jsem jak fyzickou přípravu, tak psychiku a pomáhá to. Doufám, že v Mugellu budeme pokračovat stejně tak dobře, jako tady v Le Mans, uvidíme se tam!"
Příští závody mistrovství světa silničních motocyklů se jedou v italském Mugellu od 31. 5. do 2. 6. 2019.