Oliver König dnes v Misanu nastoupil do hlavního závodu třídy Supersport 300. V něm celou dobu bojoval ve skupině jedoucí o body. Na ty nakonec nedosáhl, ale ztráta byla minimální.
Zdroj: TZ, Foto: Václav Duška Jr.
Na okruhu Marca Simoncelliho v Misanu dnes skončilo další kolo letošní sezóny mistrovství světa Superbiků. Na programu byly všechny hlavní závody a jako poslední na trať vyrazili jezdci třídy Supersport 300. Jejich závod byl vypsán na 13 kol. Po včerejších deštích se počasí vrátilo k tomu pátečnímu, takže bylo slunečno s teplotou vzduchu 28°C a trati 45°C.
Do hlavního závodu podruhé v sezóně nastoupil Oliver König, jezdec ACCR Czech Talent Teamu – Willi Race. Jak bývá při těchto závodech zvykem, startovní pole se drží v jedné skupině a ne jinak tomu bylo i tentokrát. Český závodník měl po startu z 26. místa na dosah bodované pozice, o které jel až do posledních metrů závodu. Nakonec byl v cíli na 22. místě se ztrátou jen 1,5 vteřiny na body.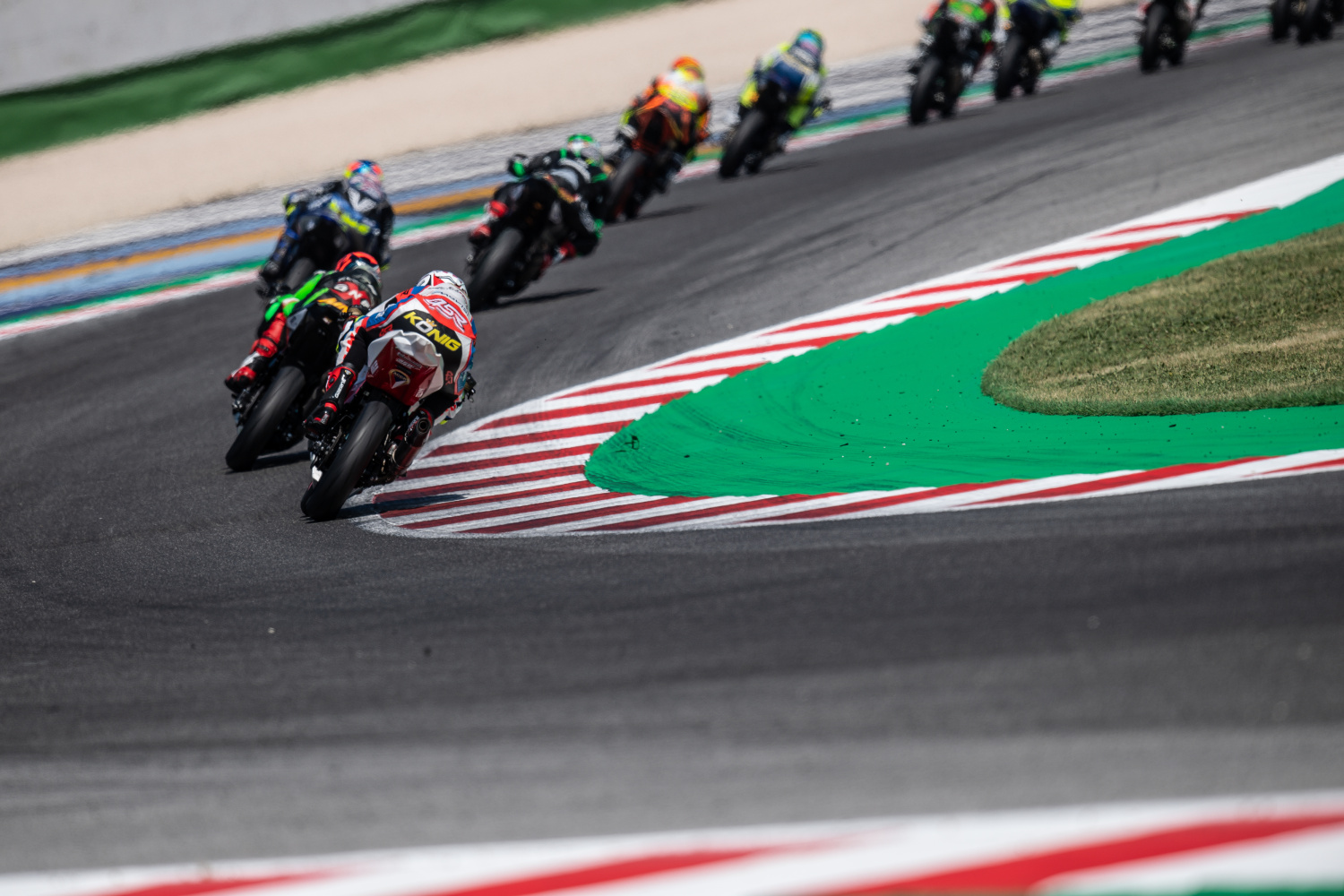 Oliver König
"Do závodu se mi podařilo dobře odstartovat. V prvním kole došlo k docela hodně kolizím, takže jsme tam docela dost ztratili. Na začátku jsem byl kolem 18. místa, ale poté se přes mě přehrnul Maximilian Kappler na KTM. Kvůli tomu jsem musel změnit stopu, byl delší a předjeli mě asi další čtyři jezdci. Pohyboval jsem se kolem 24. místa, ale byl ve velké skupině jedoucí o 13. místo. Celý závod to bylo většinou o tom, že mi na chvilku poodjeli a já je vzápětí dohnal. V závěru závodu se mi podařilo přejet Marca Garciu a Toma Edwardse, takže jsem skončil na 22. místě. To určitě nepovažuji za dobrý výsledek a nejsem s tím spokojený. Na druhou stranu je tady oproti Assenu progres v tom, že jsem skončil 1,5 vteřiny od bodu a nějaké 3 – 4 vteřiny od Top10. To je dobré, ale výsledek ne. Doufám, že to bude v Doningtonu lepší. Už se tam těším, protože mám tuhle trať rád. Na závěr chci poděkovat týmu za skvělou práci, že jsme se zvládli dostat do závodu. I když je to těžká sezóna a všichni se učíme, dávají do toho 100% a za to jim patří velké díky. Doufám, že to příště bude lepší a konečně se dostaneme na body."
Josef Kubíček – manažer týmu
"Oliver měl během tréninků solidní výkony a určitě bylo dobré, že postoupil do hlavního závodu. Je to další zkušenost, další dokončený závod. Byla to jedna velká skupina bojující o body, takže to bylo velice těsné. Možná, že to od obrazovky tak nevypadá a jde o pozici dost hluboko pod body, ale na dobré body bylo celou dobu vidět. Je potřeba sbírat zkušenosti právě při takových soubojích ve skupině, protože celé pole třiceti lidí jede téměř pohromadě. Donington je trať, kterou Oliver zná ze svého působení v Anglii, takže bychom se tam mohli zase posunout o něco výš. Děkuji všem partnerům za trpělivost a věřím, že máme před sebou ještě několik slušných závodů."
Příští závody mistrovství světa Superbiků se pojedou ve Velké Británii na okruhu Donington Park za dva týdny od 5. do 7. července 2019.
Sledujte ACCR Czech Talent Team – Willi Race na sociálních sítích:
Facebook: https://www.facebook.com/CzechTalentTeam/
Instagram: https://www.instagram.com/accr_czech_talent_willi_race/