Martin Horký, hendikepovaný český závodník, má za sebou druhý závod letošní sezóny mezinárodního šampionátu Bridgestone Handy Race, ve kterém zajel skvěle. V široké konkurenci obsadil 3. místo ve třídě 1000 ccm.
Zdroj: TZ, Foto: vlastní
Hendikepovaný jezdec týmu Dafitmotoracing Martin Horký o uplynulém víkendu získal fantastické 3. místo v závodě International Bridgestone Handy Race, který se konal při závodech mistrovství světa Superbike na okruhu Marca Simoncelliho v Misanu.
Druhý závod z třídílného šampionátu se tentokrát odehrál v Itálii. Po prvním, ne zcela vydařeném závodě v Le Mans minulý měsíc, si chtěl Martin spravit chuť. Po pondělních testech v Brně se zajetým 2:16 vše nasvědčovalo v možnost dobrého umístění. Martin má amputovanou pravou nohu na kolenem a startuje na závodním motocyklu Yamaha YZF–R1.
Vložený závod hendikepovaných obsahoval pouze páteční dvě kvalifikační jízdy a sobotní závod na 10 kol. V první kvalifikaci Martin obsadil 7. a ve druhé 5. místo. Zajeté časy a progres však dávaly naději na boj o stupně vítězů.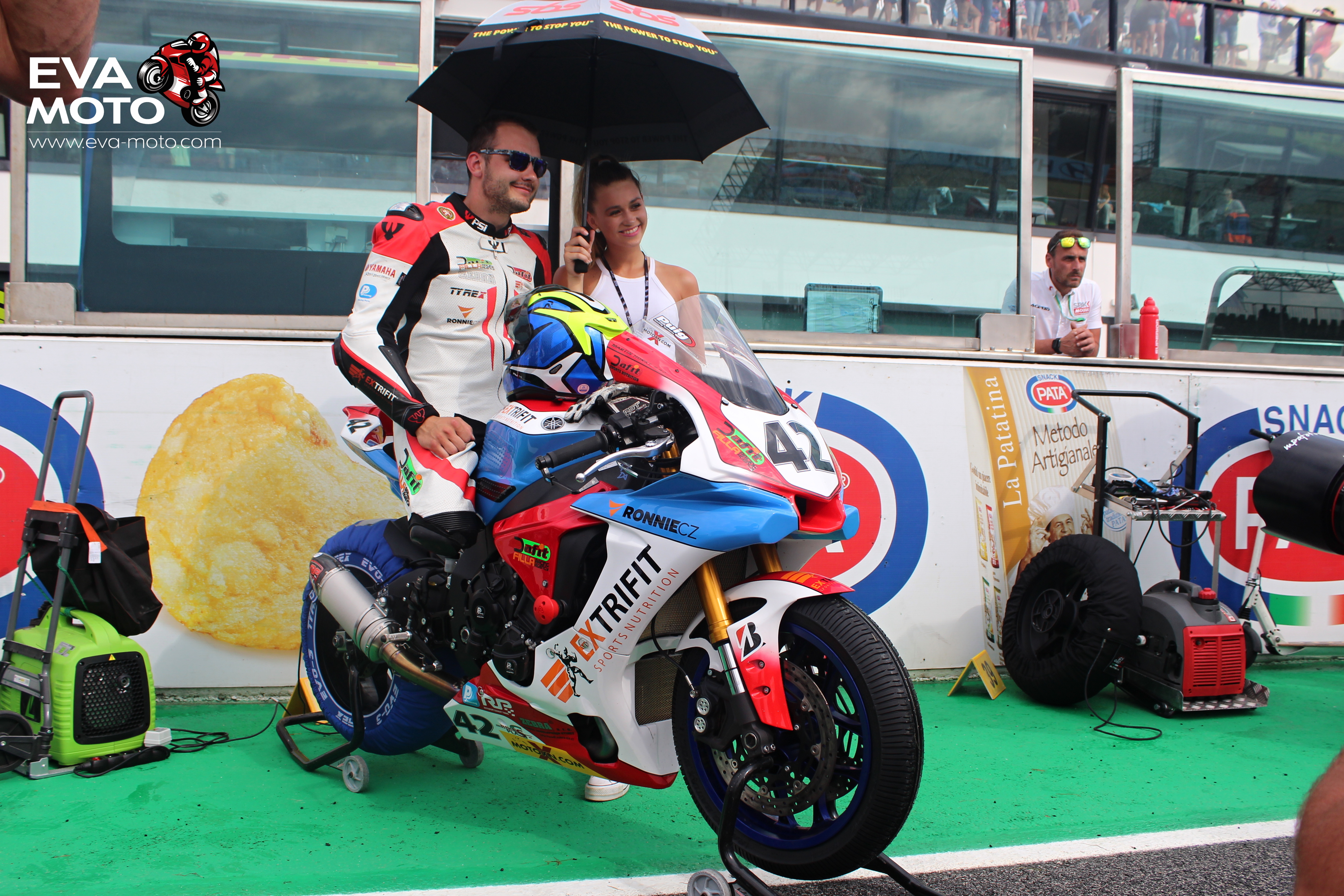 Sobotní závod měl startovat v 16 hodin, avšak byl přeložen na 17 hodinu, kvůli neustálým problémům s počasím a lokálními bouřkami. Povrch tratě byl za celý den mokrý a vychladlý, ale hodinu před závodem přestalo pršet. Tým ponechal suché pneumatiky s nadějí, že dráha do závodu oschne. Pár minut před startem proběhla výměna přední suché gumy za mokrou, jelikož trať neměla souvislou pokrývku vody, byla ale převážně mokrá. Martin tedy odstartoval s kombinací mokré přední a suché zadní pneu s loterií, že začne trať dosychat během závodu. První dvojice jezdců obula nakonec podobnou kombinaci pneumatik.
Hendikepovaní jezdci startují v letmém startu, kdy se Martin během prvního kola a seznamování s touto zkušeností obutí propadl na 8. místo. Během dalšího kola začal zajíždět velmi rychlé časy a postupně se dostával dopředu. Každé kolo předjel jednoho soupeře a tři kola před koncem se dostal na 3. místo, což už si pohlídal. Napínavý závod tak Martin dokončil na jeho prvních stupních vítězů v tomto šampionátu. Tým zažil fantastický závod plný radosti a emocí jako z vítězství. "Byl to můj životní závod, jsem nesmírně šťastný, že se to povedlo v takových podmínkách," sdělil Martin.
Touto radostnou zprávou tým děkuje všem partnerům za uskutečnění projektu v těchto závodech. Poslední závod se koná na konci září ve francouzském Magny Cours.
DAFITMOTORACING