Mezinárodní mistrovství České republiky na závodních okruzích tento víkend pokračuje závody v Assenu, kde se jede spolu s mezinárodním šampionátem Alpe Adria. Po závodech na Slovensku přišlo několik důležitých dotazů ohledně bodování, takže i na to naleznete v článku odpověď.
Zdroj: TZ, Foto: Dušan Belica
Letošní sezóna Mezinárodního mistrovství České republiky na závodních okruzích začala na konci dubna závody na Slovakiaringu, kdy se letos opět jede ve spolupráci s mezinárodním motocyklovým šampionátem Alpe Adria – promotér LUTEC. O nadcházejícím víkendu od 31. května do 2. června 2019 se odjede druhý závodní podnik. Tentokrát jezdci zamíří na světový okruh v Assenu v Nizozemí.
Okruh TT Assen je dlouhý 4,545 km a patří mezi nejznámější tratě na světě. Jezdí se tu závody mistrovství světa Superbiků i MotoGP, takže nabízí perfektní služby a zázemí. Závodní program začne v pátek volnými tréninky a večer je pro jezdce povinná rozprava. V sobotu už budou na programu kvalifikační tréninky a první závody a v neděli Warm Upy a druhé závody.
Závody tu budou při MMČR vypsány pro třídy Supersport 300, Superstock 600, Superstock 1000 a Superbike, ale na trati budou i další třídy v rámci závodů Alpe Adria. Třídy Supersport 300 a Superstock 1000 se jedou jako evropské poháry. Tím, že se jedná o mezinárodní mistrovství České republiky, bodují všichni držitelé licencí ACCR a zahraniční jezdci, kteří se do našeho šampionátu přihlásí.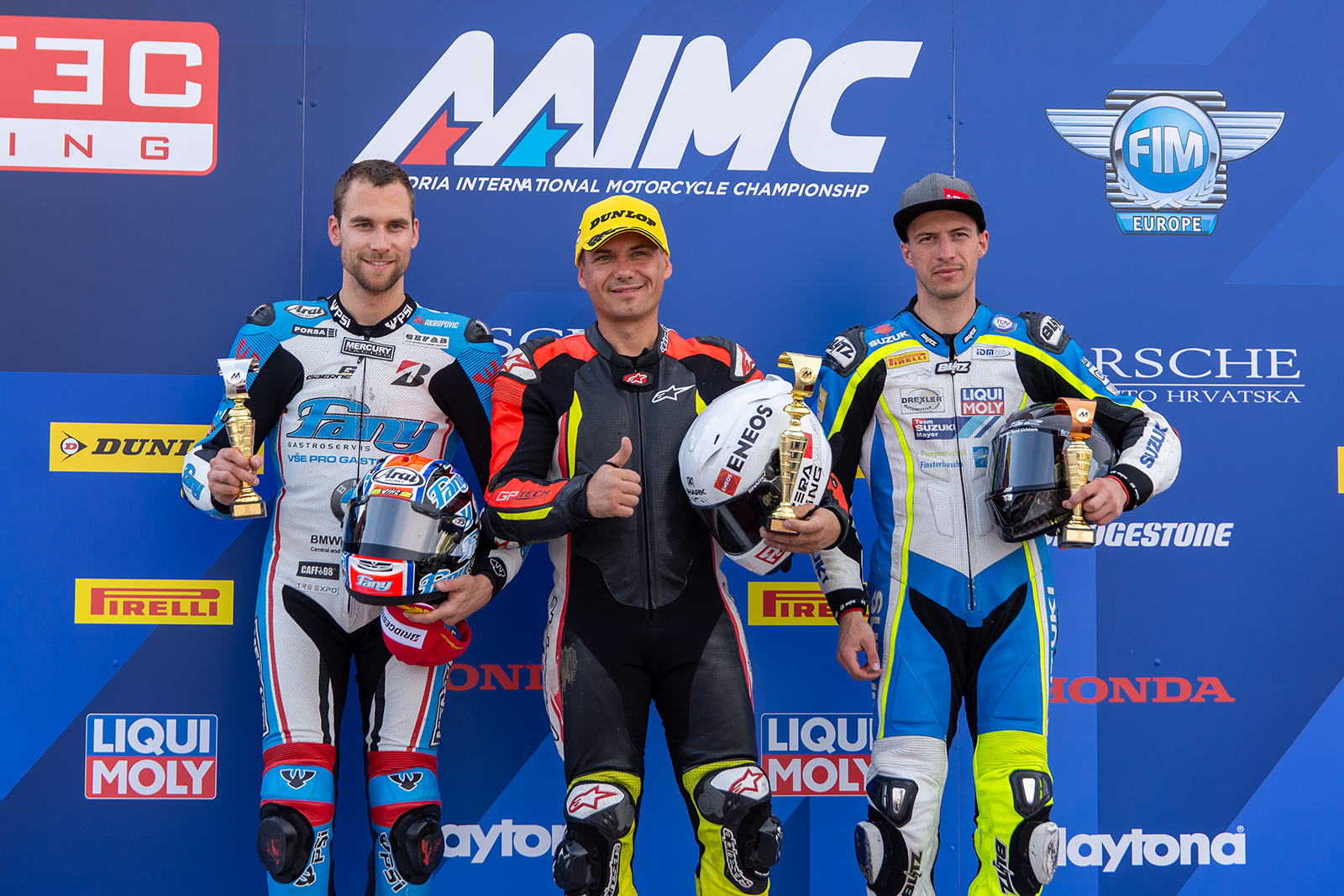 Ondřej Ježek – vedoucí jezdec třídy Superbike
"Díky chybě Karla Haniky ve druhé jízdě na Slovakiaringu jsem se dostal do čela celkové klasifikace MČR Superbike. Assen patří mezi mé historicky nejúspěšnější tratě, takže doufám, že to potvrdím i při nadcházejících závodech Alpe Adria. Mým cílem je vedení v šampionátu udržet."
Pro letošní rok byla komisí SZM AČR schválena změna ve sportovních řádech, kdy se bude jezdcům škrtat jeden nejhorší výsledek sezóny. Na to přišlo několik dotazů a to vysvětluje předseda komise.
Matěj Smrž – předseda komise SZM AČR
"Po závodech na Slovakiaringu přišel dotaz ohledně škrtání nejhoršího výsledku sezóny, což bylo 14.12.2018 schváleno komisí. Škrtat se bude pouze jeden závod, nikoliv jeden závodní víkend. Nebudou se tak zvýhodňovat jezdci, kteří nepojedou například do Assenu oproti těm, kteří závodit pojedou. Musí to být férové pro všechny! Přesně takto to bylo v IDM, kde se v minulosti také škrtal pouze jeden závod, nikoliv celý víkend, i když se v neděli jely také dva závody."
Kompletní výsledky budou zveřejněny na webu Autoklubu ČR u stránky závodu:
https://www.autoklub.cz/podnik/mmcr-na-zavodnich-okruzich-2019-assen-rr-02/
Dění na trati můžete sledovat živě:
přes live timing: http://www.chronomoto.hu/livetiming/aa/
a přenosy na YouTube: https://www.youtube.com/channel/UCty4sO0xBj65HvLbyJbod8g
Harmonogram víkendu
Průběžné pořadí MMČR SSP300
| | | | | | | | | | | |
| --- | --- | --- | --- | --- | --- | --- | --- | --- | --- | --- |
| P | Č. | Jezdec | Nár | FMN | Tým | Motorka | Pneu | Z1 | Z2 | Celkem |
| 1 | 52 | KÖNIG Oliver | CZE | ACCR | ACCR Czech Talent Team – Willi Race | Kawasaki | Pi | 25 | 25 | 50 |
| 2 | 41 | NESPĚŠNÝ Jiří | CZE | SMF | Motoklub Baláž | Kawasaki | Pi | 10 | 20 | 30 |
| 3 | 56 | KUBÁŇ David | CZE | ACCR | David Kubáň | KTM | Pi | 13 | 16 | 29 |
| 4 | 37 | KUČERA Roman | SVK | SMF | Moto82-KPA Racing Team | Kawasaki | Pi | 11 | 13 | 24 |
| 5 | 77 | SCHWARZ Vojtěch | CZE | ACCR | ACCR Czech Talent Team – Willi Race | Kawasaki | Pi | 20 | 0 | 20 |
| 6 | 74 | LAMBING Leon | AUT | AMF | Motorrad Mayer | Kawasaki | Du | 9 | 11 | 20 |
| 7 | 8 | STRNADOVÁ Markéta | CZE | ACCR | Region Racing Team | Kawasaki | Pi | 8 | 10 | 18 |
| 8 | 63 | HŘAVA Miloslav | CZE | ACCR | ACCR Czech Talent Team – Willi Race | Kawasaki | Pi | 16 | 0 | 16 |
| 9 | 47 | LAMICH Radek | CZE | ACCR | LAMI Racing Team | Yamaha | Pi | 7 | 9 | 16 |
| 10 | 16 | REPÁK Maxim | SVK | SMF | Halbich Motorsport | Kawasaki | Pi | 0 | 0 | 0 |
Průběžné pořadí MMČR STK600
| | | | | | | | | | | |
| --- | --- | --- | --- | --- | --- | --- | --- | --- | --- | --- |
| P | Č | Jezdec | Nár | FMN | Tým | Motorka | Pneu | Z1 | Z2 | Cekem |
| 1 | 69 | RANNER Kevin | AUT | AMF | KR69 – Team Gesslpower | Yamaha | Du | 25 | 20 | 45 |
| 2 | 261 | CHLUP Jaromír | CZE | ACCR | Dafitmotoracing | Yamaha | Du | 20 | 16 | 36 |
| 3 | 88 | KAČABA Peter | SVK | SMF | TEAM R6 Cup | Yamaha | Br | 16 | 11 | 27 |
| 4 | 33 | ŠUBRT Tomáš | CZE | ACCR | BRC Šubrt racing team | Yamaha | Pi | 13 | 13 | 26 |
| 5 | 83 | CHALUPA Michal | CZE | ACCR | Czech Road Team | Yamaha | Pi | 0 | 25 | 25 |
| 6 | 18 | GYOR Balint | HUN | MAMS | TEAM R6 Cup | Yamaha | Du | 9 | 10 | 19 |
| 7 | 32 | STACHURA Patrik | CZE | ACCR | AMK Těrlicko | Kawasaki | Du | 10 | 8 | 18 |
| 8 | 96 | FIORE Silvio | CHE | AMF | TEAM R6 Cup | Yamaha | Du | 8 | 9 | 17 |
| 9 | 51 | SAVINKOV Michal | CZE | ACCR | ORT Racing Team | Yamaha | Du | 6 | 7 | 13 |
| 10 | 38 | ORT Zdeněk | CZE | ACCR | ORT Racing Team | Yamaha | Du | 7 | 5 | 12 |
| 11 | 98 | RONEC Michal | SVK | SMF | Motoklub Baláž | Yamaha | Du | 11 | 0 | 11 |
| 12 | 54 | DURUKAN Turgut | AUT | AUT | TEAM R6 Cup | Yamaha | Br | 5 | 3 | 8 |
| 13 | 22 | NOVOTNÝ Jan | CZE | ACCR | ORT Racing Team | Yamaha | Du | 4 | 4 | 8 |
| 14 | 23 | FEIGL Petr | CZE | ACCR | Beda Racing | Yamaha | Pi | 0 | 6 | 6 |
| 15 | 10 | MRKÝVKA Jiří | CZE | ACCR | TEAM R6 Cup | Yamaha | Br | 0 | 0 | 0 |
Průběžné pořadí MMČR STK1000
| | | | | | | | | | | |
| --- | --- | --- | --- | --- | --- | --- | --- | --- | --- | --- |
| P | Č | Jezdec | Nár | FMN | Tým | Motorka | Pneu | Z1 | Z2 | Celkem |
| 1 | 69 | JŮDA Dominik | CZE | ACCR | TME racing | BMW | Br | 25 | 25 | 50 |
| 2 | 82 | PEŠEK Karel | CZE | ACCR | KPA/Moto82 | Kawasaki | Pi | 16 | 20 | 36 |
| 3 | 111 | ŠEMBERA Michal | CZE | ACCR | TME racing team | BMW | Br | 13 | 16 | 29 |
| 4 | 36 | BITTMAN Václav | CZE | ACCR | BRC Šubrt Racing | Yamaha | Du | 20 | 0 | 20 |
| 5 | 55 | FILLA Michal | CZE | ACCR | BMW Sikora Motosport | BMW | Pi | 0 | 0 | 0 |
| 6 | 6 | PRÁŠEK Michal | CZE | ACCR | Rohác-Fejta Motoracing Team | BMW | Du | 0 | 0 | 0 |
Průběžné pořadí MMČR Superbike
| | | | | | | | | | | |
| --- | --- | --- | --- | --- | --- | --- | --- | --- | --- | --- |
| P | Č | Jezdec | Nár | FMN | Tým | Motorka | Pneu | Z1 | Z2 | Celkem |
| 1 | 45 | JEŽEK Ondřej | CZE | ACCR | Mercury Racing Team | BMW | Br | 20 | 25 | 45 |
| 2 | 98 | HANIKA Karel | CZE | ACCR | Mercury Racing Team | BMW | Br | 25 | 0 | 25 |
| 3 | 41 | POLÁK Stanislav | CZE | ACCR | GT2 Motorsport | Yamaha | Pi | 11 | 13 | 24 |
| 4 | 66 | BROŽ Jiří | CZE | ACCR | Montaze Broz Racing Team | Yamaha | Pi | 7 | 16 | 23 |
| 5 | 210 | OUŘEDNÍČEK David | CZE | ACCR | Dafitmotoracing | Yamaha | Du | 10 | 11 | 21 |
| 6 | 24 | JERMAN Marko | SLO | AMZS | AF Motors Ducati TR | Ducati | Du | 0 | 20 | 20 |
| 7 | 15 | ČIHÁK Miloš | CZE | ACCR | BMW Motorrad Czech | BMW | Pi | 9 | 10 | 19 |
| 8 | 224 | DUCHYŇA Peter | SVK | SMF | Peter Duchyna | BMW | Pi | 8 | 9 | 17 |
| 9 | 427 | FICHTENBAUER Andreas | AUT | AMF | racer4kids | Yamaha | Pi | 16 | 0 | 16 |
| 10 | 144 | GESSLBAUER Gerold Jr. | AUT | AMF | RATEZI – Racing Team | Yamaha | Pi | 13 | 0 | 13 |
| 11 | 76 | BALCAR Richard | CZE | ACCR | BMW Motorrad Czech | BMW | Pi | 0 | 0 | 0 |
* nejhorší výsledek (pouze jedna jízda) se na konci sezóny škrtá – rozhodní komise SZM ze dne 14. 12. 2018