Závodní víkend v holandském Assenu začal pátečními volnými tréninky a tím se také rozjelo druhé kolo sezóny 2019 pro český tým ACCR Czech Talent Team – Willi Race.
Zdroj: TZ, Foto: Václav Duška Jr.
Mistrovství světa Superbiků pro tento víkend zavítalo na trať v Assenu, která patří mezi nejslavnější okruhy v motocyklových závodech. A právě vůbec poprvé dnes na trať vyjel Vojtěch Schwarz z českého ACCR Czech Talent Teamu – Willi Race. Vojta během dne zaznamenal dobrý progres, kdy se zlepšil o 1,5 vteřiny, nicméně pořád je tu velký prostor pro zlepšení. Jeho týmový kolega Oliver König byl rychlejším z dvojice českých jezdců, navíc využil předchozí znalosti trati. Oliver se během dne také zlepšil, ale nebylo to tak výrazné a není s dneškem spokojený.
Celý den byl poznamenán velice nízkými teplotami. Ranní tréninky se odjely při 4°C a odpoledne se teplota nepřehoupla přes 7°C. Trať na tom byla o pár stupňů lépe, ale i tak to způsobovalo hlavně problémy s přilnavostí.
Vojtěch Schwarz
"První trénink se mi líbil, i když jsem neznal trať. Jinak bylo všechno tak, jak má být. Trať je velmi zajímavá a určitě je to něco jiného, než Aragón. Mě osobně taková trať více vyhovuje, je užší, rychlejší a jsou tady jiné poloměry zatáček. Líbí se mi tady. Od rána jsme udělali dobrý progres, ale pořád to není to, s čím bych byl spokojený. Dál pracujeme na nastavení, ale je to víceméně hlavně o mě. Na sobotu jsme udělali hodně změn v nastavení motorky, tak snad to půjde k lepšímu. Určitě se na zítřek těším. Bohužel je tady zima a celý den kolem 5°C. Uprostřed tréninku mi zmrzly ruce, takže jsem musel na chvíli zastavit. Snad to nějak zvládneme a doufám, že bude tepleji."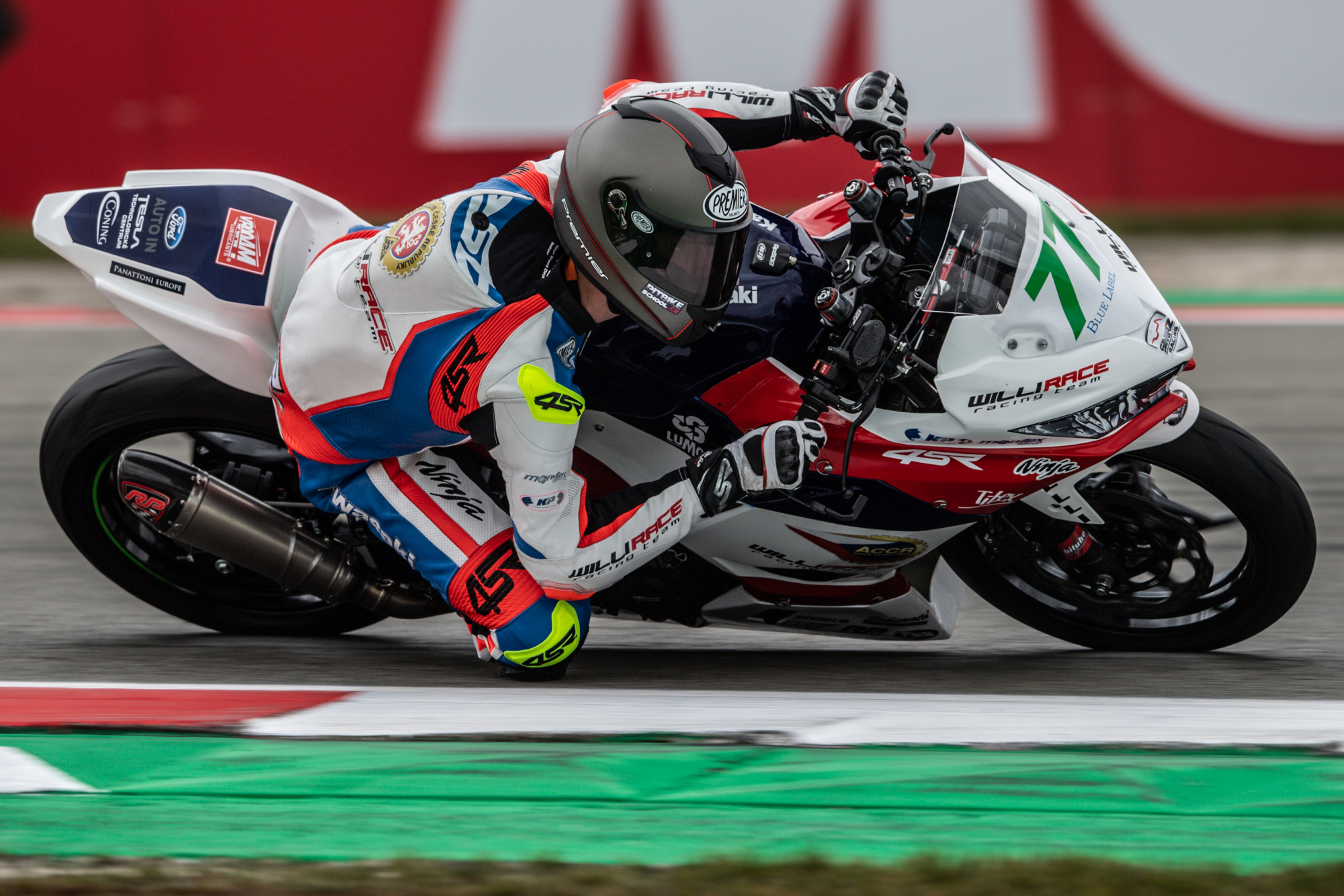 Oliver König
"Po prvním tréninku jsem byl spokojený, ale ten druhý nevyšel. Celou dobu jsem jezdil sám, nebyl jsem schopný se někoho chytit, protože tam nikdo nebyl. Klasicky jsem ho odjel celý sám, takže z toho nebyl žádný dobrý čas. Zima je tady velká, ale naštěstí to na motorce moc necítím. Doufám, že se na zítra dobře vyspím a bude to v pohodě."
Josef Kubíček – manažer týmu
"Dnes byla neuvěřitelná zima, nepamatuji se, kdy bych zažil něco podobného. Zima je ale stejná pro všechny a musím říct, že jsme dostali za uši, nejen tou zimou, ale i od soupeřů. Děláme všechno, co je v našich silách, pro lepší výsledky. Kluci pracují na nastavení motorek, abychom v takové zimě měli lepší přilnavost. Zkouší se změny v nastavení odpružení a jiný převod, protože to nedrží, i když by to jinak bylo na tuto trať ideální. Samozřejmě, že se snažíme využít svých kontaktů a radíme se i s jinými týmy, které používají motocykly Kawasaki. Snažíme se co nejlépe a nejvíce pomoci jezdcům k tomu, aby se dokázali během zítřejšího dne zlepšit. Všechny předpovědi ale říkají, že má být stejně, ne-li hůř. Když si představím, že by se mělo zítra ráno v 9 hodin jezdit na bodu mrazu, tak je mi zle. Dnes ráno při prvním tréninku byly 4°C a všechny předpovědi říkají, že zítra má být v tuhle dobu 0°C."
Během víkendu bude tým podávat aktuální informace z místa, včetně výsledků, na sociálních sítích.
Sledujte ACCR Czech Talent Team – Willi Race na sociálních sítích:
Facebook: https://www.facebook.com/CzechTalentTeam/
Instagram: https://www.instagram.com/accr_czech_talent_willi_race/
#WorldSSP300 #NLDWorldSBK