V americkém Texasu se v pátek rozjela třetí Grand Prix letošní sezóny. Filip Salač se během tréninků hlavně učil novou trať, která je dlouhá a náročná vzhledem k dvaceti zatáčkám.
Zdroj: TZ, Foto: Redox Prüstel GP Team (Ronny Lekl)
Se třetí Velkou cenou šampionát mistrovství světa silničních motocyklů zavítal do amerického Austinu na okruh COTA (Circuit of the Americas). Páteční program tradičně patří volným tréninkům, ve kterých český závodník Filip Salač poznával novou trať. Ta patří mezi nejdelší v kalendáři Grand Prix, navíc má dvacet různorodých zatáček.
Jezdec týmu Redox Prüstel GP ve třídě Moto3 proto v prvním volném tréninku netlačil na časy, takže nejlepší kolo zajel za 2:22,008 a obsadil 23. místo s rozdílem 3,4 vteřiny. Ve druhém tréninku zlepšil čas na 2:19,304, i když měl rozjetá kola na ještě lepší čas. Nakonec je z toho 24. místo se ztrátou 2,6 vteřiny. Během pátečního večera Filip s týmem pracoval na vyhodnocení dat a nalezení míst, kde se zlepšit. Podle předpovědi počasí to vypadá, že sobotní program proběhne na mokré trati.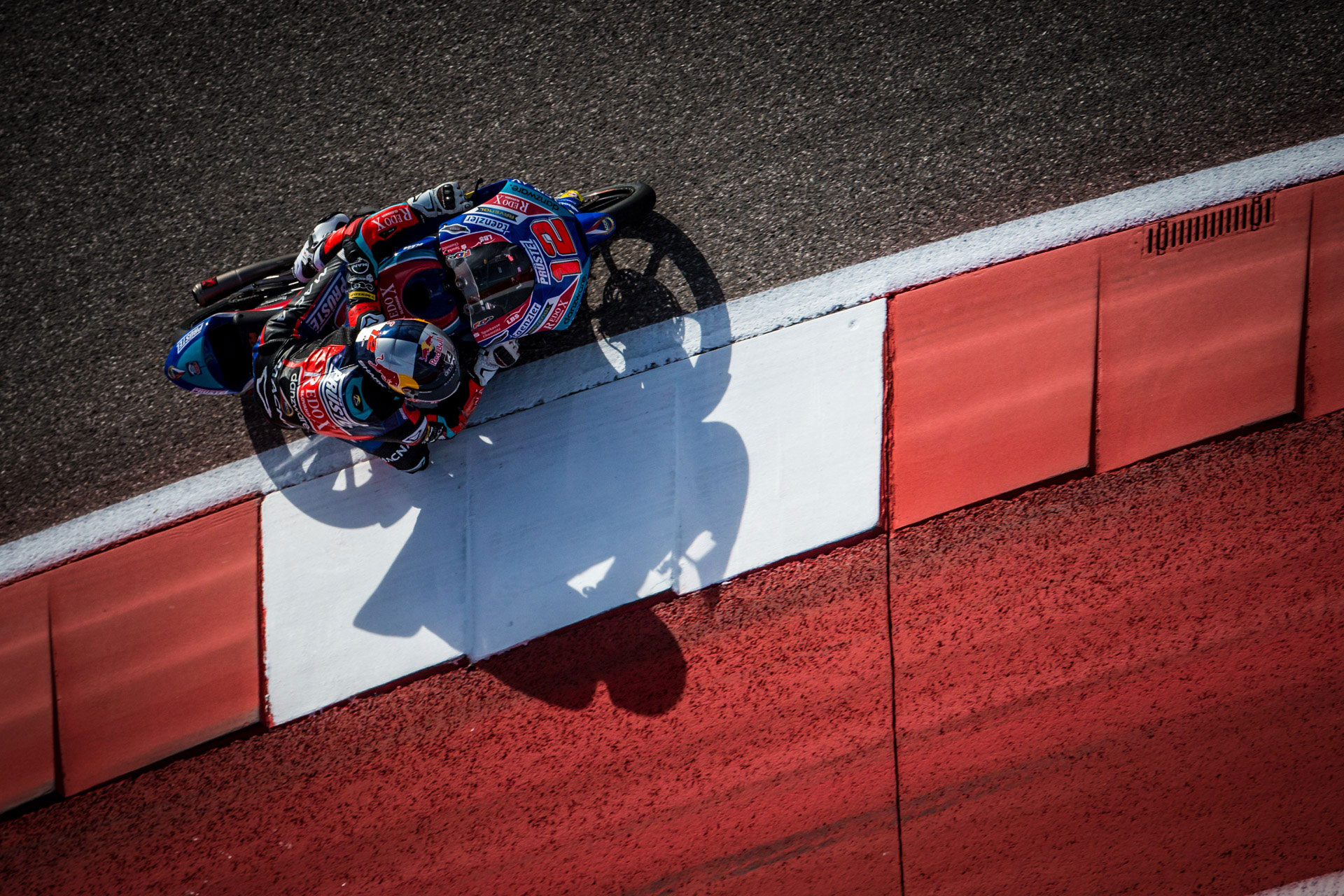 Filip Salač
"V prvním tréninku jsem se snažil co nejvíce poznat trať, protože je dlouhá a těžká. Moc se mi okruh líbí, ale je náročný. I ve druhém tréninku jsem jel zatáčky, ve kterých nevím, kde přidat a kde ubrat. Není to vůbec jednoduché, ale máme to všichni nováčci stejné. V prvním tréninku jsem kvůli tomu moc netlačil na časy, protože jsem chtěl trať poznat co nejlépe a najít stopu. Učil jsem se od ostatních jezdců. Ve druhém tréninku jsme na začátku zkoušeli tvrdou pneumatiku s ohledem na závod. Na sobotu to vypadá, že bude pršet, takže nebude čas vyzkoušet to, co se bude moci jet v závodě. Na posledních sedm minut jsem na závěrečná dvě kola vyjel na nových medium pneumatikách. Bohužel v obou dvou kolech jsem udělal chybu, která mě stála hodně. Moc mě to mrzí, protože jsem mohl jet velice rychle. Motorka byla připravená na lepší čas. Šlo o to, že jsem se snažil dotáhnout jezdce přede mnou a přebrzdil zatáčku. Doufám, že už tuhle chybu neudělám. Do dalších tréninků musíme zapracovat na telemetrii. Podíváme se na data, abych viděl, kde můžu zrychlit."
Další harmonogram víkendu třídy Moto3 Red Bull Grand Prix of The Americas (časy uvedeny v SEČ):
Sobota 13. 4. 2019: 3. volný trénink (16:00 – 16:40), kvalifikace (19:35 – 20:15 – 2 části)
Neděle 14. 4. 2019: Warm Up (15:40 – 16:00), závod (18:00)