Český ACCR Czech Talent Team – Willi Race má za sebou další závodní podnik mistrovství světa Superbiků ve třídě Supersport 300. O uplynulém víkendu se jelo v italské Imole, ale nedělní závod ovlivnila nepřízeň počasí.
Zdroj: TZ, Foto: Václav Duška Jr.
Mistrovství světa Superbiků druhý květnový víkend zavítalo na okruh Imola v Itálii, kde se jelo páté kolo letošní sezóny a pro třídu Supersport 300 šlo o třetí závodní podnik. Průběh víkendu byl v podání českého týmu pozitivní, kdy Oliver König i Vojtěch Schwarz podávali stále lepší výkony i přes to, že technicky náročnou trať viděli poprvé. Oliver si v sobotním závodě Last Chance vybojoval postup do nedělního závodu. Jeho týmový kolega také bojoval o postupovou pozici, ale po kolizi s jiným jezdcem pro něj závod skončil. Nakonec si ale ani Oliver nezazávodil, protože byl nedělní závod zrušen kvůli velkému množství vody na trati.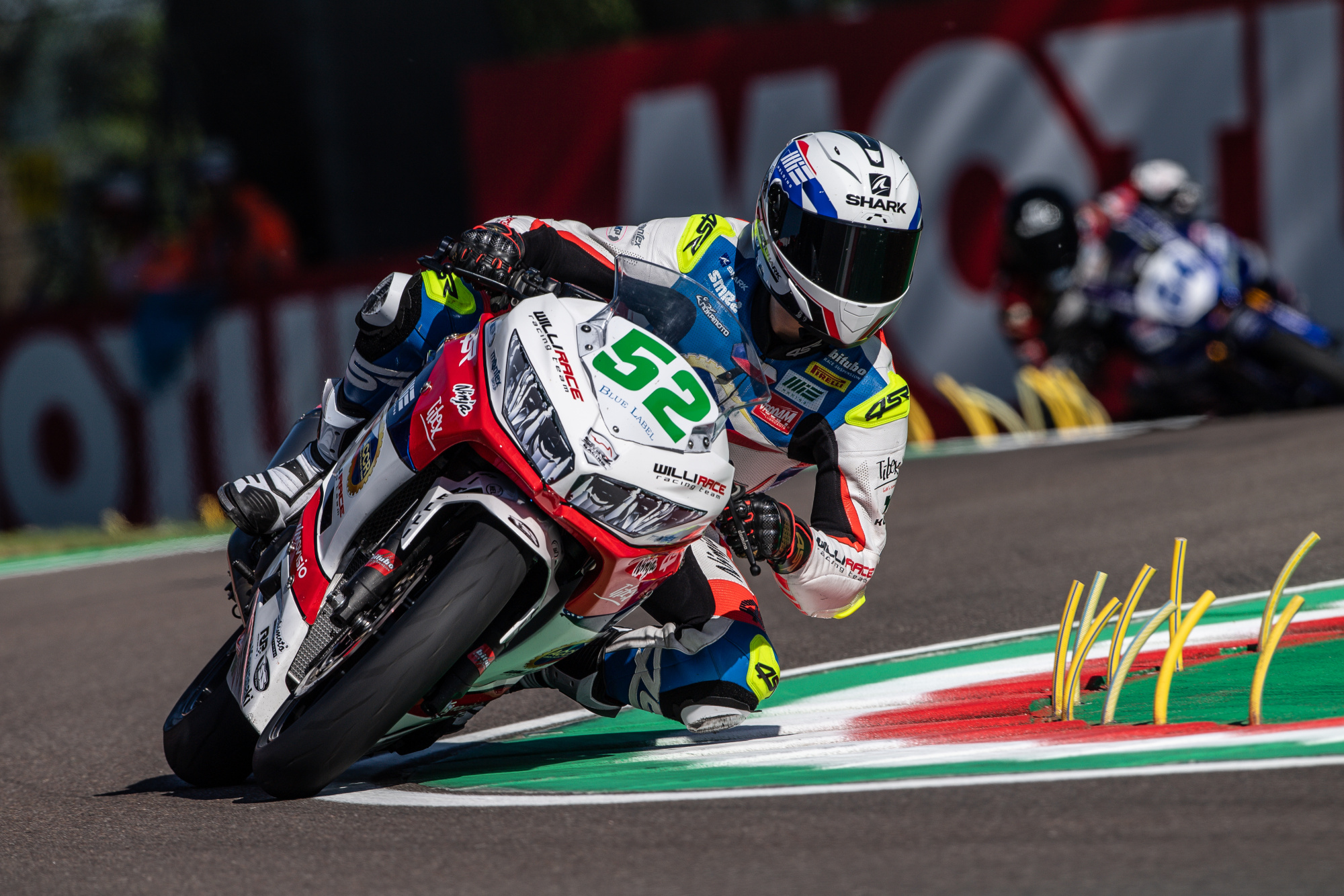 Oliver König
"Ještě před závodním víkendem jsem měl od středy zdravotní problém, protože se mi vrátila angína. S tou jsem závodil při MMČR na Slovakiaringu a bohužel i v Imole. Kvůli tomu jsem ani nevěděl, jestli budu schopen jezdit. Naštěstí mě v medical cntre díky práškům uvedli do stavu, že jsem mohl jet. Pátek probíhal skvěle, byl to asi nejlepší pátek za tuto sezónu. Sobota začala také dobře, ale bohužel jsem v kvalifikaci udělal chybu a to pro mě znamenalo, že jsem se přímo nedostal do hlavního závodu. Kvůli tomu jsem musel nastoupit do závodu Last Chance. Ten jsem naštěstí díky své hlavě zvládl dojet na druhém místě a to znamenalo jediné – postup do nedělního závodu. Neděle začala také dobře, protože jsem v ranním Warm Upu skončil šestý! Bohužel poté byl závod zrušen kvůli počasí. Moc děkuji všem, co mi pomáhají a podporují mě a také celému týmu."
Vojtěch Schwarz
"Páteční tréninky probíhaly celkem pěkně a byl to určitě lepší vstup do víkendu, než v předchozích závodech. Mě velice pomohlo, že jsme měli již od prvního volného tréninku dobré nastavení podvozku, které jsme během víkendu měnili minimálně. V každém tréninku jsme zaznamenali progres a nejlepší byla kvalifikace. Ta byla také dobře strategicky naplánovaná s jednou zastávkou v boxu. Podařilo se mi jet s rychlou skupinou, kde byl Scott Deroue a další. Do hlavního závodu se mi nakonec nepodařilo kvalifikovat, tak jsem nastoupil do závodu Last Chance. Osmé místo na roštu byla dobrá výchozí pozice. Stačilo dojet šestý a tím pádem byl postup na dosah. Start se mi podařil, ale během prvních zatáček jsem se propadl na 12. místo, ale hned ve druhém sektoru jsem se dostal na 10. pozici. Do šikany Variante Alta došlo na brzdách ke kontaktu s jiným jezdcem a výsledkem byl pád. Tam to pro mě skončilo. V Imole jsem nikdy nebyl a musím říct, že je to pro mě momentálně jedna z nejlepších tratí. Nachází se ve velice pěkném prostředí a všude kolem je skvělá atmosféra. Už ve čtvrtek mě překvapilo, jaká spousta lidí přišla do depa. Za mě je to velice krásný okruh se skvělými fanoušky. Chci poděkovat týmu, sponzorům a všem, kteří nás podporují."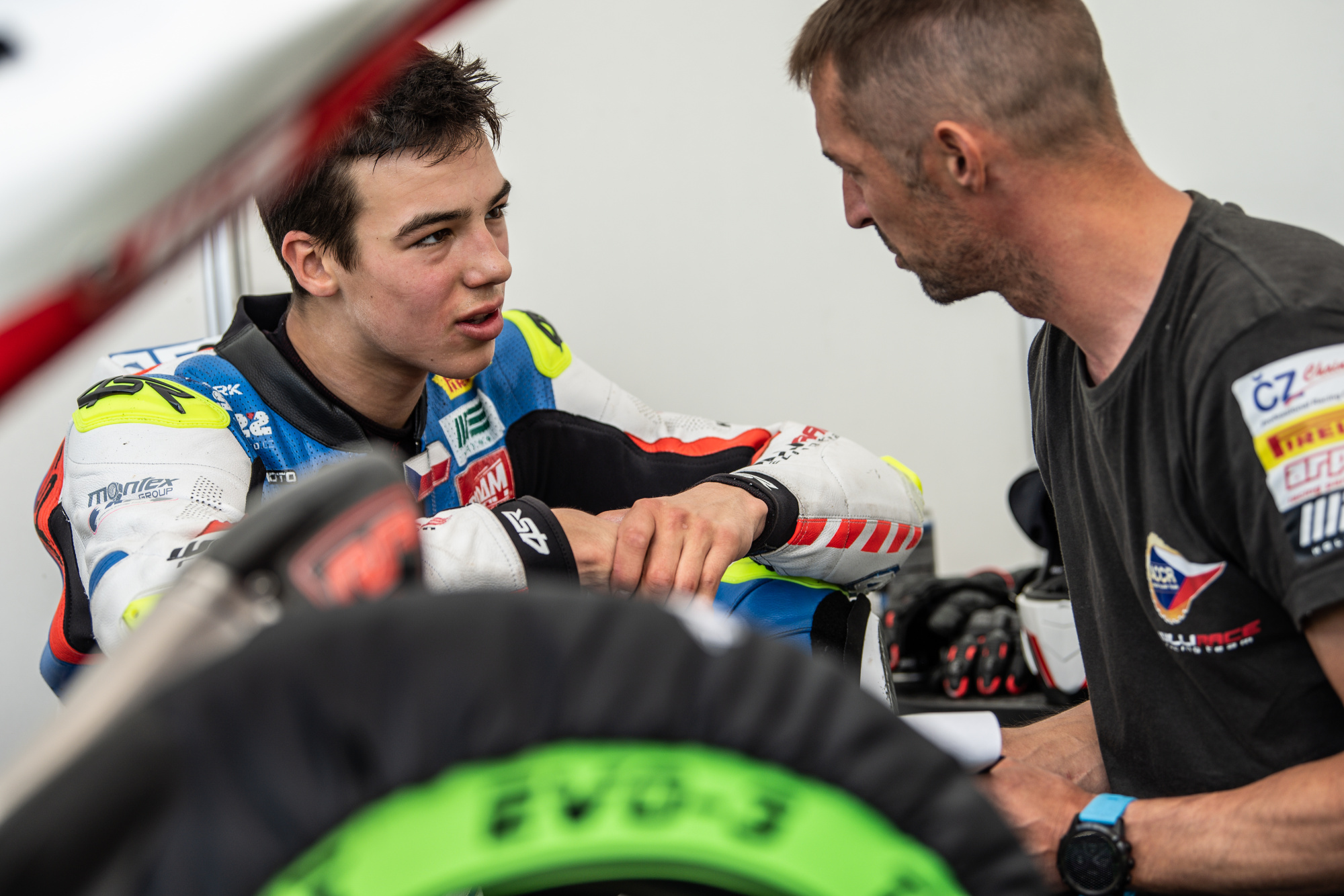 Jakub Smrž – manažer týmu
"Víkend začal moc dobře, když kluci oproti minulým závodům jeli v pátek velice dobře a to byli v Imole poprvé. V sobotu pokračovali v dobrém tempu, Vojta zajel slušnou kvalifikaci a Oliver měl naopak smůlu ve velké skupině, když nezajel žádné ideální kolo, ale vše napravil v Last Chance Race a chytře si dojel pro 2. místo. Vojta bohužel doplatil na kolizi a po pádu odstoupil. Ve Warm Upu na osychající trati předvedl Oliver skvělý výkon a 6. místo bylo znamením, že nás čeká zajímavý závod, ale kvůli počasí byl závod zrušen. Mrzí mě to, ale s počasím nic neuděláme. Každopádně jsem rád, že jsme zase o něco polepšili motorku a kluci vylepšili svou slabou stránku z minulých závodů, což byly pomalé páteční tréninky."
Příští závody WorldSBK se jedou ve španělském Jerezu v termínu od 7. do 9. června 2019.
Sledujte ACCR Czech Talent Team – Willi Race na sociálních sítích:
Facebook: https://www.facebook.com/CzechTalentTeam/
Instagram: https://www.instagram.com/accr_czech_talent_willi_race/