Na okruhu Phillip Island byla tento víkend zahájena letošní sezóna v mistrovství světa Superbiků a zde jsou výsledky všech závodů.
Zdroj: WorldSBK
Superbike
Dlouhá zimní pauza mezi sezónami WorldSBK skončila tento víkend, když se naplno rozjel první závodní podnik v Austrálii. Na Phillip Islandu před víkendem probíhaly testy, takže byli všichni dobře připraveni a zároveň už se nemohli dočkat, až všechno začne. Už páteční tréninky naznačovaly, že se můžeme těšit na závody. Scott Redding byl se svou Ducati Panigale V4R nejrychlejší a jasně ukázal, že chce jet o nejlepší pozice. Pěkný výkon podali také oba jezdci Yamahy Toprak Razgatlioglu a Michael van der Mark, kteří byli nedaleko za ním. Za zmínku stojí také výkony Lorise Baze, který také sedlá Yamahu a byl v tu chvíli nejlepším netovárním jezdcem. Víkend po druhém volném tréninku skončil pro Leona Camiera kvůli zdravotnímu stavu.
Sobotní Superpole ovládl Tom Sykes s BMW, který zajel čas 1:29,230. Za ním skončil Scott Redding se ztrátou 0,339 s a první řadu doplňoval Jonathan Rea s rozdílem 0,368. Čtvrté místo si vyjel Toprak Razgatlioglu a pátý skončil Leon Haslam, takže byly na čele pěkně seřazeny stroje různých továren – BMW, Ducati, Kawasaki, Yamaha a Honda. Do rozdílu jedné vteřiny se vešel i desátý Xavi Forés.
Sobotní program se pomalu přesouval na odpolední část a schylovalo se k prvnímu závodu nejsilnější třídy Superbike. Hned na začátku závodu přišla kolize mezi Tomem Sykesem a Jonathanem Reou. Po ní Jonathan Rea vyjel mimo trať a propadl se na poslední místo. Následně po pěti kolech spadl v 8. zatáčce, takže to nebyl start sezóny, jaký by si přál. Závod byl skvělou podívanou, kde se měnily pozice a o stupně vítězů jela početná skupina. Pro vítězství si po napínavé bitvě až na cílovou rovinku nakonec dojel Toprak Razgatlioglu, kdy jen o 0,007 s za ním skončil Alex Lowes. Třetí příčku získal Scott Redding se ztrátou 0,041 s a čtvrtý skončil Michael van der Mark se ztrátou 0,137 s. Leon Haslam doplnil Top5, ale jeho ztráta už byla vyšší, téměř čtyři vteřiny. Dobrou stíhací jízdu předvedl Álvaro Bautista, který z 15. místa na startu dojel šestý, jen půl vteřiny za svým týmovým kolegou a Honda tak může být spokojená se svým startem sezóny.
Podobně dramatický, jako první závod, byl také závod Superpole třídy Superbike. Vítězem se stal Jonathan Rea po souboji až do poslední zatáčky. Druhý skončil Toprak Razgatlioglu a oba od sebe dělilo jen 0,067 s. Třetí skončil Scott Redding, který tak zároveň uzavřel první řadu startovního roštu pro druhý závod. Všichni tři nám opět předvedli pěkné souboje na čele a Scott na oba dva před sebou ztratil jen 5 tisícin vteřiny. Chvíli se tu snažil držet i Tom Sykes s BMW, ale poté se propadl. Čtvrtý dojel Alex Lowes a Top5 doplnil Michael van der Mark.
Napínavý byl i třetí závod Superbiků na Phillip Islandu, který nám přinesl třetího vítěze. Stal se jím Alex Lowes, který tak skvěle začal sezónu s novým týmem a v sedle Kawasaki. Za ním skončil jeho týmový kolega Jonathan Rea, takže mohla tato stáj slavit hned dvakrát, navíc to bylo velice těsné a Alex vyhrál jen s náskokem 0,037 s. Stupně vítězů opět doplnil Scott Redding. Na čele to ale nebylo jen o těchto třech jezdcích, ale stejně jako v předchozích závodech, zapojil se do soubojů i Michael van der Mark, který nakonec dojel sám na místě čtvrtém. Pěkná podívaná také byla na boj o páté místo, o které jeli bývalí týmoví kolegové. Páté místo nakonec získal Chaz Davies a šestý skončil Álvaro Bautista s Hondou. Nejlepším netovárním jezdcem byl Maximilian Scheib, který s Kawasaki obsadil sedmou příčku.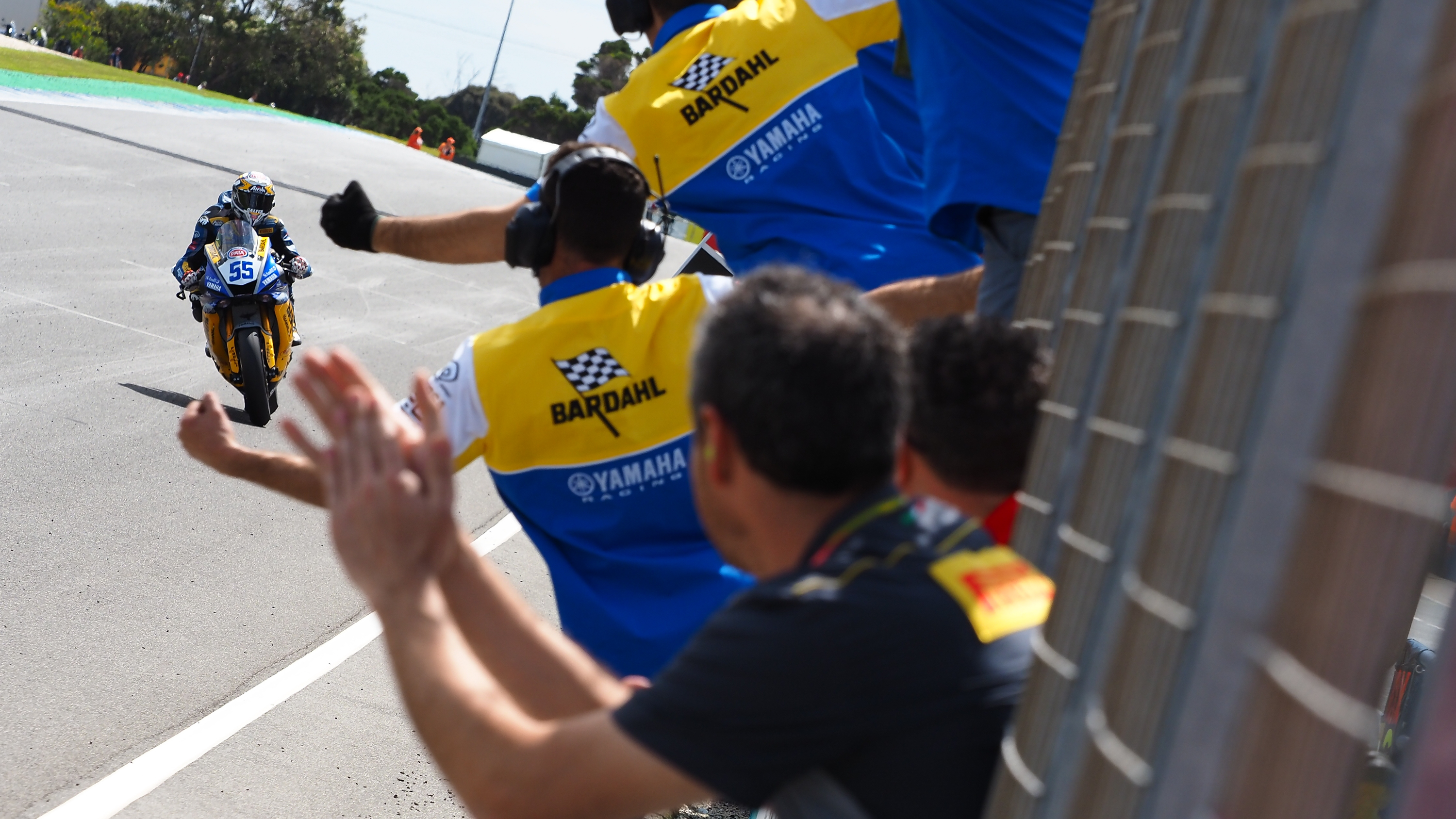 Supersport
Pěknou podívanou nám předvedli i jezdci ve třídě Supersportů. Závod ovládl italský nováček Andrea Locatelli (Yamaha), který tak výborně vstoupil do tohoto šampionátu po odchodu z Moto2. Ital nedal ostatním šanci a cílem projel s parádním náskokem téměř šesti vteřin. Andrea jel z pole position, takže se snažil maximálně využít tuto příležitost. Spolu s ním v první řadě stáli mistři světa Randy Krummenacher (MV Agusta) a Lucas Mahias (Kawasaki). Randymu ale start sezóny vůbec nevyšel, když v úvodní části spadl. Před Andreu Locatelliho se na chvíli dostal Lucas Mahias, ale jakmile se Ital vrátil do vedení, nedal ostatním šanci. Závod byl také ovlivněn povinnou zastávkou v boxech na vyměnění pneumatik. Jedním z prvních jezdců, který zajel do boxů, byl Raffaele De Rosa, který zajel již v sedmém kole. Naopak jedním z posledních byl průběžně vedoucí jezdec Andrea Locatelli, ale nakonec se ukázalo, že šlo o dobrou strategii, když si udržel vedení až do konce. Na druhém místě skončil Raffaele De Rosa a stupně vítězů doplnil Jules Cluzel. Dobrý vstup do šampionátu předvedl Danny Webb z českého týmu WRP Wepol Racing. Ten v Superpole zajel 14. nejlepší čas a v závodě vybojoval 12. příčku, takže si připisuje 4 mistrovské body.
Výsledky 1. závodu Superbike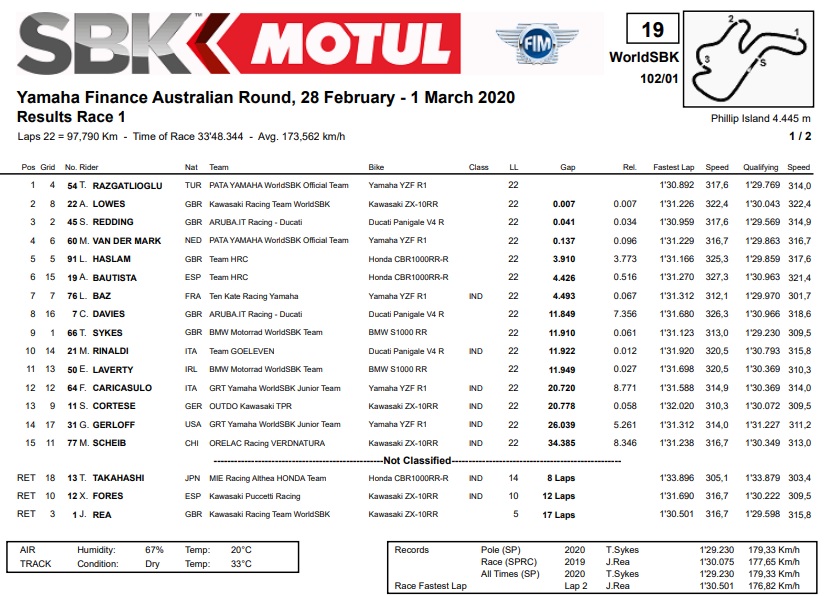 Výsledky závodu Superpole Superbike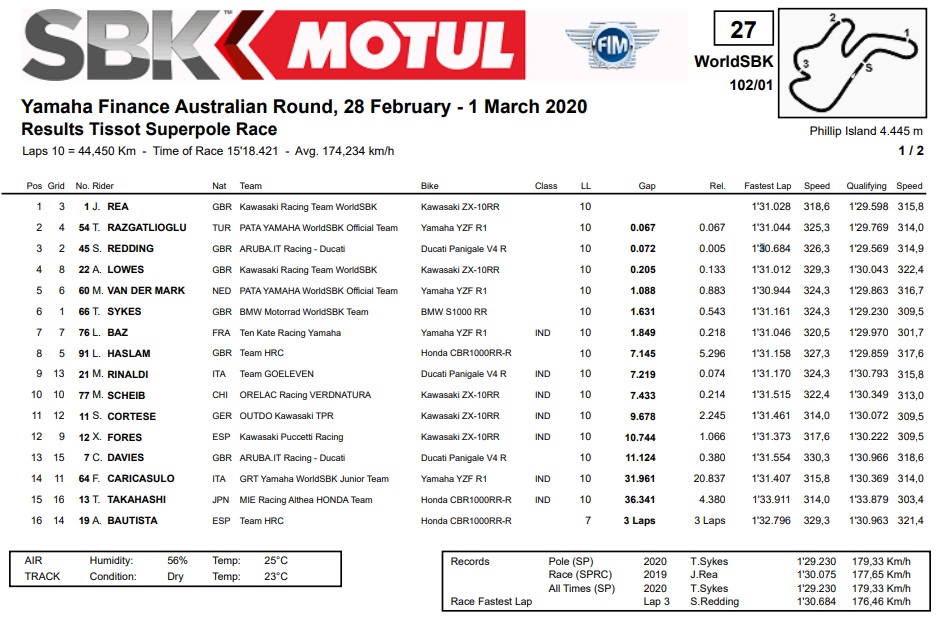 Výsledky 2. závodu Superbike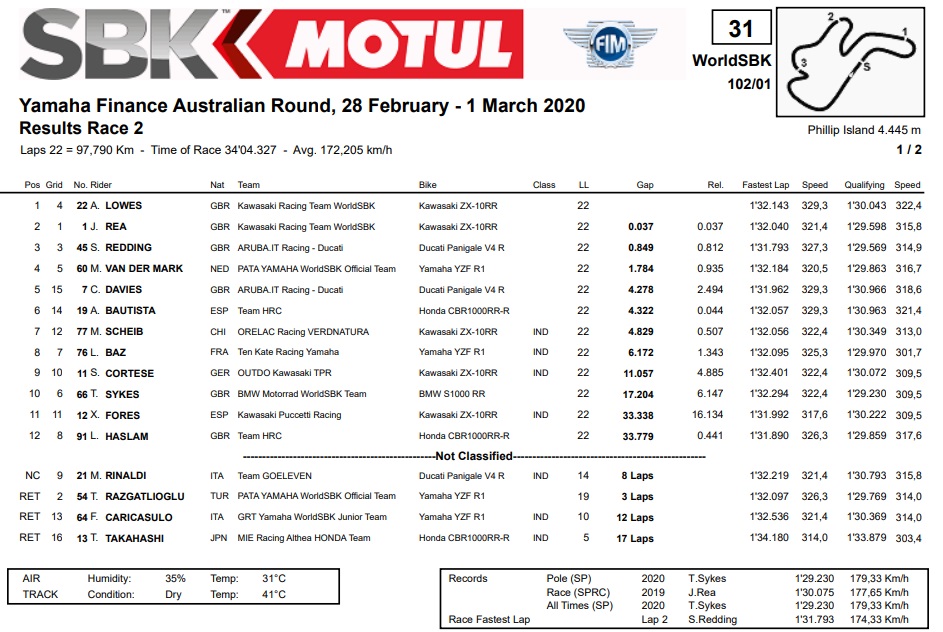 Výsledky závodu Supersport