Kvůli šíření koronaviru dochází ke změnám víceméně všech závodních podniků, které se na jaře měly jet. Změny jsou i v mistrovství světa Superbiků.
Zdroj: WorldSBK
Aktualizace 3. 3. 2020
Kvůli omezení cestování do Kataru se FIM a Dorna WSBK rozhodla přesunout závody mistrovství světa Superbiků v Kataru. Příčinou je koronavirus a jeho šíření po světě. V Kataru se kvůli karanténě všech, co by sem přijeli z Itálie, nejela ani královská třída MotoGP. Tím, že spousta lidí zapojených do obou šampionátů žije v Itálii, navíc tu je i početná fanouškovská základna, rozhodli se závody odložit. Zatím nebyl náhradní termín potvrzen.
Aktualizace 11. 3. 2020
Kvůli stále většímu šíření koronaviru (Covid-19) a přijímání preventivních opatření od vlád jednotlivých států, dochází ke změnám závodů WorldSBK. FIM, zástupci okruhů a Dorna WSBK oznamují, že se přesouvají závody ve Španělsku a Francii. Španělské kolo se pojede místo 27. – 29. března nově od 23. do 25. října 2020 a ve Francii se pojede místo 25. až 27. září od 2. do 4. října 2020. Změna a posun o týden v Magny-Cours je kvůli změnám v kalendáři MotoGP.
Aktualizace 24. 3. 2020
Kvůli stále většímu dopadu koronaviru (Covid-19) na veškeré společenské akce napříč celým světem, přichází mistrovství světa Superbiků s dalším odložením závodů. Nyní jde o závody v holandském Assenu, které se měly jet od 17. do 19. dubna 2020. Nový termín byl naplánován na léto od 21. do 23. srpna 2020. Samozřejmě, že budou nadále FIM, Dorna WSBK a organizátoři dál řešit závody podle aktuální situace v jednotlivých státech.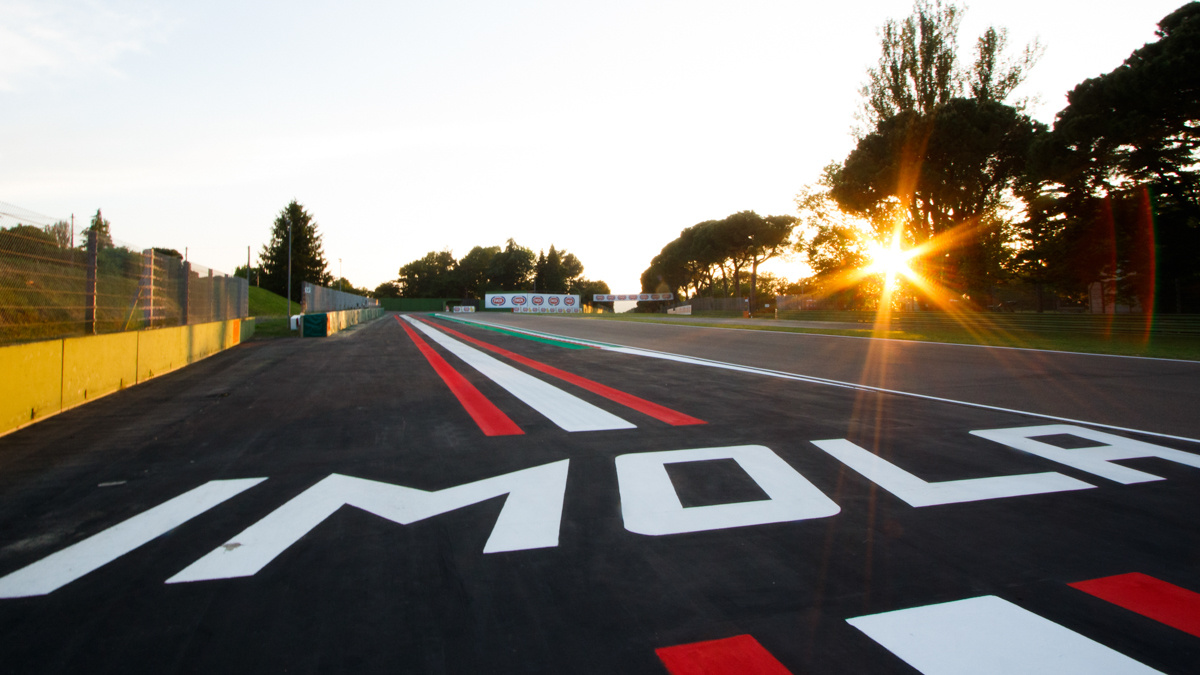 Aktualizace 14. 4. 2020
Kvůli nucené přestávce vzhledem k pokračujícímu problému s koronavirem (pandemií Covid-19) musel být opět upraven letošní kalendář závodů mistrovství světa Superbiků. FIM, představitelé vlády, okruhů a Dorna WorldSBK oznamují, že musí některé závody přesunout a bohužel jeden byl už zrušen.
Závody v Aragónu, které se měly jet od 22. do 24. května 2020, byly přesunuty na srpen od 28. do 30. 8. 2020. Závody v Misanu se z 12. – 14. června přesouvají na začátek listopadu od 6. do 8. 11. 2020. To jsou ještě docela dobré zprávy, ale ta další už taková není. Závody v italské Imole byly zrušeny a přesouvat se nebudou.
Aktualizovaný kalendář WorldSBK 2020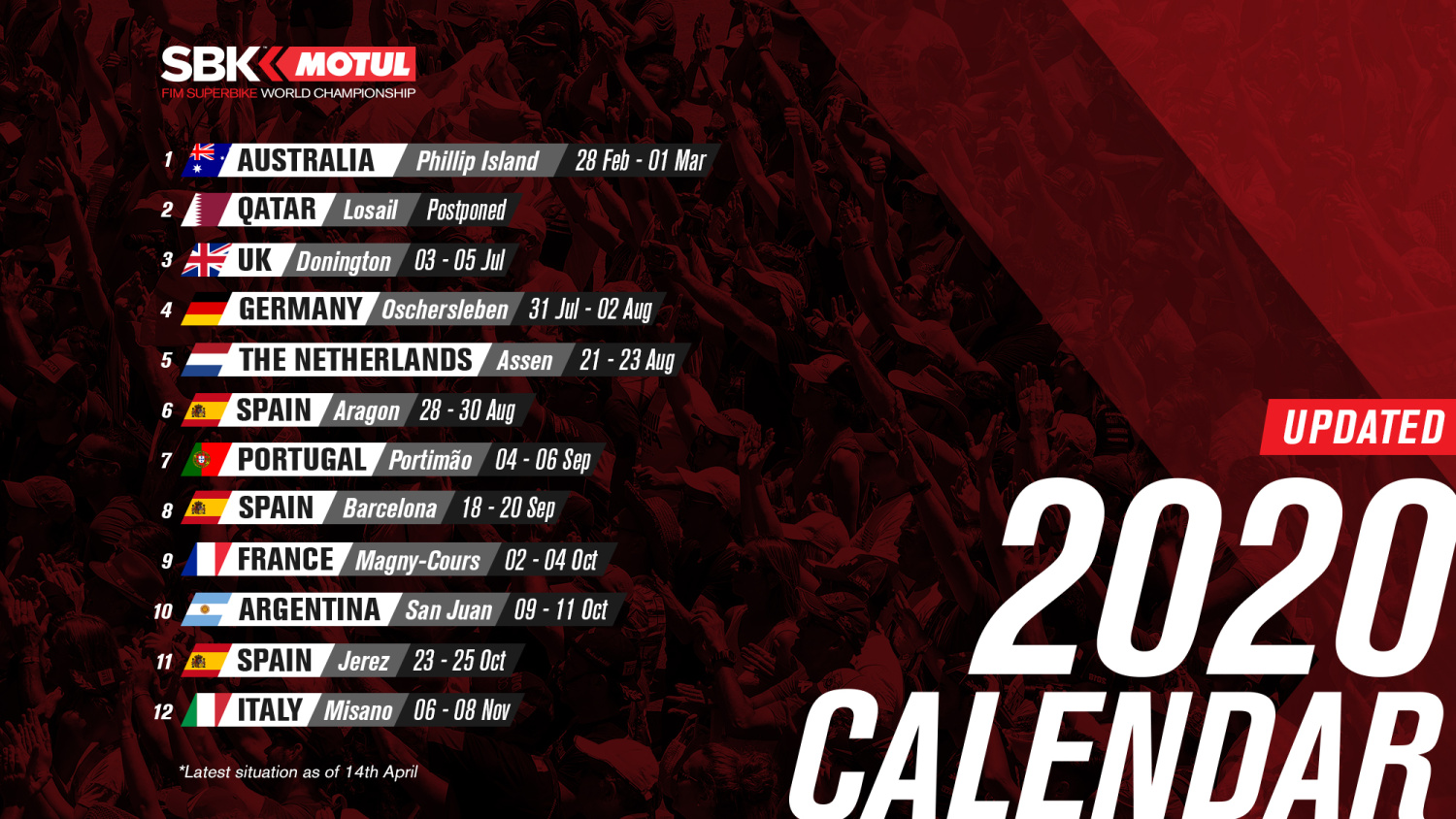 Aktualizace 19. 6. 2020
Mistrovství světa Superbiků dnes zveřejnilo aktualizovaný kalendář pro tuto sezónu. Po jednáních mezi jednotlivými státy, vládami, FIM, okruhy a Dornou pro WorldSBK už máme jasno, kde by se mělo letos znovu závodit.
Šampionát na začátku sezóny stihl odjet závody na Phillip Islandu v Austrálii, ale poté zasáhla pandemie a vše bylo zrušeno nebo odloženo. Šampionát zároveň ladil svá data nových závodů i s ohledem na MotoGP. Sezóna se stejně jako u MotoGP rozjede v Jerezu, kam se Superbiky nastěhují hned po nich, takže se tu pojede od 31. července do 2. srpna 2020. Další závody se pojedou v portugalském Portimau. Poté budou dva víkendu na okruhu v Aragónu, následovat bude Barcelona a Magny-Cours ve Francii. V jednání je ještě dalších pět závodů. V Argentině by se mělo jet od 9. do 11. října, na začátek října je plánováno Misano a ještě se uvidí, jak to bude s Donington Parkem, Assenem a Katarem.
Aktualizovaný kalendář pro sezónu 2020