Již následující víkend nás čeká na Masarykově okruhu v Brně mistrovství světa Superbiků. Světového šampionátu produkčních motocyklů slabší třídy Supersport se zúčastní i Pierre Coppa. Sympatický Ital s českými kořeny, žijící v Hořicích.
Zdroj: TZ
Pierre, jsi český závodník s italským jménem, vyrostl jsi v Terstu, ale závodíš především v Čechách. Jak to všechno vzniklo?
"Od narození jsem vyrůstal v Terstu, ale cítil jsem se více Čechem, tak jsem se v 25 letech přestěhoval do Čech. Můj otec je Ital a mamka pochází z Kroměříže, takže jsem napůl Ital, napůl Čech."
Itálie je země, kde je motorsport velmi populární a má tam i své bohaté tradice. Tam někde vznikla tvoje pověstná vášeň k motorkám a závodům? V Čechách tě známe především jako závodníka na přírodních okruzích.
"Itálie je země, kde motorsport patří mezi nejpodstatnější sporty a co si budeme povídat, spousta špičkových jezdců pochází právě od tamtud. Ale důvod, proč jsem začal jezdit za českou vlajku, je ten, že jsem cítil, jak v Čechách tento sport ještě není tak zkažený jako v Itálii, navíc jsem získal svoji první licenci od fantastického člověka Gerharda Ittnera, který pro nás jezdce moc znamenal a který nás bohužel v zimě opustil. On mě utvrdil v rozhodnutí reprezentovat Českou republiku."
"Navíc je tento rok to přesně 10 let od mého prvního závodu. Tou dobou jsem ještě žil v Itálii, pamatuji si to jako dnes. Šampionát Alpe Adria v době své největší slávy a okruh Grobnik v Rijece. Spousta velmi rychlých jezdců, fantastické souboje a velké zkušenosti."
"Ohledně přírodních okruhů, pár podniků jsem odjezdil, ale přiznávám, že to není můj šálek kávy. Naplňuje mě jízda na maximálním limitu a právě jedině na autodromu jí člověk může časem docílit. Jinak atmosféra některých příroďáků je jedinečná a to třeba právě v Hořicích, kde bydlím."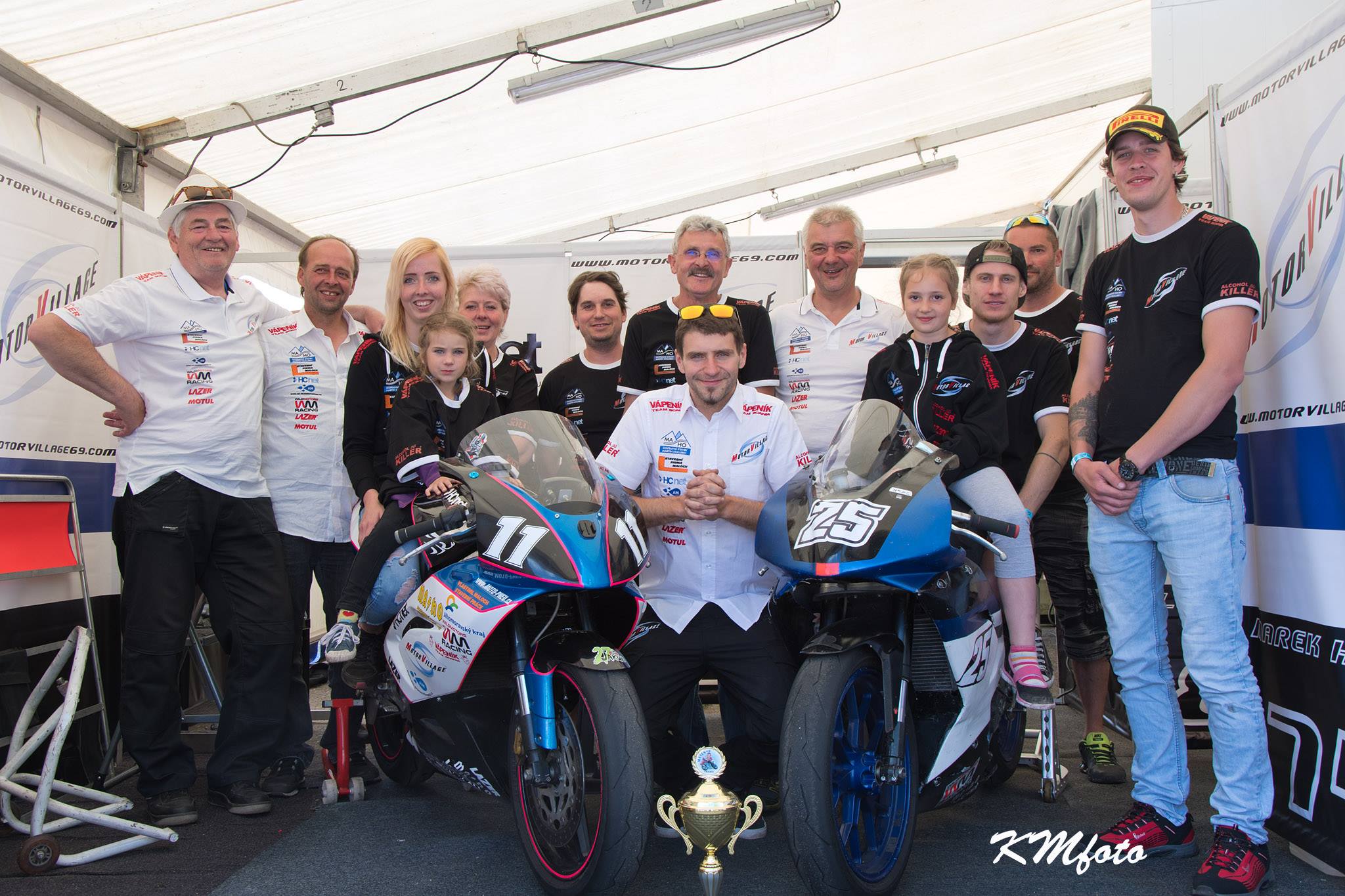 Na závodních okruzích jsi dosáhl Mistra republiky a dokonce držíš český traťový rekord na Masarykově okruhu v kubatuře 125SP. V roce 2016, jsi přesedlal do kategorie Supersport a teď se chystáš se svým týmem Motor Village 69 na velkou výzvu. Mistrovství světa Superbiků v Brně. Jak se to všechno takhle vyvine?
"Po spoustě let na 125cc jsem se již chtěl posouvat na silnější motocykl. Musíte k tomu podřídit mnohé. Dovolit si závodit v takto finančně náročné třídě znamenalo rozhodnutí založit projekt Motor Village 69. Díky všem lidem a pomocníkům okolo nás se nám to povedlo. Tvoříme i s našimi partnery velkou rodinu, která stojí při sobě jak v dobrém, tak i v okamžicích, kdy se zrovna nedaří. Nyní se chystáme splnit si asi ten největší sen, co jsme si ani nedokázali představit, že by mohl jednou přijít."
Jak a kdy vznikl samotný nápad na celý projekt divoké karty při mistrovství světa Supersportů 2018 v Brně a jaké jsou cíle?
"Zásadním podnětem byl návrat mistrovství světa na Masarykův okruh. A jelikož bohužel v dnešní době tu nemáme mistrovství republiky či šampionát Alpe Adria na takové úrovni a s takovou účastí, jak ještě pamatujeme z nedávné minulosti, jedná se o jedinečnou příležitost závodit s těmi nejlepšími na světě na produkčních šestistovkách. Samotným cílem je do jisté míry už jen ta příležitost být na trati s těmi nejlepšími, vidět jejich nálety do zatáček, či výjezdy a pokud možno učit se, či pochytit od nich co nejvíce. Je to všechno o zkušenostech, chytit tempo těch rychlých kluků, nasát tu atmosféru a především si odnést právě ty zkušenosti, které vám start na mistrovství světa dozajista přinese."
Jak probíhaly přípravy, jak jsi trénoval a co technika? Přeci jen se budeš měřit se současnou jezdeckou světovou špičkou na nejrychlejších šestistovkách. Tovární týmy Yamahy, Kawasaki a další investují nemalé částky do vývoje svých strojů.
"S pravidelnými tréninky jsem začal již na podzim. Kolo, běhání, v zimě jsem trávil spoustu času v bazénu plaváním a v posilovně a to vše podtržené správnou životosprávou."
"S technikou je to tak, že jdeme mezi nejlepší. Disponujeme motorkou z mistrovství světa. Honda CBR600RR, kterou jste mohli vidět právě na posledním podniku WSBK v Brně v roce 2012. Tehdy ji sedlal Francouz Valentin Debise v českém týmu SMS Racing Team, který si odvezl dva body za 14. místo."
To asi není jednoduché, naladit takový stroj, dá se říci i staršího data, do současného startovního polem, ne?
"Hondy nalezneme i v současném startovním poli, i když je pravda, že třeba na nové Yamahy pomalu ztrácí dech. Hodně se od roku 2012 změnilo. Elektronika, zákaz trakce atd. atd. Ale uvidíme, jdeme do toho. Máme podporu a tým lidí právě i z bývalého týmu SMS Racing. Podvozek a telemetrii nám pomůže naladit Damian Sapinski, v pozici šéfmechanika bude Martin Vitík a to celé pod záštitou manažera někdejšího týmu, Jana Sasky."
Tak budeme držet palce a děkujeme za rozhovor
"Děkujeme a budeme se na Vás těšit jak na okruhu, tak v TV."