Nedělní program MS Superbiků v Assenu skončil závodem třídy Supersport 300. Do něj nastoupil Oliver König z českého týmu ACCR Czech Talent Team – Willi Race, který celou dobu zajížděl časy jako vedoucí skupina.
Zdroj: TZ, Foto: Václav Duška Jr.
Víkend mistrovství světa Superbiků v Assenu ukončil závod třídy Supersport 300. Do něj díky včerejšímu času ze Superpole nastoupil také český závodník Oliver König. Jezdec ACCR Czech Talent Teamu – Willi Race měl celý závod dobré tempo, kdy zajížděl časy na úrovni vedoucí skupiny. V cíli byl nakonec na 21. místě. V závodě padl traťový rekord v hodnotě 1:50,337 a Oliverův nejlepší čas byl 1:51,450. Právě se zajetými časy a progresem během celého víkendu je tým spokojen.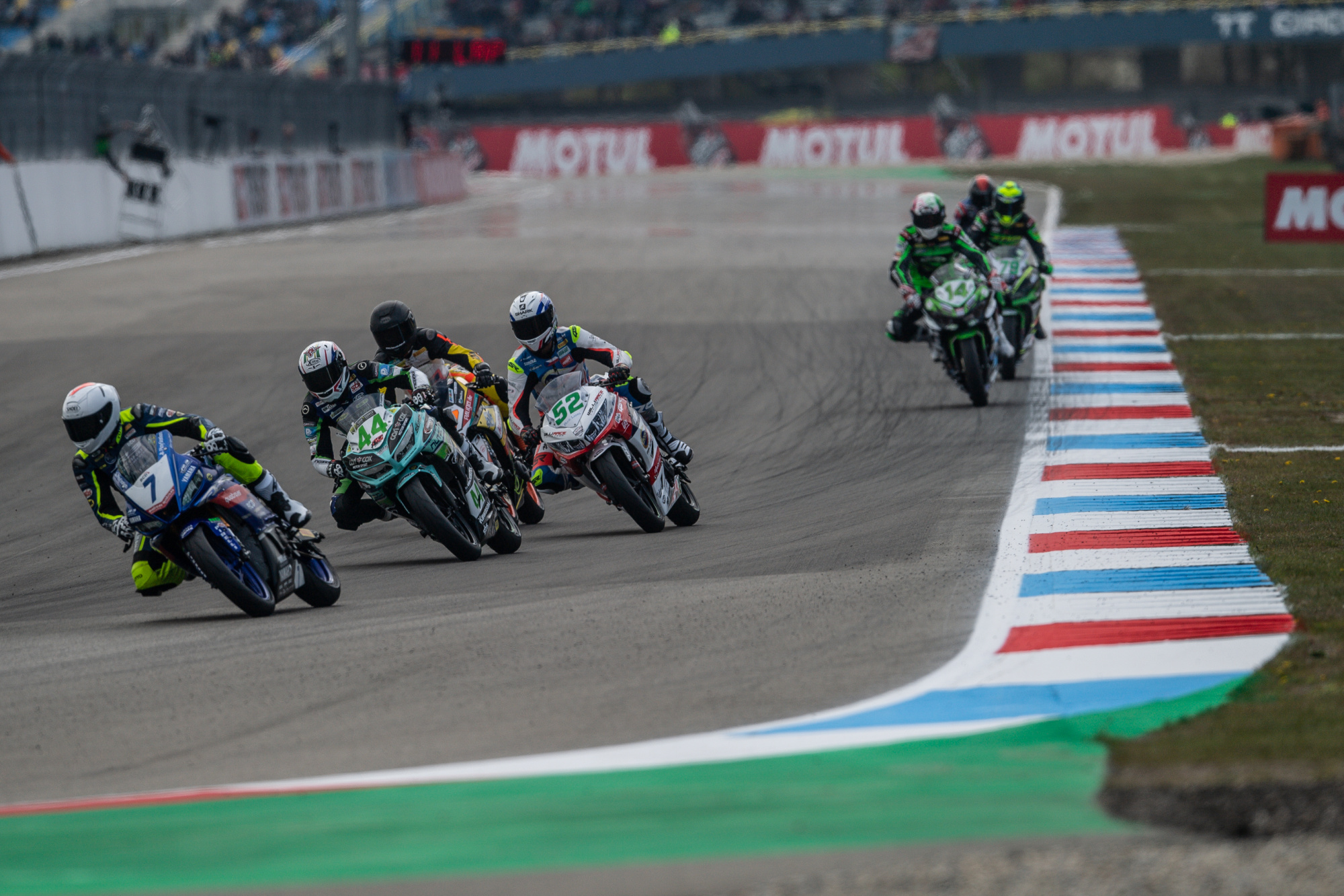 Oliver König – 21. místo
"Byl to můj první závod ve třídě World Supersport 300. Před závodem jsem byl trochu ve stresu, takže se mi start nepovedl a v prvních kolech jsem tápal. Na začátku jela jedna velká skupina, která se poté rozdělila, což je trochu škoda. Celý závod jsem jezdil časy, se kterými bych byl schopný jet na úrovni vedoucí skupiny. V závodě se zajel traťový rekord a já byl za ním přibližně o jednu vteřinu. To je určitě pozitivní, protože v pátek jsem začal a na první jezdce ztrácel čtyři vteřiny, včera v kvalifikaci dvě vteřiny a dnes v závodě už jen jednu vteřinu. To si myslím, že není vůbec špatné vzhledem k tomu, že v tomto šampionátu jedeme první sezónu – jak já, tak tým. S tímhle jsem spokojený, ale samozřejmě, že výsledek by mohl být lepší. Hlavně, aby se dosáhlo na body."
"Myslím si, že na první závod to není špatné, protože se posouváme vpřed. Těším se do Imoly a budu pracovat na tom, abychom tam nějaké body urvali. Moc děkuji týmu a mechanikům, protože to byl těžký víkend, ale zvládlo se to dobře. Posouváme se dopředu, což je velice důležité. Zároveň děkuji všem, co mě podporují a pomáhají mi."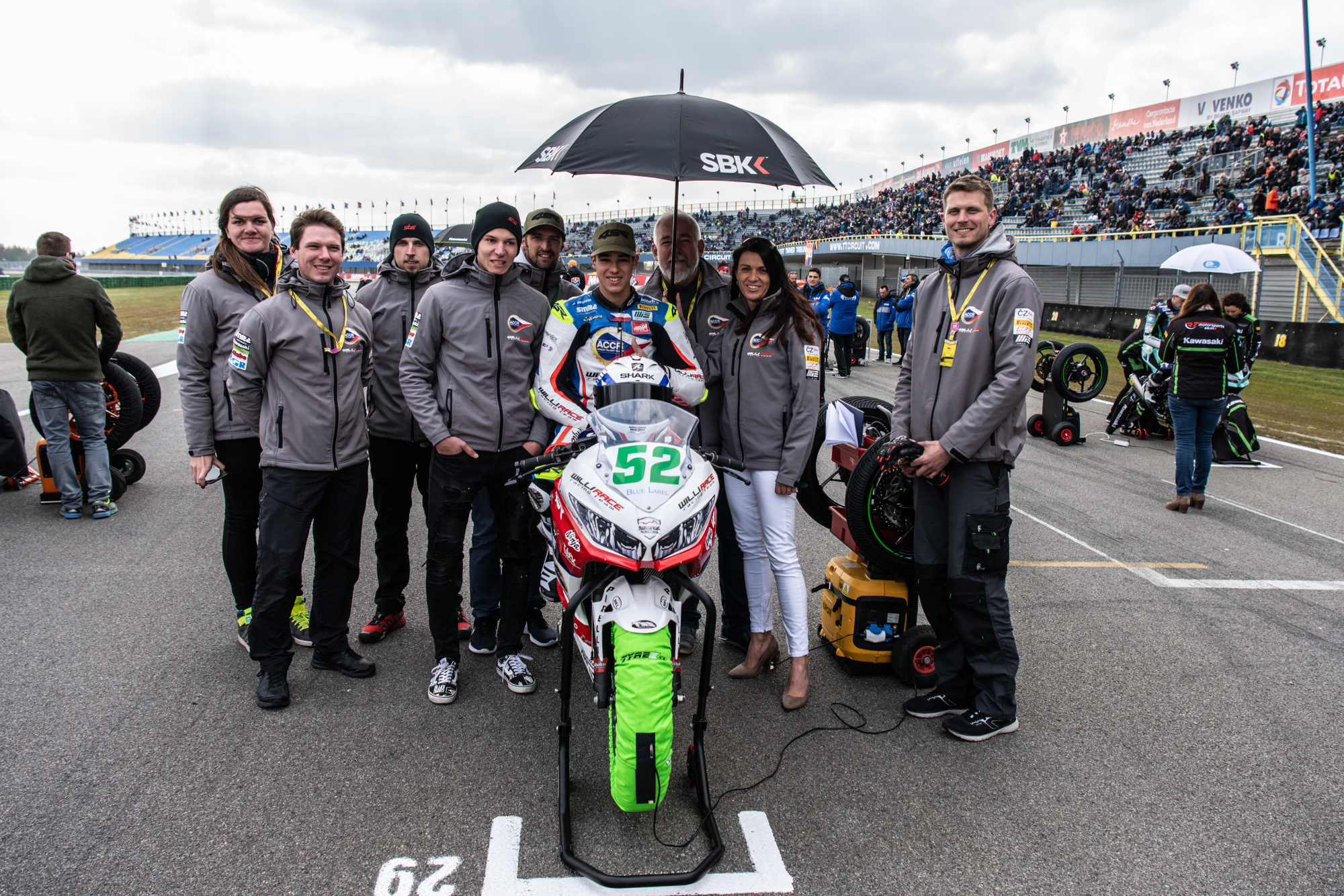 Jakub Smrž – manažer týmu
"Já jsem spokojený, protože je vidět progres. Samozřejmě, že to může vypadat jednoduše, ale v této třídě jede třicet lidí ve dvou nebo dvou a půl vteřinách, což je nesmírně vyrovnané. Je důležité, že se Oliver dostal do nedělního závodu. Jel časy srovnatelné s ostatními. V závodě byl zajetý nový traťový rekord a Oliver byl jen 1,1 vteřiny za ním. To si myslím, že je velice dobré. Teď se z toho musíme odrazit. Čeká nás testování, takže budeme mít čas se věnovat motorkám a proběhne i nastavení na brzdě. Dva závody po sobě byly náročné. Od příštího víkendu bude důležité, aby kluci jeli dobře už od pátku. V tom zatím vidím největší slabinu, protože v pátek jedou pomalu. To se přenáší dál do soboty, kde sice zrychlí, ale už jsou o krok pozadu. To ovlivnilo i startovní pozici, protože pokud by Oliver dnes startoval blíž vpředu, tak je schopný jet stejně, jako první skupina. Za mě spokojenost, jdeme postupně dopředu."
Příští závody WorldSBK se jedou v italské Imole v termínu od 10. do 12. května 2019.
Sledujte ACCR Czech Talent Team – Willi Race na sociálních sítích:
Facebook: https://www.facebook.com/CzechTalentTeam/
Instagram: https://www.instagram.com/accr_czech_talent_willi_race/