Třetí závod letošní sezóny v mistrovství světa silničních motocyklů má za sebou český závodník Filip Salač. Po startu z konce startovního roštu si nakonec připsal doposud nejlepší výsledek roku, když skončil v Top20.
Zdroj: TZ, Foto: Redox Prüstel GP Team (Ronny Lekl)
Na trati Circuit of the Americas v Austinu včera skončila další Velká cena letošní sezóny mistrovství světa silničních motocyklů. Do závodu třídy Moto3, který byl vypsán na 17 kol, startoval z 28. místa Filip Salač. Kvůli tomu závodníka týmu Redox Prüstel GP čekala stíhací jízda pro zisk co nejlepšího umístění. V cíli z toho bylo dvacáté místo, což je jeho doposud nejlepší výsledek sezóny. I přes to s tím není spokojený, protože výsledek mohl být ještě lepší.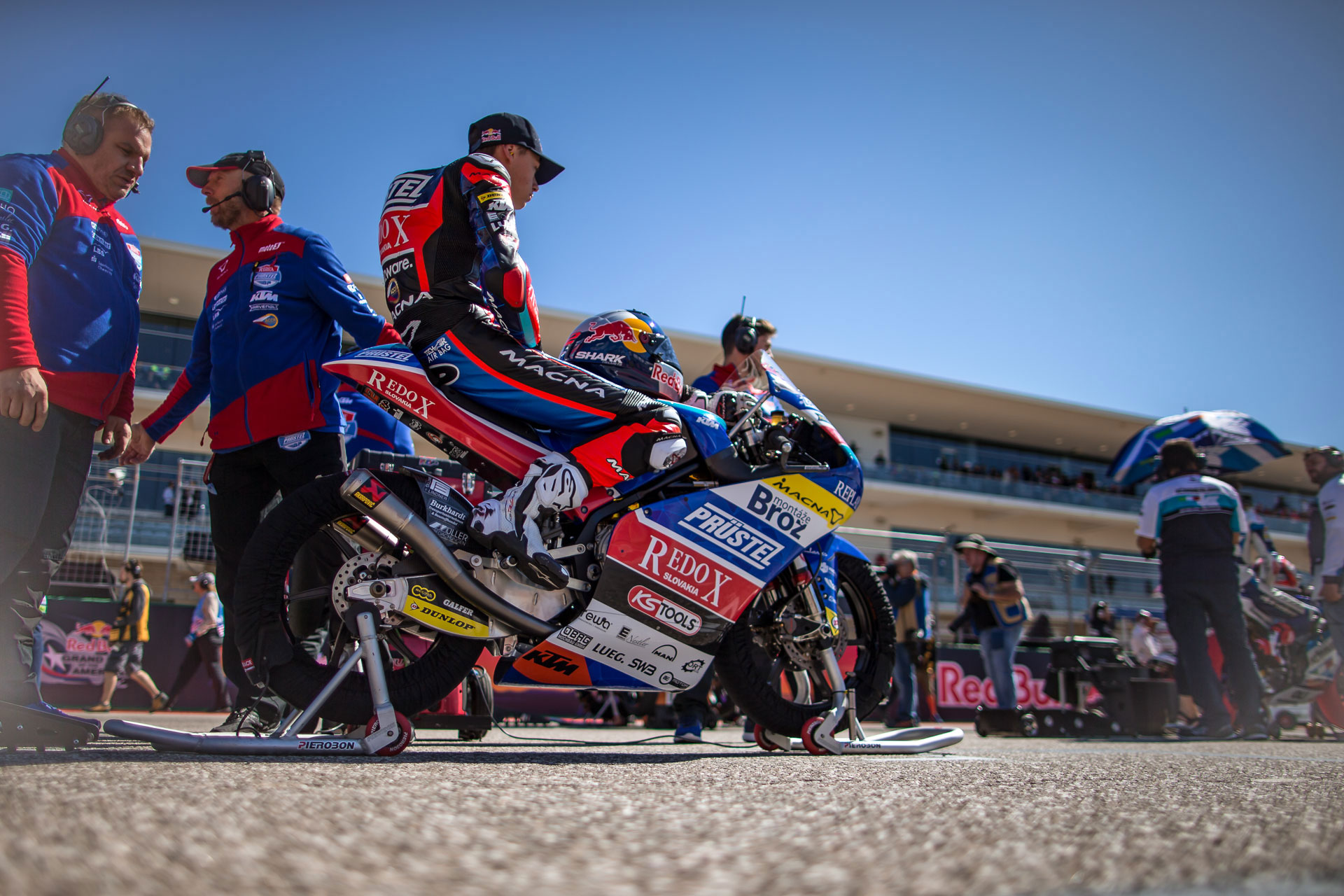 Filip Salač
"Neděle začala Warm Upem, který se jel na suchu, takže jsem se snažili najít lepší nastavení do závodu. To bylo nutné, protože jsem neměl žádný grip na zadním kole a hodně mi to klouzalo. Do závodu jsem startoval z 28. místa, tedy z předposledního místa. V první zatáčce jsem zvolil taktiku jet vnějškem. Přemýšlel jsem o tom a přišlo mi to vhodnější vzhledem k tomu, že je tato zatáčka hodně zlomená. Všichni tam zastaví a objet je venkem není špatný nápad. To se nepovedlo, protože tam někteří jezdci vyjeli. Mohl jsem počítat s tím, že tam někdo spadne nebo vyjede. To se stalo a vůbec jsem se neposunul. V prvních pár kolech jsem se snažil probojovat dopředu, ale vedoucí skupinka nám rychle ujela."
"Hlavním problémem byl můj start z 28. místa. Následně jsem bojoval ve skupině o 16. nebo 17. místo. V posledním kole jsem byl druhý ve skupině, takže kolem 17. místa, ale dostal jsem highsider. Ten jsem ustál, ale dopředu už to v poslední zatáčce nešlo. Proto jsem dojel na dvacátém místě. Jsem hodně zklamaný. Další víkend pryč, utíká to rychle. Musím zapracovat na kvalifikacích, soustředit se na ně a zvolit lepší taktiku. Teď vím, že bez kvalifikace to nejde. Chci moc poděkovat všem, kteří pomáhají mě a týmu, všem sponzorům a rodině."
Těmito závody zároveň skončila zámořská část úvodu letošní sezóny a MotoGP se nyní přesouvá na několik závodů do Evropy. Se čtvrtou Grand Prix šampionát zamíří na okruh Jerez, kde se pojede Velká cena Španělska od 3. do 5. května 2019.