Zdroj: TZ, Foto: Václav Duška Jr.
Ve španělském Jerezu se o uplynulém víkendu znovu rozjela letošní sezóna Mistrovství světa Superbiků. Pro třídu Supersport 300 to byl první závodní víkend tohoto roku, protože se úvodních závodů v Austrálii neúčastní. První závody si proto užil také český tým ACCR Czech Talent Team – Willi Race a Smrz Racing – Willi Race. V barvách prvního zmíněného týmu jede letos Miloslav Hřava a nově Matyáš Červenka, druhý hájí Alejandro Carrión, nicméně jak už z názvu vyplývá, jde víceméně o jeden tým se třemi jezdci a vše má na starost hlavně Jakub Smrž.
Po pátečních trénincích a sobotním Superpole čekal některé jezdce ještě závod Last Chance Race. V tom se bojuje ještě o poslední postupová místa do hlavních závodů. Alejandro Carrión se do závodů kvalifikoval rovnou, Miloslav Hřava a Matyáš Červenka nastoupili do závodu Last Chance Race, ve kterém Míla dojel na 16. místě a Matyáš závod bohužel nedokončil. Do obou hlavních závodů tak nastoupil jen Alejandro, který v tom sobotním vybojoval dva mistrovské body za 14. místo po startu z 21. pozice. V neděli pro něj bohužel závod skončil předčasně kvůli technické závadě na materiálu.
#63 Miloslav Hřava
"První závodní víkend hodnotím negativně. V Jerezu jsem byl poprvé. Dva tréninky mi trvalo, než jsem našel vhodnou stopu. Na sobotní ranní trénink jsem byl připraven a nastavení motorky bylo velmi dobré. Díky tomu jsem zajel nejrychlejší čas víkendu v hodnotě 1:55,911, ale stále to nestačilo k tomu, abych se kvalifikoval do závodu a musel jsem jet Last Chance Race. V tom se mi nedařilo a nezvládl jsem se udržet rychlých jezdců. Poučil jsem se z chyb a na další závod do Portimãa budu připraven. Děkuji rodině, týmu a lidem, kteří mě podporují."
#47 Matyáš Červenka
"První kola na trati v Jerezu byly pro mě úplně něco nového. Snažil jsem se nasávat informace a zkušenosti. Nakonec jsem byl rád, jaký čas jsem zajel, protože mi to ze začátku přišlo nereálné. Motorka byla připravená a fungovala na 100%. Škoda jezdecké chyby v Last Chance Race. Podařilo se mi dobře odstartovat a i kdyby to na postup nebylo, mohl jsem si zkusit zase o něco vylepšit svůj čas. Cítím, kde dělám v jízdě chyby a kde se můžu zlepšit."
#2 Alejandro Carrión
"Během tohoto víkendu jsem se hlavně hodně učil. Začali jsme volnými tréninky, ve kterých jsme připravili motorku a adaptoval jsem se na nový tým a nový šampionát. Nakonec se nám podařilo kvalifikovat do závodů a postupně jsme krok za krokem díky týmové práci dělali kroky vpřed, až jsme se v konečném hodnocení dostali na 21. místo na startovním roštu. První závod víkendu se mi podařilo dokončit na 14. místě, kdy jsem se dobře dostal dopředu a získal mé první body. Ve druhém závodě jsme měli malý technický problém, který nás vyloučil ze závodu. Chci poděkovat celému týmu za jejich skvělou práci, kterou odvedli a za veškerou podporu, kterou jsem dostal."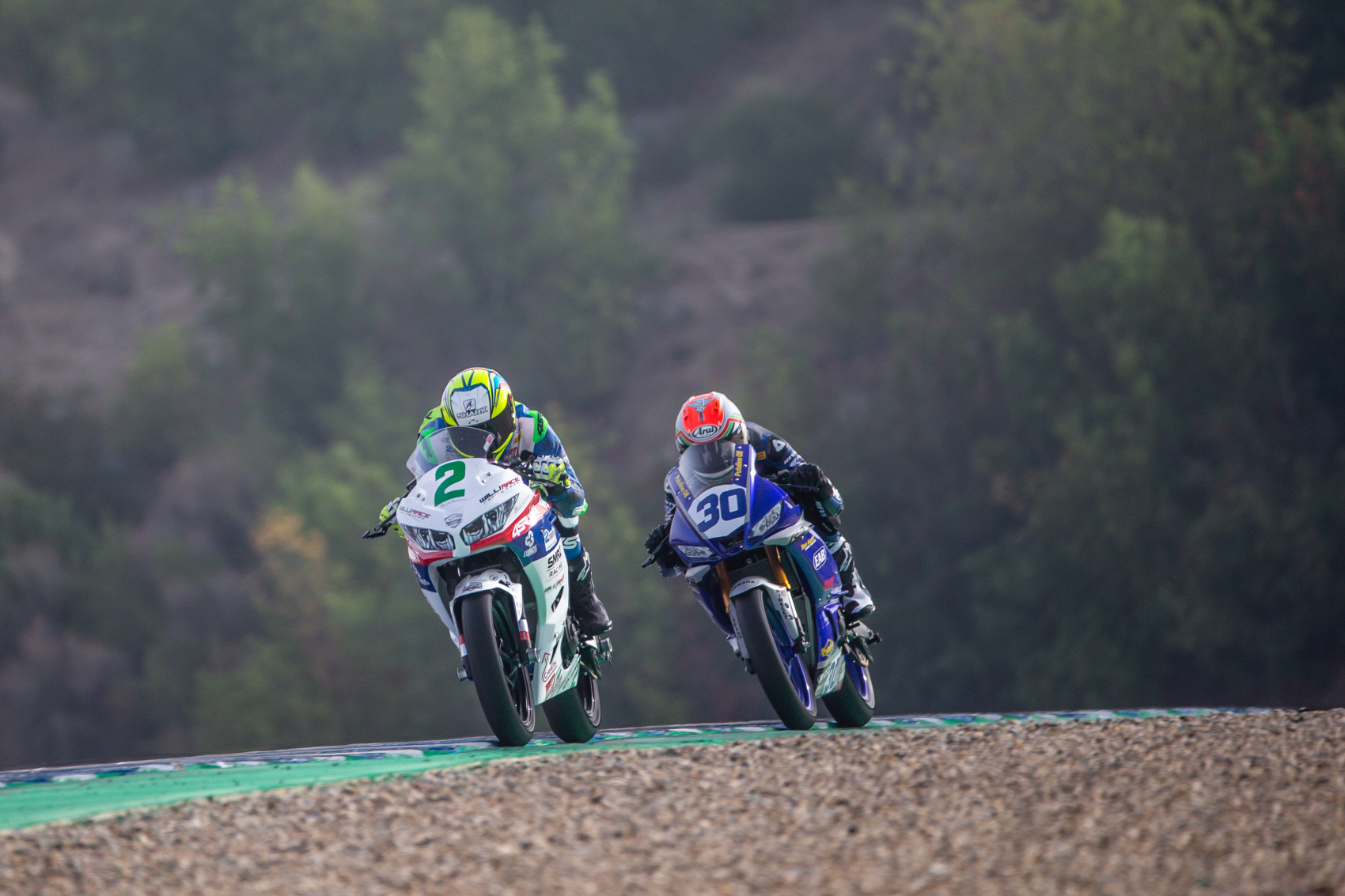 Jakub Smrž – manažer týmu
"Byl to pro nás velice složitý víkend, ale konečně se začalo závodit. Byla tu striktní omezení, což bylo dost náročné vhledem k vysokým teplotám, které v Jerezu byly. V první řadě musím vyzdvihnout práci celého týmu, mechaniků a zázemí, protože všichni pracovali na 100%. Stejně tak musím vyzdvihnout všechny jezdce a jejich přístup. Když začnu od Alexe, který byl nejvíce vidět a zajel nejlepší výsledky, tak ten se seznamoval s novou motorkou. Udělali jsme docela velké změny, protože jeho jízdní styl je dost odlišný od předchozích jezdců i těch dalších, co máme. V prvním závodě dokázal z 21. místa vybojovat 14. místo. Pro Warm Up jsme udělali další změny, díky kterým bylo další velké zrychlení, ale bohužel jsme měli v prvním kole druhého závodu technický problém. Šlo o vadnou součástku, takže to nebyla ničí chyba. Musíme to do dalšího závodu vyřešit. Matyáš byl podruhé v životě na velkém okruhu a podruhé v životě na čtyřstovce. Myslím si, že podal velice dobrý výkon a určitě má velký potenciál do budoucna. Teď se musí hlavně učit. Míla začal opatrně, ale také zaznamenal určitý progres. Teď v Portimãu začne tam, kde skončil a bude to určitě lepší, protože má hodně velké rezervy."
Hned z Jerezu se tým přesouvá do portugalského Portimãa, kde se od 7. do 9. 8. 2020 jedou druhé závody letošní sezóny v Mistrovství světa Superbiků pro třídu Supersport 300.