Sezóna mistrovství světa silničních motocyklů se přesouvá do své poloviny a v nejlepší výchozí pozici je úřadující mistr světa Marc Marquez. Španěl je ve vedení šampionátu, navíc do letní přestávky zamířil po dvou vítězství. Dokáže v Brně oslavit letošní druhý hattrick?
Zdroj: vlastní, MotoGP
Španěl Marc Marquez vstoupil do letošní sezóny v pozici mistra světa z posledních dvou let v královské třídě MotoGP, takže ho čeká další obhajoba titulu. To se mu zatím daří, protože je v průběžném vedení šampionátu. Navíc má náskok 46 bodů na nejbližšího soupeře, kterým je Valentino Rossi.
Z doposud devíti odjetých závodů tohoto roku dokázal již pětkrát vyhrát a k tomu připsal další dvě druhá místa. Marcovi vyhovují levotočivé tratě, což potvrdil jak vítězstvím v americkém Austinu, tak v německém Sachsenringu a na obou tratích je v posledních letech nepřemožitelný. Právě Sachsenring byl posledním závodem před letní přestávkou, do které Marc vstoupil jako vítěz dvou posledních závodů. Nyní tak má před sebou šanci oslavit třetí vítězství v řadě, navíc již podruhé v této sezóně. První hattrick získal již po závodech v Austinu, Jerezu a Le Mans.
Po Sachsenringu Marc s nadšením pověděl: "Samozřejmě, že jsem velice šťastný, získat devět vítězství v řadě na jedné trati je neuvěřitelné! Spolu s Hondou pracujeme dobře, takže v tom potřebujeme dál pokračovat i ve druhé polovině letošní sezóny. Musíme si udržet pocit, jaký jsme doposud měli."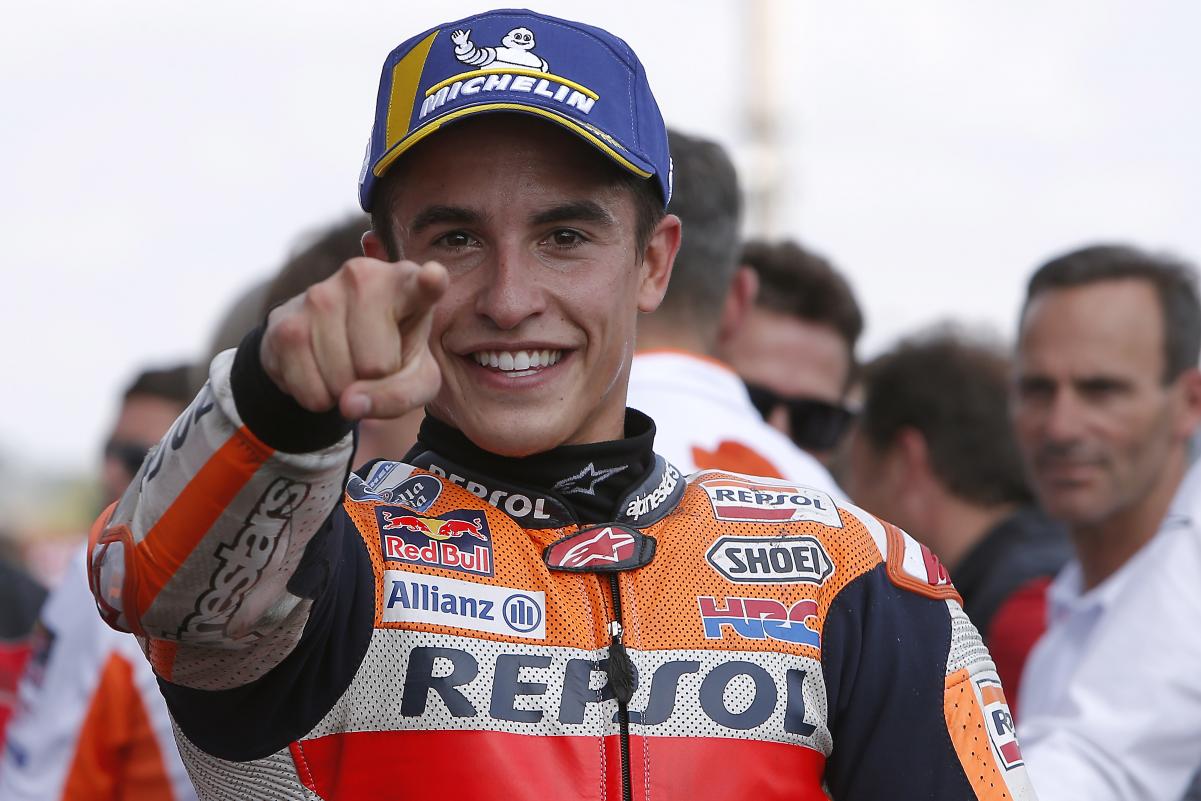 A jakou má Marc Marquez bilanci v Brně? Stačí zavzpomínat na loňské vítězství, kdy jako jediný zvládl nejlépe vyměnit motorky. Závod byl odstartován jako mokrý, ale trať během chvíle rychle oschla a tovární jezdec Hondy byl první, kdo zajel do boxů na výměnu. Tento risk se nakonec vyplatil a vyhrál s velkým náskokem. Kromě zmíněného loňského vítězství v Brně v MotoGP s výjimkou roku 2014 vždy stál na stupních vítězů, navíc tu v roce 2012 v Moto2 vyhrál a rok předtím byl druhý. Jen ve třídě 125 ccm se mu na české trati nepodařilo dostat na stupně vítězů.
Kromě výborné bilance ve výsledcích trať v Brně také vyhovuje i Hondě, které se tu vždy dařilo a pokaždé bojovala o stupně vítězů. Honda navíc v Brně pravidelně testuje a svůj soukromý test na začátku července nevynechala ani letos. Tovární tým se na trati zdržel jen první den, ale měli tu i satelitní týmy LCR a VDS, kde hlavně Cal Crutchlow zkouší nové díly.
Marca Marqueze také čeká jeden milník kariéry, když vyrazí do svého 100. závodu v MotoGP. Za tu dobu ve své relativně krátké kariéře v královské třídě získal 40 vítězství, 70 pódií, 48 pole position, 42 nejrychlejších kol, 4 tituly mistra světa (je nejmladším jezdcem historie se čtyřmi tituly mistra světa v královské třídě).
"V Brně jsme měli dobrý test a přijíždíme tam po dvou vítězství ve dvou různých závodech – jednom s velkou bitvou a jedním taktickým, takže do Brna přijíždíme s jistotou. Bylo dobré si také užít pár dnů dovolené, dobít baterie a připravit se na druhou polovinu sezóny, která bude ještě dlouhá, protože nás čeká deset závodů a ne jednoduchých. Naši soupeři jsou rychlí na každém okruhu v každé situaci, takže musíme vymyslet a naplánovat co nejlepší strategii pro každou chvíli. S týmem a inženýry HRC pracujeme dobře a musíme v tomto trendu pokračovat. Do Brna nejedu s tím, že bych přemýšlel nad náskokem v šampionátu, protože jsme stále jako na začátku s nula body. Cílem na sobotu bude pokusit se vyhrát, ale pokud mi to situace nedovolí, budeme se snažit získat co nejlepší možný výsledek," řekl Marc Marquez před nadcházejícím víkendem v Brně.
Okruh je svým charakterem vhodný také pro Yamahu, protože tu jsou plynulé zatáčky, takže můžeme opět očekávat velký boj mezi těmito továrnami. Uvidíme, jak to bude letos vyhovovat Ducati, která je s každým dalším závodem silnější. To vše můžeme sledovat již během příštího víkendu, kdy se v termínu od 3. do 5. srpna 2018 v Brně rozjede další Velká cena České republiky.