Třetí podnik českého šampionátu v Moto Gymkhaně zavítal poslední červnovou neděli roku 2018 do nejklasičtějšího místa tohoto sportu, totiž do Žďáru nad Sázavou, kde se již v roce 2011 nedaleko místního stadionu konal vůbec první český závod.
Zdroj: Moto Gymkhana, Foto: Lenka Paulová
Počasí se v předcházejícím týdnu změnilo z velmi teplého na téměř aprílové, teploty spadly těsně nad 10°C a četné přeháňky po celé republice byly na denním pořádku. Je tak s podivem, že závodní neděle, ač začala deštěm, brzy změnila svou tvář, vyschla a přes dvě malá a krátká mrholení udržela trať suchou.
Dopolední "osmička" přinesla dva krásné výsledky pro dva z našich nejlepších jezdců. Jan Dobeš, díky svému nezaměnitelnému účesu zvaný Levák Bob, si zajel svůj osobní rekord této soutěže. Poprvé v kariéře se dostal pod magickou hranici 30s a hned mu to stačilo na jeho úplně první medaili. Bronz s časem 29,34s tak byla pro Honzu krásná oslava svého svátku. Stříbrnou medaili si zajetým časem odvezl Ondřej Kroupa, který určitě chtěl vylepšit svůj výkon z předchozího závodu v Janovicích nad Úhlavou. 28,50s ale nebyl čas, se kterým se mu to mohlo povést. Povedlo se to ale Honzovi Zapachovi, který Ondrův rekord překonal oběma svými jízdami. Výsledný čas a zároveň aktuální platný český rekord je tedy 27,59s. Honza tak po právu bral zlato.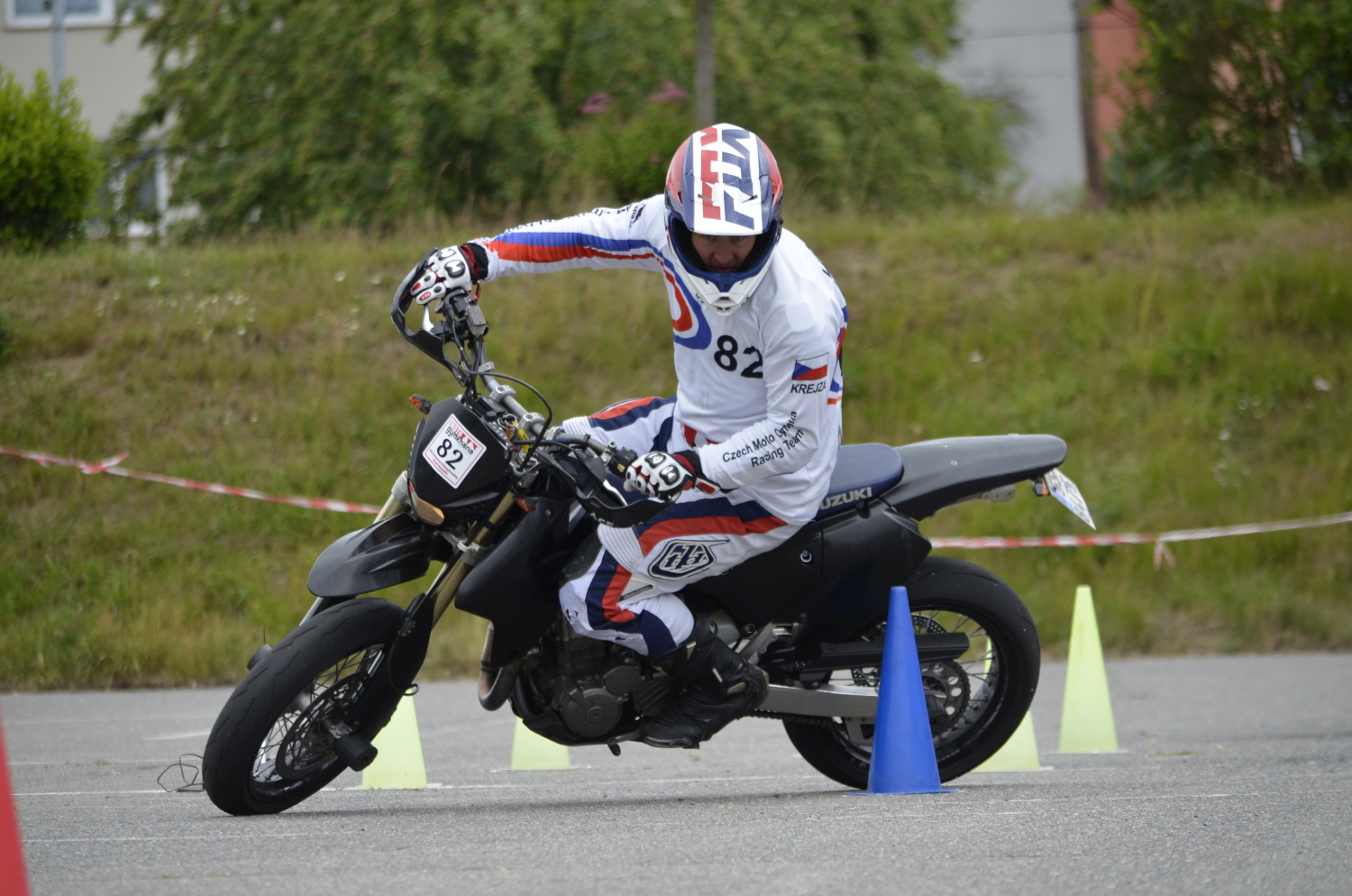 Trať hlavního závodu již poněkolikáté postavil Krzysztof Dzikowski, nejlepší jezdec našich severních sousedů. Plocha ve Žďáru není velká, na několika místech nevalné kvality. Trať byl kvůli tomu časově krátká, nejlepší časy těsně nad minutu. Rychlé průjezdy a menší počet závodníků než na předchozích letošních závodech (18) tak umožnily jet tři kola místo obvyklých dvou.
V kategorii C skončil třetí Dan Kosňanský, který pořídil oblíbenou Hondu CBR600F4i, zatím ji má bez nutných úprav a tak se mu s ní zatím nejezdí nejlépe. Druhou příčku obsadil Jan Štrych a první pozice se konečně dočkal Cyril Fara. Ze zlata se oprávněně radoval, za jeho výkony s oranžovým H-D si takovou pozici naprosto zasloužil. Zároveň s tím si ale vyjel postupový čas do skupiny B, od příštího závodu tak bude mít obtížnější soupeře.
B kategorie je snad zakletá pro Michala Žáka. Tento vysoký a ladně jezdící závodník často stane na druhém stupínku, stejně tak zajížděnými časy se pohybuje těsně pod hranicí pro přestup do Áčka. Nejinak tomu bylo i tentokrát. Stříbrná pozice a 111% zajetého času. Na stupně vítězů ho doprovodila Radka Landová svojí první letošní medailovou pozicí, když zajela třetí nejrychlejší čas této skupiny. Oba dva na jistotu překonal Michal Buráň, jemuž stačily pouhé dva závody v národním mistrovství pro postup do nejvyšší kategorie. Zajetými časy všech kol dokázal, že ho limituje stroj. Špičkoví jezdci by se měli mít na pozoru, až dojde k výměně jeho staré Jawky.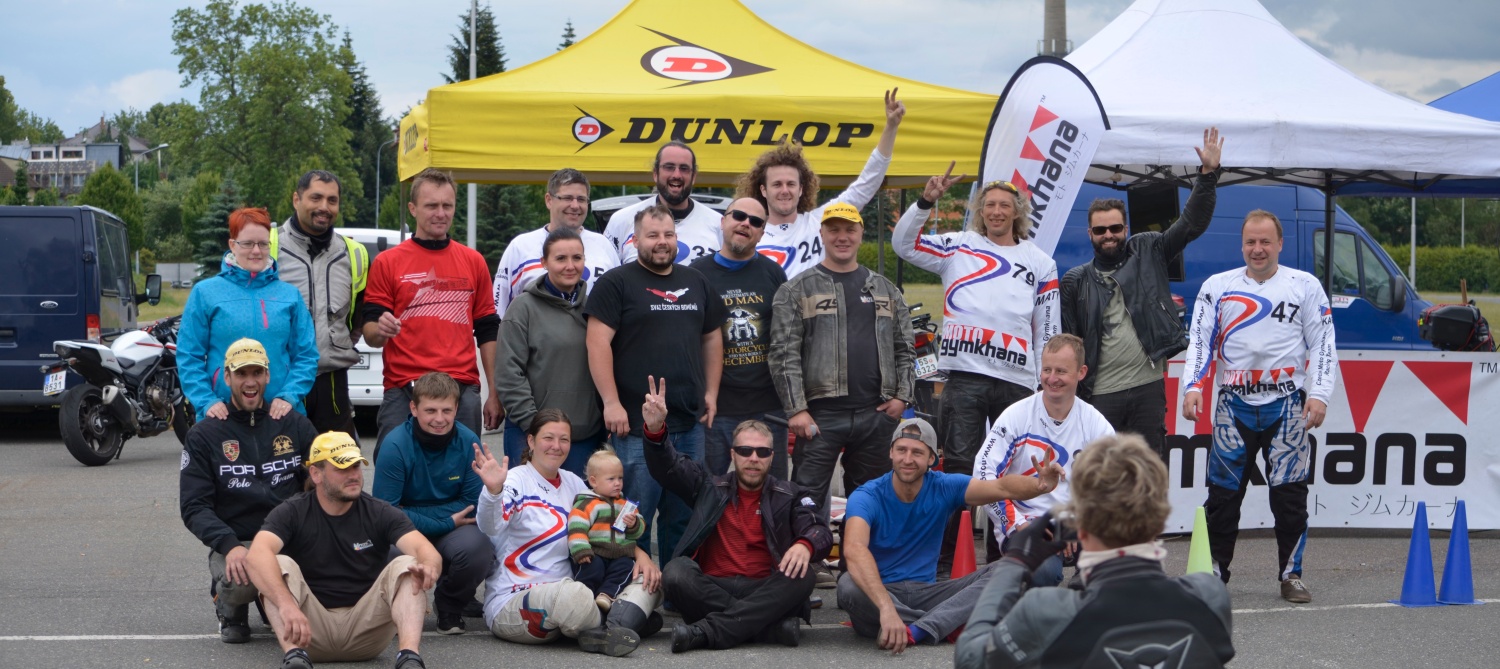 Áčko nabídlo zajímavou podívanou při bojích o druhé a třetí místo. To po prvním kole obsadil Petr Mašek. V kole druhém ale spadl a třetím už si čas nezlepšil, celkově skončil pátý. Třetí pozici z prvního kola neudržel ani Jirka Karásek, když nedokázal akceptovat tempo dvou závodníků na Hondách CBR. Skončil tak na jeho časté a běžně neoblíbené pozici těsně pod stupni vítězů. O vzácné kovy se tak porvali Filip Szymanský a Ondřej Kroupa. Druhý jmenovaný měl svůj úvodní průjezd tratí špatný, další dva zatlačil na pilu a brousil si zuby na Filipa. Ten mu ale nic nedal zadarmo a časem ve třetím kole překonal svého soupeře o 0,3s. Velmi vyrovnaný výkon obou borců slibuje další napínavé souboje do budoucích závodů.
Třetí byl tedy Ondřej "Krupič" Kroupa před "Velkou Wopitzí" Filipem Szymanským. Zlato si pro sebe uzurpoval Jan Zapach, kterého nabil rekord z GP8. K jeho časům se nikdo nebyl schopen přiblížit. Jeho soupeři to budou mít těžké, pokud mají v plánu sesadit ho z nejvyšší příčky.
Žďárským závodem se dostal celý seriál do své poloviny, body do celkového hodnocení se začínají zajímavě přelévat. Bude tak velmi zajímavé sledovat vývoj i v následujícím závodě, který se koná na dalším tradičním místě v Soběslavi dne 22. 7. 2018.
Kompletní výsledky
https://gymkhana.cz/moto/motoslalom/zavod/82
https://gymkhana.cz/moto/motoslalom/zavod/83
Videa