Na okruhu Misano se dnes rozjela další Grand Prix letošní sezóny šampionátu MotoGP a jezdci mají za sebou první dva volné tréninky.
Zdroj: MotoGP
Moto3
Sezóna MotoGP tento víkend pokračuje 13. Velkou cenou, která se jede na okruhu Marca Simoncelliho Misano jako Grand Prix San Marina a riviéry Rimini. Známý a oblíbený okruh nabízí dobré podmínky a ne jinak tomu bylo dnes, když bylo celý den slunečno a během odpoledne měl vzduch 26°C a trať 40°C. Jako první vyrazili na trať jezdci nejslabší třídy Moto3. Některým se nevyhnuly pády a hned dva dnes měl Kaito Toba. V závěru druhého tréninku nepříjemně spadl Aron Canet a tím přišel o možnost se posunout vpřed. Určitě rozporuplné pocity prožíval Romano Fenati, který na této trati prožil osudný incident ve třídě Moto2.
Jak bývá zvykem, o výsledném pořadí a předběžném postupu do druhé části kvalifikace, se rozhodlo až v závěrečných kolech druhého volného tréninku. Zde nejlepší čas nakonec zajel Albert Arenas s hodnotou 1:43,017. Za ním skončil s rozdílem jen 0,035 s John McPhee a třetí nejlepší byl Tony Arbolino se ztrátou jen 0,064 s. Ayumu Sasaki a Romano Fenati doplnili Top5. Mezi jezdci jsou opravdu malé rozdíly a v jedné vteřině jich je 26. Oba dva čeští závodníci se většinu dne drželi v první polovině. Lepší čas nakonec zajel Jakub Kornfeil, který v předposledním kole zajel 1:43,312 s rozdílem 0,295 s, takže skončil jedenáctý. Jeho týmový kolega Filip Salač si také zlepšil čas, ale stačí na 20. místo se ztrátou 0,646 s.
Výsledky tréninků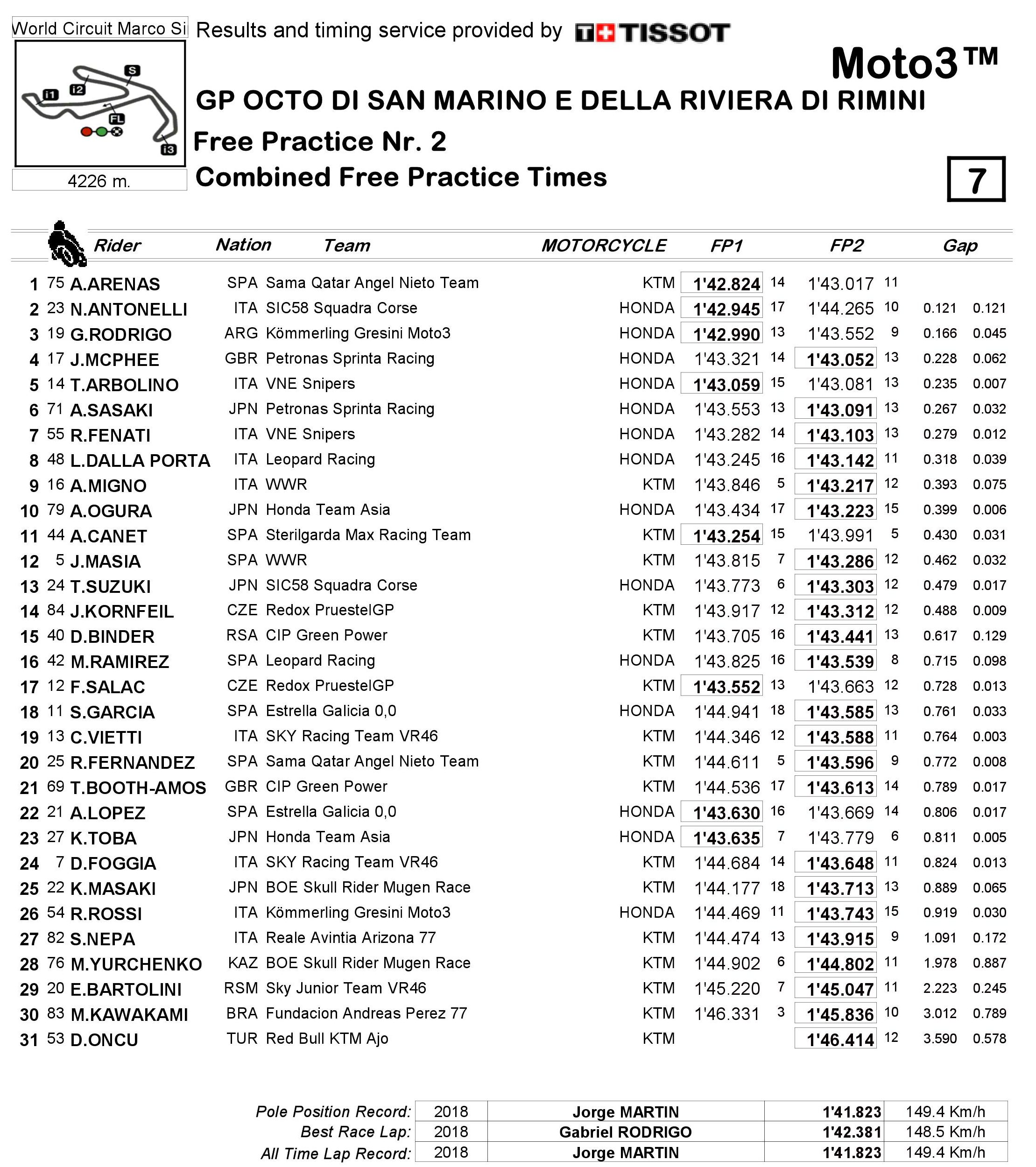 MotoGP
Jako druzí vyrazili na trať jezdci královské třídy MotoGP. Během obou tréninků se neudálo nic zvláštního, jen se postupně zrychlovalo. Odpolední tréninky byly jen trochu pozdrženy kvůli podmínkám na trati po dopoledním programu.
Nejlepší čas v MotoGP nakonec zajel Maverick Viñales v hodnotě 1:32,775. Za ním skončil jen o 0,057 s Fabio Quartararo, takže jsou vpředu hned dvě Yamahy. Marc Marquez se dlouho držel ve vedení, ale nakonec skončil třetí. Valentino Rossi zahájil svou domácí Grand Prix pěkným čtvrtým místem a dobře zajel také Franco Morbidelli, který skončil čtvrtý, takže Yamaha potvrdila i dobrou formu z nedávných testů.
Pol Esparagro se s KTM dostal na šestou pozici. Za ním jsou seřazeni oba dva jezdci továrního týmu Ducati v pořadí Danilo Petrucci a Andrea Dovizioso. Petrux je zároveň posledním ve ztrátě jedné vteřiny. Desítku nejlepších doplňují Alex Rins a Cal Crutchlow. V kombinaci časů obou tréninků se do Top10 dostali Michele Pirro a Aleix Espargaro. Karel Abraham obsadil s časem 1:34,843 22. místo se ztrátou dvou vteřin.
Výsledky tréninků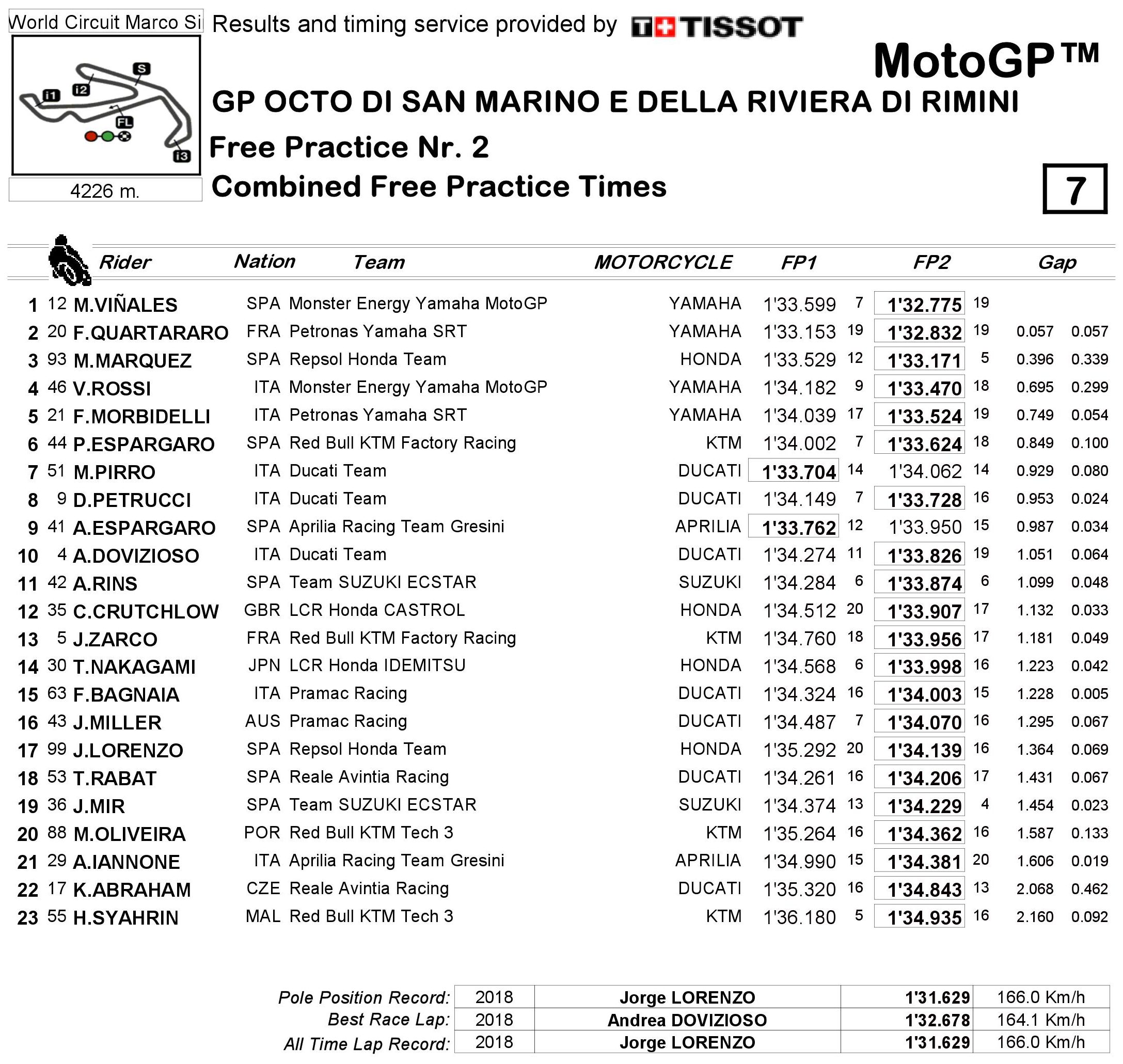 Moto2
Jako poslední z tříd mistrovství světa silničních motocyklů vyrazili na trať jezdci střední třídy Moto2 (dále tu jezdí i Red Bull MotoGP Rookies Cup a MotoE). Na trať se po vynechání minulého závodu vrátil domácí závodník Enea Bastianini. Ošklivý pád v prvním tréninku prožil Brad Binder, ale naštěstí se nezranil a odpoledne nastoupil do druhého tréninku. Hned na úvod odpoledního tréninku spadl Marco Bezzecchi, jehož motorka se pěkně proletěla a v tréninku už nepokračoval. K pádu neměl daleko ani Augusto Fernandez, který ale náznak highsideru ustál. Krátce poté ke konci druhého tréninku spadl Lorenzo Baldassarri, ale nic se mu nestalo. V závěru tréninku spadl Lukas Tulovic, ale ani jemu se nic nestalo, nicméně motorka zůstala na vnitřku druhé zatáčky. Posledním, kdo spadl, byl Jorge Martin, jenž skončil ve 13. zatáčce, takže se v posledních minutách hodně padalo. Kromě pádů se také mazalo dost kol za překročení limitů trati.
Nejrychlejším jezdcem třídy Moto2 je dnes Augusto Fernandez s časem 1:38,325. Za ním skončil Alex Marquez, který si zlepšil čas v posledním kole a ztratil jen 0,049 s. Třetí pozici obsadil Fabio Di Giannantonio se ztrátou 0,138 s. Tetsuta Nagashima skončil čtvrtý a pátý je Lorenzo Baldassarri. Luca Marini skončil šestý a Enea Bastianini začal pěkným sedmým místem. Remy Gardner, Sam Lowes a Nicolò Bulega doplnili Top10. Ve ztrátě jedné vteřiny je i třiadvacátý Dominique Aegerter.
Výsledky tréninků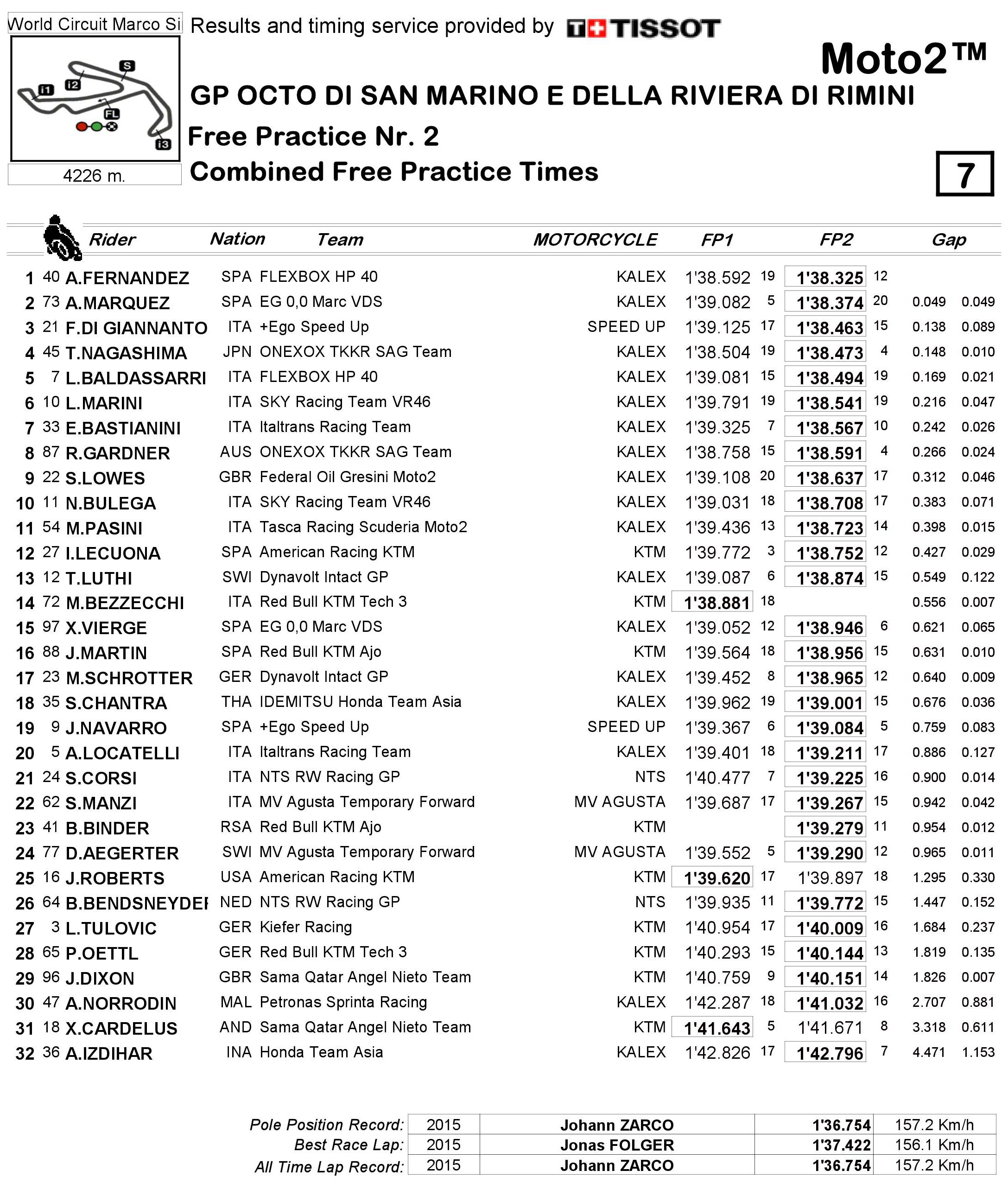 MotoE – E-Pole
Závodníky třídy MotoE již dnes čekalo E-pole, protože budou mít tento víkend dva závody. Při E-Pole jde o to zajet jedno rychlé kolo, takže každá chyba se podepíše na výsledném čase. Na to doplatil například Sete Gibernau, který překročil limity trati a čas mu nebyl počítán, či ti jezdci, kteří spadli. Nejtěžší pád měl Mike Di Meglio, který z motorky vyletěl při highsideru.
Nejrychlejší čas zajel Alex De Angelis, pro kterého je to domácí GP. Rodák ze San Marina zajel kolo za 1:44,660. Za ním se prostřídalo několik jezdců, ale druhý nakonec skončil Matteo Ferrari a první řadu doplňuje Xavier Simeon. V první řadě se chvíli držela i Maria Herrera, ale nakonec skončila šestá.
Výsledky E-Pole
| | | | | | | | |
| --- | --- | --- | --- | --- | --- | --- | --- |
| P | Č | Jezdec | Nár. | Tým | Km/h | Čas | Ztráta |
| 1 | 5 | Alex DE ANGELIS | RSM | OCTO Pramac MotoE | 217.3 | 1'44.660 | |
| 2 | 11 | Matteo FERRARI | ITA | TRENTINO Gresini MotoE | 215.1 | 1'44.708 | 0.048/0.048 |
| 3 | 10 | Xavier SIMEON | BEL | Avintia Esponsorama Racing | 215.1 | 1'44.769 | 0.109/0.061 |
| 4 | 2 | Jesko RAFFIN | SWI | Dynavolt Intact GP | 216.0 | 1'44.878 | 0.218/0.109 |
| 5 | 7 | Niccolo CANEPA | ITA | LCR E-Team | 216.0 | 1'44.913 | 0.253/0.035 |
| 6 | 6 | Maria HERRERA | SPA | OpenBank Ángel Nieto Team | 219.0 | 1'44.923 | 0.263/0.010 |
| 7 | 38 | Bradley SMITH | GBR | One Energy Racing | 217.7 | 1'45.011 | 0.351/0.088 |
| 8 | 4 | Hector GARZO | SPA | Tech 3 E-Racing | 217.3 | 1'45.097 | 0.437/0.086 |
| 9 | 18 | Nicolas TEROL | SPA | OpenBank Ángel Nieto Team | 216.4 | 1'45.540 | 0.880/0.443 |
| 10 | 27 | Mattia CASADEI | ITA | Ongetta SIC58 Squadracorse | 215.5 | 1'45.548 | 0.888/0.008 |
| 11 | 32 | Lorenzo SAVADORI | ITA | TRENTINO Gresini MotoE | 216.0 | 1'45.725 | 1.065/0.177 |
| 12 | 16 | Joshua HOOK | AUS | OCTO Pramac MotoE | 215.1 | 1'47.448 | 2.788/1.723 |
| 13 | 78 | Kenny FORAY | FRA | Tech 3 E-Racing | 216.4 | 1'47.542 | 2.882/0.094 |
| 14 | 14 | Randy DE PUNIET | FRA | LCR E-Team | 216.0 | 1'47.918 | 3.258/0.376 |
| | 15 | Sete GIBERNAU | SPA | Join Contract Pons 40 | | | |
| | 51 | Eric GRANADO | BRA | Avintia Esponsorama Racing | | | |
| | 63 | Mike DI MEGLIO | FRA | EG 0,0 Marc VDS | | | |
| | 66 | Niki TUULI | FIN | Ajo MotoE | | | |