V Hořicích v Podkrkonoší se dnes rozjel již 57. ročník slavných závodů 300 zatáček Gustava Havla a zde jsou kombinované časy obou měřených tréninků.
Live timing: https://racehero.io/events/amk-v-acr-horice-acr-210-402-emn10-554

Kompletní výsledky: https://racehero.io/events/amk-v-acr-horice-acr-210-402-emn10-554/results/1073744682

Živý přenos: https://www.tvcom.cz/Zapas/Sport-Motosport/Soutez-Racing/Sezona-2019/175935-300-ZATACEK-GUSTAVA-HAVLA-2019.htm
Závodní víkend v Hořicích v Podkrkonoší, kde se dnes rozjely 57. ročník závodů 300 zatáček Gustava Havla, začal měřenými tréninky. Počasí bylo celý den výborné, kdy bylo polojasno a celý den svítilo sluníčko. Díky tomu se mohlo jezdit na suché trati a během odpoledne téměř všichni jezdci zrychlili.
Na začátku prvních tréninků jeli závodníci za safety carem, od kterého měli držet odstup 50 metrů. Na to doplatili například Petr Najman a Wayne Bourgeais, kteří jeli moc blízko a byli z prvního tréninku třídy Twin diskvalifikováni. Z toho důvodu pro ně bylo důležité během odpoledne zajet kvalifikační čas a požadovaný počet kol. Odpoledne ale oba zajížděli skvělé časy, Petr jel o nejlepší pozice a Wayne celý trénink stíhal Michala Indiho Dokoupila, takže to byla parádní podívaná.
Pěknou show nám ve třídě Supermono předvedli Petr Najman a Shaun Anderson, kteří zajížděli podobné časy, navíc jeli za sebou. Pro zítřek to slibuje, že by mohl být závod vyrovnaný a zajímavý. Shaun v posledních letech v Hořicích ovládal závody a nyní to vypadá, že se našel nový konkurent.
Nejdramatičtější chvíle jsme zažili ve druhém tréninku třídy do 600 ccm, který musel být dvakrát přerušen červenou vlajkou. Nejprve kvůli pádu Henrika Voita, který se svou Moto2 spadl na náměstí a jeho stroj začal hořet. V závěru tréninku přišel další pád, který způsobil Thomas Walther, jeden z favoritů této třídy. Bohužel šlo o velký pád, po kterém musel být jezdec převezen do nemocnice, ale se záchranáři komunikoval. Po tomto přerušení se trénink už nedojížděl. O pár minut kratší byl i druhý volný trénink třídy nad 600 ccm. V poslední zatáčce spadl Dominik Haslinger, po jehož pádu se na trať dostaly nečistoty a trénink už se nedojížděl.
Sportproduction 125 ccm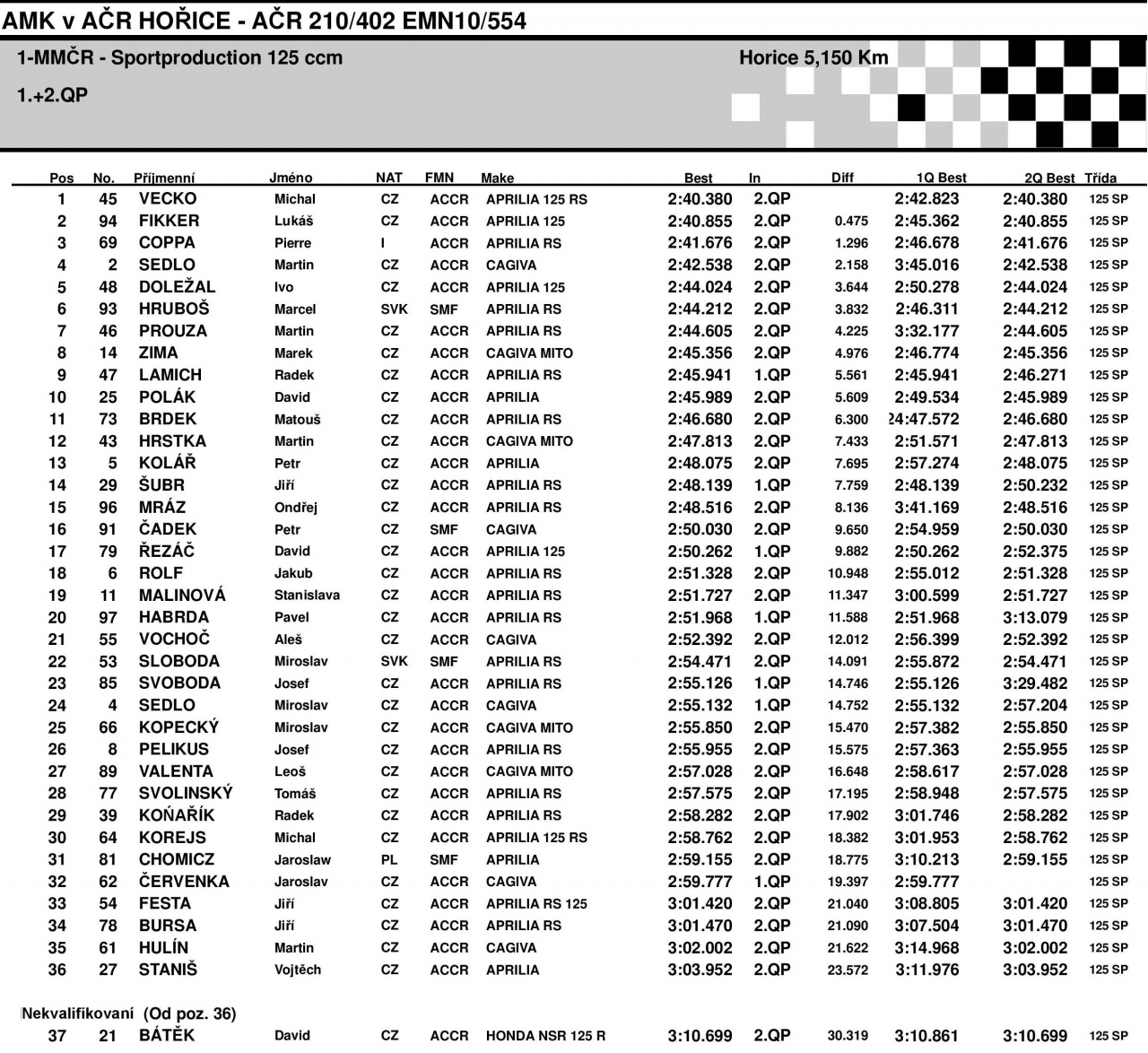 Volná do 600 ccm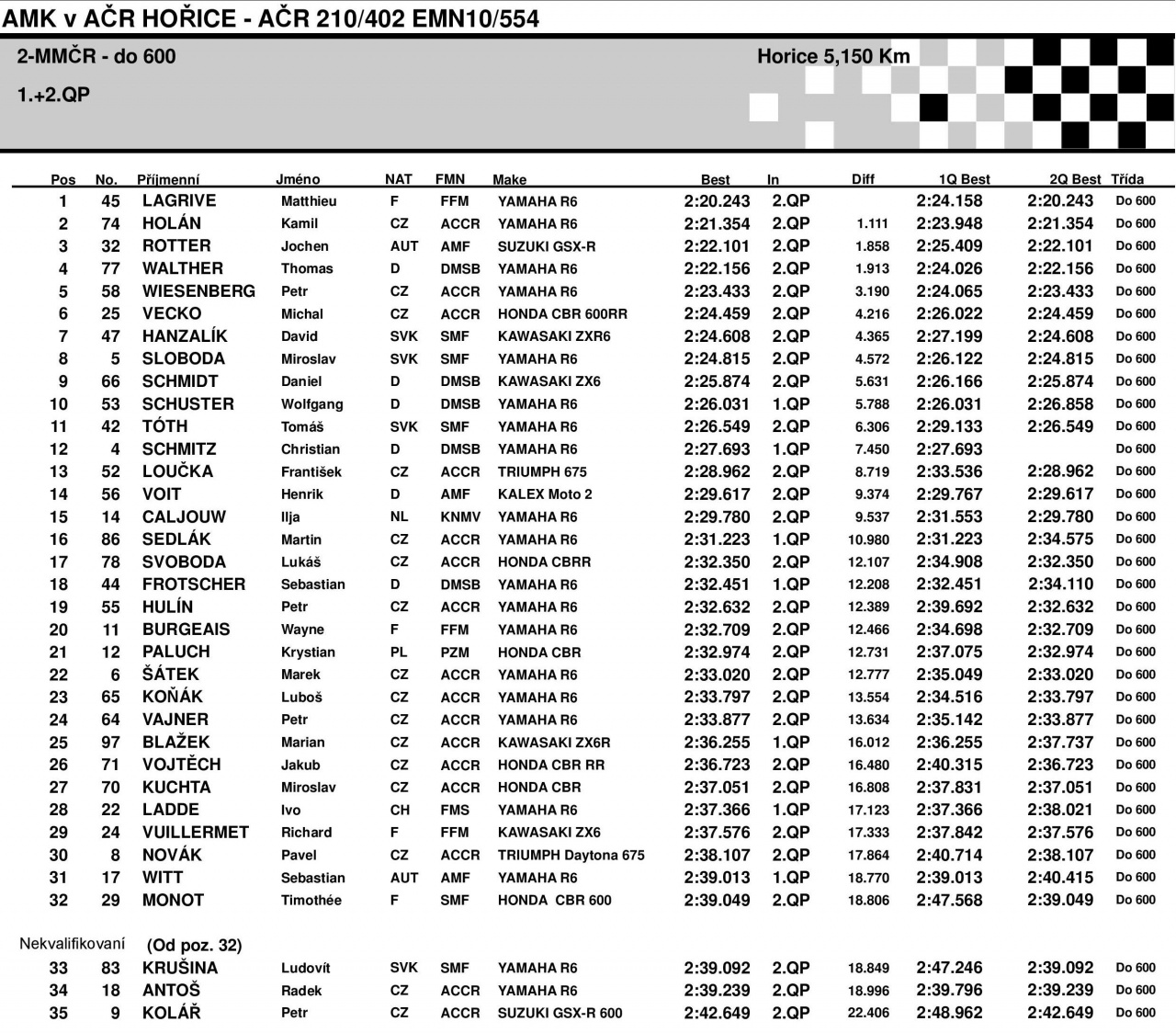 125 GP / Moto3 + 250 Open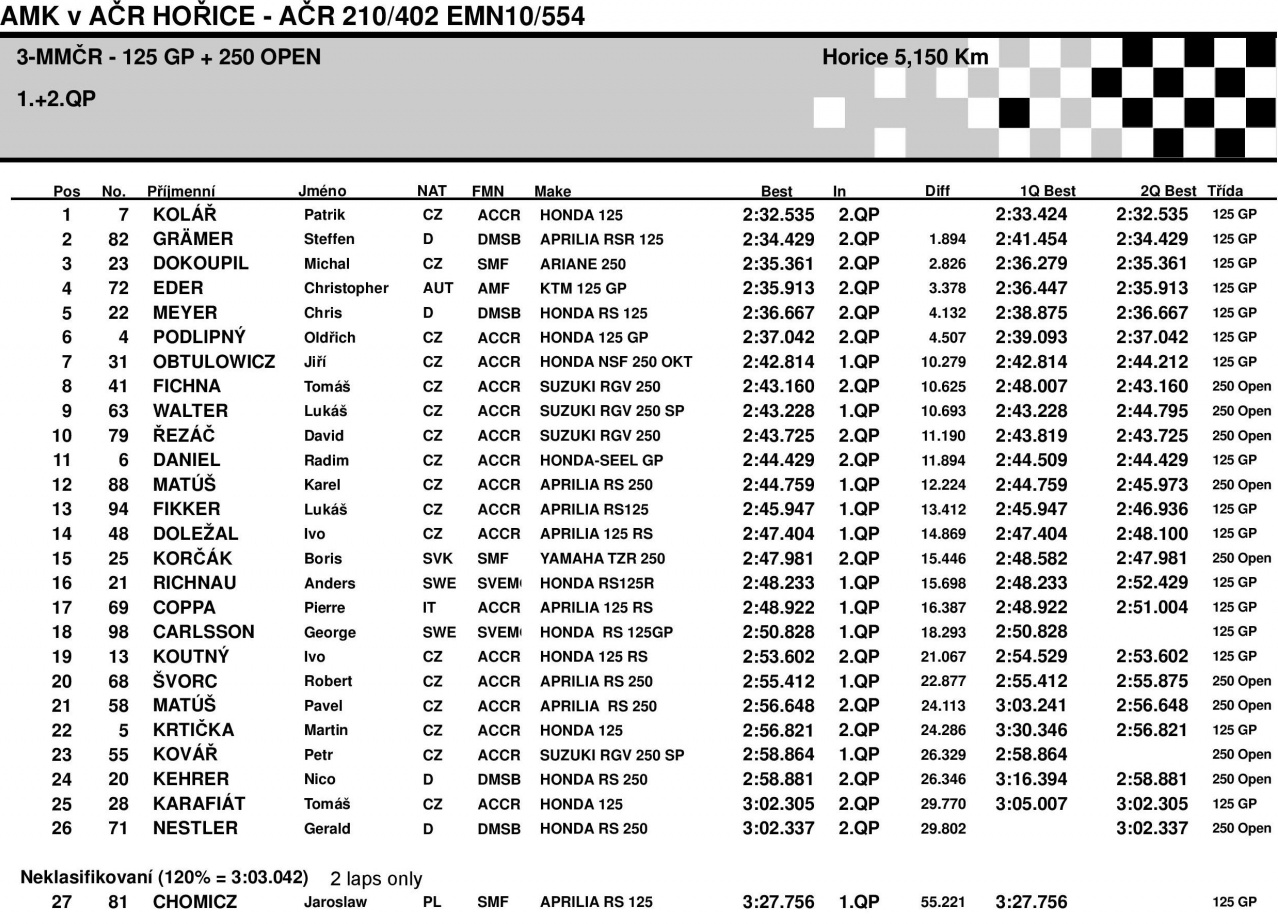 Supermono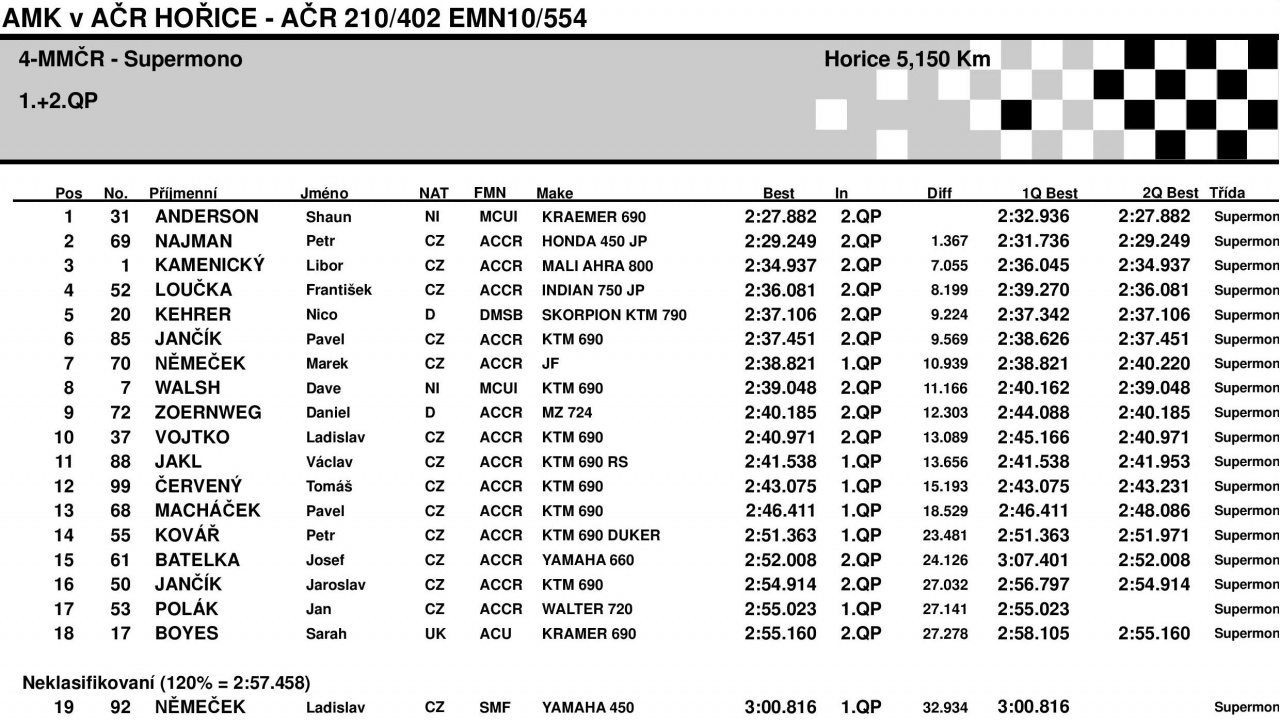 Volná nad 600 ccm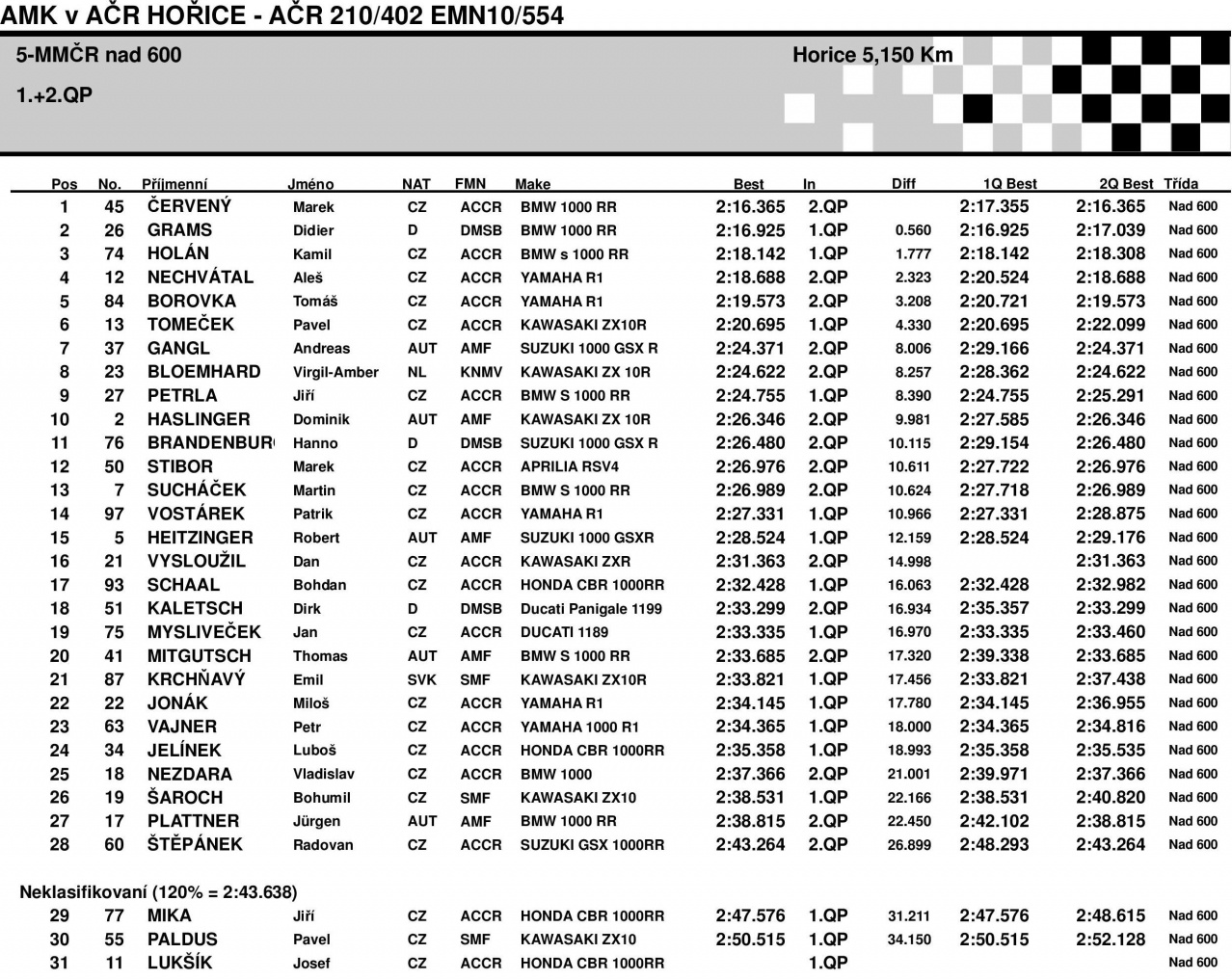 Supertwin