Štěpán Zuda a Jakub Gurecký, účastníci španělské Cuna de Campeones, mají za sebou další závodní víkend, který se ale nesl hlavně v duchu testování.
Zdroj: TZ
Závodní sezóna španělské motocyklové školy Cuna de Campeones je v plném proudu a mezi bodovanými závody měli jezdci k dispozici také víkend v Cartageně, který se bodově nepočítal do celkového hodnocení. Z tohoto důvodu ho mohli všichni využít hlavně k otestování techniky. Dobrým tréninkem to bylo také pro české závodníky Štěpána Zudu a Jakuba Gureckého, kteří letos závodí ve třídě PreMoto4.
Oproti standardním závodním tratím byla vytýčená trať v Cartageně hodně zkrácená a připomínala spíše polygon s vloženými přejezdy trasovanými pneumatikami a balíky slámy. To bylo také z důvodu, že se měli jezdci soustředit na doladění podvozků a proto byla trať technicky založená. V sobotu bylo na programu pět volných tréninků a v neděli dvě dopolední kvalifikace a odpoledne dva závody.
Jakub Gurecký se zaměřil hlavně na udržení tempa a trénink startů, které byly v posledních závodech důvodem nezdaru. To se Kubovi podařilo, zajížděl dobré časy a v kvalifikaci obsadil 5. místo. V prvním závodě si dojel pro páté místo a ve druhém skončil čtvrtý. Celkově víkend hodnotí kladně, protože proběhl bez pádu či závady na motocyklu. Se zajetými časy je spokojený a starty byly také dobré.
Štěpán Zuda se během tréninků potýkal s technickými problémy, kterými byly vadný přední tlumič a trhliny na výfukovém potrubí. Vše bylo opraveno a mohl vyrazit do kvalifikací. Bohužel zde došlo k pádu, při kterém byla značně poškozena motorka a to ovlivnilo zbytek víkendu.
Jaroslav Zuda – otec Štěpána
"V první kvalifikaci se Štěpa držel na první pozici, ale vlivem špatně fungujícího live timingu jsme na tabuli ukázali místo páté. Štěpa se pokusil zrychlit, ale v krátké šikaně z kopce mu na hrbolaté trati odskočil předek a Štěpa skončil mimo trať. Nic se mu nestalo, ale motocykl byl hodně poničený. Jelikož se druhá kvalifikace jela hned za 40 minut, nevěřili jsme, že se to stihne opravit. Na motorce pracovali v plném nasazení dva mechanici a už to vypadalo, že se vše stihne, ale u Dunlopu zapomněli přezout pneumatiku na přední kolo. Štěpa tak vyrazil na posledních pět minut 2. kvalifikace a navíc na nové studené přední pneumatice. I přes to vylepšil svůj čas o 0,4 vteřiny. To ale nestačilo a propadl se na 6. místo na startovním roštu."
"V prvním závodě Štěpa dobře odstartoval a posunul se na 5. pozici. Na této trati nebylo moc míst k předjetí, takže se dá říci, že jak se podařilo jezdcům odstartovat, tak i dojeli do cíle. Asi v pátém kole dostal jezdec těsně před Štěpou highsider a šel k zemi. Štěpa se mu naštěstí stihnul vyhnout, ale musel vyjet mimo trať. Následně byl závod ukončen červenou vlajkou. Po restartu závodu se mu už nepodařilo tak dobře odstartovat, ale držel se v kontaktu na 5. místě. Tři kola před koncem jako jediný jezdec v přední skupině zaútočil a dostal se tak na místo čtvrté."
"V 1. závodě bylo vidět, že mu soupeři z každého výjezdu ujeli a tak jsme se rozhodli do druhého závodu zkusit změnit převod. To se ukázalo jako špatný krok, protože tím byl motocykl zkrácen, ale nebyl k tomu přizpůsobený podvozek. Kvůli tomu Štěpa od startu okamžitě ztrácel, protože neměl v zatáčkách grip na zadním kole. I tak zajel druhý nejlepší čas závodu a ke konci se rychle dotahoval na čtvrtého jezdce, který však neudržel tempo skupiny před ním. Máme další zkušenost s nastavením motocyklu a snad je využijeme v Aragonu. Poděkování patří mechanikům za rychlý přístup a Michalovi Salačovi za podporu a rady."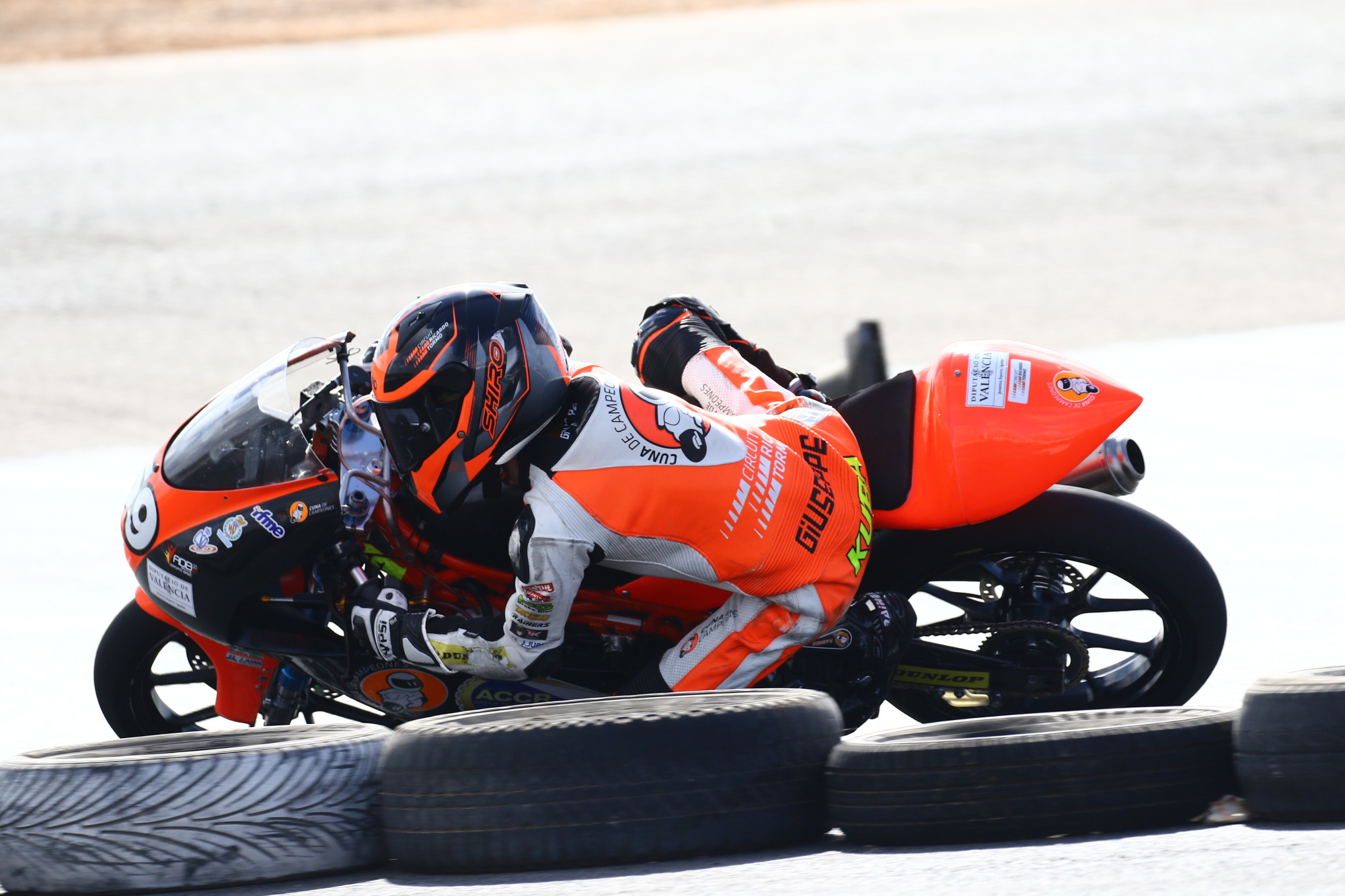 Pavel Gurecký – otec Jakuba
"Z hlediska budoucího výkonnostního růstu závodníka můžeme seriál Cuna de Campeones ohodnotit pouze pozitivně. Všichni závodí na strojích o stejných parametrech, na nádherných okruzích, kontroluje se celková hmotnost stroje a jezdce. V honbě za dobrými výsledky ideální podmínky. Nelze opomenout ani výbornou spolupráci s mechaniky, kteří se snaží po komunikaci s jezdcem nalézt ideální nastavení stroje."
Příští závody Cuna de Campeones se pojedou na okruhu v MotorLand Aragón od 12. do 14. července 2019.