Výsledky pátečních volných tréninků čtvrté Velké ceny mistrovství světa silničních motocyklů, která se tento víkend rozjela ve španělském Jerezu.
Zdroj: MotoGP
Moto3
Páteční program na okruhu v Jerezu začal volnými tréninky a jako první vyjeli jezdci třídy Moto3, kteří si mohli užít slunečného počasí s teplotou vzduchu 20°C. Dobré počasí vydrželo celý den, tak že všichni mohli dobře připravovat na další průběh víkendu a co víc, vyzkoušet nový povrch trati suchý.
Nejrychlejším jezdcem nejslabší třídy Moto3 je Niccolò Antonelli z týmu SIC58, který zajel čas 1:46,795. Za ním skončil jeho týmový kolega Tatsuki Suzuki se ztrátou jen 0,093 s, takže v týmu panovala velká spokojenost. Třetí pozici obsadil domácí závodník Raul Fernandez. John McPhee skončil čtvrtý a Aron Canet byl druhým nejlepším jezdcem na domácí trati a skončil celkově pátý. Oba dva čeští závodníci začali výborně v ranním tréninku, ve kterém se zlepšovali. Odpoledne ale jako spousta dalších jezdců svůj čas nezlepšili a tím se propadli v pořadí. Jakub Kornfeil skončil s časem 1:47,453 a ztrátou 0,658 s na kombinovaném 14. místě. Jeho týmový kolega Filip Salač obsadil 26. místo s časem 1:47,952 a ztrátou 1,157 s.
Kombinované výsledky obou tréninků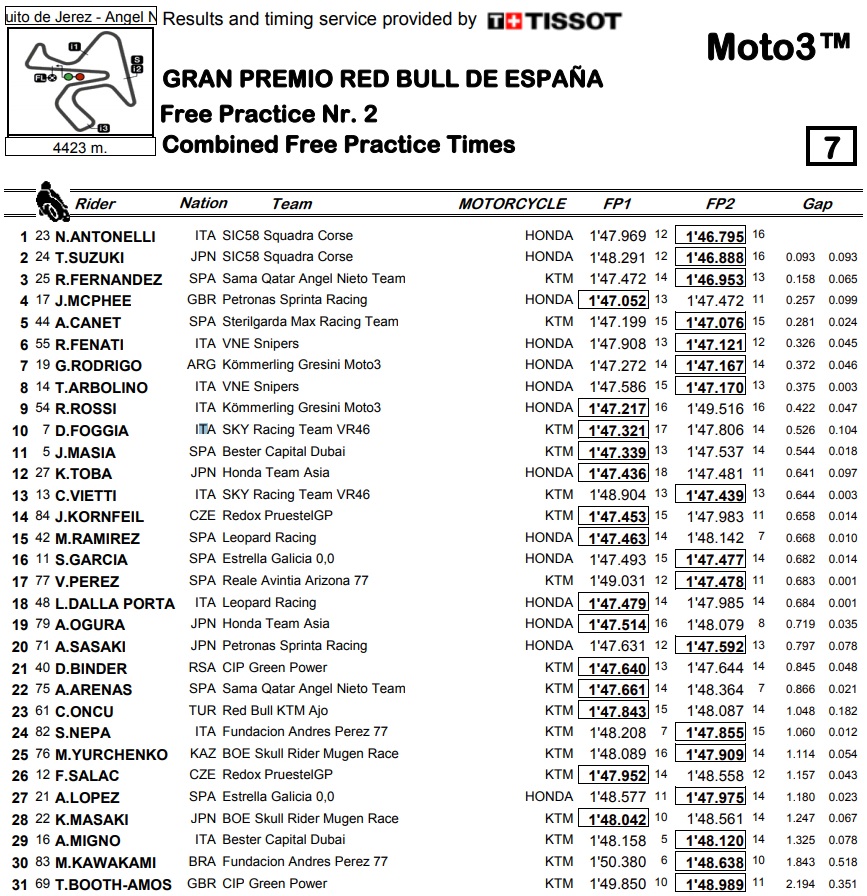 MotoGP
Jako druzí vyrazili na trať jezdci královské tříd MotoGP, kteří mají tento víkend k dispozici čtyři druhy pneumatik oproti standardním třem. To kvůli novému povrchu trati. Podmínky jsou jinak v Jerezu dobré, když je slunečno, ale poměrně dost fouká vítr. Vzduch během odpoledne vystoupal na 24°C a trať na 45°C.
Na závěr odpoledního tréninku byla vyvěšena červená vlajka kvůli podmínkám na trati. V páté zatáčce totiž spadl Karel Abraham na vnitřku zatáčky. Poté tu spadl Bradley Smith a kvůli oběma pádům musel Danilo Petrucci vyjet mimo trať. Po pár minutách úklidu trati se mohli jezdci vrátit na závěrečné necelé tři minuty. Hned po odmávnutí tréninku spadl v první zatáčce Joan Mir, kterému nebrzdila motorka. Hned na začátku tréninku spadl ve třetím kole Hafizh Syahrin, který se další akce na trati nezúčastnil, ale naštěstí by měl být v pořádku.
Nejrychlejší čas v královské třídě MotoGP zajel Danilo Petrucci z továrního týmu Ducati, jehož čas je 1:37,909. Oproti rannímu času se zlepšil o přibližně půl vteřiny. Na druhém místě skončil se ztrátou jen 0,012 s Marc Marquez a třetí pozici obsadil Andrea Dovizioso, jehož ztráta je 0,097 s. Místo čtvrté získal Jorge Lorenzo a pátý skončil další jezdec na Hondě Cal Crutchlow. Spousta jezdců se během odpoledne nezlepšila, včetně obou továrních jezdců Repsol Hondy. Rozdíly mezi jezdci jsou opět v tisícinách a osmý Fabio Quartararo ztrácí jen 0,3 s. Do ztráty jedné vteřiny se vešel i devatenáctý Johann Zarco.
U trati byl také vidět Dani Pedrosa, nyní v barvách KTM, který tak nyní již jen sledoval své bývalé konkurenty.
Kombinované výsledky obou tréninků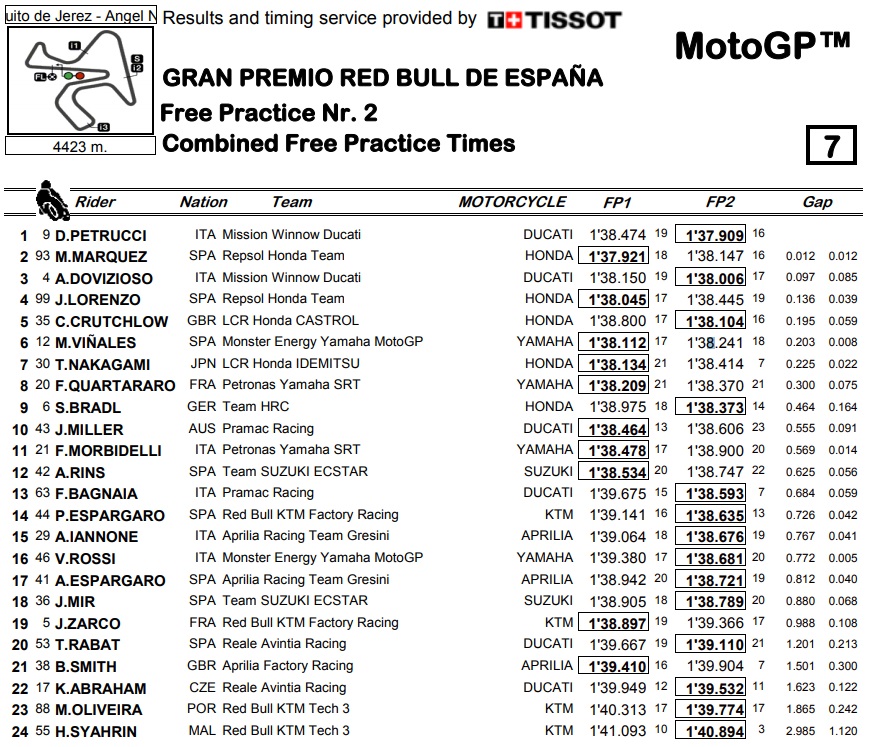 Moto2
Závěr programu patřil jezdcům střední třídy Moto2. Hlavně během odpoledne jsme mohli v této třídě vidět několik pádů a chvílí, při kterých k pádům moc nechybělo. Nejrychlejším jezdcem byl nakonec domácí závodník Jorge Navarro, který už dopoledne zajel čas 1:41,819. V odpoledním tréninku spadl, ale nic se mu nestalo. Tak, jak se spousta jezdců v předchozích třídách nezlepšila, ani v této třídě to nebylo jiné a během odpoledního tréninku zajeli lépe jen čtyři jezdci.
Na druhém místě skončil Brad Binder se ztrátou 0,019 a jen o dalších 0,097 s dál je na místě třetím jeho týmový kolega a nováček ve třídě Jorge Martin. Thomas Lüthi obsadil čtvrté místo a pěkně opět zajel Remy Gardner, který získal pátou příčku s rozdílem 0,153 s. Stejně jako ve všech třídách, i zde jsou mezi jezdci minimální rozdíly a ve ztrátě jedné vteřiny je i jednadvacátý Steven Odendal. Zajímavý je pohled na stroje, které obsadily přední pozice. Ve vedení je Speed Up, za kterým jsou dvě KTM a Kalex skončil nejlépe "až" čtvrtý.
O průběžném postupu do druhé části kvalifikace tak z velké části rozhodují zatím dopolední časy. Je jasné, že během zítřejšího třetího volného tréninku to bude ve všech třídách velký boj o postupové pozice do druhé části kvalifikace.
Kombinované výsledky obou tréninků