Minulý víkend hostil okruh Ricarda Torma ve Valencii druhé závody juniorského motocyklového šampionátu FIM CEV Repsol. Ve třídě European Talent Cup se při 62 účastnících Michal Búlik kvalifikoval do hlavních závodů a po nezdaru v Estorilu tentokrát dokončil obě jízdy, na 26., resp. 25. místě.
Zdroj: TZ
Závodní víkend začal volnými tréninky ve čtvrtek a pátek. Pro velký počet účastníků je třída rozdělena na dvě skupiny a z každé se do hlavních závodů kvalifikuje jen 18 jezdců. První sobotní kvalifikace začínala pro skupinu A o 9:35 hod a Michal Búlik v ní obsadil 11. místo. Skupina B už měla lepší podmínky, což se odrazilo i na časech. V součtu časů obou skupin získal 29. příčku. Do druhé kvalifikaci udělal tým změny v nastavení s cílem vylepšit čas. Jízda začínala až o 13:30 hod a počasí už bylo velmi horké. V těchto podmínkách se už téměř nikdo nedokázal zlepšit, co pro Michala znamenalo 12. čas ve skupině A a celkově 30. nejrychlejší čas.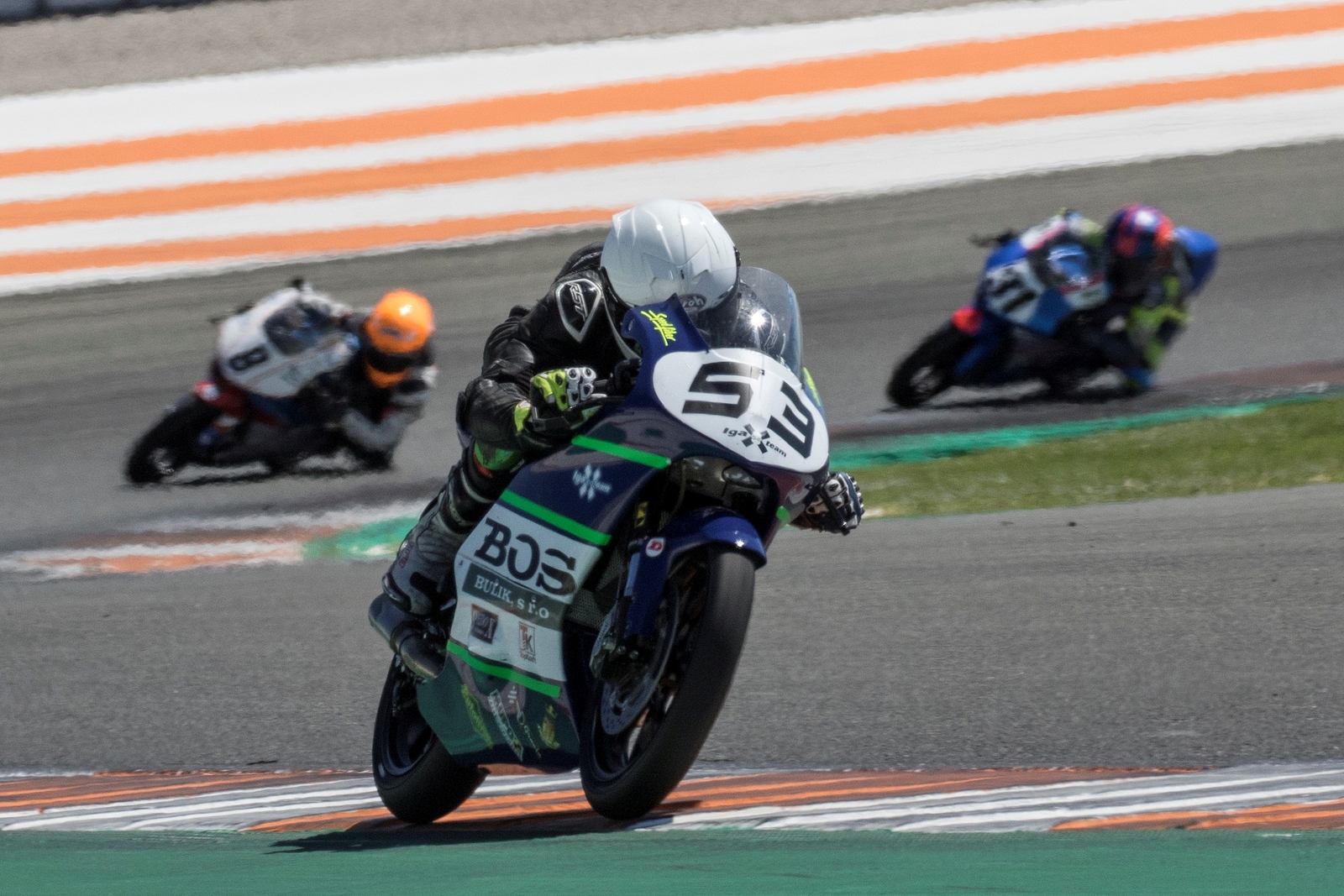 Postavení na startu ovlivnily penalizace jezdce, kteří během kvalifikací čekáním nebo zpomalováním pětkrát nesplnili limit pro jednotlivé sektory a takzvaný Zipový systém, když nestojí jezdci podle nejrychlejšího času, ale podle pozice v kvalifikaci, vždy jezdec z jedné a druhé skupiny. To bylo pro Michala výhodou, díky čemuž startoval do prvního závodu z 21. místa.
Po startu si držel svou pozici. Pro velké množství předjíždění se pole rozdělilo a Michal se držel ve skupině o 20. místo. V závěru jízdy začal mít problémy s gripem na zadním kole, ve skupině už nedokázal být tak aktivní a cílem projel na 26. místě. Do druhé jízdy Michal startoval z 24. pozice. Jízda měla podobný průběh s velkým množstvím předjíždění ve skupině o 20. místo a Michal byl v cíli na 25. místě.
Milan Búlik
"S Michalovým působením v ETC jsem zatím velmi spokojen. Před sezónou jsme si při takovém počtu startujících kladli za cíl kvalifikování se do závodů. Už mě dvakrát přesvědčil, že to bez problémů zvládne. Viděl jsem na něm po obou jízdách zklamání z výsledku, což mě na druhou stranu těší, protože vím, že ho to dokáže motivovat. Své první závody v ETC na suchu zvládl dobře a naučil se množství věcí a získal nové zkušenosti. To je to, proč tu startujeme, proč se snažíme. Věřím, že když budeme pokračovat krok za krokem v našich plánech, podaří se nám nějaký ten bodík získat."
Děkujeme partnerům: IgaX Team, BOS Búlik s.r.o., Redox Lučenec, BRS Technology, Top Kraft, Maco Racing, RST, Vágner sport, Paolo Slovakia, Boneko, Dunlop, Moto-cup.sk, Slovenská motocyklová federácia.