Davide Brivio, manažer týmu Suzuki Ecstar, pověděl více k důvodům protestu proti Ducati. Po prvním zamítnutí od technických komisařů se problém dostal až k odvolacímu soudu MotoGP.
Zdroj: Crash.net
Po Velké ceně Kataru se spojily továrny Honda, Suzuki, KTM a Aprilia, aby podaly protest proti novince u Ducati, která obnáší zařízení na zadní kyvné vidlici. Ducati uvedla, že jde o věc pro chlazení pneumatiky a že už něco podobného používala Yamaha loni ve Valencii proti odrážení vody. Právě možná proto se Yamaha jako jediná z ostatních továren k protestu nepřipojila. Nejprve protest řešil panel komisařů MotoGP, kteří to zamítli, ale továrny podaly odvolání a spor bude řešit odvolací soud MotoGP. Verdikt by měl padnout před Grand Prix Argentiny.
Šéf týmu Suzuki Ecstar Davide Brivio s tím nesouhlasí a uvedl, že s Ducati mluvil ještě před závodem a řekl jim, že pokud s novými díly budou v neděli závodit, připojí se k protestu.
"V loňském roce spolu všichni výrobci účastnící se šampionátu MotoGP diskutovaly otázku aerodynamiky. Všichni jsme souhlasili s nějakými pravidly, abychom limitovali nekontrolovatelný nárůst nákladů ve výzkumu a vývoji v oblasti aerodynamiky," začal Davide Brivio při čtení prohlášení.
"Rozhodnutí, které se nakonec stalo novým pravidlem, bylo takové, že každý výrobce musí homologovat jeden set aerodynamických kapot před začátkem šampionátu s jedinou možnou aktualizací během sezóny. Bylo stanoveno, že zbytek motocyklů nemůže mít namontované žádné další aerodynamické díly se specifickým vlivem na přítlak. Před pár týdny Ducati prezentovala technickému řediteli přídavný díl na zadní kyvnou vidlici a kryt předního kola s vysvětlením, že jde o chlazení zadní pneumatiky. Technický ředitel tyto nové doplňky schválil jako chladící systém pneumatik a vydal nové pokyny s ohledem na technické předpisy (2. a 5. března)."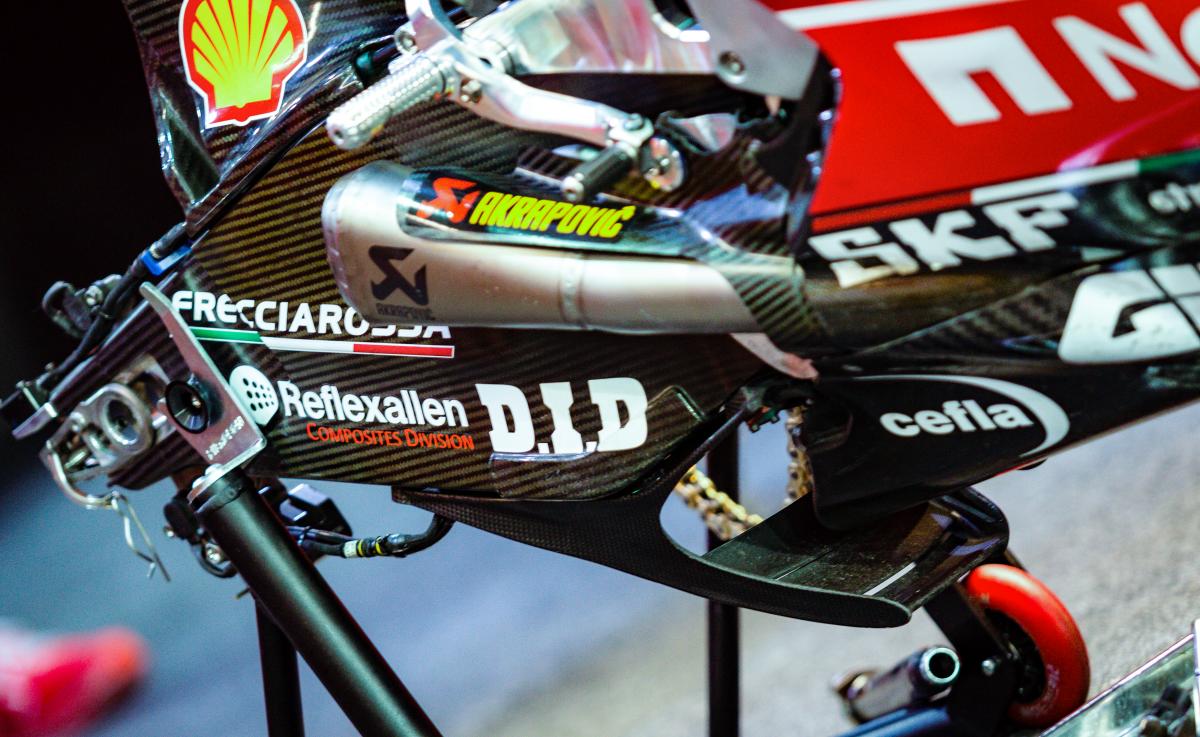 "Inženýři, kteří pracují pro čtyři továrny (nás, Aprilii, Hondu a KTM) podávající protest, se domnívají, že tyto díly mají aerodynamický účinek, vytvářejí přítlak a jsou tedy v rozporu s pravidly. Uspořádali jsme setkání s technickým ředitelem a požádali ho o vysvětlení a objasnění. Nejsme spokojeni s odpověďmi, které nám byly dány."
"Následně jsem si soukromě promluvil s Ducati (a tak učinili i někteří další), abych vyjádřil svou nespokojenost s jejich interpretací a pověděl jim, že očekávám oficiální podání stížnosti, pokud se nadále rozhodnou tyto nové doplňky používat.To se však stalo a Ducati do závodu vybavila tři své motorky s těmito novými díly, a tak jsme podali protest. Udělali jsme to proto, abychom si situaci jednou provždy objasnili."
Některé zdroje blízké protestujícím továrnám potvrdily, že si nemyslí, že by došlo ke změně výsledků, kde vyhrál Andrea Dovizioso jen o 0,023 s nad Marcem Marquezem. Mělo by ale dojít k jasnému stanovení pravidel do budoucna a poznání, zda tato oblast rozvoje zůstane továrnám otevřená.
"Nyní očekáváme, že dostaneme jasné stanovení od FIM, od technického ředitelství a od všech zapojených autorit. Podáním tohoto protestu je chceme přimět k tomu, aby byly zhodnoceny, posouzeny a objasněny zásady pravidel, předpisů a směrnic. Jak již bylo řešeno, hlavím cílem je objasnit, co můžeme a nemůžeme dělat. Podali jsme odvolání proti rozhodnutí panelu komisařů a ti to odkázali na jinou úroveň soudního rozhodnutí, což je odvolací soud MotoGP," dodal Davide Brivio.