Český závodník Štěpán Zuda si na závěr sezóny užil start závodu ve třídě PreMoto 4 při MotoGP ve Valencii. I přes to, že musel poprvé v životě startovat z boxů, nakonec skončil na bodované pozici.
Zdroj: TZ, Foto: Robert Sobčák, Cuna de Campeones
Během posledních závodů MotoGP letošní sezóny se na okruhu ve Valencii také představil šampionát Cuna de Campeones, kde ve třídě PreMoto4 závodil český jezdec Štěpán Zuda. Štěpovi vyjednal angažmá manažer juniorské reprezentace Autoklubu České republiky Michal Salač.
Celý víkend ovlivnila nepřízeň počasí, takže se Štěpán Zuda musel při svém prvním startu v této třídě navíc vyrovnat s mokrou tratí. To také způsobilo problémy s motorkou, kvůli kterým přišel o druhou kvalifikaci. Ani v závodě to nebylo jednoduché, protože musel startovat z boxů. To byla pro Štěpu první zkušenost, nicméně se s tím vypořádal skvěle. Během závodu postupně předjel několik soupeřů a skončil na bodovaném 13. místě. Více k tomu pověděl v krátkém rozhovoru.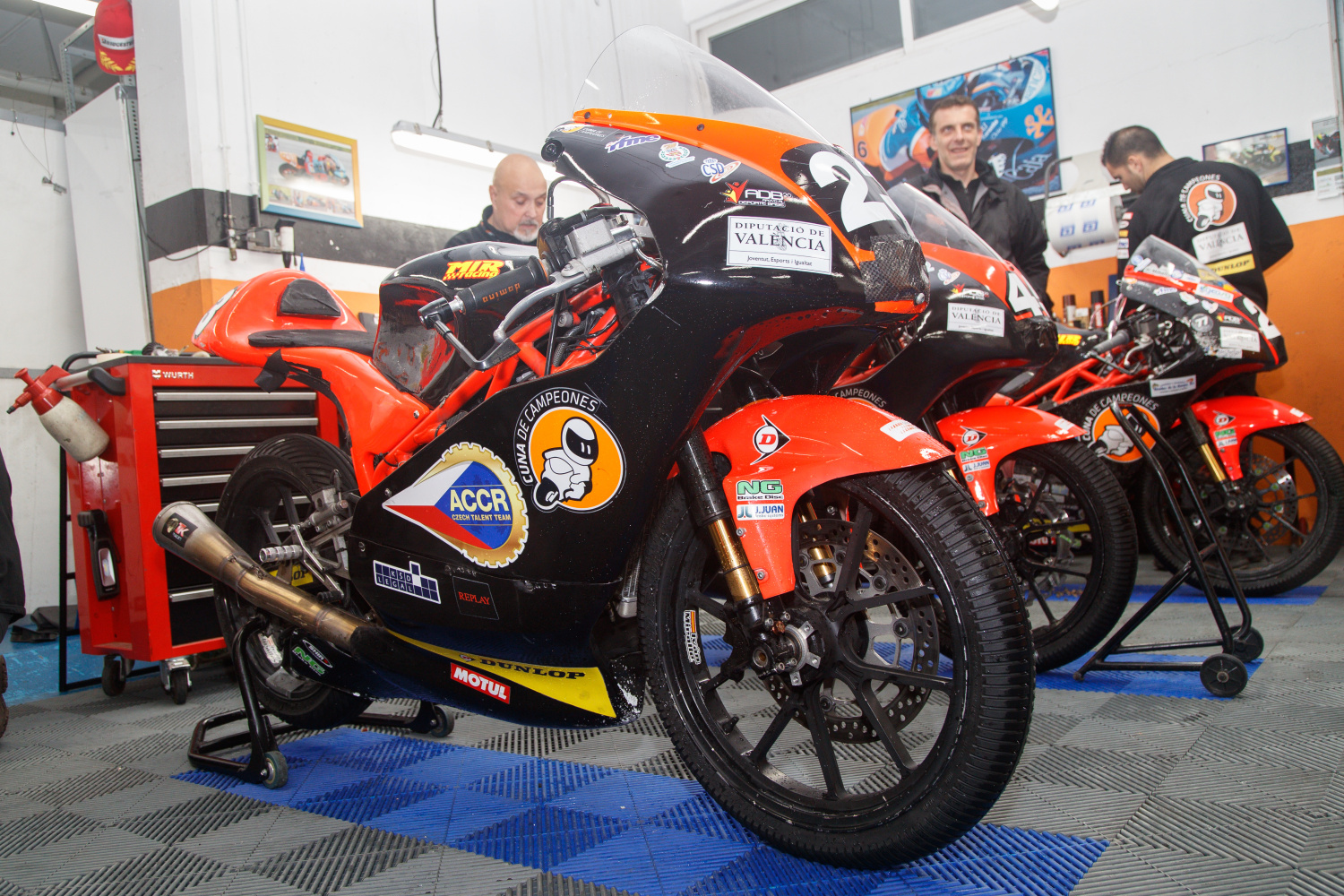 Jak bys Štěpáne zhodnotil začátek víkendu ve Valencii, kdy tě čekaly kvalifikace?
"Ze začátku jsem měl problém se zadním kolem, proto jsme se to snažili vyřešit lepším nastavením motorky. V první kvalifikaci jsem byl patnáctý a do každého nájezdu do zatáčky se to se mnou vlnilo, takže jsem nechtěl riskovat pád. Do druhé kvalifikace se mi při výjezdu zahltil motor vodou a motorka neměla výkon. Zajel jsem do boxů a museli jsme to vyčistit. Zjistili jsme, že to odnesla i baterie, takže to byla další komplikace. Než jsem vyjel na trať, tak se rozpršelo ještě víc a byla vyvěšena červená vlajka. Kvůli tomu jsem ve druhé kvalifikaci nezajel ani jeden čas. Proto jsme doufali, že nebude na první závod tolik pršet."
A jaký byl závod?
"Nejprve jsem hodně bojoval a předjel asi pět jezdců. Bohužel mě jeden padající jezdec zezadu trefil a já vyletěl z motorky při highsideru. Ulomila se mi řadička, spojka i stupačka. Všechno jsme stihli opravit, takže chci poděkovat i mému mechanikovi Javimu, bez kterého bych tento závod nedojel. Poté jsem musel úplně poprvé startovat z pit lane. Vůbec jsem nevěděl, co mě čeká. Po startu jsem při nájezdu do zatáčky viděl safety car, tak jsem doufal, aby mě pustil a nezávodil jsem jen s ním. Nakonec ne a v průběhu závodu jsem se propracovával dopředu. Nakonec z toho bylo 13. místo."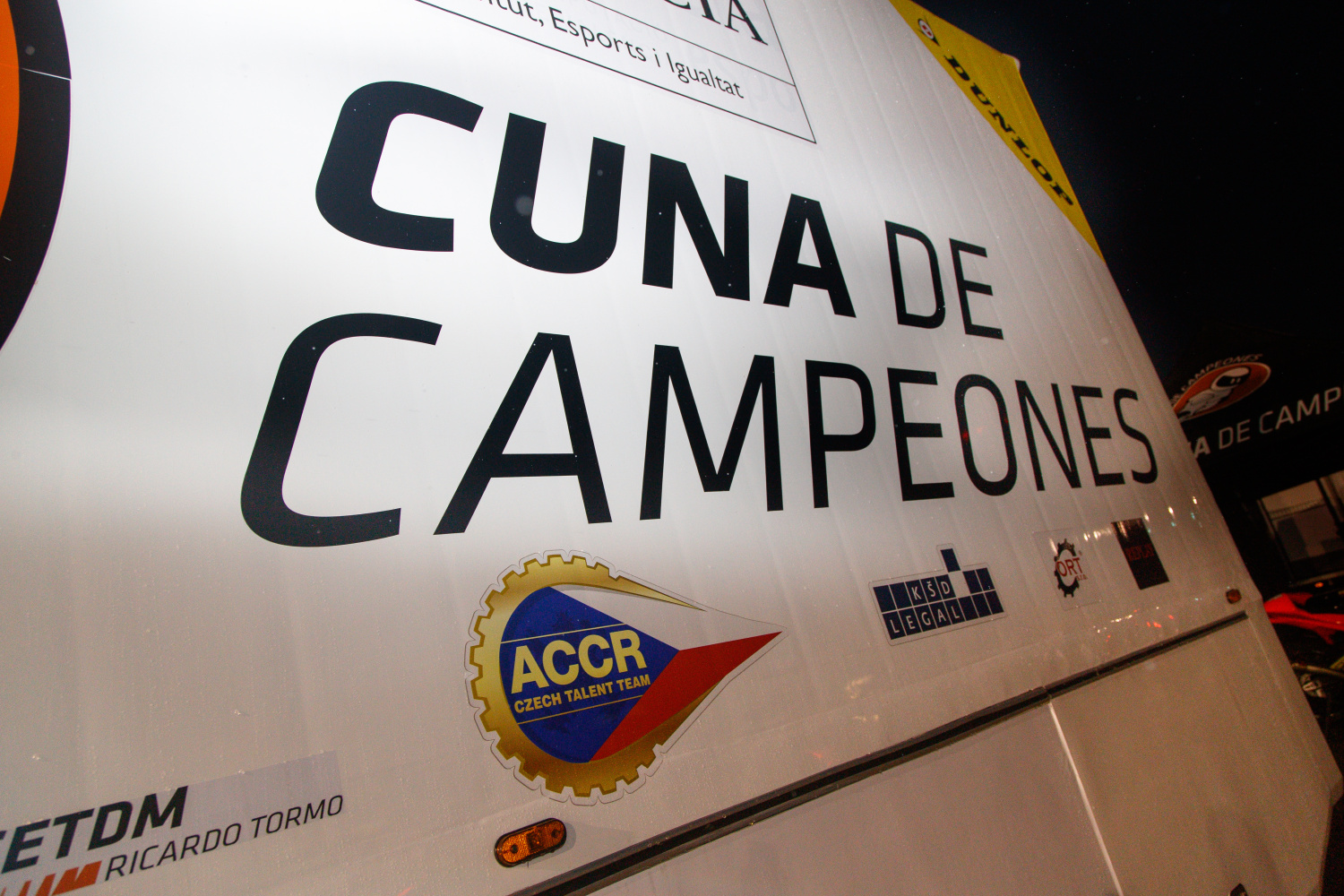 Jak se ti líbí tahle motorka, na které jsi jel?
"Je podobná mému trénovacímu stroji. Na testech jsem nečekal, že pojede tolik a že bude mít takový výkon. Celkově má docela velkou akceleraci. Nyní je to pro mě ideální motorka, hodně mi sedla, i když na ní mám odjeto jen pár kol. Myslím si, že výsledek, který jsem zajel, je dobrý."
Jak se ti jelo v tak náročných podmínkách na vodě?
"Když jsem jezdil ještě na Hondě NSF100, tak jsme v ADACU nesměli používat mokré pneumatiky. To mi dalo hodně velkou zkušenost k jízdě na mokrých pneumatikách. Díky tomu mi to sedí a můžu jet. Jinak mám vodu docela rád a líbilo se mi, že nebylo sucho. Vím, že Španělé tu jsou na suché trati velice silní a nyní jsem měl trochu výhodu. Nicméně to neznamená, že by nejeli rychle. Ti by jeli i kdyby padaly kroupy a pojedou dobře. Je to top země pro motocyklový sport."
Nyní tě čeká co?
"Teď mě čeká zimní příprava a za rok uvidíme, ještě nevíme, co bude dál. Určitě bych chtěl za tento víkend poděkovat taťkovi, který mě podporoval psychicky a předtím se to tu snažil domluvit. Poté mamce, která mě podporovala z povzdálí z Česka a mojí sestře, která mi poslala pěkné video. Následně určitě moc děkuji panu Štovíčkovi a Michalovi Salačovi."
Závodního víkendu se zúčastnil i pan prezident AČR Šťovíček, který poté převzal za Štěpána diplom při vyhlášení za celou sezónu. Štěpán už byl na cestě domů, takže ho zastoupil pan prezident. Ten se díky tomu osobně setkal také se starostou města Valencie a prezidentem RFME v jedné osobě a rovněž guvernérem provincie Valencia.
Co je Cuna de Campeones?
Cuna de Campeones je národní španělský šampionát, který zahrnuje závody ve třídách Minibike, Mini GP 110, Moto 5, PreMoto 4, PreMoto3 a Moto3, takže hlavně rozvíjí mladé talentované závodníky na nejlepších španělských okruzích. Šampionát spolupracuje se světovým okruhem Ricarda Torma ve Valencii a jejich společným cílem je trénink a výchova budoucích motocyklových hvězd.
Spolupráci s Cunou de Campeones navázal také Autoklub České republiky, takže mají čeští závodníci příležitost rozvíjet svůj talent ve skvělých podmínkách pro silniční závody, navíc ve velice silné konkurenci španělských jezdců.