Program rallye Dakar dnes pokračoval třetí etapou. Na tu si pořadatel připravil velkou porci kilometrů, která byla náročná pro jezdce i jejich doprovody. Jezdci týmu Klymčiw Racing dnes zabojovali a přivezli si skvělé výsledky.
Závodní program 41. ročníku rallye Dakar dnes pokračoval třetí etapou. V ní si organizátor připravil opravdu dlouhou trasu. Cesta vedla z města San Juan De Marcona do Arequipy. Celkem tak jezdce čekalo 798 km a 331 km měřeného úseku. Dlouhý přejezd do dalšího bivaku čekal také doprovodná vozidla.
"Od rána jsme na cestě. Vyjížděli jsme v sedm ráno a nyní už jsou tři hodiny odpoledne a pořád jedeme. Dali jsme si jen jednu krátkou pauzu na kávu a ještě to máme minimálně hodinu až hodinu a půl do cíle, takže dnes je to náročné i pro doprovod. Pro jezdce samozřejmě také – měli 800 kilometrů včetně měřeného úseku a přejezdů," řekl Ondřej Klymčiw ještě během cesty do dalšího bivaku v Arequipě, kde ale poté stráví více dní.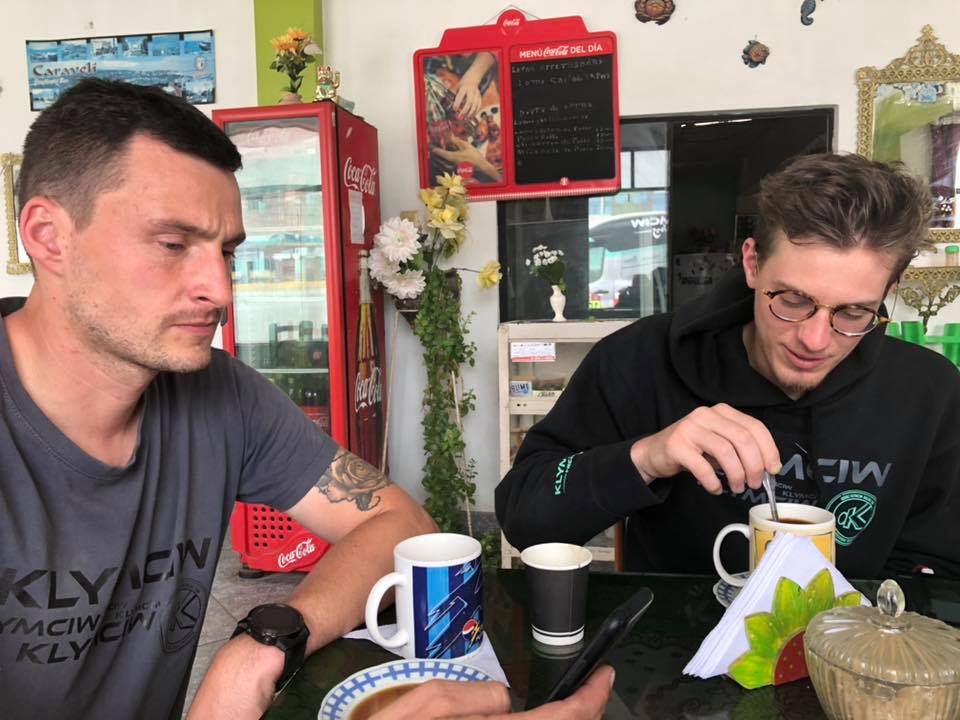 Stejně jako včera, i dnes byl nejlepším jezdcem týmu Klymčiw Racing Skyler Howes. I přes to, že je Skyler na rallye Dakar nováčkem, dokončil dnešní náročnou etapu na 17. místě, jen dvě pozice za loňským vítězem Matthiasem Walknerem. Od Top10 ho dělilo pouze 16 minut. Díky tomu si také výrazně polepšil v celkovém hodnocení, kdy poskočil z 36. místa na 21. pozici. Výkon svého svěřence si Ondra pochvaloval. "Skyler dnes zajel úplně skvěle a bylo z toho 17. místo! Ráno jsem mu jen řekl, ať to nehrotí, hezky se sveze a užije si den. No a ono to nakonec vyšlo."
Velkou stíhací jízdu dnes předvedl Garrett Poucher, který je rovněž nováčkem v této soutěži. Garret se po včerejší etapě stal hvězdou médií, protože kvůli defektu zadní pneumatiky dojížděl etapu po ráfku. To samozřejmě ovlivnilo nejen jeho výkon, ale také výkon Petra Vlčka, který ho za sebou táhl na kurtě. Oba dva tak druhou etapu dokončili hodně vzadu, takže dnes museli startovat ze 116. v případě Garretta a 107. místa v případě "Anděla." Garrett dnešní etapu ukončil na výborném 28. místě! I Petr získal dost pozic, když cílem projel šedesátý.
"Garrett startoval bohužel až vzadu, někde za 110. místem, takže to neměl vůbec jednoduché," řekl k jeho výkonu Ondřej Klymčiw a pokračoval v návaznosti i na výkon Petra Vlčka. "Včera se mu vysypala pěna a speciálku dokončil jen díky Petrovi Vlčkovi, který u něj zastavil a táhl ho na laně asi tři hodiny do cíle. Garrett jel po ráfku nejen do konce rychlostní zkoušky, ale ještě nějakých 250 – 280 km po asfaltu. Ale tohle je také příběh a dokonce zaplnil hlavní titulky médií a to k tomu patří. Kvůli tomu i Anděl dorazil daleko za stovkou. Oba dva dnes hodně zabojovali. Garrett dojel 28. a Anděl 60. Je to super a mám z toho radost. Jsem rád, že tahle parta drží při sobě a pomůžou si i na trati. Je dobré, že dnešní etapu dokončili i Gee a Gábina. Doufám, že si všichni začínají naplňovat své představy a sny," řekl na závěr manažer týmu.
Výsledky dnešní etapy a celkové výsledky z pohledu týmu:
17. místo – #73 Skyler Howes (+00:30:46) / celkem 21. místo (+01:24:56)
28. místo – #71 Garrett Poucher (+00:55:42) / celkem 79. místo (+04:43:21 / penalizace 00:20:00)
60. místo – #59 Petr Vlček (+01:54:58) / celkem 89. místo (+05:05:53)
115. místo – #57 Gabriela Novotná (+02:16:37) / celkem 105. místo (+07:00:39)
116. místo – #149 Gee Motzkin (+02:12:17) / celkem 111. místo (+07:31:01 / penalizace 00:20:00)
Celým Dakarem 2019 vás nadále provázíme prostřednictvím vlastních videí zveřejněných na YouTube kanálu. Z třetí etapy už zpracováváme video, ve kterém se dozvíte další informace, tak nás dál sledujte. Zároveň děkujeme za přízeň a podporu! Zde je video z druhé etapy:
Video: OK Dakar 2019 / Exploze zadního kola (Den 09, Etapa 02)
Video: OK Dakar 2019 / První zranění a dvě zničený věže (Den 10, Etapa 03)