Macík bez tlumičů, Brabec bez nehod, taková byla druhá etapa rallye Dakar 2019 u týmu Big Shock Racing.
Zdroj: TZ
Rozcvičování už bylo dost, v druhé etapě Dakaru 2019 Martin Macík i Jan Brabec z týmu Big Shock Racing začali závodit. Trať dlouhou 342 km posádka žluté liazky ve složení Martin Macík, František Tomášek a Jakub Kalanka dokázala zvládnout na skvělém 6. místě a celkově se posunula na 8. pozici mezi kamiony. I Jan Brabec pokračoval ve své neohrožené jízdě a tentokrát dosáhl dokonce na 24. etapovou a 22. celkovou příčku v poli motocyklů. Všichni členové týmu Big Shock Racing mají z úterních výsledků radost, ale zároveň dobře vědí, že Dakar teprve začíná.
Macík šestý bez tlumičů a s navigační záhadou
Martin Macík ve druhé etapě dojel na perfektním šestém místě a celkově se tak posunul na osmou pozici. V úvodu i na konci druhé dakarská etapy si závodníci opět užili duny a technickou jízdu. Trať však měla i hodně rychlou část, kterou kamion Martina Macíka prosvištěl maximální povolenou rychlostí 140 km/hodinu. "V úvodu jsme se honili se Šoltysem, což nás trochu zdrželo, takže na začátku, při předjíždění ostatních, jsme se maličko babrali. Ale pak jsme postupně všechny před námi předjeli a dál pokračovali sami ve vlastním tempu," popisuje úvod etapy Martin Macík, pilot týmu Big Shock Racing.
Bohužel Franta, závodní speciál Martina Macíka, jel přes 200 km se zničeným levým předním tlumičem, což nebylo pro posádku úplně příjemné. Obzvlášť poté, co zhruba 80 km před cílem odešel i druhý tlumič. Ale na podobné situace už je Martin Macík zvyklí a umí si poradit. "Bylo to jen nepohodlné, hlavně v dunách, musel jsem je pokaždé sjíždět do levotočivé zatáčky, aby nárazy tlumilo pravé přední kolo," popisuje Macík, pilot týmu Big Shock Racing.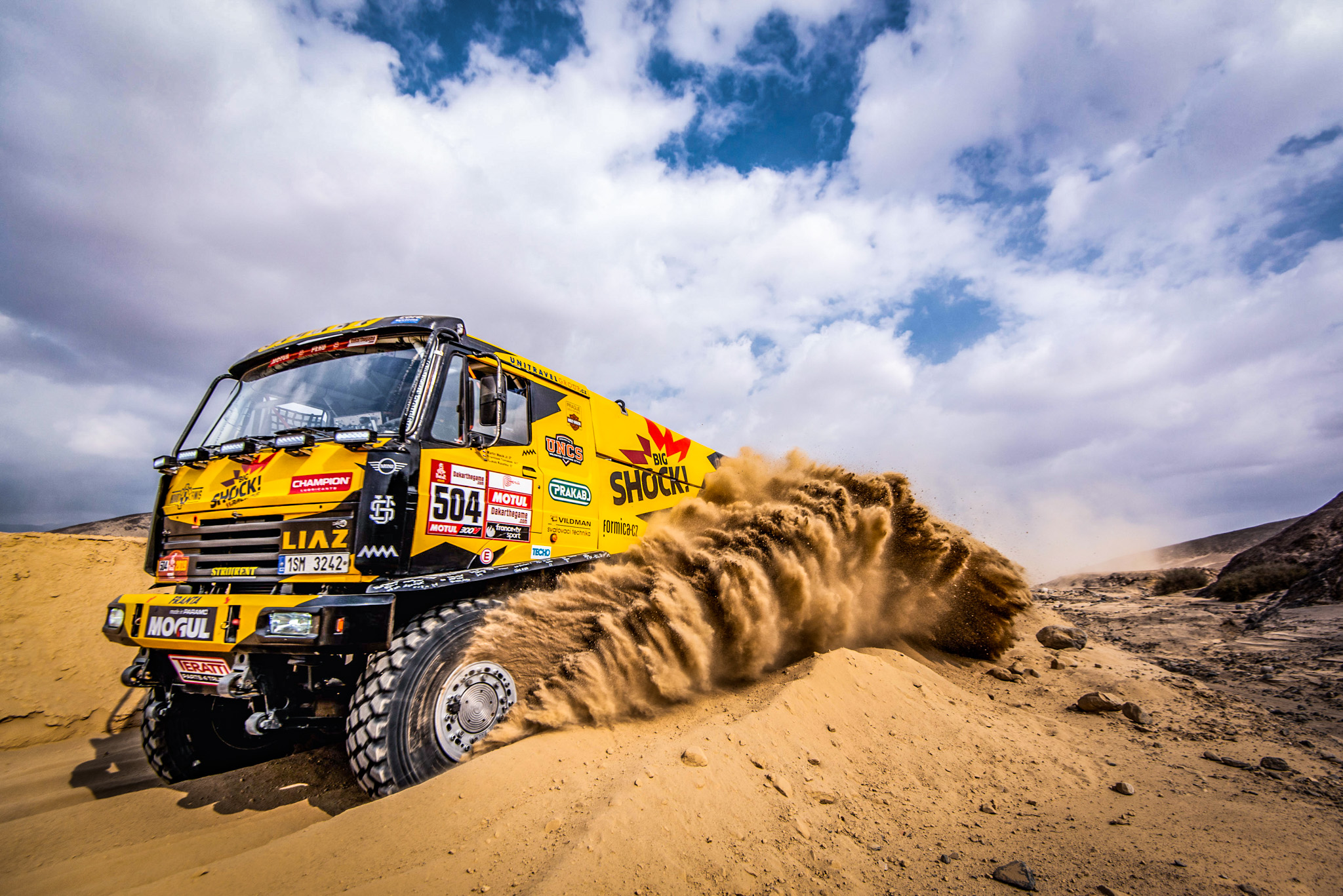 A posádka v etapě řešila také navigační záhadu. "V jednom místě byl přejezd pisty, kde stál organizátor, a měl nám tu naskočit kontrolní bod. Byl jsem přesvědčen, že bod pípnul, takže jsme pokračovali dál a asi po 500 metrech se na GPSce objevil výstražný trojúhelník, který říká, že jsme minuli bod. Ale znenadání zase zmizel a objevila se šipka ukazující úplně mimo, pryč do dun. Takže jsme byli trochu zmatení a nevěděli, co si o tom myslet," popisuje František Tomášek, navigátor kamionu týmu Big Shock Racing. Naštěstí po návratu do bivaku a kontrole GPSky organizátory byly posádce všechny body v pořádku uznány, a tak se mohla těšit z dobrého umístění.
Brabec: Za mě dobré.
Také Janu Brabcovi se druhá etapa povedla a probojoval se pořadím až na skvělou 24. etapovou a 22. celkovou pozici. Honzovi vyhovovaly hlavně úvodní a závěrečné dunové úseky. Ty byly propojeny kamenitým terénem a skalami, které motocyklový jezdec týmu Big Shock Racing nemá právě v oblibě. "S druhou etapou i umístěním jsem maximálně spokojený. Ale jsme tam teď naskládaní v minutách, takže vím, že to bude ještě těžké. S motorkou nebyl vůbec žádný problém, jede perfektně. Za mě zatím všechno dobré," zakončil stručně, ale optimisticky Jan Brabec.