Šestý závodní podnik letošní sezóny mezinárodního mistrovství České republiky – Miniracing bude o víkendu uspořádán na okruhu v Pardubicích.
Zdroj: TZ, Foto: Václav Duška Jr.
Letošní sezóna mezinárodního mistrovství České republiky – Miniracing v sobotu 27. července 2019 pokračuje zvody v Pardubicích. Jde o šestý závodní víkend roku z celkových deseti, takže se dostáváme do druhé poloviny sezóny. Oproti minulým závodům v Písku se tentokrát představí jezdci kategorií Minimoto Junior A, Minimoto Junior B a Senior Open 50. Kromě toho se tu také představí jezdci z akademií při svých jízdách. Naposledy tyto třídy závodily na začátku června v Třinci.
Minimoto Junior A
V průběžném hodnocení tříd Minimoto Junior A je jednoznačně ve vedení Vít Bromovský, který zatím ovládl všechny závody sezóny. Do Pardubic přijíždí v roli jasného favorita, když má na svém kontě 150 bodů a náskok 38 bodů na Nicolase Zanina. Ten v letošní sezóně zatím sbíral pódiová umístění, ale na vítězství to nestačilo. O 18 bodů za ním je na třetí pozici Roman Durdis a pěkné čtvrté místo si udržuje Justýna Císařová. Viktor Čech doplňuje Top5.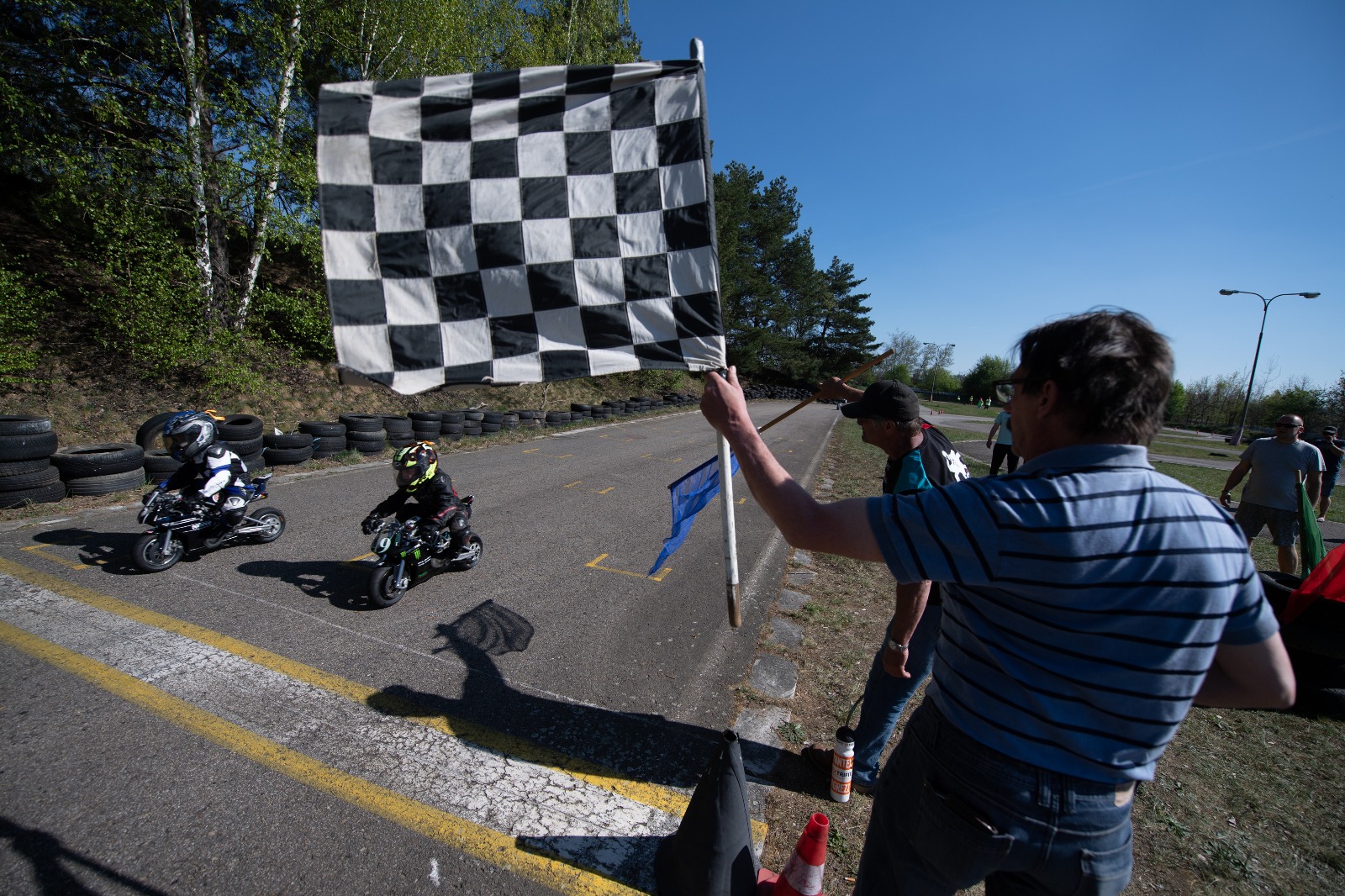 Minimoto Junior B
V kategorii Minimoto Junior B to vypadá podobně, jako v Áčku, kde má také díky vítězstvím všech závodů 150 bodů Adam Vyskočil. Adam navíc může jet s opravdu velkým klidem, protože nejbližší soupeř Samuel Valta má jen 49 bodů. Za ním je to ale velice vyrovnané. Jen čtyři body na něj ztrácí Karel Hubáček a rovných 40 bodů mají Tadeáš Benáček a Viktor Čech, takže boj o titul vicemistra je stále otevřený.
Senior Open 50
Poslední třídou, která se v Pardubicích pojede v rámci MMČR je Senior Open 50 a aby se to nepletlo, i zde Tomáš Zdařil vyhrál všechny závody sezóny a má 150 bodů. Na druhé místě se po úspěšných závodech v Třinci drží Dita Daňhelková, která má 99 bodů. Trojici nejlepších doplňuje Petr Bican se 70 body.
Ukázkové jízdy akademií
Zpestřením všech závodů jsou jízdy akademií, ve kterých se představují ti nejmenší závodníci, kteří se připravují na vstup do mistrovství. Díky tomu si zvyknou na režim závodního dne a přestup mezi hlavní třídy jim nebude dělat žádné problémy. V těchto závodech je navíc hojná účast a vždy je to pěkná podívaná. V průběžném vedení této třídy je Pavel Smitka se 129 body, když kromě dvou závodů ostatní vyhrál. S ztrátou 18 bodů je druhý Stanislav Kohout a Václav Michal s 93 body drží místo třetí. Celkem tu bodovalo již 13 jezdců.
Hlavní harmonogram je podle letošního konceptu naplánován na sobotu, ale kdo chce, může využít pátečních tréninků.
Video: MMČR Miniracing – Cheb 18. 5. 2019
Harmonogram víkendu
Pátek 26. 7. 2019
18:00 – 20:00
formální a technická přejímka
Sobota 27. 7. 2019
08:00 – 09:30
formální a technická přejímka
Čas
Trénink
Třída
08:30 – 08:45
1. volný trénink
Minimoto Junior A
08:50 – 09:05
1. volný trénink
Senior Open 50 + Minimototo Junior B
09:10 – 09:25
1. volný trénink
jízda akademií
09:30 – 09:45
2. volný trénink
Minimoto Junior A
09:50 – 10:05
2. volný trénink
Senior Open 50 + Minimototo Junior B
10:10 – 10:25
2. volný trénink
jízda akademií
10:30 – 10:45
1. kvalifikace
Minimoto Junior A
10:50 – 11:05
1. kvalifikace
Senior Open 50 + Minimototo Junior B
11:10 – 11:25
1. kvalifikace
jízda akademií
11:30 – 11:45
2. kvalifikace
Minimoto Junior A
11:50 – 12:05
2. kvalifikace
Senior Open 50 + Minimototo Junior B
12:10 – 12:25
2. kvalifikace
jízda akademií
12:30 – 13:15
přestávka
13:20 – 13:50
rozprava
14:00 – 14:15
1. závod (10 min + 2 kola)
Minimoto Junior A
14:20 – 14:35
1. závod (12 min + 2 kola)
Senior Open 50 + Minimototo Junior B
14:40 – 14:55
1. ukázková jízda (10 min + 2 kola)
jízda akademií
15:00 – 15:15
2. závod (10 min + 2 kola)
Minimoto Junior A
15:20 – 15:35
2. závod (12 min + 2 kola)
Senior Open 50 + Minimototo Junior B
15:40 – 15:55
2. ukázková jízda (10 min + 2 kola)
jízda akademií
16:00 – 16:30
přestávka
16:35 – 16:50
vyhlášení vítězů
Průběžné hodnocení šampionátu:
http://www.motojunior.cz/data/race/pdf/1562649559-190706-mmcr-mpcr-vysledky-2019-sloucene-pdf
Kompletní informace k závodům v Pardubicích naleznete na webu:
http://www.motojunior.cz/news/one/118/mmcr-miniracing-se-predstavi-v-pardubicich.html