Martin Macík na Dakaru dojel 5. etapu bez předního náhonu a brzdy. Jan Brabec postupuje pořadím. Dnes si tým Big Shock Racing užije den volna a dá hlavně techniku do pořádku.
Zdroj: TZ
V páté etapě, druhé maratonské, se pilot Martin Macík s navigátorem Františkem Tomáškem a mechanikem Lukášem Kalankou z týmu Big Shock Racing opravdu zapotili. Po noci na palandách s partou chrápajících závodníků se v úvodu závodu přetahovali o vedení s ruskými Kamazy. Pak ale následoval Frantův skok, který jízdu české posádky letošním Dakarem nasměroval drobně mimo původní plán. Bylo nutné několik hodin opravovat utržené kolo a dál pokračovala žlutá liazka týmu Big Shock Racing bez předního náhonu, bez pravé přední brzdy, bez tlumičů, bez dofukování a s pár dalšími šrámy. Kluci se snažili kamion dostat do cíle za každou cenu, aby mohli v závodu pokračovat. To se nakonec podařilo, ale museli vynechat několik kontrolních bodů v dunách, které by nezvládli projet. Dobrou zprávou dne je, že Jan Brabec dojel 5. etapu na výborné 21. pozici a v celkovém hodnocení už je 23.
Etapa začala optimisticky, když na pláži při startu ve dvojicích Macíkova liazka předjela ruský Kamaz a vše se, až na Martinovu nevolnost, vyvíjelo správným směrem. "Bohužel, na 200. km po dlouhé rovince s feš- fešem číhal nenápadný schod, po kterém následoval Frantův skok. Když bychom jeli 3 metry vedle, tak by se to nestalo. Ale tak to je. Dopad byl tvrdý a odneslo ho kolo. Dali jsme se do oprav, naštěstí jsme s sebou měli náhradní díly, protože byla maratónská a už se nám podobná věc v minulosti stala, vše jsme vyměnili, provizorně kolo přichytili a s omezenými možnostmi pokračovali do cíle etapy," popisuje Martin Macík. Posádka ale musela vynechat několik kontrolních bodů v dunách, ke kterým by se bez předního náhonu nedostala. Zároveň však měla štěstí v neštěstí, protože etapa byla z bezpečnostních důvodů, kvůli husté mlze, zkrácena.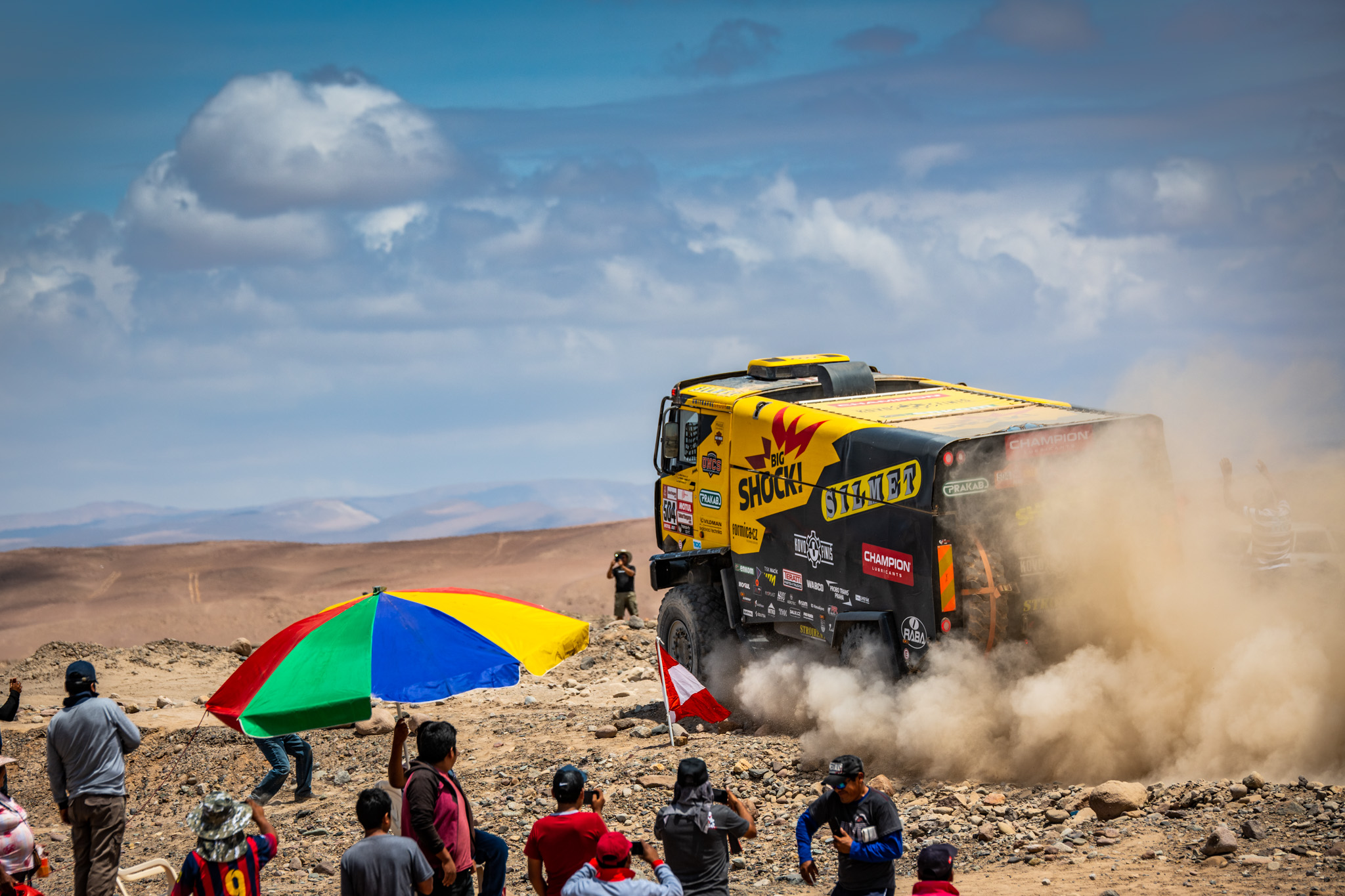 "Jeden z nejdrsnějších zážitků v životě. Každopádně, díky naší dnešní šlamastice jsme si opět potvrdili, že máme ty nejbáječnější fanoušky, kteří za námi stojí, i když to zrovna nevypadá růžově. Pardon za to dlouhé čekání, až se objevíme na dalším waypointu, dělali jsme, co bylo v našich silách. A děkujeme za všechny palce, které jste drželi," vzkazuje Martin Macík fanouškům, kteří posádku na sociálních sítích podporovali až do pozdních nočních hodin. Zásadní teď bude, jakou penalizaci Martin Macík obdrží, případně, zda mu organizátoři dovolí pokračovat v závodě. "Chceme jet dál a udělali jsme maximum pro to, aby se to povedlo. Franta jede neskutečně. Ukázali jsme, že je reálné porážet i ruské Kamazy a v druhé polovině na to chceme zase šlápnout a přesvědčit, že to nebyla jenom náhoda, že na to máme," dodal Martin Macík.
Etapu za tým Big Shock Racing jistil Jan Brabec, který je od začátku závodu nejlepším českým jezdcem na motocyklu. I 5. etapu zvládl bravurně, na 21. místě. Ze startovní 46. pozice na začátku Dakaru se mu tak podařilo dostat na aktuální 23. příčku v celkovém pořadí. "Etapa dobrá, ale po 160 km jsem myslel, že tu motorku opřu o stojánek a půjdu domů pěšky. Jestli organizátoři slibovali, že to bude těžké fyzicky, navigačně, psychicky, tak vše splnili. Hlavně v kamení jsem musel jel opatrně a ubrat. Teď se těším na den volna, i když se cítím pořád celkem dobře, i fyzicky jsem naprosto v pohodě. Sil mám zatím dost. Přijde mi, že teprve teď to pro mě začíná," zakončuje optimisticky Brabec.
Video: Etapa 05 // Dakar 2019 // Big Shock Racing