Český závodník Ondřej Ježek si z dalšího kola mistrovství světa Superbiků, které se konalo v italské Imole, odváží jeden mistrovský bod. Během víkendu mohl vyzkoušet nový motor, takže se mu podařilo zajet dobrou kvalifikaci a v závodě bojovat s ostatními soupeři o body.
Zdroj: TZ
Ondřej Ježek, jediný český reprezentant v MS superbiků, v Imole zajel zatím nejlepší kvalifikaci letošní sezóny a získal další bod. Během testování nového motoru se však jezdec týmu Guandalini Racing i tentokrát musel popasovat s technikou. Po výměně motoru se nepodařilo na Yamaze optimálně seřídit elektroniku, což výrazně snížilo ovladatelnost motorky. Současně během sobotního závodu Ondrovi, počtvrté během závodního víkendu, praskl výfuk. I přesto v prvním závodě dojel osmnáctý, ve druhém nedělním skončil patnáctý. Ondřej věří, že získané zkušenosti tým využije pro zlepšení výkonu jeho stroje před dalším závodem v Doningtonu. Se třemi body je Ondra aktuálně na celkovém 22. místě
Ondřej Ježek po pátečních trénincích uvedl: "Nový motor jede jako blázen, což je hodně pozitivní. Musíme k němu ale znovu ladit elektroniku, která nás během tréninků zlobila. Přidal se také prasklý výfuk, takže jsem jel na jedno rychlé kolo, ale i přes pár chyb, které jsem v jízdě udělal, se mi podařilo zajet lepší čas než loni."
Kvalifikaci zhodnotil Ondra takto: "S kvalifikací jsem byl spokojen, dojel jsem na 20. místě, porazil jsem dva jezdce a za dalšími jsem byl hodně blízko. Podařilo se mi zajet zatím nejlepší kvalifikaci letošní sezóny. Po poradě s týmem jsme se proto rozhodli nastavení zachovat i do závodu."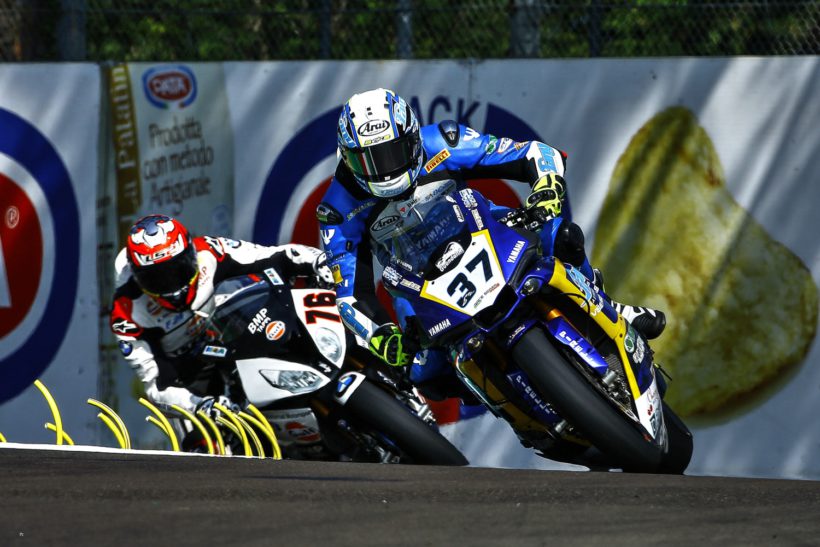 Úvod sobotního závodu se vyvíjel dobře a Ondřej se první čtyři kola držel v přední skupině jezdců. "Pak se ale začala projevovat nedokonale seřízená elektronika, ztratil jsem přilnavost zadního kola a začal zpomalovat. Špatně se mi najíždělo do zatáček, takže jsem musel jet hodně na hraně, abych se držel Yonnyho Hernandeze. Jízda byla dost vysilující. A v posledních dvou kolech mi, počtvrté během závodního víkendu praskl výfuk, takže jsem dojel 18.," řekl Ondra Ježek.
Dobrou zprávou dne bylo zjištění, že Ondřejův pole position rekord z roku 2015 ve třídě Superstock 1000 nebyl ani tentokrát překonán.
Zbytek soboty Ondřej věnoval rozpohybování levé ruky, kterou měl po závodě téměř nepohyblivou z permanentního boje s brzdami. Mechanici mezitím kontrolovali data, aby na neděli mohli lépe nastavit chování motorové brzdy, kontroly trakce a dalších parametrů, které mají vliv na optimální ovladatelnost stroje.
V neděli sluníčko zahřálo dráhu, takže začala klouzat. Ondra Ježek si dojel pro svůj další bod. I když to opět nebylo úplně jednoduché. "Motorka se i tentokrát chovala dost zvláštně. Na trojku se mi zvedala na zadní, takže jsem se s ní chvíli sžíval a pak zvolil taktiku z dvojky řadit rovnou čtyřku. V rovinkách jsem ztrácel, ale i přesto jsem se dostal přes Leonova a pak i přes Jacobsena. Hernanadeze jsem držel na dohled, ale v závěru mě předjel Jacobsen, kterého jsem se, zejména na výjezdech, nebyl schopen držet," líčil Ondra vývoj druhého závodu, ve kterém dojel na 15. místě.
Imola potvrdila, že výměna motoru na Ondrově Yamaze byla dobrým krokem, každopádně do dalšího závodu v Donington Parku budou mít týmoví mechanici spoustu práce s vyhodnocováním dat a laděním elektroniky. "Nastavit motorku správně je alchymie. Mechanici musí projít data metr po metru, zkontrolovat nastavení báze pro chování nového motoru a elektroniku přizpůsobit. Je to opravdu hodně složitý proces, ze kterého už trochu šílím," vysvětluje Ondřej Ježek.