Martin Macík zajel v zákeřné 3. etapě výborný výsledek, když dojel v Top5. Jeho týmový kolega Jan Brabec zajel 31. místo, což ho zároveň posunulo na 24. místo celkově.
Zdroj: TZ
Zdá se, že Dakarská atmosféra houstne a trať je stále drsnější. Středeční 3. etapa tento vývoj potvrdila a závodníkům i jejich strojům zasadila pár dobře mířených ran. I přesto Martin Macík s Františkem Tomáškem a Lukášem Kalankou v kamionu Liaz dojeli do cíle extrémně náročné etapy na výborném 5. místě. A stejnou pozici drží posádka i v celkovém hodnocení. Úspěšnou misi nepřekazilo ani několik zdánlivě bezvýchodných momentů, které závodníci na trati zažili. A skvělý výkon podal i motocyklista týmu Big Shock Racing Jan Brabec. Ten se sice potrápil s hledáním dvou navigačních bodů, ale nakonec dojel na 31. místě a v celkovém hodnocení vybojoval skvělou 24. pozici.
Macík musel z kabiny, aby dostal Frantu na kola
Když se Martin Macík hlásil z přejezdu po dokončení 3. etapy, zněl hodně pobaveně: "Byl to očistec, ale zvládli jsme to. Prostě, na každém kilometru na nás čekala nějaká sviňárna. Výjezd, díra, schod, pokaždé něco. Ale snažili jsme se, věřili si a vždycky si nějak poradili."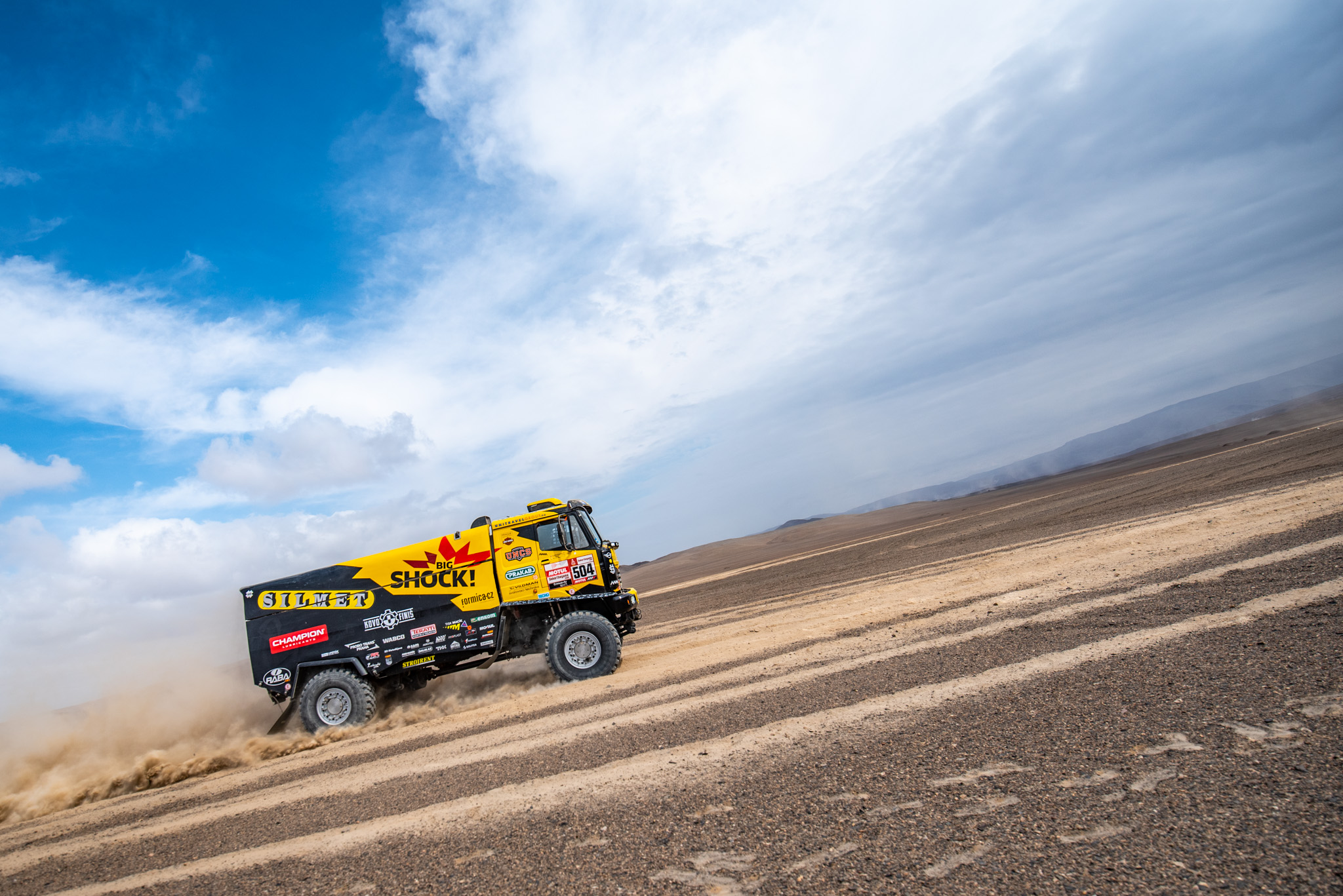 Třetí etapa byla pestrá, vedla obrovskými feš feš pláněmi, kde se letí po rovině a auta dostávají zabrat, přes vysoké duny, plné zapadlých závodníků, až k řečištím a skalám se spoustou kamenů. Trať byla rychlá, 3x nebo 4x posádky vyjely do 2000 metrů nad mořem a pak zase sjely zpátky. Létalo se vzduchem. "Několikrát jsme se zakopali, vypadalo to, že se nedostaneme ven, a nakonec jsme vyvázli relativně snadno. Jeli jsme část etapy za Villagrou, ale já jsem pak udělal chybku, když jsme sjížděli dunu a potřebovali zahnout doprava. Pořád jsme měli náklon a dole bylo dvoumetrové řečiště a díra. Bylo to sypké, já neměl rychlost, tak jsme spadli do toho řečiště. Franta si skoro lehnul, takže jsme podfukovali, musel jsem se otočit… Kdyby to bylo natočené, tak nikdo neuvěří, že se z toho dostaneme. Ale podařilo se. Svépomocí. Šli jsme ven, s rozvahou se podívali, co a jak, a povedlo se," popsal jeden ze středečních manévrů Macík, pilot týmu Big Shock Racing.
I přes náročnost tratě se zdá, že Franta, kamion Martina Macíka, přestál etapu bez závažnější úhony. "Máme prolomený celý přední nárazník, protože jsme nabořili dunu při jednom sjezdu a dole byla obrovská díra, takže jsme dostali ránu. Asi bude trochu pochroumaný bok, jak jsme zapadli do řečiště, ale jinak dobré, Franta jede super," zhodnotil Martin Macík.
Brabec kufroval
"Někdy jsou dobré a někdy trošku horší dny. Já měl dnes ten horší, když jsem zakufroval na dvou bodech a nemohl je najít," vzkázal po etapě stručně ale jasně Jan Brabec, když se mu po dlouhém přejezdu podařilo konečně dostat do bivaku, kde mohl odevzdat svůj motocykl k nočnímu servisu a utíkal si chystat roadbook na další den.
Jisté je, že mechanici tentokrát neměli klidnou noc. Na závodníky totiž čeká maratonská etapa. Jezdci budou trávit noc bez pomoci svých týmů. Proto je dobré mít svůj závodní stroj v co nejlepším pořádku.
Video: Etapa 03 // Dakar 2019 // Big Shock Racing