Výbornými výsledky rozjeli letošní sezónu v mezinárodním šampionátu Alpe Adria a mezinárodním mistrovství České republiky jezdci českého ACCR Czech Talent Teamu – Willi Race. V prvním závodě letošní sezóny konaném na okruhu Slovakiaring získali kompletní umístění na stupních vítězů.
Zdroj: TZ, foto: Tým, Dušan Belica
V pauze mezi závody mistrovství světa Superbiků zavítal ACCR Czech Talent Team – Willi Race na okruh Slovakiaring, kde začala letošní sezóna mezinárodního šampionátu Alpe Adria, při kterém se zároveň jede mezinárodní mistrovství České republiky na závodních okruzích. Třída Supersport 300 je navíc evropským šampionátem. Účast v těchto závodech je pro tým dobrou přípravou a testem na další závody ve WorldSSP300.
Vrcholem sobotního programu byly první závody. Velice těžkou pozici měl Oliver König, který startoval z konce startovního roštu, protože v kvalifikaci nemohl kvůli problému s motorkou zajet žádné rychlé měřené kolo. Oliver předvedl dobrou stíhací jízdu a rychle se dostal do boje o vítězství se slovenským závodníkem Maximem Repákem a týmovým kolegou Vojtěchem Schwarzem. Hned za nimi bojoval ve druhé skupině Miloslav Hřava, který je juniorským členem týmu podporovaným při závodech Alpe Adria. V cíli z toho nakonec byly kompletně obsazené stupně vítězů. V týmu panuje spokojenost i se zajetými časy, které byly v závodě nejrychlejší z dosavadního průběhu víkendu.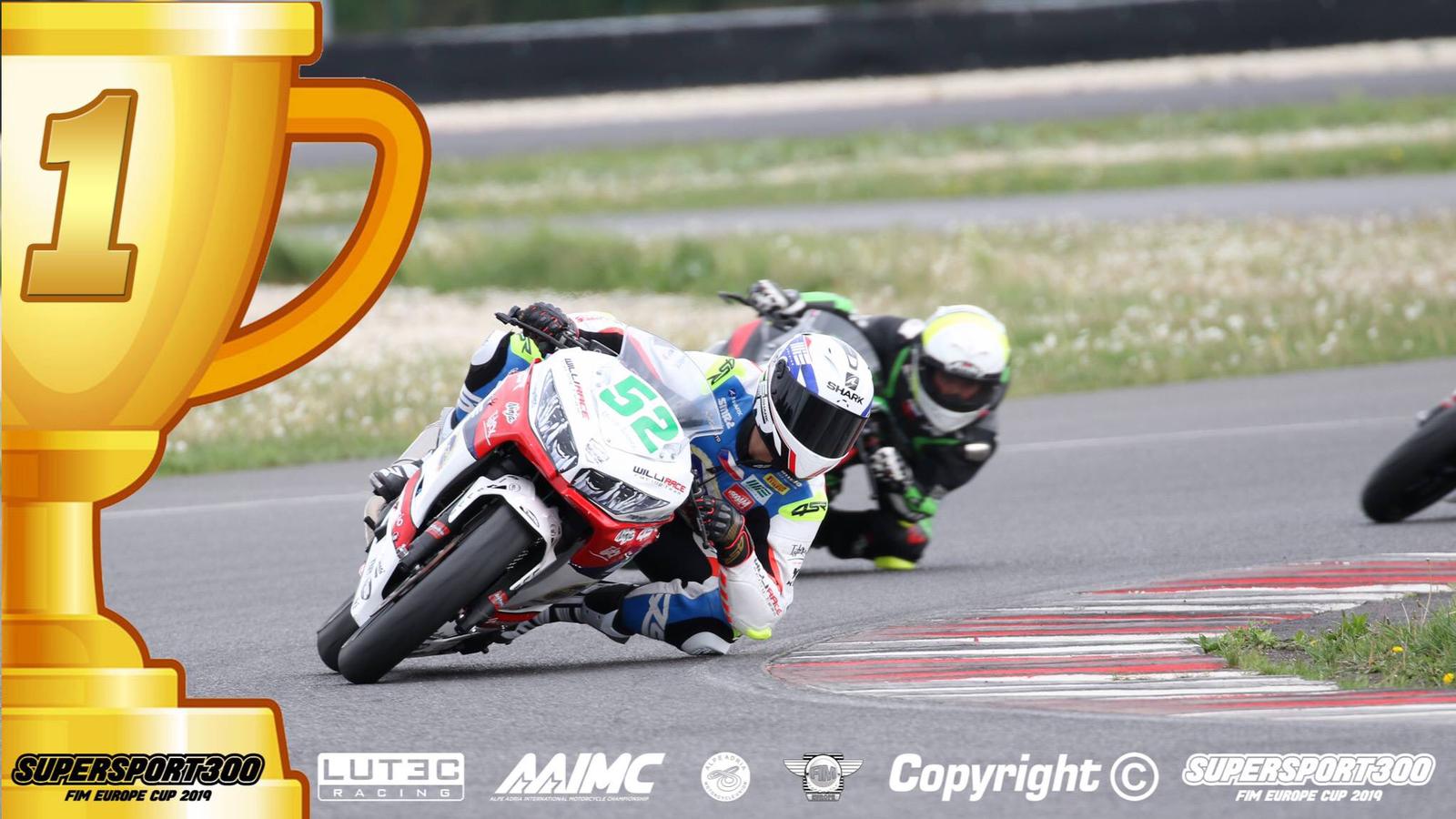 Oliver König – 1. místo
"V ranní kvalifikaci jsem měl problém s motorkou, takže jsem nezvládl zajet ani jedno kolo. Kvůli tomu jsem startoval vzadu. V prvních dvou kolech jsem se dostal dopředu a poté se dostal do vedení. Neustále jsme se předjížděli s Maxem Repákem a nebyl jsem schopný mu ujet, protože mě vždy na rovince předjel. Poté už jsem neměl síly na to mu ujíždět a jel s ním. V posledním kole jsem zatáhl a Max za mnou spadl, což jsem ani nevěděl. Za vítězství jsem moc rád, že se povedlo po startu z posledního místa, navíc jedu s antibiotika. Do zítra provedeme nějaké změny v nastavení podvozku, abychom byli ještě rychlejší. Děkuji moc týmu za skvěle připravenou motorku."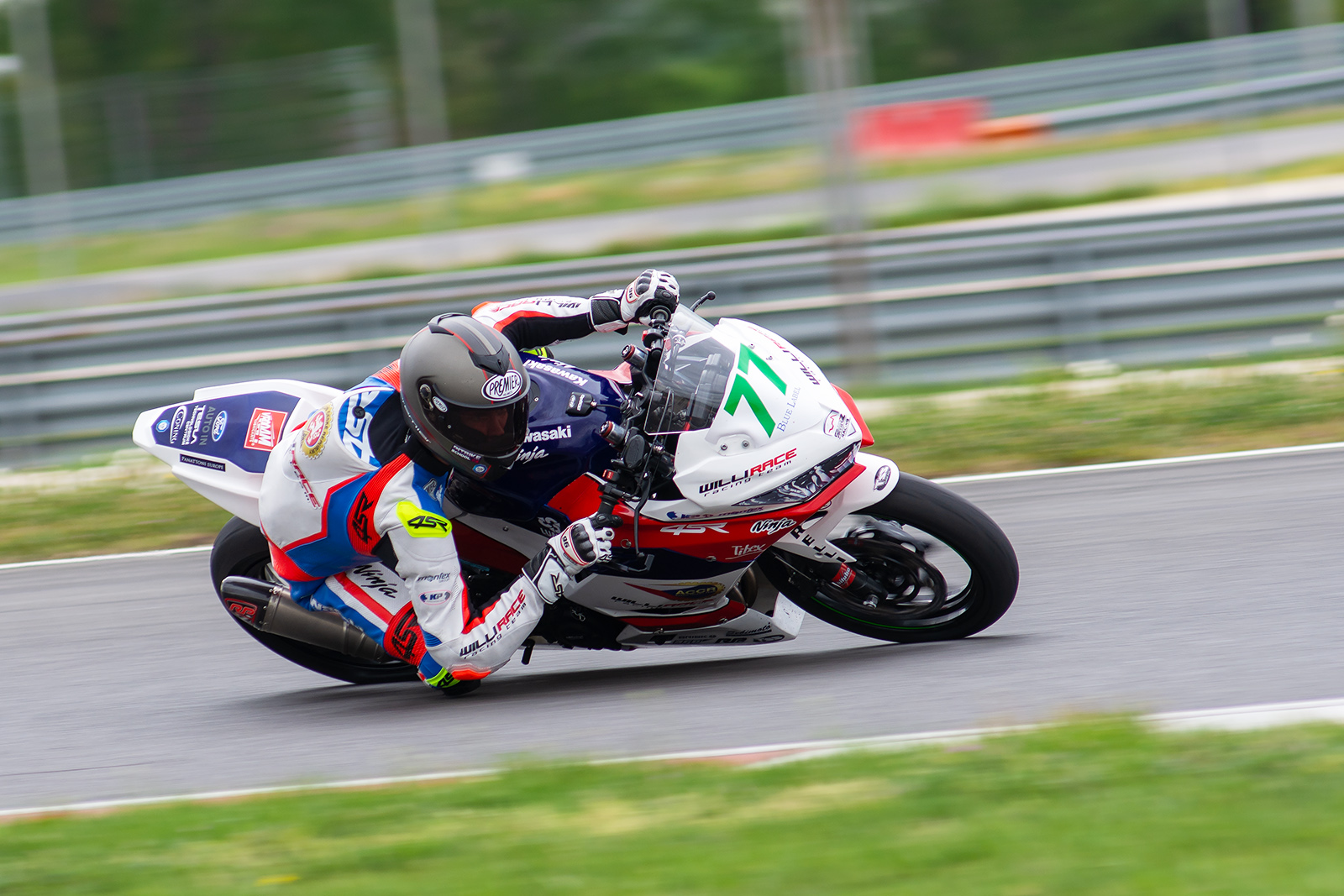 Vojtěch Schwarz – 2. místo
"Závod hodnotím kladně, protože jsem udělal velký progres v časech na kolo. Konečně jsem tam, kde jsem chtěl být. Sice máme co zlepšovat, ale myslím si, že jsme na dobré cestě. Od začátku závodu se mi na motorce jelo dobře, cítil jsem se pohodlně a zajížděl dobré časy. Uprostřed závodu jsem udělal drobnou chybu, kdy jsem prořadil a ztratil kontakt s vedoucí dvojicí. Když v této třídě ztratíte kontakt, tak je těžké ho stáhnout i kvůli slipstreamu. Jsem moc rád, že se nám podařilo získat první tři místa. Je to odměna za tvrdou práci všech, kteří na tom pracují od rána do večera. Chci pochválit tým, poděkovat všem sponzorům a všem, co mě věří a podporují. Do zítra chystáme drobné změny, ale nic zásadního. Vše vyzkoušíme v ranním Warm Upu a pak se rozhodneme, co použijeme do závodu."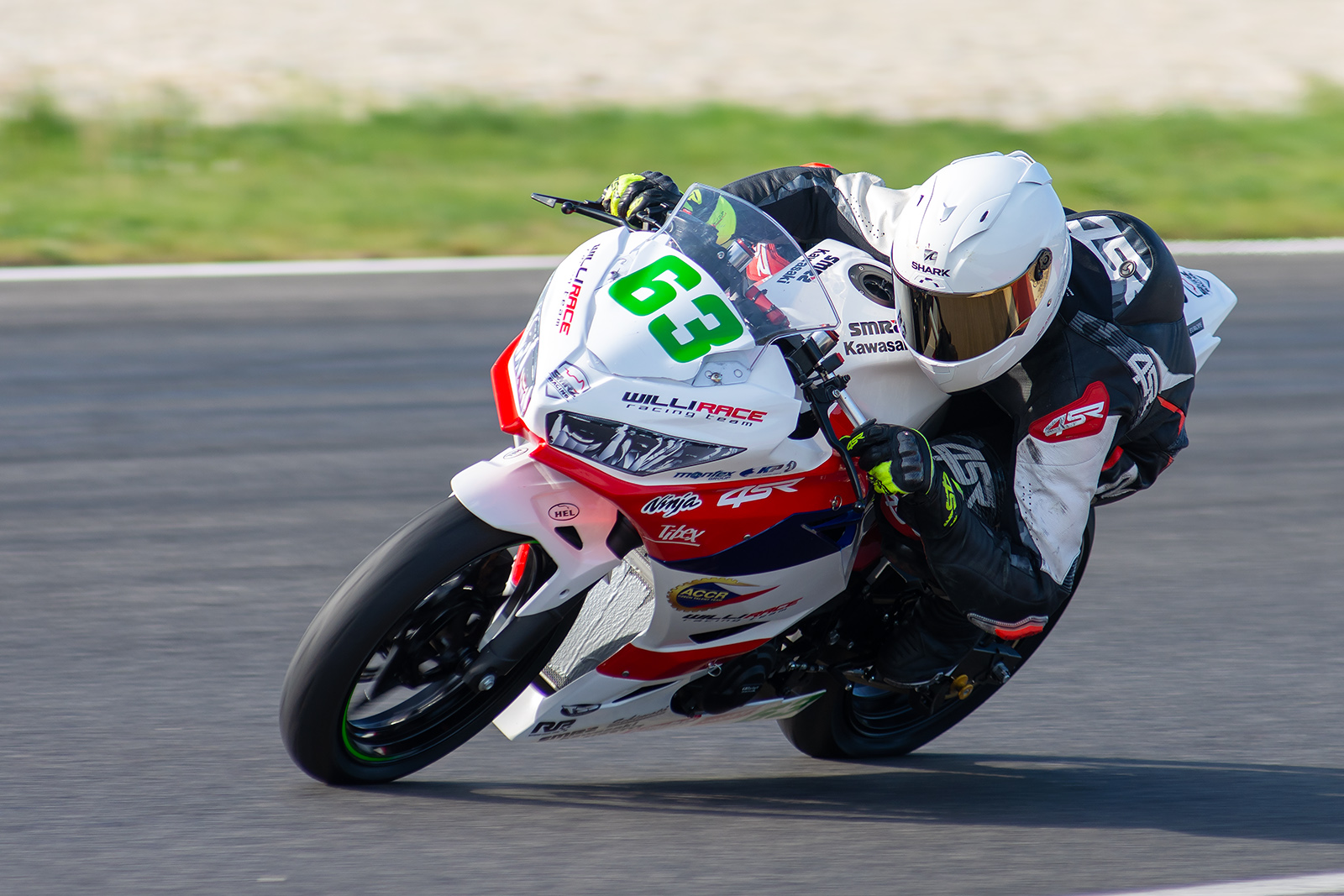 Miloslav Hřava – 3. místo
"Byl to pro mě vůbec první závod v tomto šampionátu, takže jsem moc spokojený s výsledkem. Start do závodu se mi moc nepovedl, ale poté jsem bojoval s Matem Szamadem a Davidem Kubáněm o průběžné čtvrté místo. Nakonec spadl Maxim Repak a já získal umístění na stupních vítězů. Určitě jsem velice spokojený, zrychlil jsem si čas na kolo oproti kvalifikaci a výsledek je také pěkný. Těžím se na zítřejší závod."
Josef Kubíček – manažer týmu
"Podařil se nám husarský kousek a v týmu panuje spokojenost. Kluci zajeli skvělé výsledky a dobře rozjeli sezónu v Alpe Adria. Oliver měl hezký souboj o vítězství s domácím závodníkem. Vojta vše sledoval za nimi a pěkně jel i Míla Hřava, který je odchovancem Smrž Academy a letos je naším týmem podporován v tomto šampionátu. Samozřejmě, že bychom rádi slavili, ale pracujeme dál a připravujeme se na zítřejší závod. Moc děkuji všem členům týmu, kteří na tomto projektu pracují a zároveň děkuji všem našim partnerům za podporu."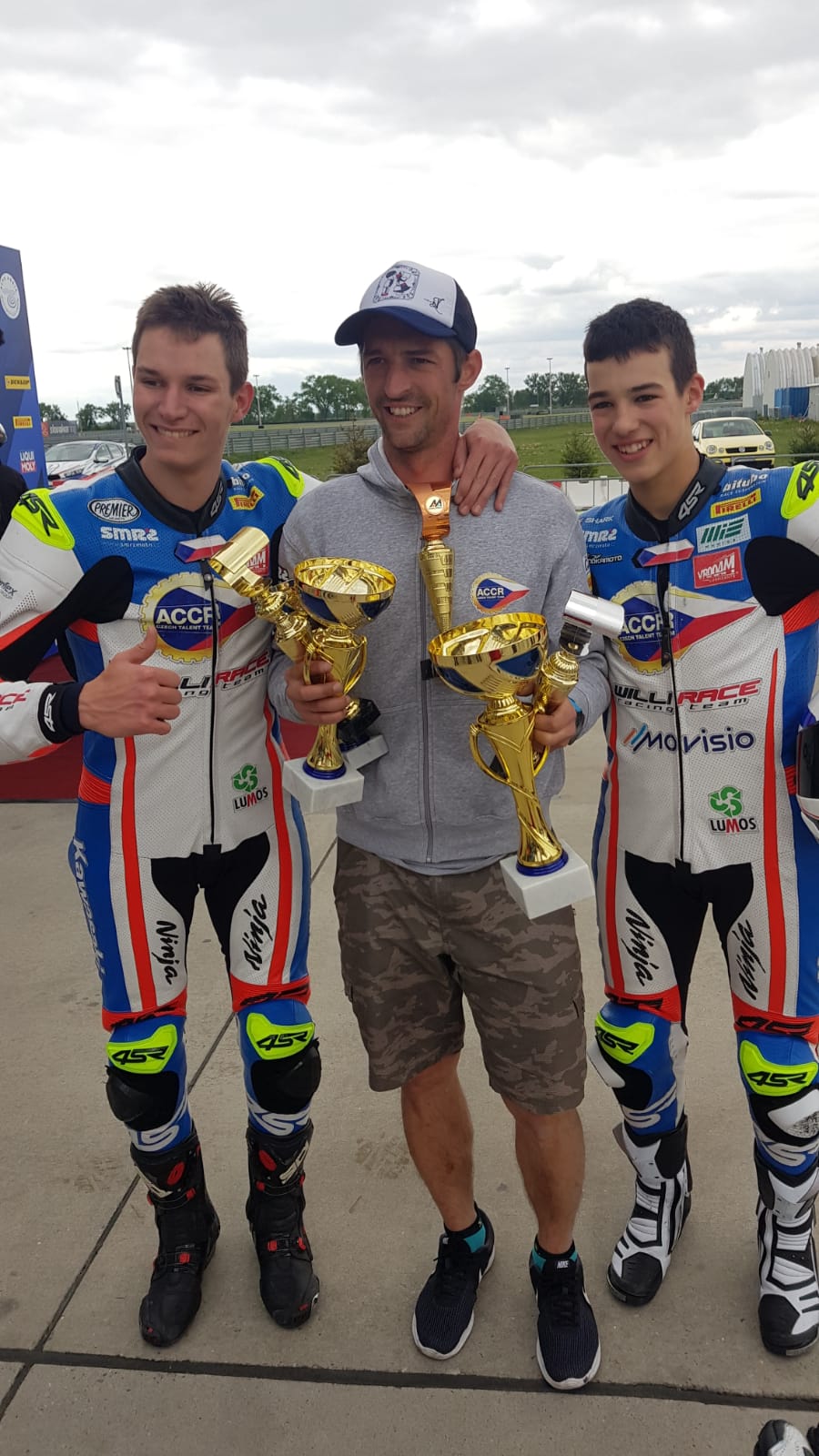 Jakub Smrž – technický manažer týmu
"S výsledky jsem určitě spokojený, protože získat první, druhé a třetí místo je vždycky super. Samozřejmě, že tu máme nějaké problémy a prostor pro zlepšení. Od minulého testu nám hlavně zlobí Oliverova motorka, u které máme problémy s elektronikou. Nakonec jsme závod odjeli bez získání dat, což nás trochu přibrzdilo v dalším vývoji nastavení. Oliver je navíc nemocný a včera objel jen pár kol. Myslím si, že pokud by odjezdil kompletní volné tréninky, tak je dnes ještě o vteřinu rychlejší. Pro nás je to hlavně test, byť je toto hezká odměna. Zkoušíme různá nastavení atd."
"Všichni kluci odvedli dobrou práci. Oliver i přes nemoc zajel perfektně a u Vojty je super, že se zlepšil v časech. Jeho poslední závody byly složité a teď ho to nastartovalo. Míla Hřava podal také výborný výkon. Je mu 14 let a nemá s touto třídou moc zkušeností. Zajel hezký závod, kdy jel ve skupině s dalšími dvěma jezdci. Jsem spokojený a je to pro nás takové poděkování, když vidíme tři naše motorky na prvních třech místech. Za to jsem velice rád a doufám, že to bude jen lepší."
Zítra program na Slovakiaringu pokračuje druhými závody.
Sledujte ACCR Czech Talent Team – Willi Race na sociálních sítích:
Facebook: https://www.facebook.com/CzechTalentTeam/
Instagram: https://www.instagram.com/accr_czech_talent_willi_race/