Výsledky pátečních volných tréninků Grand Prix Aragónu, která je zároveň poslední evropskou GP před šňůrou v zámoří.
Zdroj: MotoGP
Moto3
Hned po závodech v italském Misanu se šampionát mistrovství světa silničních motocyklů přesunul do španělského Aragónu, kde se rozjela 14. Velká cena letošní sezóny. Podmínky jsou v Aragónu od rána dobré, když je polojasno a teploty vzduchu se odpoledne vyšplhaly na 27°C a trati na 36°C. Tradičně závodní víkend rozjeli jezdci nejslabší třídy Moto3.
Nejrychlejším jezdcem nejslabší třídy dnes byl Andrea Migno, který v minulých dnech podepsal přestup a spíše návrat k týmu SKY VR46. Ital zajel čas 1:58,566 a o téměř vteřinu zlepšil své dopolední maximum. Za ním skončil vítěz minulého závodu Tatsuki Suzuki se ztrátou 0,086 s. Tony Arbolino byl třetí s rozdílem dalších jen 0,080 s. Nejlepším domácím jezdcem byl Jaume Masia, který skončil čtvrtý se ztrátou 0,218 s a je posledním s časem 1:58. Ayumu Sasaki doplnil Top5. Výborně dnes jezdil také český závodník Filip Salač, který se celý den pohyboval v Top10. Ještě v předposledním kole se držel na výborném druhém místě, ale po zrychlení v posledním kole některých jezdců klesl na místo šesté s časem 1:59,103., nicméně i tak je to dobrá pozice se ztrátou 0,537 s. Jeho týmový kolega Jakub Kornfeil si také vedl dobře, když den ukončil na 12. místě se ztrátou 0,752 s.
Kombinované výsledky tréninků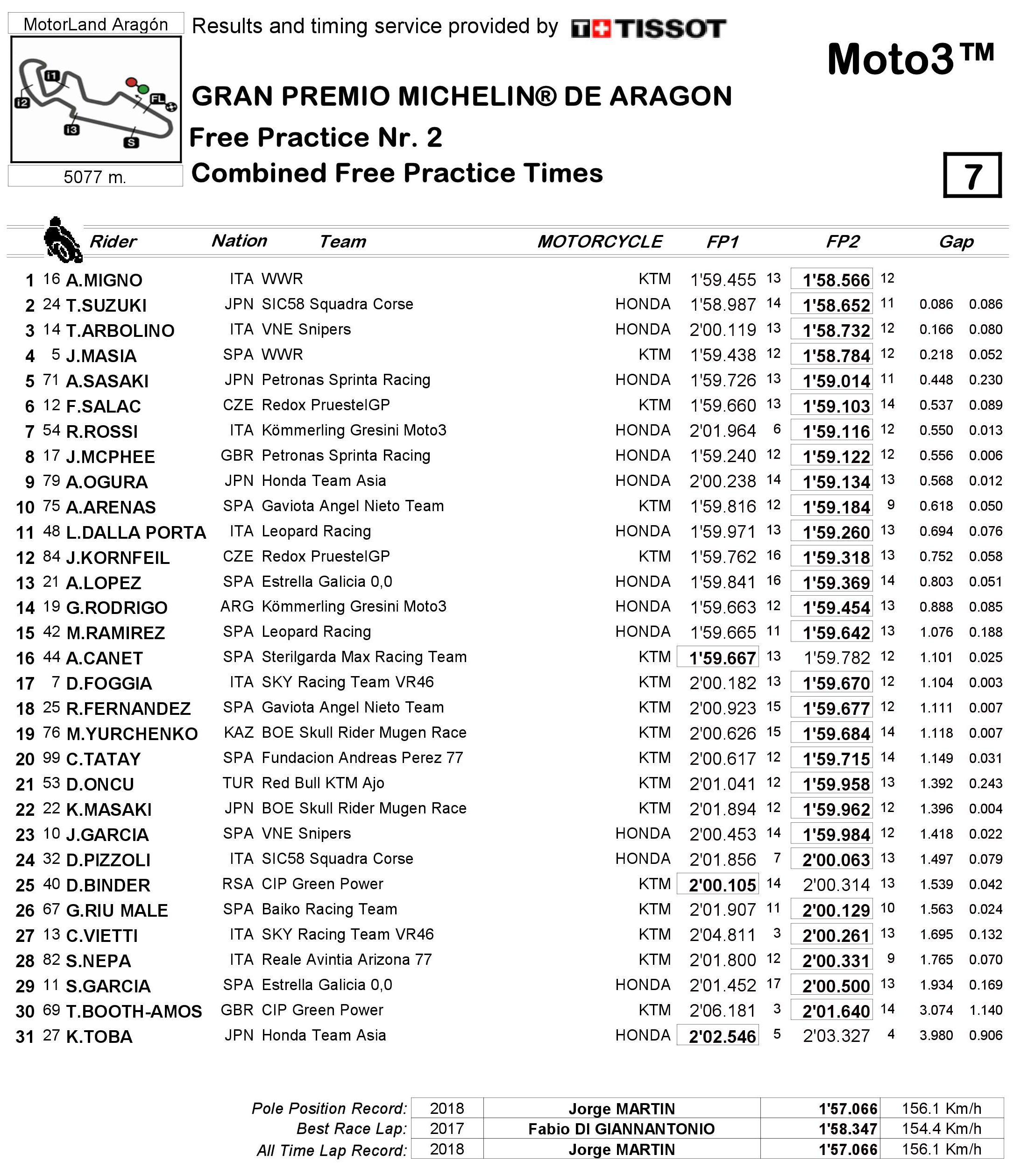 MotoGP
V královské třídě MotoGP dnes podal nejlepší výkon Marc Marquez, který už v ranním tréninku zajel čas 1:46,869. Tento čas na kolo nakonec nikdo nepřekonal i přes to, že se všichni během odpoledne zlepšili, ale oproti ostatním je to o poznání lepší výkon a úřadující mistr světa získal náskok přes jednu vteřinu. Marc byl k tomu první, kdo dnes spadl, ale šlo o lehký pád na přední kolo v 8. zatáčce. Na druhém místě skončil jeho krajan Maverick Viñales, který byl odpoledne nejrychlejší. Za ním skončil jeho týmový kolega Valentino Rossi, který na něho tratil jen 0,057 s. O dalších 0,046 s dál je třetí Yamaha Fabia Quartarara.
Na dobrý víkend v Misanu navázal Pol Espargaro, který se s KTM umístil na celkovém pátém místě. Nejlepším jezdcem Ducati je šestý Jack Miller. Pro všechny jezdce bylo dnes zároveň velice důležité, aby se dostali do desítky nejlepších, protože podle předpovědi počasí má zítra pršet, takže se časy ve třetím tréninku nemusí zlepšit a tím pádem by bylo již rozhodnuto o postupu do druhé části kvalifikace.
Karel Abraham obsadil s časem 1:49,903 a ztrátou tří vteřin 22. místo. Na trati je také Mika Kallio, který před víkendem nahradil v továrním týmu KTM Johanna Zarca a dnes zajel 17. místo.
Kombinované výsledky tréninků
Moto2
Jako poslední vyrazili na trať jezdci střední třídy Moto2 a zde už zlepšení nebyla tak jednoznačná, jako v předchozích třídách. Mnohem více jezdců se oproti rannímu tréninku nezlepšilo a i první dvě pozice zůstaly neměnné. Nejrychlejším jezdcem byl Augusto Fernandez, který tak udělal radost domácímu publiku s časem 1:52,474. Se ztrátou 0,278 s za ním skončil Luca Marini. Rozdíly mezi jezdci jsou tentokrát větší, hlavně vpředu, když třetí Lorenzo Baldassarri ztratil 0,629 s, i když jeho nejlepší čas už byl z druhého volného tréninku. Jen o 0,008 s za ním skončil Sam Lowes, který minulý víkend v Misanu oslavil narozeniny. Pětici nejlepších doplil španělský závodník Alex Marquez.
Kombinované výsledky tréninků