Reportáž ze závodů MS v Enduro v Uhlířských Janovicích.
Zdroj: Roman Kalkus, Foto: David Dejv Bouchal (motodejv)
Velmi zdařilý návrat České republiky na mapu světového endura se povedl pořadatelům šestého podniku MS v Uhlířských Janovicích. Moc pěkně připravená trať, která byla tím pravým endurem, navíc za podpory velkého množství natěšených fanoušků, kteří byli slyšet hlavně při průjezdu domácích jezdců.
Startovní pole pravidelných účastníků je sice trochu prořídlé, ovšem špička v kategorii EnduroGP (bez rozdílu tříd) jede hodně rychle, o čemž se mohlo přesvědčit trio českých reprezentantů Patrik Markvart (první den osmnáctý, druhý den devatenáctý), Jiří Hádek (první den devatenáctý, druhý den dvacátý) a Lukáš Kučera (první den i druhý den 25.).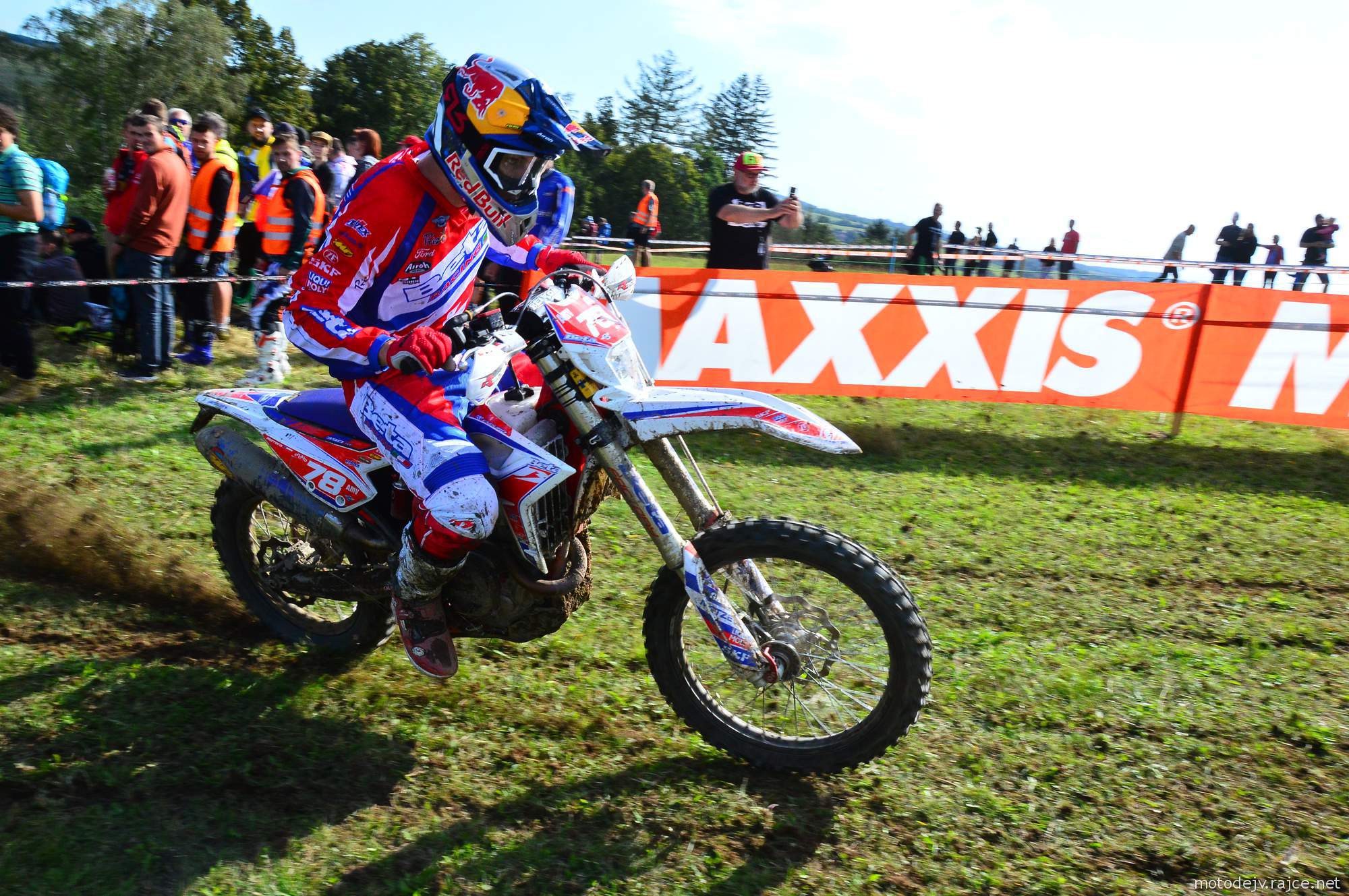 Po oba dva dny byli nejrychlejší dva Angličané Bradley Freeman a Steve Holcombe na továrních strojích Beta, kteří se na rychlostních zkouškách přetahovali o každý metr a zbytek startovního pole nechali bojovat jen o další místa. Rychlejší byl mladší Bradley Freeman, který vyhrál oba dva dny a předčasně si zajistil titul mistra světa v nejslabší třídě E1, Steve Holcombe bude muset ještě na posledním podniku ve Francii zabojovat, ale i on je na dobré cestě získat titul v nejsilnější třídě E3. Na posledním podniku si to dva nejrychlejší Angličani na italských Betách rozdají o prestižní titul mistra světa ve třídě, bez rozdílu tříd, EnduroGP. Dvě třetí místa bral další Angličan Daniel McCanney na tovární TM.
Radost nám udělal navrátilec Víťa Kuklík, když po oba dva dny skončil ve veteránské kategorii shodně na bedně, na druhém místě za fenomenálním Davidem Knightem na tovární TM, který má již světový titul v kapse. "Tak i neděle se povedla a opět jsem dojel na 2. místě. Chtěl bych moc podekovat celé rodině za podporu a fandění, klukům za perfektní servis a všem fanouškům za nejlepší fandění, byl to super zážitek. Samozřejmě klobouk dolů před pořadateli, protože tratě byly naprosto skvělé a odvedli opravdu super práci. Celý víkend jsem myslel na tatu a jel pro něj. Jsem moc rad, že na mě dával celý víkend pozor. Určitě na mě koukal na podiu a byl za mě moc rad. Sice se říká … "nikdy neříkej nikdy", ale myslím, že tohle byla asi moje poslední účast v tak velkém závodě, a proto jsem moc rad ze se to vydařilo", řekl v cíli spokojený Víťa Kuklík.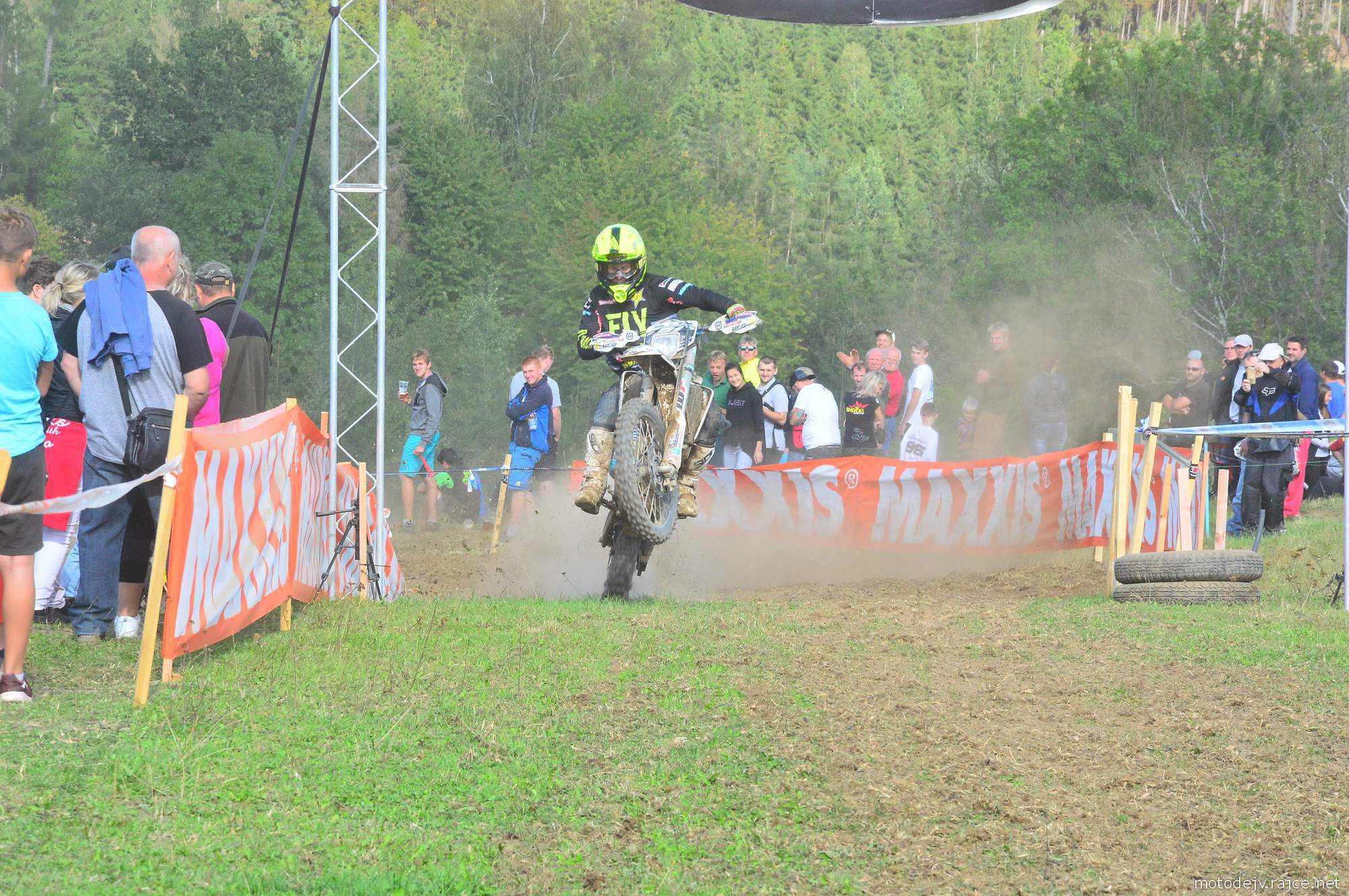 Průběžní vedoucí jezdci průběžného pořadí MS a jejich náskok:
EnduroGP: Brad Freeman (vede o 10 bodů)
E1: Brad Freeman (mistr světa 2019)
E2: Alex Salvini (vede o 2 body)
E3: Steve Holcombe (vede o 18 bodů)
Junior 125cc: Hamish Macdonald (potřebuje 9 bodů k titulu)
Junior: Andrea Verona (mistr světa 2019)
Kompletní fotogalerie