Po několika dnech odkládání a rušení harmonogramu se na ostrově Man konečně umoudřilo počasí a jezdci mohli vyrazit do dalšího tréninku. Zde jsou kompletní výsledky.
Zdroj: iomttraces.com, Twitter, Foto: Dave Kneen, TT Races Official
Letošní ročník Tourist Trophy na ostrově Man zažil jedno z nejhorších počasí posledních let, které značně ovlivnilo dění na trati a celý harmonogram závodu. Jezdci se naposledy svezli v úterý a od té chvíle byl celý tréninkový program den co den rušen. Mohl za to déšť, mlhy, špatná viditelnost a mokrá trať, kvůli čemuž bylo jasné, že organizátoři nemůžou jezdce na tak náročnou a dlouhou trať pustit. Původně se měly v sobotu odjet první závody, ale s nedostatkem zajetých kol to nebylo možné, navíc se ani v sobotu nedalo jezdit. Tréninkový harmonogram se tak dál posouval, až se došlo k dnešku – nedělil 2. června.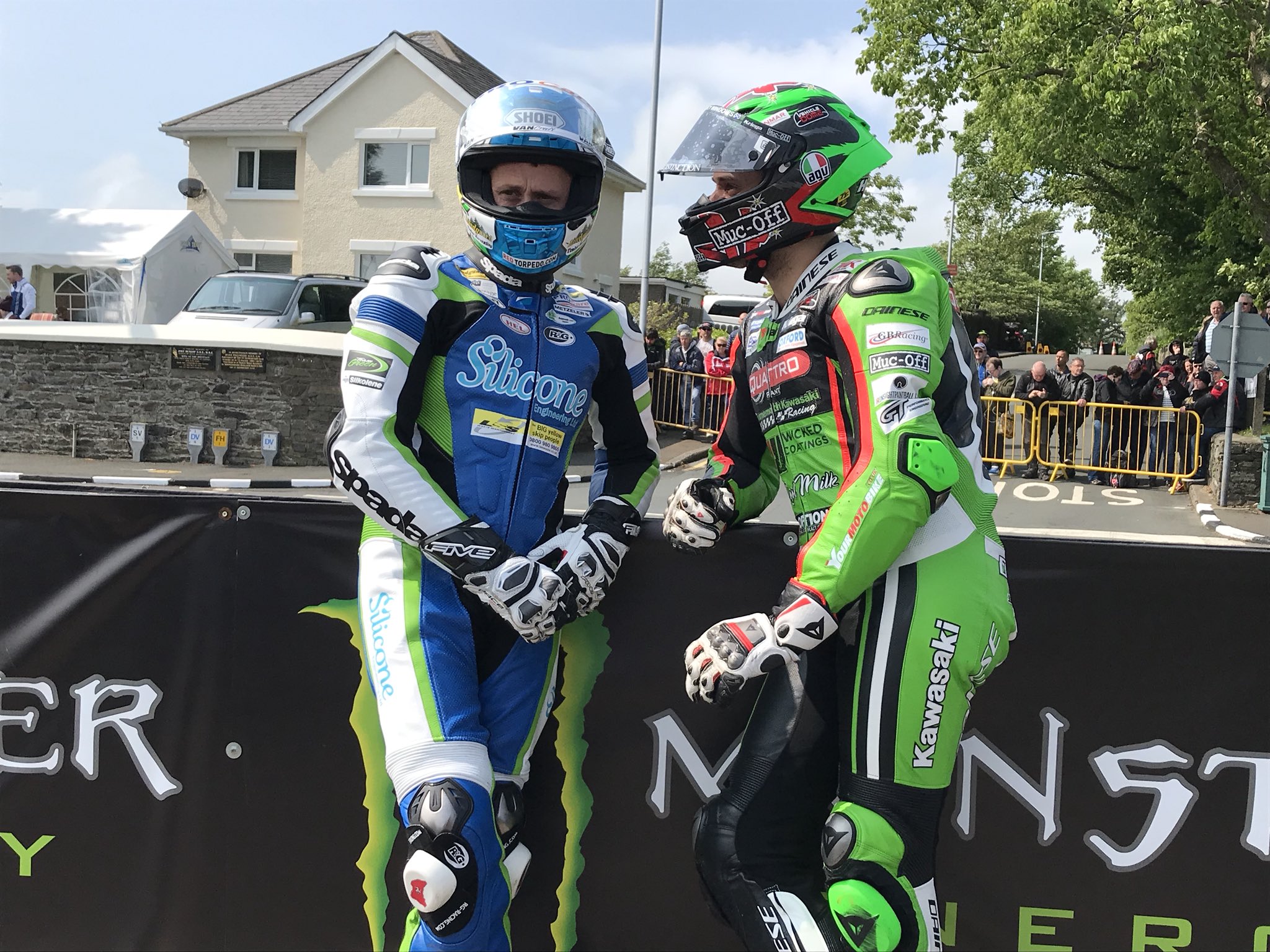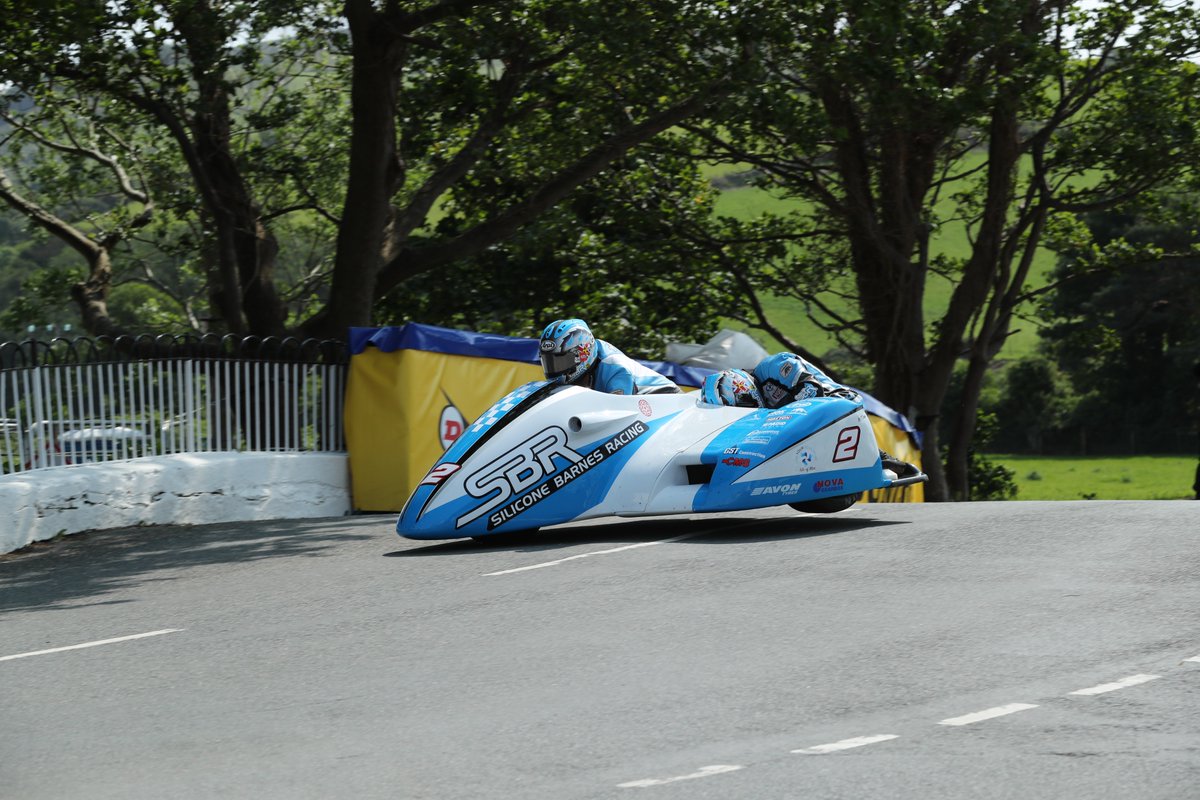 Počasí se během odpoledne umoudřilo, vysvitlo sluníčko a na trať mohli jako první po čtyřech dnech pauzy vyjet sidecary. Po jejich tréninku pak následoval trénink motocyklů. Jak bývá zvykem, na trať vyjeli najednou třídy Supersport, Superbike a Superstock, takže bylo na jezdcích, jaké kdy zvolí motorky. V některých místech dost foukal vítr, ale důležité bylo, že mohli všichni strávit alespoň nějaký čas na trati.
Mezi nimi vyjeli také český jezdec Michal "Indi" Dokoupil a Slovák Miroslav "Laki" Sloboda. Indi zajel čas 19:27,924, což odpovídalo průměrné rychlosti 116,30 mph (187,13 km/h) a s tím se zařadil na 13. místo mezi Supersporty, ale poté klesl na konečné 17. místo. Laki začal s časem 20:12,319 (112,04 mph = 180,3 km/h) a byl na 30. místě, ale při zlepšení soupeřů z toho je konečné 37. místo. Na čelo tabulky se na chvíli dostal Gary Johnson, který zajel kolo za 18:27,987 (112,59 mph = 181,2 km/h), ale poté ho překonal Lee Johnston s časem 18:24,957. Třetí skončil James Hillier se ztrátou 8,164 s a čtvrtý Jamie Coward s rozdílem 12,988 s.
I've waited so long for this and it's just so bloody worth. I love this sport so much.
Hicky
Rutter
Deano
#IoMTT pic.twitter.com/1Pb4ugbOL8

— @AHardyBreed (@AHardyBreed) June 2, 2019
Ve třídě Superbiků se ujal vedení Conor Cummins s časem 17:33,556, takže byla jeho průměrná rychlost 128,92 mph (207,4 km/h). Za ním byl Dean Harrison se ztrátou 5,182 s a třetí Michael Rutter, jenž ztrácel 6,187 s. Toho poté překonal David Johnson. Dále pak skončili Jamie Coward, James Hillier a Peter Hickman. Pěkně zajel také Shaun Anderson, který nedávno závodil na 300 zatáčkách Gustava Havla ve třídě Supermono. Nyní se svým Superbikem zajel kolo za 18:41,190, takže byla jeho průměrná rychlost 121,15 mph (194,9 km/h) a byl na 14. místě, ale poté klesl na 18. pozici.
Třídu Superstocků 1000 zatím ovládal Peter Hickman s časem 17:51,020, takže byla jeho průměrná rychlost 126,82 mph (204,1 km/h). Ve druhém kole zlepšil čas na 17:37,039. Byl jediný, kdo se zatím dostal pod 18 minut. Za ním byl se ztrátou 11,034 s Conor Cummins, který se poté také dostal pod hranici 18 minut. Třetí byl Gary Johnson ztrácel 29,840 s. Dále pak Rob Hodson, James Hillier a Michael Rutter.
Na trať také vyjeli jezdci na TT Zero.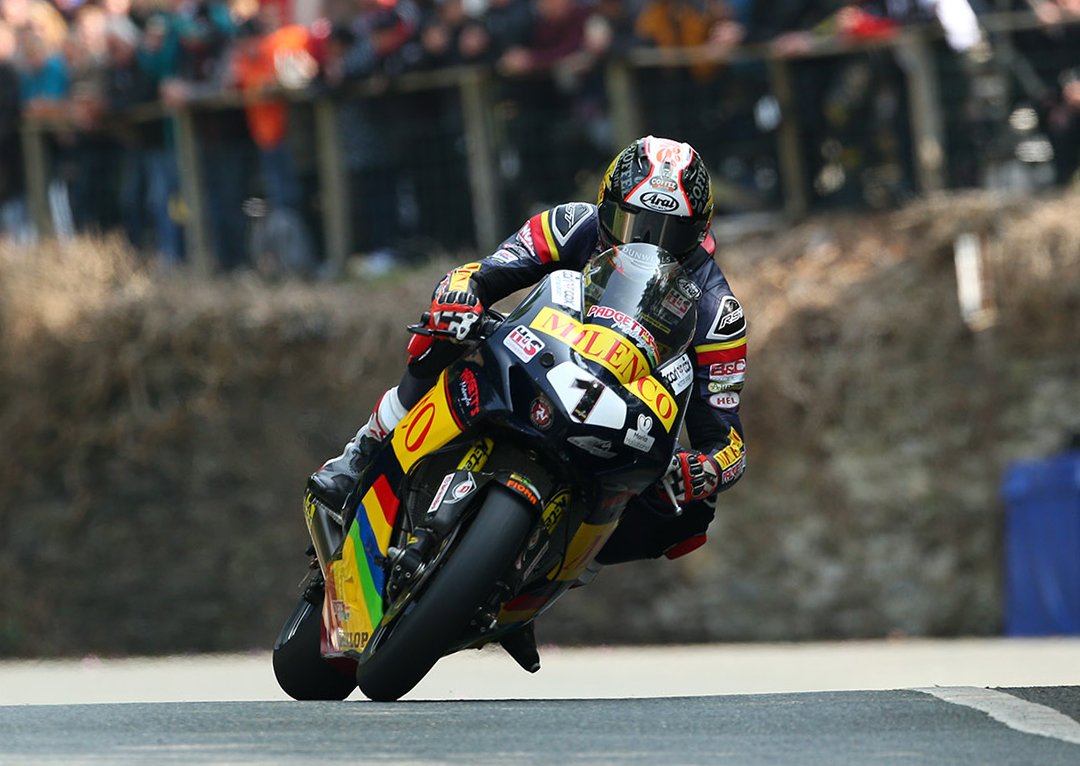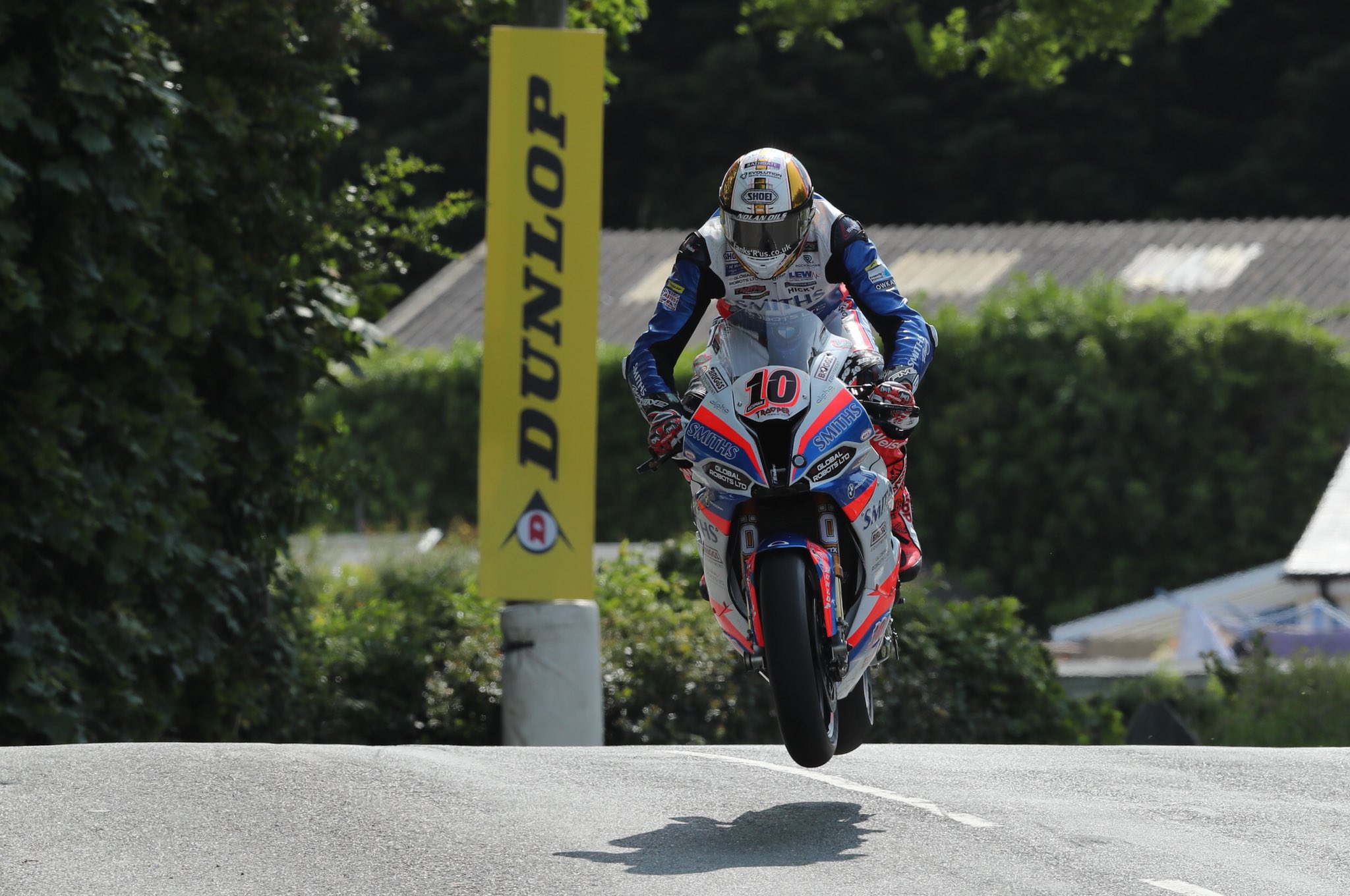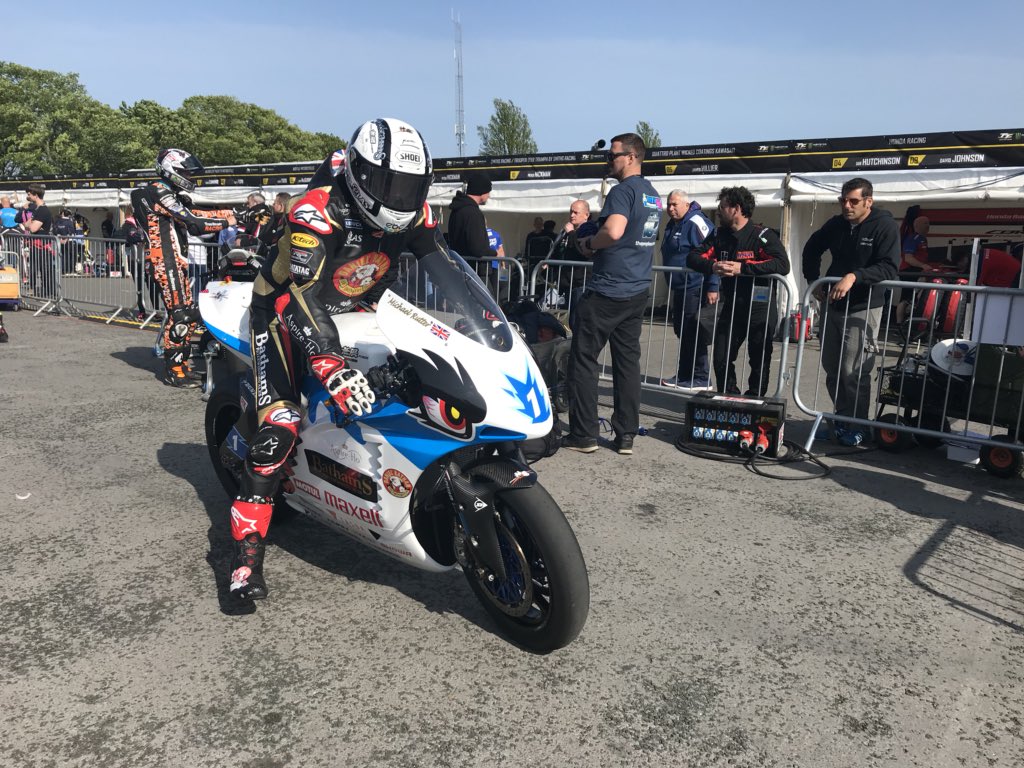 Výsledky tréninku Sidecar
| | | | | | |
| --- | --- | --- | --- | --- | --- |
| P | Jezdec | Čas (mph) | Čas (min) | Ztráta | Kola |
| 1 | John Holden | 114.99 mph | 19:41.253 | 00:00.000 | 2 |
| 2 | Ben Birchall | 114.93 mph | 19:41.836 | 00:00.583 | 2 |
| 3 | Peter Founds | 113.36 mph | 19:58.200 | 00:16.947 | 2 |
| 4 | Alan Founds | 110.55 mph | 20:28.619 | 00:47.366 | 2 |
| 5 | Dave Molyneux | 109.43 mph | 20:41.217 | 00:59.964 | 2 |
| 6 | Conrad Harrison | 108.24 mph | 20:54.888 | 01:13.635 | 2 |
| 7 | Allan Schofield | 107.77 mph | 21:00.395 | 01:19.142 | 1 |
| 8 | Gary Bryan | 107.72 mph | 21:00.944 | 01:19.691 | 2 |
| 9 | Estelle Leblond | 106.96 mph | 21:09.945 | 01:28.692 | 2 |
| 10 | Gary Gibson | 104.66 mph | 21:37.823 | 01:56.570 | 2 |
| 11 | Dan Knight | 103.64 mph | 21:50.523 | 02:09.270 | 2 |
| 12 | John Lowther | 103.37 mph | 21:53.984 | 02:12.731 | 2 |
| 13 | Darren Hope | 103.32 mph | 21:54.638 | 02:13.385 | 2 |
| 14 | John Saunders | 103.32 mph | 21:54.688 | 02:13.435 | 2 |
| 15 | Gregory Lambert | 103.22 mph | 21:55.858 | 02:14.605 | 2 |
| 16 | Wayne Lockey | 102.83 mph | 22:00.929 | 02:19.676 | 2 |
| 17 | Mick Alton | 102.79 mph | 22:01.464 | 02:20.211 | 2 |
| 18 | Andy King | 102.65 mph | 22:03.265 | 02:22.012 | 1 |
| 19 | Michael Jackson | 102.64 mph | 22:03.357 | 02:22.104 | 2 |
| 20 | Robert Handcock | 102.54 mph | 22:04.593 | 02:23.340 | 2 |
| 21 | Steve Ramsden | 102.51 mph | 22:05.029 | 02:23.776 | 2 |
| 22 | Craig Melvin | 102.28 mph | 22:08.046 | 02:26.793 | 2 |
| 23 | Gary Knight | 102.02 mph | 22:11.361 | 02:30.108 | 2 |
| 24 | Francois Leblond | 100.67 mph | 22:29.196 | 02:47.943 | 2 |
| 25 | Nicholas Dukes | 100.61 mph | 22:30.018 | 02:48.765 | 1 |
| 26 | Roy Tansley | 99.92 mph | 22:39.334 | 02:58.081 | 1 |
| 27 | Darryl Rayner | 99.17 mph | 22:49.603 | 03:08.350 | 2 |
| 28 | Bruce Moore* | 98.56 mph | 22:58.148 | 03:16.895 | 2 |
| 29 | Maria Costello | 98.17 mph | 23:03.556 | 03:22.303 | 2 |
| 30 | Gordon Shand | 97.58 mph | 23:11.988 | 03:30.735 | 2 |
| 31 | Terry O Reilly | 97.43 mph | 23:14.135 | 03:32.882 | 2 |
| 32 | Kevin Thornton | 97.01 mph | 23:20.186 | 03:38.933 | 2 |
| 33 | Dave Quirk | 96.92 mph | 23:21.505 | 03:40.252 | 2 |
| 34 | John Shipley | 96.69 mph | 23:24.730 | 03:43.477 | 2 |
| 35 | Kevin Morgan | 94.03 mph | 24:04.476 | 04:23.223 | 1 |
| 36 | Nigel Smith | 93.77 mph | 24:08.453 | 04:27.200 | 2 |
| 37 | Brian Alflatt | 92.21 mph | 24:33.081 | 04:51.828 | 2 |
| 38 | Mark Codd* | 81.92 mph | 27:38.037 | 07:56.784 | 1 |
Výsledky třídy Superbike
| | | | | | |
| --- | --- | --- | --- | --- | --- |
| P | Jezdec | Čas (mph) | Čas (min) | Ztráta | Kola |
| 1 | Conor Cummins | 128.92 mph | 17:33.556 | 00:00.000 | 2 |
| 2 | Dean Harrison | 128.29 mph | 17:38.738 | 00:05.182 | 3 |
| 3 | David Johnson | 128.24 mph | 17:39.206 | 00:05.650 | 2 |
| 4 | Michael Rutter | 127.55 mph | 17:44.925 | 00:11.369 | 2 |
| 5 | Jamie Coward | 127.22 mph | 17:47.703 | 00:14.147 | 2 |
| 6 | James Hillier | 125.36 mph | 18:03.519 | 00:29.963 | 1 |
| 7 | Peter Hickman | 125.04 mph | 18:06.253 | 00:32.697 | 2 |
| 8 | Sam West | 124.96 mph | 18:06.964 | 00:33.408 | 4 |
| 9 | John McGuinness | 124.72 mph | 18:09.089 | 00:35.533 | 3 |
| 10 | Brian McCormack | 124.33 mph | 18:12.475 | 00:38.919 | 3 |
| 11 | Philip Crowe | 124.31 mph | 18:12.682 | 00:39.126 | 3 |
| 12 | Daley Mathison | 124.22 mph | 18:13.444 | 00:39.888 | 2 |
| 13 | Gary Johnson | 123.75 mph | 18:17.602 | 00:44.046 | 1 |
| 14 | Stefano Bonetti | 123.48 mph | 18:19.981 | 00:46.425 | 4 |
| 15 | Derek Sheils | 123.10 mph | 18:23.418 | 00:49.862 | 2 |
| 16 | Paul Jordan | 122.84 mph | 18:25.742 | 00:52.186 | 2 |
| 17 | Jay Lawrence | 122.47 mph | 18:29.058 | 00:55.502 | 3 |
| 18 | Shaun Anderson | 122.35 mph | 18:30.141 | 00:56.585 | 3 |
| 19 | Lee Johnston | 122.27 mph | 18:30.868 | 00:57.312 | 2 |
| 20 | Ian Hutchinson | 121.95 mph | 18:33.772 | 01:00.216 | 2 |
| 21 | Dominic Herbertson | 121.50 mph | 18:37.897 | 01:04.341 | 2 |
| 22 | Horst Saiger | 120.70 mph | 18:45.329 | 01:11.773 | 2 |
| 23 | Michael Sweeney | 120.62 mph | 18:46.066 | 01:12.510 | 2 |
| 24 | Forest Dunn | 120.07 mph | 18:51.208 | 01:17.652 | 4 |
| 25 | Daniel Cooper | 119.99 mph | 18:52.035 | 01:18.479 | 1 |
| 26 | Barry Lee Evans | 119.82 mph | 18:53.576 | 01:20.020 | 3 |
| 27 | Mike Booth | 119.40 mph | 18:57.632 | 01:24.076 | 4 |
| 28 | Xavier Denis | 119.36 mph | 18:57.944 | 01:24.388 | 2 |
| 29 | Michael Russell | 118.90 mph | 19:02.387 | 01:28.831 | 2 |
| 30 | Rob Hodson | 118.85 mph | 19:02.866 | 01:29.310 | 0 |
| 31 | Frank Gallagher | 118.82 mph | 19:03.116 | 01:29.560 | 1 |
| 32 | Joe Akroyd | 118.63 mph | 19:05.008 | 01:31.452 | 2 |
| 33 | Marc Ironside | 118.46 mph | 19:06.589 | 01:33.033 | 4 |
| 34 | David Jackson | 118.41 mph | 19:07.064 | 01:33.508 | 3 |
| 35 | Davy Morgan | 118.20 mph | 19:09.162 | 01:35.606 | 2 |
| 36 | Ryan Kneen | 118.01 mph | 19:10.991 | 01:37.435 | 2 |
| 37 | Mark Parrett | 117.95 mph | 19:11.543 | 01:37.987 | 2 |
| 38 | Richard Wilson | 117.70 mph | 19:14.039 | 01:40.483 | 3 |
| 39 | Morgan Govignon | 117.70 mph | 19:14.041 | 01:40.485 | 4 |
| 40 | Richard Charlton | 117.45 mph | 19:16.480 | 01:42.924 | 2 |
| 41 | Jim Hodson | 117.35 mph | 19:17.483 | 01:43.927 | 2 |
| 42 | Julian Trummer | 117.35 mph | 19:17.509 | 01:43.953 | 2 |
| 43 | Matt Stevenson | 117.29 mph | 19:18.062 | 01:44.506 | 2 |
| 44 | Mark Goodings | 117.00 mph | 19:20.939 | 01:47.383 | 4 |
| 45 | James Chawke | 116.91 mph | 19:21.842 | 01:48.286 | 2 |
| 46 | Barry Furber | 116.87 mph | 19:22.248 | 01:48.692 | 2 |
| 47 | Raul Torras Martinez | 116.64 mph | 19:24.495 | 01:50.939 | 1 |
| 48 | Anthony Redmond | 116.57 mph | 19:25.228 | 01:51.672 | 3 |
| 49 | Charles Rhys Hardisty | 116.16 mph | 19:29.286 | 01:55.730 | 2 |
| 50 | Dean Osborne | 115.85 mph | 19:32.444 | 01:58.888 | 3 |
| 51 | Lukas Maurer* | 115.67 mph | 19:34.318 | 02:00.762 | 2 |
| 52 | Jonathan Perry | 115.52 mph | 19:35.811 | 02:02.255 | 3 |
| 53 | Adrian Harrison | 115.30 mph | 19:38.034 | 02:04.478 | 2 |
| 54 | Paul Potchy Williams | 115.01 mph | 19:40.984 | 02:07.428 | 2 |
| 55 | George Spence | 114.80 mph | 19:43.120 | 02:09.564 | 3 |
| 56 | Josh Daley | 114.73 mph | 19:43.941 | 02:10.385 | 1 |
| 57 | Thomas Maxwell | 113.95 mph | 19:51.964 | 02:18.408 | 3 |
| 58 | David Hewson | 113.85 mph | 19:53.007 | 02:19.451 | 1 |
| 59 | Timothee Monot | 113.31 mph | 19:58.739 | 02:25.183 | 1 |
Výsledky třídy Superstock
| | | | | | |
| --- | --- | --- | --- | --- | --- |
| P | Jezdec | Čas (mph) | Čas (min) | Ztráta | Kola |
| 1 | Peter Hickman | 128.50 mph | 17:37.039 | 00:00.000 | 2 |
| 2 | Conor Cummins | 127.17 mph | 17:48.073 | 00:11.034 | 2 |
| 3 | Gary Johnson | 124.97 mph | 18:06.879 | 00:29.840 | 2 |
| 4 | James Hillier | 124.33 mph | 18:12.515 | 00:35.476 | 2 |
| 5 | Michael Rutter | 123.53 mph | 18:19.522 | 00:42.483 | 1 |
| 6 | Rob Hodson | 123.39 mph | 18:20.809 | 00:43.770 | 3 |
| 7 | Davey Todd | 122.94 mph | 18:24.791 | 00:47.752 | 2 |
| 8 | Horst Saiger | 121.30 mph | 18:39.808 | 01:02.769 | 2 |
| 9 | Derek McGee | 120.98 mph | 18:42.777 | 01:05.738 | 2 |
| 10 | Philip Crowe | 119.85 mph | 18:53.363 | 01:16.324 | 1 |
| 11 | Lukas Maurer* | 117.67 mph | 19:14.330 | 01:37.291 | 2 |
| 12 | Charles Rhys Hardisty | 115.87 mph | 19:32.275 | 01:55.236 | 1 |
Výsledky třídy Supersport
| | | | | | |
| --- | --- | --- | --- | --- | --- |
| P | Jezdec | Čas (mph) | Čas (min) | Ztráta | Kola |
| 1 | Lee Johnston | 122.93 mph | 18:24.957 | 00:00.000 | 2 |
| 2 | Gary Johnson | 122.59 mph | 18:27.987 | 00:03.030 | 1 |
| 3 | James Hillier | 122.02 mph | 18:33.121 | 00:08.164 | 1 |
| 4 | Jamie Coward | 121.33 mph | 18:39.449 | 00:14.492 | 1 |
| 5 | Dean Harrison | 121.17 mph | 18:40.975 | 00:16.018 | 1 |
| 6 | Ian Hutchinson | 121.13 mph | 18:41.322 | 00:16.365 | 2 |
| 7 | Paul Jordan | 120.48 mph | 18:47.400 | 00:22.443 | 1 |
| 8 | David Johnson | 120.35 mph | 18:48.626 | 00:23.669 | 2 |
| 9 | Derek McGee | 119.64 mph | 18:55.311 | 00:30.354 | 1 |
| 10 | Derek Sheils | 119.58 mph | 18:55.898 | 00:30.941 | 2 |
| 11 | Daley Mathison | 119.11 mph | 19:00.384 | 00:35.427 | 1 |
| 12 | John McGuinness | 117.77 mph | 19:13.328 | 00:48.371 | 1 |
| 13 | Michael Sweeney | 117.70 mph | 19:13.981 | 00:49.024 | 2 |
| 14 | Mike Browne | 117.55 mph | 19:15.464 | 00:50.507 | 4 |
| 15 | Xavier Denis | 116.53 mph | 19:25.634 | 01:00.677 | 2 |
| 16 | James Chawke | 116.32 mph | 19:27.742 | 01:02.785 | 2 |
| 17 | Michal Dokoupil | 116.30 mph | 19:27.924 | 01:02.967 | 2 |
| 18 | Matt Stevenson | 115.54 mph | 19:35.601 | 01:10.644 | 1 |
| 19 | Brian McCormack | 115.39 mph | 19:37.074 | 01:12.117 | 1 |
| 20 | Richard Charlton | 115.27 mph | 19:38.377 | 01:13.420 | 2 |
| 21 | Frank Gallagher | 115.20 mph | 19:39.068 | 01:14.111 | 2 |
| 22 | Darren Cooper | 115.19 mph | 19:39.204 | 01:14.247 | 3 |
| 23 | Raul Torras Martinez | 114.53 mph | 19:45.986 | 01:21.029 | 3 |
| 24 | Joe Akroyd | 114.42 mph | 19:47.049 | 01:22.092 | 1 |
| 25 | Josh Daley | 114.05 mph | 19:50.970 | 01:26.013 | 2 |
| 26 | Jim Hodson | 113.97 mph | 19:51.823 | 01:26.866 | 1 |
| 27 | Timothee Monot | 113.93 mph | 19:52.211 | 01:27.254 | 2 |
| 28 | Rob Whittall | 113.82 mph | 19:53.407 | 01:28.450 | 2 |
| 29 | Mark Parrett | 113.57 mph | 19:55.962 | 01:31.005 | 1 |
| 30 | Julian Trummer | 113.56 mph | 19:56.093 | 01:31.136 | 1 |
| 31 | Mike Norbury | 113.30 mph | 19:58.798 | 01:33.841 | 3 |
| 32 | Raymond Casey* | 113.27 mph | 19:59.112 | 01:34.155 | 3 |
| 33 | Charles Rhys Hardisty | 113.19 mph | 19:59.965 | 01:35.008 | 1 |
| 34 | Adrian Harrison | 113.12 mph | 20:00.741 | 01:35.784 | 1 |
| 35 | Jonathan Perry | 112.59 mph | 20:06.433 | 01:41.476 | 1 |
| 36 | Masayuki Yamanaka | 112.42 mph | 20:08.247 | 01:43.290 | 3 |
| 37 | Miroslav Sloboda | 112.04 mph | 20:12.319 | 01:47.362 | 3 |
| 38 | Matthew Rees | 112.00 mph | 20:12.713 | 01:47.756 | 3 |
| 39 | Sam Johnson | 111.52 mph | 20:17.931 | 01:52.974 | 2 |
| 40 | Matt Mylchreest | 111.46 mph | 20:18.603 | 01:53.646 | 3 |
| 41 | Paul Potchy Williams | 110.86 mph | 20:25.209 | 02:00.252 | 1 |
| 42 | Nicolas Pautet | 110.67 mph | 20:27.299 | 02:02.342 | 2 |
| 43 | Justin Collins | 110.20 mph | 20:32.564 | 02:04.577 | 2 |
| 44 | Jonathan Goetschy* | 109.76 mph | 20:37.497 | 02:12.540 | 3 |
| 45 | Barry Furber | 109.23 mph | 20:43.526 | 00:00.000 | 1 |
| 46 | Dave Moffitt | 108.64 mph | 20:50.227 | 02:25.270 | 1 |
| 47 | David Datzer* | 108.36 mph | 20:53.443 | 02:28.486 | 3 |
| 48 | Allann Venter | 96.87 mph | 23:22.105 | 04:57.148 | 1 |
| 49 | David Hewson | 84.29 mph | 26:51.497 | 08:26.540 | 1 |
Výsledky třídy TT Zero
| | | | | | |
| --- | --- | --- | --- | --- | --- |
| P | Jezdec | Čas (mph) | Čas (min) | Ztráta | Kola |
| 1 | Michael Rutter | 117.16 mph | 19:19.304 | 00:00.000 | 1 |
| 2 | Ian Lougher | 95.36 mph | 23:44.369 | 04:25.065 | 1 |