V Hořicích v Podkrkonoší se naplno rozjel letos již 27. ročník závodů české Tourist Trophy, při kterých se jedou i závody evropského šampionátu IRRC. Podmínky na trati byly celý den dobré, takže nic nebránilo tomu, aby se všichni mohli utkat o co nejlepší pozice na startovním roštu pro zítřejší závody.
Sobotní program 27. České Tourist Trophy v Hořicích rozjeli závodníci šampionátu IRRC, které čekaly krátké volné tréninky. Díky tomu se mohli seznámit z tratí ještě předtím, než se pustili do měřených tréninků. Jako první vyjeli jezdci třídy Supersport a následovali Superbiky. Poté už se rozjely první měřené tréninky a jako první vyjeli na trať jezdi kategorie klasik 175 ccm a 250 ccm.
Klasik 175 ccm a 250 ccm
Nejrychlejším závodníkem obou sobotních tréninků nejslabších tříd klasiků byl Vítězslav Hatan, který se svou Yamahou 250 zajel čas 2:50,796. Oproti dopolednímu času si zlepšil čas o 1,5 vteřiny. Na druhém místě skončil Petr Šupík s časem z prvního tréninku a ztrátou 4,2 vteřiny a třetí pozici obsadil Petr Najman s rozdílem 6,8 vteřiny. Ve slabší třídě byl nejlepší Miloš Thér s časem 3:00,931.
Výsledky obou tréninků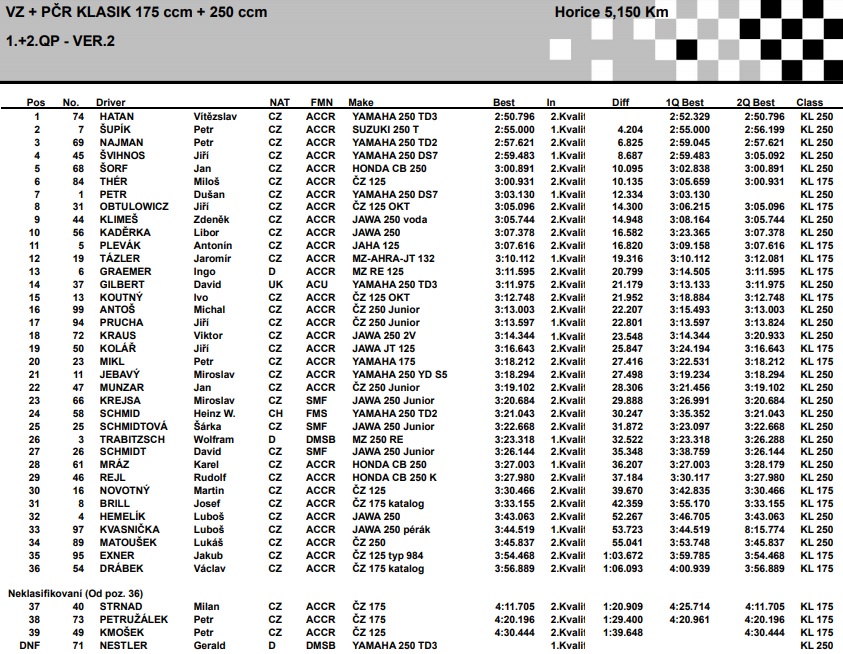 Klasik 350 ccm
Vítězslav Hatan opět dokazuje, že se mu daří na všech motorkách, na které usedne. I ve třídě 350 ccm byl nejrychlejší s časem 1:42,481, který zajel v dopoledním tréninku. Na druhém místě skončil Petr Najman se ztrátou 1,675 s a třetí nejlepší byl Jiří Švihnos, i když jeho ztráta už je výrazně větší. První řadu v zítřejším závodě doplní čtvrtý Josef Juřík.
Výsledky obou tréninků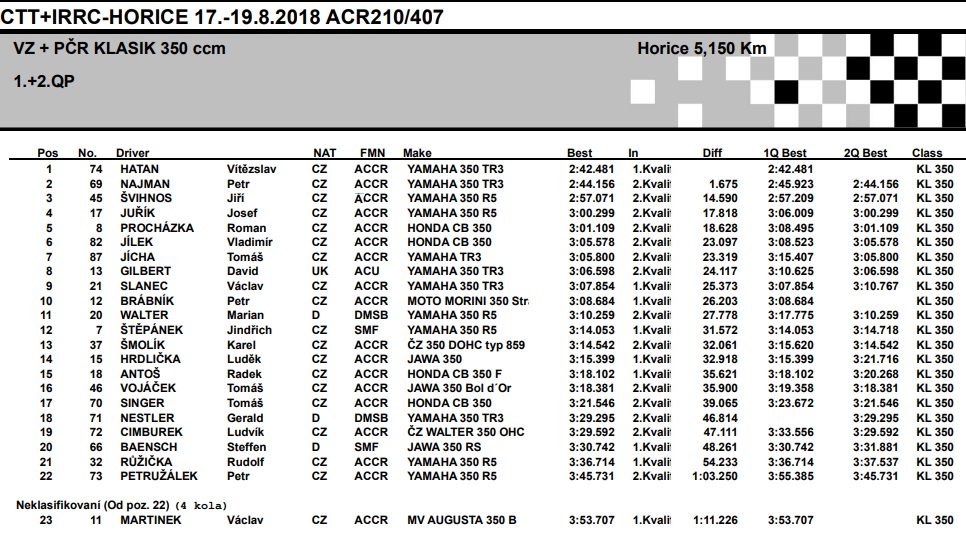 Klasik 500 ccm a 750 ccm
Poslední kategorií klasiků, které můžeme v Hořicích sledovat, jsou spojené třídy 500 ccm a 750 ccm. Zde byl nejlepší Pavel Novák, který se svou Hondou CB500R zajel čas 2:47,629. To se mu podařilo ve druhé kvalifikaci a oproti ránu zrychlil o čtyři vteřiny. Na druhém místě celkově, ale na první ve třídě 750 cm, skončil Libor Mařík, který zajel čas 2:47,818. Třetí nejlepší a druhý ve třídě pětistovek byl Ondřej Mráz, za kterým skončili dva závodníci kategorie 750 ccm Pavel Jančík a Johann Fuerbock.
Výsledky obou tréninků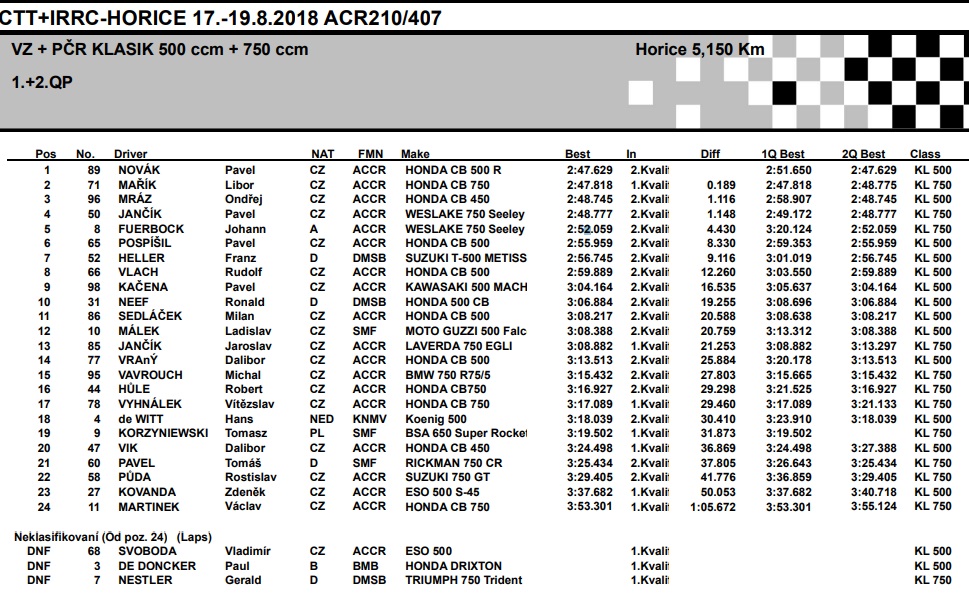 IRRC Supersport
Ve třídě Supersport mezinárodního road racingového šampionátu byl dnes nejrychlejší Thomas Walther z Německa, který se svou Yamahou YZF-R6 zajel čas 2:19,689 a jako jediný se dostal pod čas 2:20. Jen o 0,367 s za ním skončil několikanásobný mistr světa Matthieu Lagrive, který také sedlá Yamahu. Třetí nejlepší čas zajel Laurent Hoffmann s Kawasaki a ztrátou 0,578 s. Zítřejší první řadu doplní čtvrtý Pierre Yves Bian. Druhou řadu otevře Max Gaube, vedle kterého se postaví Jochen Rotter a český závodník startující na divokou kartu Michal Vecko z Městce Králové. Michal na prvního ztratil 1,224 s. Druhou řadu uzavře Jonathan Goetschy. Petr Wiesenberg je druhým českým závodníkem, který se vešel do desítky nejlepších, když skončil devátý. Top10 uzavírá Daniel Schmidt.
Výsledky obou tréninků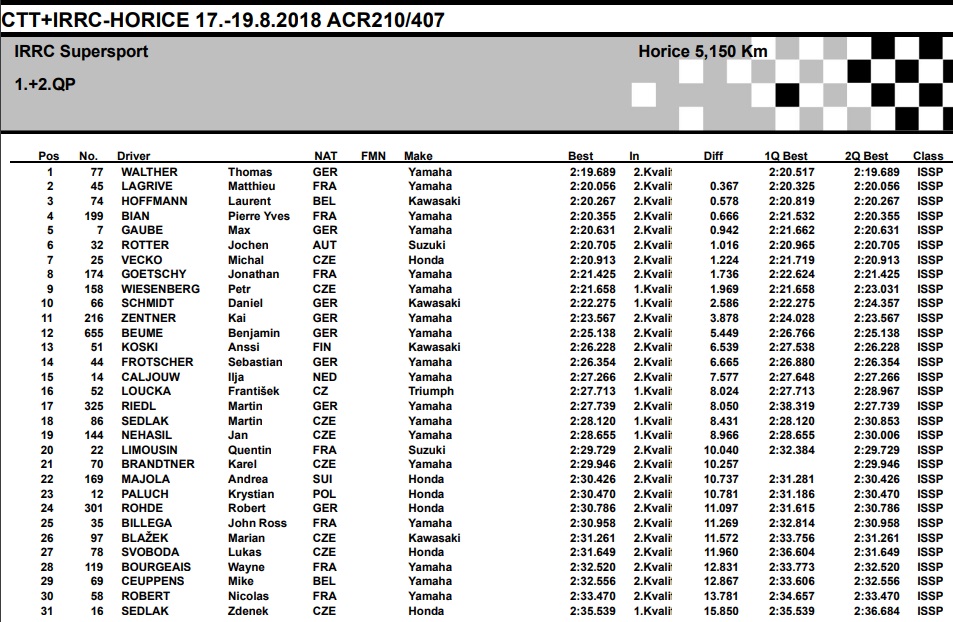 IRRC Superbike
V nejsilnější třídě Superbiků byl dnes nakonec nejlepší německý závodník Didier Grams, který už v ranním tréninku zajel čas 2:14,901. V prvním tréninku toho moc nenajezdil, přesto mu to stačilo k tomu, aby si udržel průběžnou první pozici a pole position do zítřejších závodů. Na druhém místě skončil finský závodník Erno Kostamo, který má ztrátu 0,745 s. Průběžně vedoucí jezdec této třídy Brit Danny Webb skončil třetí, takže je vidět, že mu trénink v podobě 300 zatáček Gustava Havla pomohl.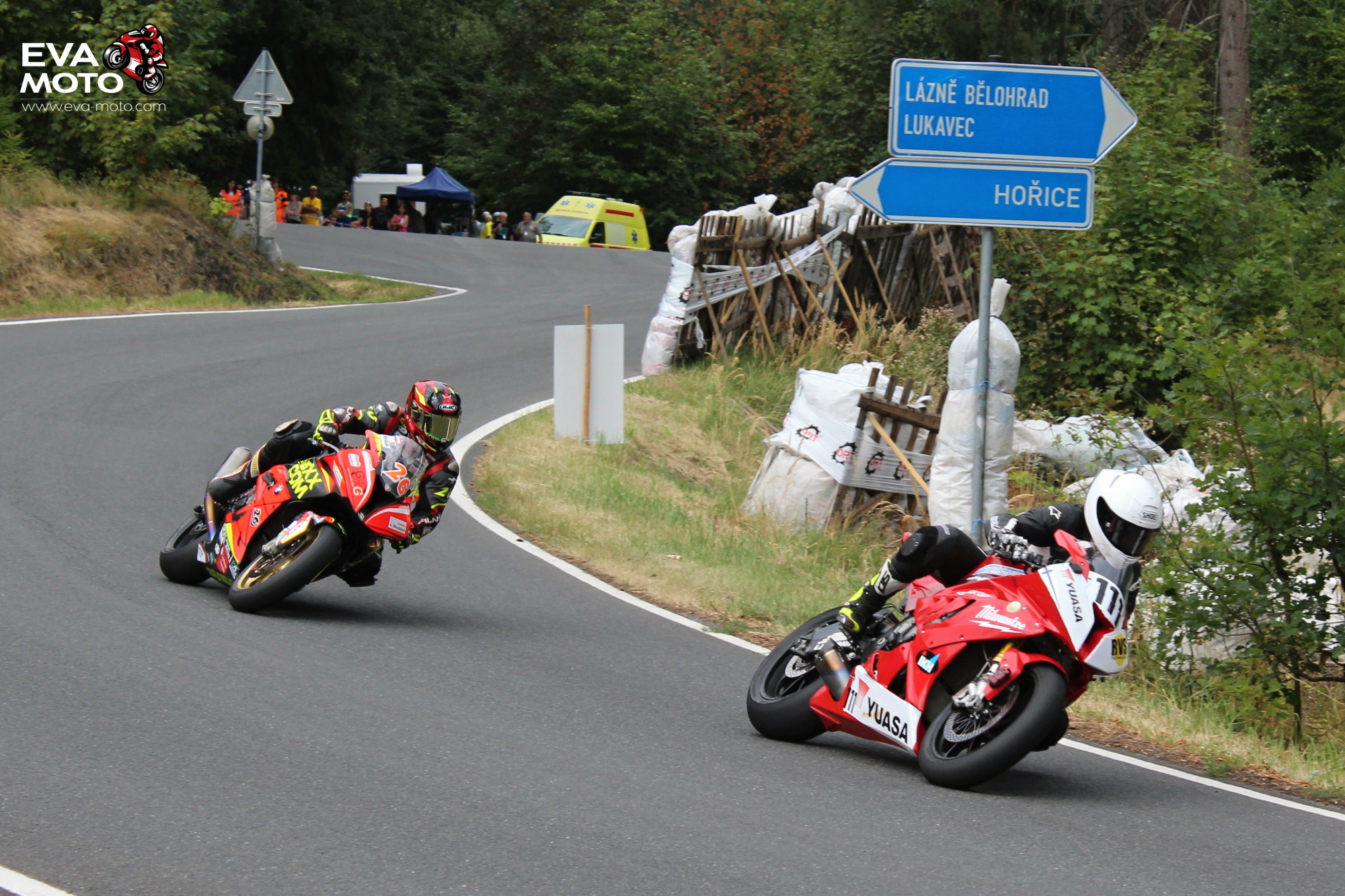 Marek Červený skončil s časem 2:16,583 na čtvrtém místě, takže uzavře první řadu. Pěkný čas zajel také Petr Bičiště, který tu startuje na divokou kartu. "Kimura" obsadil pátou pozici, takže zítra otevře řadu druhou. Vedle něj se postaví Jamie Coward, Jonathan Goetschy a Aleš Nechvátal, který je dalším českým jezdcem v desítce nejlepších. Devátý skončil David Datzer a Top10 uzavírá Tomáš Borovka, kterému se letos v IRRC pěkně daří.
Druhý trénink této třídy byl bohužel přibližně v polovině přerušen červenou vlajkou po pádu Vassiliose Takose z Řecka. Vassilios spadl ve třetí zatáčce "U Návleků" a nakonec musel být letecky transportován do hradecké nemocnice. Naštěstí byl v tu chvíli již při vědomí. Doufám, že z toho nebude nic vážného a přeji mu brzké uzdravení.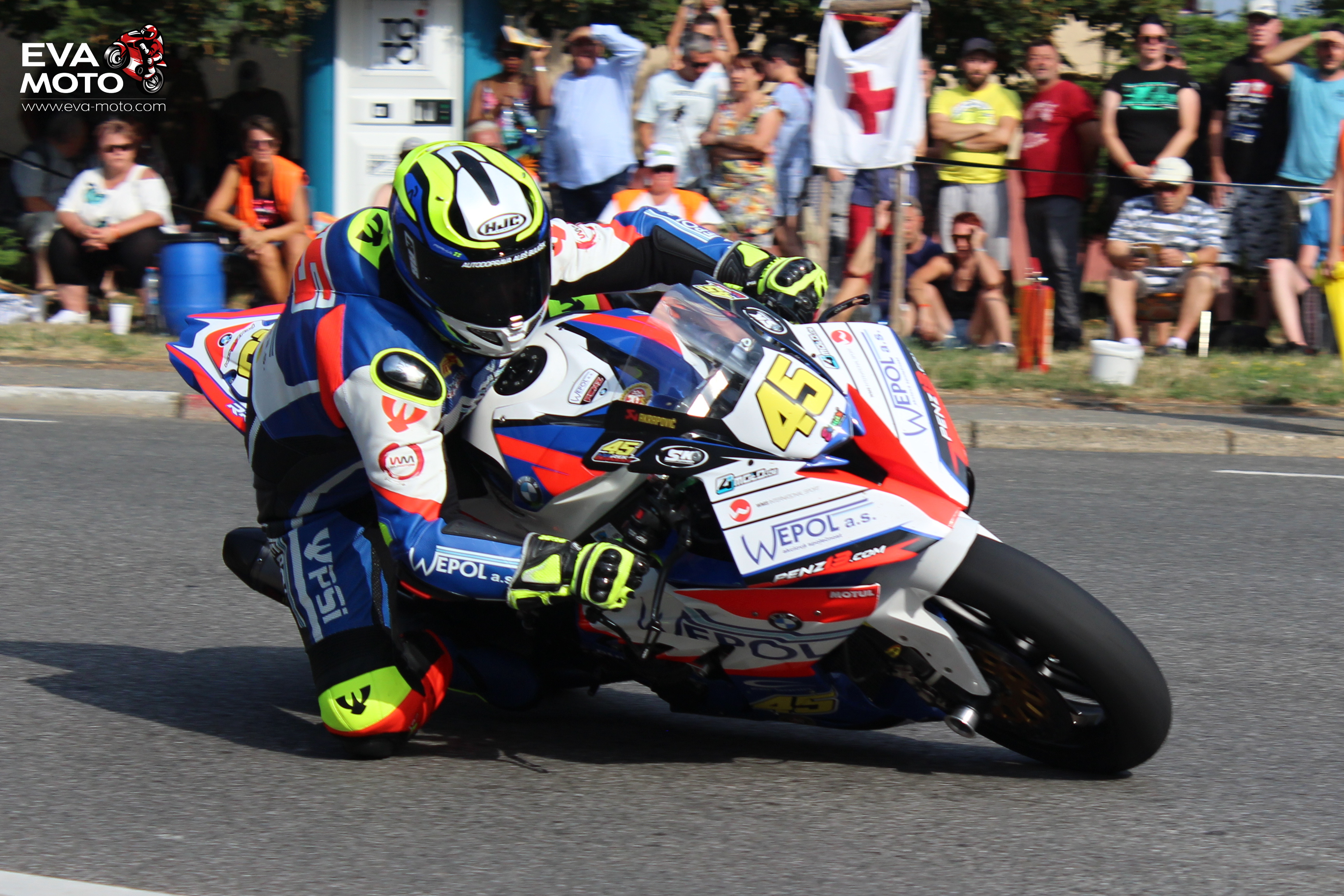 Výsledky obou tréninků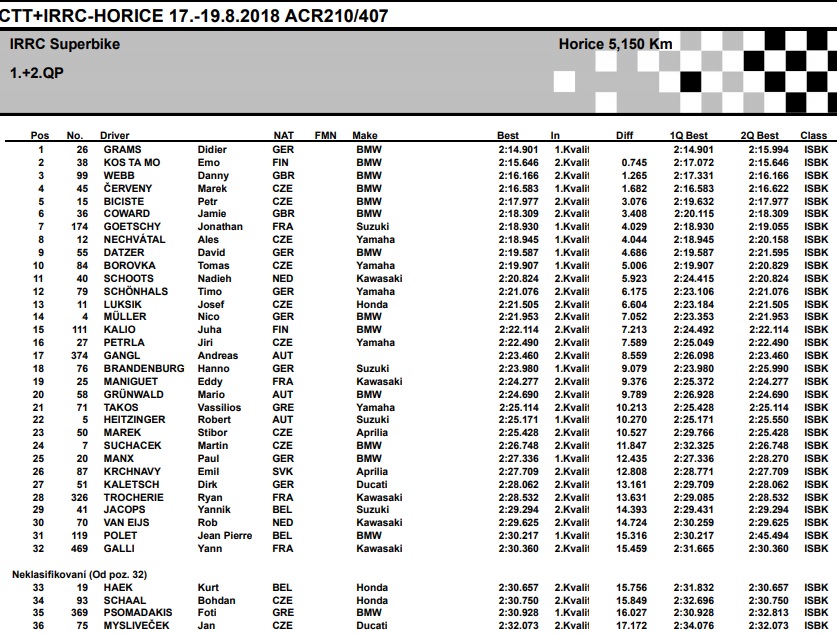 Sidecar
Ve třídě sidecar byli nejrychlejší Jiří a Vojtěch Humlovi, kteří zajeli čas 2:53,315. Na druhém místě skončili Klaus De Monte a Michael Woerner a třetí jsou Radomír a Jiří Šimkovi.
Výsledky obou tréninků