Po testování MotoGP se rozjelo také testování střední třídy Moto2 a elektrickým motorek MotoE. To proběhlo v uplynulých třech dnech na okruhu v Jerezu. Zde jsou kombinované výsledky za všechny tři dny.
Zdroj: MotoGP
Sezóna Grand Prix sice skončila minulý víkend, nicméně hned během tohoto týdne jsme mohli sledovat hned dva testy. Ten první proběhl v úterý a ve středu ve Valencii, kde testovala královská třída MotoGP, ten druhý se rozjel v pátek v Jerezu a na trati se střídali závodníci Moto2 a nové třídy MotoE. Na úvod testu moc nepřálo počasí a v pátek bylo mokro, nicméně během soboty se počasí natolik zlepšilo, že se zajížděla opravdu rychlá kola. Během neděle už akce na trati opět ustala a nejezdilo se tolik.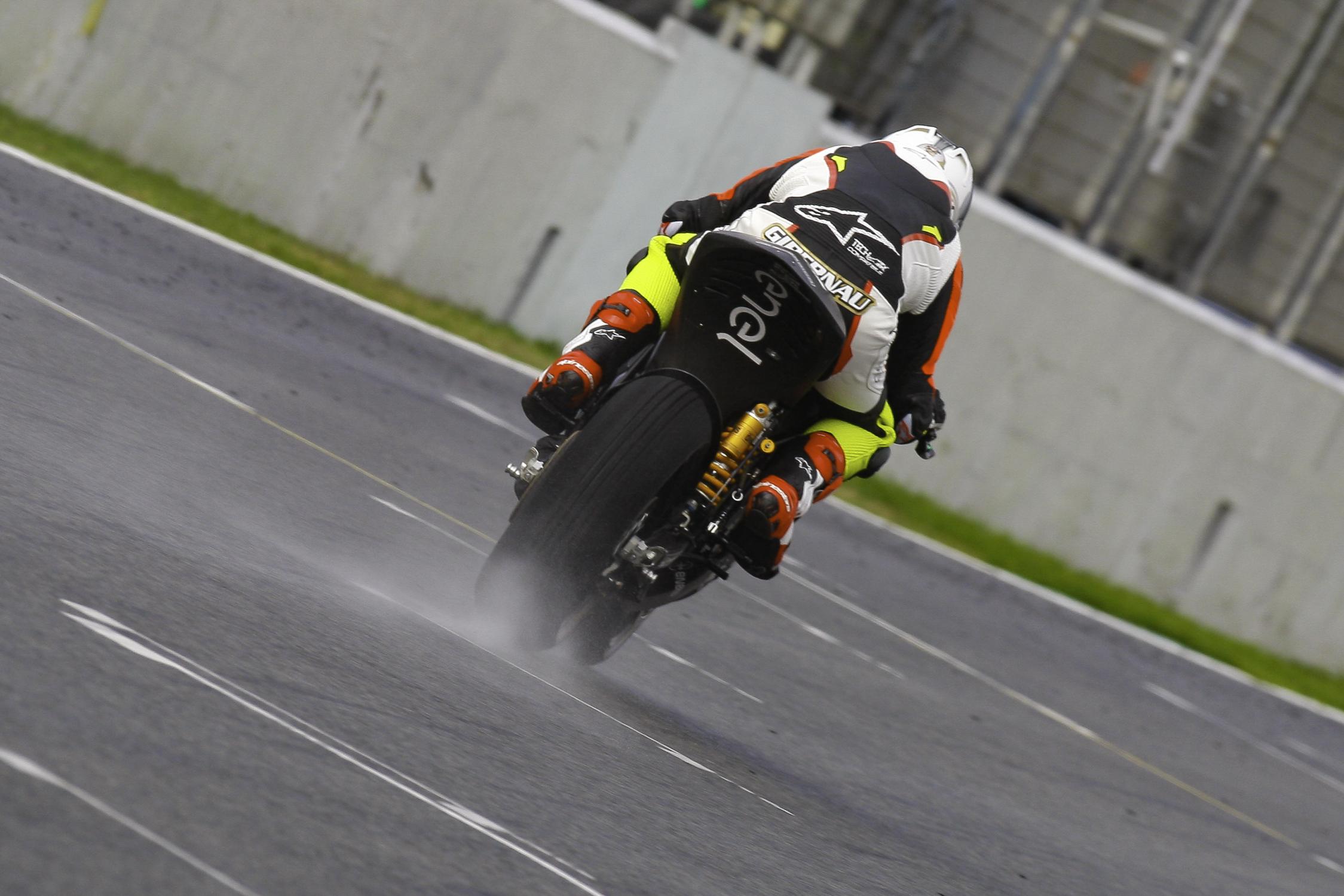 Velkou neznámou byla samozřejmě nová třída elektrických motorek MotoE, která se nám naplno představí během příští sezóny. Na trati jsme mohli sledovat známé jezdce, mezi kterými byl nejlepší Bradley Smith. Ten na svém stroji zajel čas 1:50,265. Na místě druhém skončil Niki Tuuli, který zapůsobil hlavně loni a letos ve světových Supersportech, ale v Moto2 mu to až tak nešlo. Nyní skončil druhý, takže se opět vrátil na přední pozice. Třetí pozici obsadil Mike Di Meglio, bývalý mistr světa třídy 125 ccm a také účastník mistrovství světa Endurance. Pětici nejlepších doplnili Matteo Casadei a Matteo Ferrari. Návrat do sedla si užil Sete Gibernau, který po deseti letech od ukončení kariéry bude opět závodit. Nyní skončil na 14. místě se ztrátou 2,5 vteřin.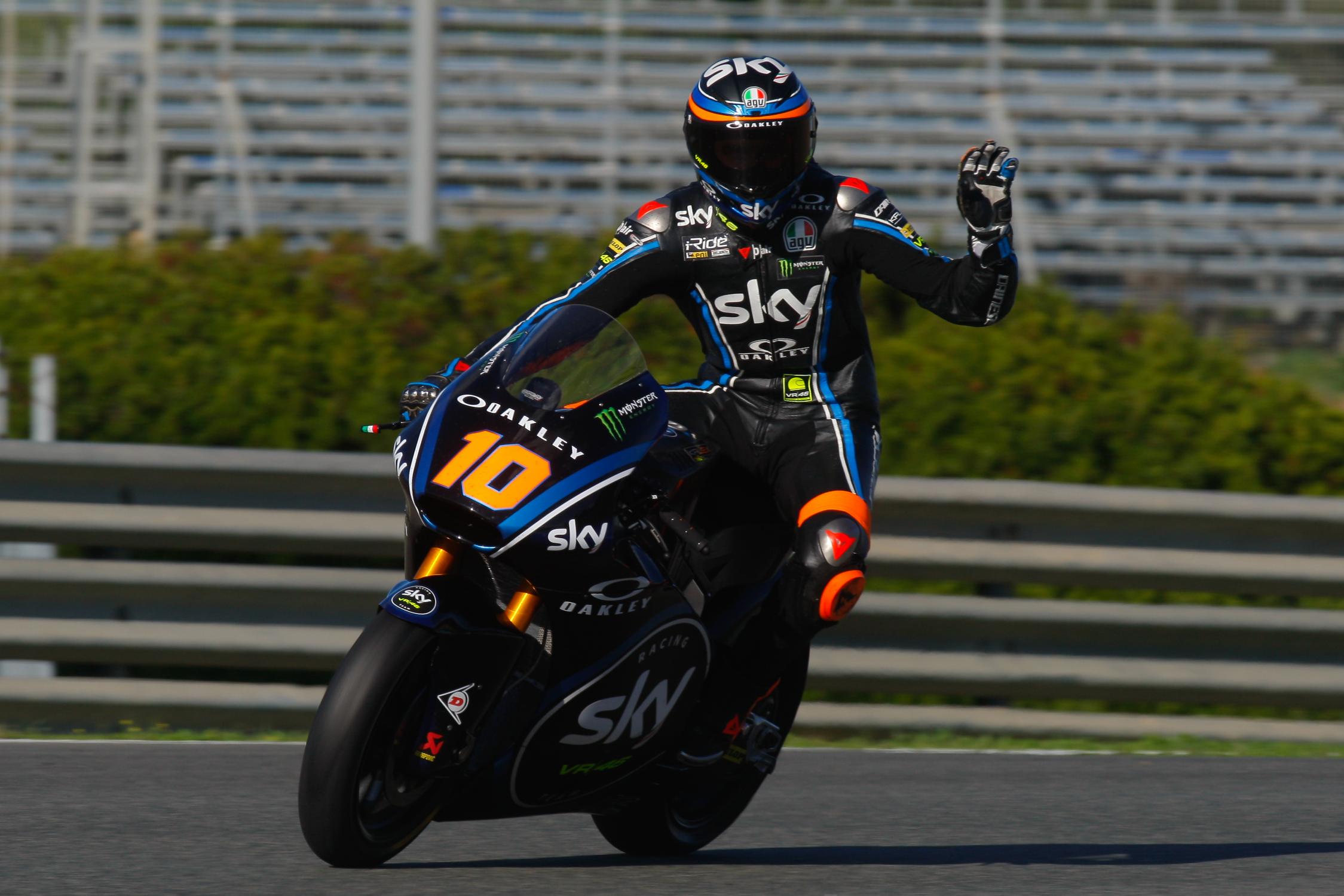 Ve střední třídě Moto2 byl nejrychlejší Luca Marini, který během druhého dne zajel čas 1:41,524. Tím rovnou překonal současný kvalifikační rekord trati, který je v hodnotě 1:41,890. Takže se zatím ukazuje, že změna motoru stroje ještě porychlila. Na druhém místě skončil Sam Lowes se ztrátou 0,268 s, který opět jezdí v barvách týmu Gresini. Třetí nejlepší byl Alex Marquez, jehož ztráta je 0,377 s. Remy Gardner skončil čtvrtý a Lorenzo Baldassarri doplnil pětici nejlepších. Nejlepším jezdcem mezi nováčky byl Niccolò Bulega, který zajel jedenáctý nejlepší čas. Debut v Moto2 moc nevyšel Jorgemu Martinovi, který hned první den zranil.
Kombinované výsledky MotoE
| | | | | | | | |
| --- | --- | --- | --- | --- | --- | --- | --- |
| P | Č | Jezdec | Nár | Tým | Čas | Ztráta | Trénink |
| 1 | 38 | Bradley SMITH | GBR | One Energy Racing | 1:50.265 | | 4 |
| 2 | 66 | Niki TUULI | FIN | AJO Motorsport MotoE | 1:50.627 | 0,362 | 4 |
| 3 | 63 | Mike DI MEGLIO | FRA | EG 0.0 Marc VDS | 1:50.741 | 0,476 | 4 |
| 4 | 8 | Matteo CASADEI | ITA | Ongetta SIC58 Squadra Corse | 1:50.885 | 0,620 | 4 |
| 5 | 11 | Matteo FERRARI | ITA | Trentino Gresini MotoE | 1:51.648 | 1,383 | 4 |
| 6 | 51 | Eric GR ANADO | BRA | Avintia Esponso rama Racing | 1:51.842 | 1,577 | 3 |
| 7 | 78 | Kenny FORAY | FRA | Tech3 E-Racing | 1:51.853 | 1,588 | 4 |
| 8 | 14 | Randy DE PUNIET | FRA | LCR E-Team | 1:51.906 | 1,641 | 3 |
| 9 | 16 | Josh HOOK | AUS | Alma Pramac Racing | 1:52.281 | 2,016 | 4 |
| 10 | 7 | Niccolo CANEPA | ITA | LCR E-Team | 1:52.375 | 2,110 | 4 |
| 11 | 5 | Alex DE ANGELIS | RSM | Alma Pramac Racing | 1:52.403 | 2,138 | 3 |
| 12 | 2 | Jesko RAFFIN | SWI | Dynavolt Intact GP | 1:52.675 | 2,410 | 3 |
| 13 | 32 | Lorenzo SAVADORI | ITA | Trentino Gresini MotoE | 1:52.689 | 2,424 | 3 |
| 14 | 15 | Sete GIBERNAU | SPA | Pons Racing | 1:52.817 | 2,552 | 3 |
| 15 | 84 | Julian M IRALLES | SPA | Avintia Esponso rama Racing | 1:52.945 | 2,680 | 4 |
| 16 | 4 | Marvin FRITZ | GER | Dynavolt Intact GP | 1:53.355 | 3,090 | 4 |
| 17 | 18 | Nicolas TEROL | SPA | Angel Nieto Team | 1:53.834 | 3,569 | 4 |
| 18 | 6 | Maria HERRERA | SPA | Angel Nieto Team | 2:00.562 | 10.29 7 | 2 |
| 19 | 27 | Luca VITALI | ITA | Ongetta SIC58 Squadra Corse | 2:06.560 | 16.29 5 | 1 |
Kombinované výsledky Moto2