První letošní předsezónní test MotoGP je u konce. V Sepangu se dnes podle očekávání opět zrychlilo a nejlepší výkon podali jezdci na strojích Ducati.
Zdroj: MotoGP
V malajském Sepangu dnes vyvrcholil první předsezónní test královské třídy MotoGP tohoto roku. Jezdce tak čekal poslední třetí den na trati, kde bylo opět velké horko. Z pohledu časů byl dnešek nejvíce napínavý, protože se celá Top20 zlepšila a zajeli si lepší časy ze všech tří dní. Většina týmů se soustředila na test aerodynamických kapot a dílů na podvozku a rámu. Okruh v Sepangu je totiž vhodný na test kapot, protože nabízí vysokorychlostní úseky i rychlé změny směru, než jiné okruhy. To je pro týmy velice důležité, protože do Kataru musí rozhodnout, které kapoty budou používat v první polovině sezóny. Nové kapoty vyzkoušel například Andrea Dovizioso s Ducati, či oba jezdci Yamahy. KTM také testovala odpružení WP a Johann Zarco uvedl, že stále ztrácí na výjezdech ze zatáček.
Nejlepší výkon dnes podal Danilo Petrucci, který byl rychlý během celého testu. Dnes ráno v první vyjížďce zajel čas 1:58,239, se kterým se usadil na čele tabulky až do konce dne. Tímto časem také zajel nejrychlejší čas tohoto okruhu, který tu byl kdy na motorce zajetý.
Danilo Petrucci
"Jsem za to hodně rád, ale znamená to opravdu málo. Každopádně jsem s dneškem spokojený, se závodní simulací a tím, jak jezdíme v horku. To byl hlavní cíl, na který jsme se soustředili. Dnes ráno jsem udělal jen jeden útok na čas na kolo a vůbec jsem nevěřil času, který se objevil. Jel jsem dobře, tlačil na to, ale myslel jsem si, že je tam chyba. Poté jsme se rozhodli pracovat s použitými pneumatikami a zkoušeli jsme nové věci. Jednou z nich byly nové kapoty, se kterými jsem bohužel hned spadl, takže jsem nepoznal jejich výhody. Poté jsem byl trochu potlučený a proto jsme se rozhodli test ukončit. Úplně nové šasi jsem nevyzkoušel, jen některé nové díly. Nové šasi vyzkoušel Andrea a necítil, že by tam byl takový pokrok, takže uvidíme ještě v Kataru."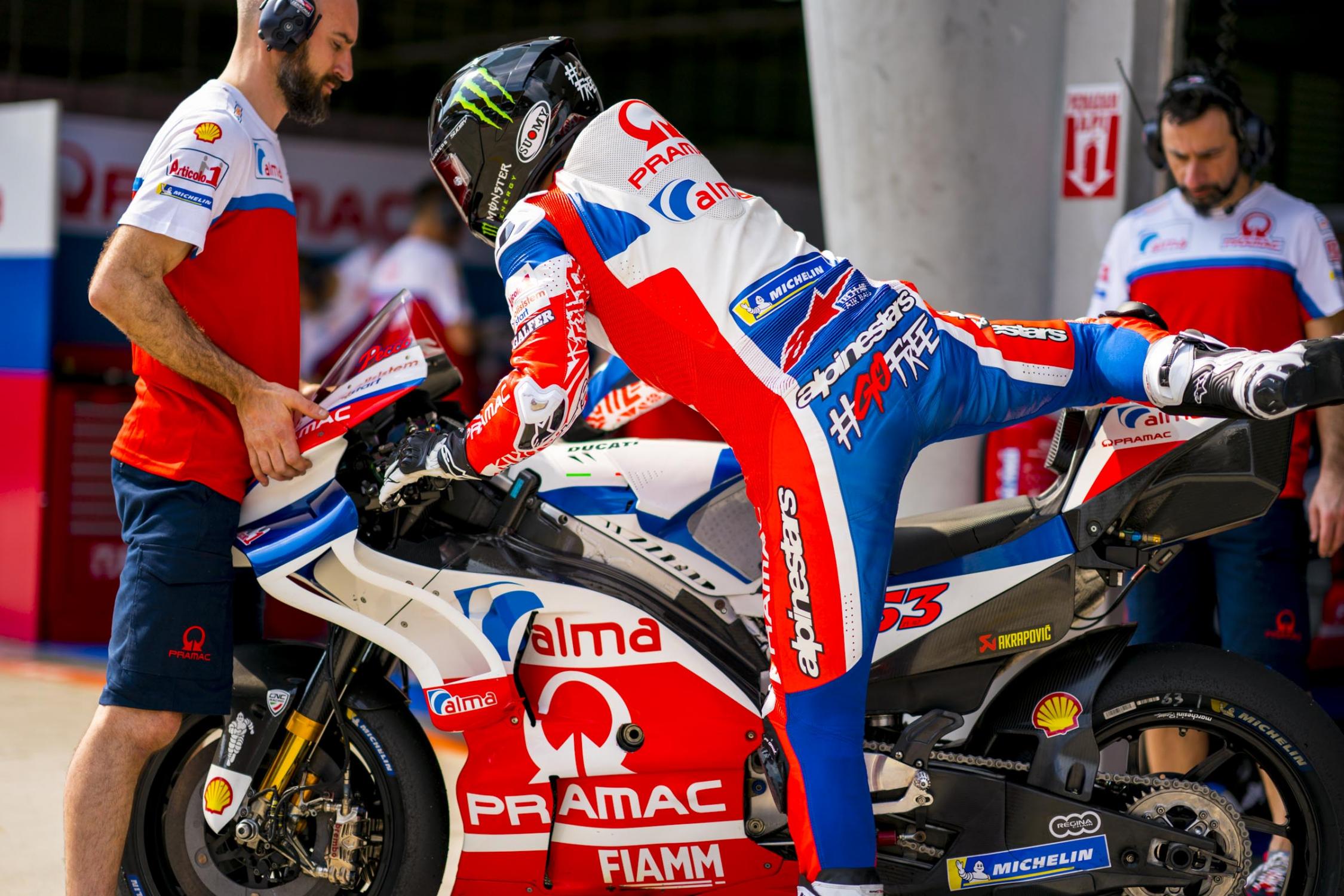 O další pěkné překvapení se postaral nováček Francesco Bagnaia, který na Petruxe ztratil jen 0,063 s a obsadil výborné druhé místo. O dalších 0,064 s za ním skončil jeho týmový kolega Jack Miller a čtvrtý skončil Andrea Dovizioso, takže má Ducati Top4 pozice. Až na pátém místě skončila jiná motorka, kterou je Yamaha Mavericka Viñalese, který po včerejším nejrychlejším čase nyní ztratil 0,405 s.
Francesco "Pecco" Bagnaia
"Prostě jsem jen jezdil a podařilo se to. Začínám více poznávat motorku, protože je úplně jiná, než Moto2. Dnes jsem už jezdil více jako jezdec MotoGP. Samozřejmě, že čas na kolo je pro nás důležitý, ale musíme se nyní koncentrovat na závodní tempo. Teď už brzdím velice pozdě, což pro mě bylo v Jerezu těžké. Samozřejmě, že je ještě hodně věcí, kde se musíme zlepšit."
Nejlepším jezdcem na Hondě je opět Cal Crutchlow, který se potýká ještě se zraněným kotníkem, ale i tak udržel šestou pozici se ztrátou 0,541 s. Posun vpřed také zaznamenal Aleix Espargaro, který se s Aprilií dostal do Top10 na konečné sedmé místo se ztrátou 0,783. Franco Morbidelli skončil se satelitní Yamahou osmý, Takaaki Nakagami dovezl svou Hondu na 9. místo a desítku nejlepších uzavřel Valentino Rossi. Úřadující mistr světa Marc Marquez, který zatím není ve 100% kondici, test ukončil 11. místem, když najezdil 39 kol. Alex Rins, jenž v uplynulých dnech okupoval přední příčky, nakonec skončil dvanáctý a je posledním do ztráty jedné vteřiny. Stefan Bradl, testovací jezdec Hondy a zároveň náhradník za Jorgeho Lorenza, skončil na 13. pozici. Český závodník Karel Abraham dnes najezdil 36 kol a to nejlepší s časem 2:00,378, takže skončil na 20. místě.
Výsledky 3. dne testu
| | | | | | | |
| --- | --- | --- | --- | --- | --- | --- |
| P | Jezdec | Tým | Čas | Ztráta | | Kola |
| 1 | PETRUCCI, Danilo | Mission Winnow Ducati | 1:58.239 | | | 10/32 |
| 2 | BAGNAIA, Francesco | Alma Pramac Racing | 1:58.302 | 0.063 | 0.063 | 11/21 |
| 3 | MILLER, Jack | Alma Pramac Racing | 1:58.366 | 0.127 | 0.064 | 12/47 |
| 4 | DOVIZIOSO, Andrea | Mission Winnow Ducati | 1:58.538 | 0.299 | 0.172 | 11/36 |
| 5 | VIÑALES, Maverick | Monster Energy Yamaha MotoGP | 1:58.644 | 0.405 | 0.106 | 8/78 |
| 6 | CRUTCHLOW, Cal | LCR Honda CASTROL | 1:58.780 | 0.541 | 0.136 | 17/61 |
| 7 | ESPARGARO, Aleix | Aprilia Racing Team Gresini | 1:59.022 | 0.783 | 0.242 | 11/52 |
| 8 | MORBIDELLI, Franco | Petronas Yamaha SRT | 1:59.141 | 0.902 | 0.119 | 8/66 |
| 9 | NAKAGAMI, Takaaki | LCR Honda IDEMITSU | 1:59.148 | 0.909 | 0.007 | 21/61 |
| 10 | ROSSI, Valentino | Monster Energy Yamaha MotoGP | 1:59.155 | 0.916 | 0.007 | 9/61 |
| 11 | MARQUEZ, Marc | Repsol Honda Team | 1:59.170 | 0.931 | 0.015 | 4/.39 |
| 12 | RINS, Alex | Team SUZUKI ECSTAR | 1:59.180 | 0.941 | 0.010 | 14/74 |
| 13 | BRADL, Stefan | Honda Test Team | 1:59.368 | 1.129 | 0.188 | 13/57 |
| 14 | RABAT, Tito | Reale Avintia Racing | 1:59.485 | 1.246 | 0.117 | 9/41 |
| 15 | MIR, Joan | Team SUZUKI ECSTAR | 1:59.486 | 1.247 | 0.001 | 25/53 |
| 16 | QUARTARARO, Fabio | Petronas Yamaha SRT | 1:59.497 | 1.258 | 0.011 | 13/77 |
| 17 | ZARCO, Johann | Red Bull KTM Factory Racing | 1:59.640 | 1.401 | 0.143 | 15/44 |
| 18 | ESPARGARO, Pol | Red Bull KTM Factory Racing | 1:59.751 | 1.512 | 0.111 | 14/57 |
| 19 | OLIVEIRA, Miguel | KTM Tech 3 Racing | 1:59.949 | 1.710 | 0.198 | 9/38 |
| 20 | ABRAHAM, Karel | Reale Avintia Racing | 2:00.378 | 2.139 | 0.429 | 22/36 |
| 21 | SYAHRIN, Hafizh | KTM Tech 3 Racing | 2:00.766 | 2.527 | 0.388 | 9/21 |
| 22 | GUINTOLI, Sylvain | Suzuki Test Team | 2:00.990 | 2.751 | 0.224 | 3/56 |
| 23 | SMITH, Bradley | Aprilia Racing Factory Team | 2:00.995 | 2.756 | 0.005 | 54/56 |
| 24 | KALLIO, Mika | Red Bull KTM Factory Racing Test Team | 2:01.020 | 2.781 | 0.025 | 4/38 |
| 25 | TEST 2, Yamaha | Yamaha Test Team | 2:01.243 | 3.004 | 0.223 | 3/43 |
| 26 | TEST 1, Yamaha | Yamaha Test Team | 2:01.719 | 3.480 | 0.476 | 5/49 |
| NC | IANNONE, Andrea | Aprilia Racing Team Gresini | | | | |
| NC | TSUDA, Takuya | Suzuki Test Team | | | | |
Kombinované časy za 3 dny