Výsledky 2. etapy třídy motocyklů letošního ročníku rallye Dakar.
Zdroj: Dakar, Big Shock Racing
Po včerejším zahájení 42. ročníku rallye Dakar dnes jezdce čekala druhá etapa, při které míří z Al Wajh do Neomu. Přejezd je krátký, když má jen 26 km a speciálka 367 km. Dnešní část je podle pořadatelů technická a náročná na navigaci. Letošní novinkou je také to, že závodníci dostali road-booky už barevně označené a před etapou. Tím jim odpadla večerní práce, ale zároveň si nemohl nikdo hledat zkratky.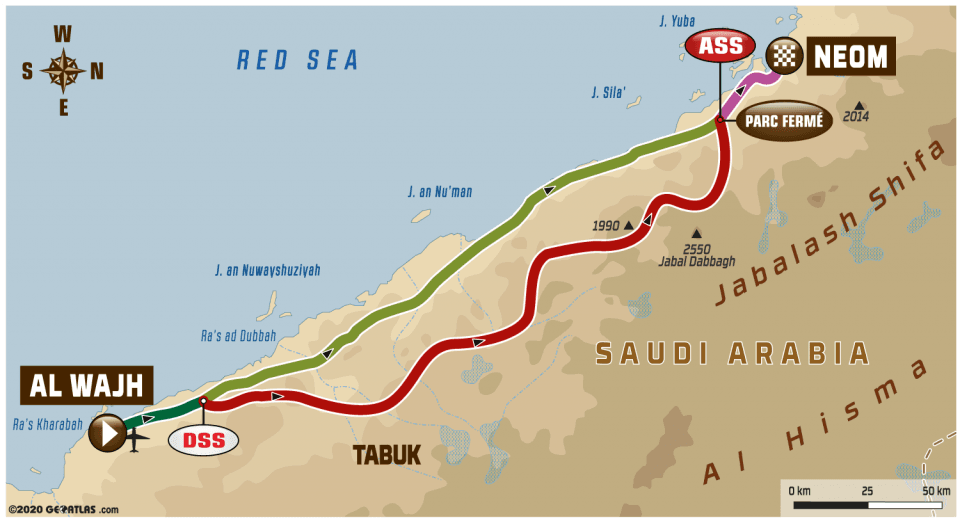 Jako první vyrazil na trať včerejší vítěz Toby Price, za kterým jel Ricky Brabec, ale oba dva udělali v úvodu etapy chybu a ztratili pár minut. Do vedení se tak dostal Joan Barreda Bort. Velice dobrý výkon podal Ross Branch, který byl loni nejlepším nováčkem a skončil na 13. místě. Nyní pokračuje ve zlepšování a dostal se do čela průběžného hodnocení po odjetí 214 km. Etapa se ukázala těžkou pro španělskou závodnici Laiu Sanz, která po letech na KTM přešla na Gas Gas a v první části speciálky spadla. V závodě ale dál pokračuje.
Vítězem etapy se stal Ross Branch, jezdec s Botswany na KTM, který si najel náskok 1:24 na Sama Sunderlanda. Třetí dojel Pablo Quintanilla se ztrátou 2:21. Z našich jezdců dojel do cíle Milan Engel na 23. místě se ztrátou 22:28. Za ním skončil Skyler Howes z týmu Ondřeje Klymčiwa, který v průběhu etapy dokonce útočil na Top10. Nedaleko za nimi dojel slovenský jezdec Štefan Svitko, který osadil 26. místo. O tři pozice dál je jeho krajan Ivan Jakeš. Dobrý výkon podali také Jan Brabec a Martin Michek. "Brabčák" si v průběžném pořadí drží zatím 32. místo a Martin je hned za ním se ztrátou rovných 39 minut a je druhým nejlepším nováčkem v etapě a celkově drží prvenství mezi debutanty. Po dobrém úvodu ve včerejší etapě tak nadále pokračuje v pěkném výkonu. Do cíle již dorazili Petr Vlček a Roman Krejčí. Poslední na trati byl Jan Veselý, ale ten je už také v cíli.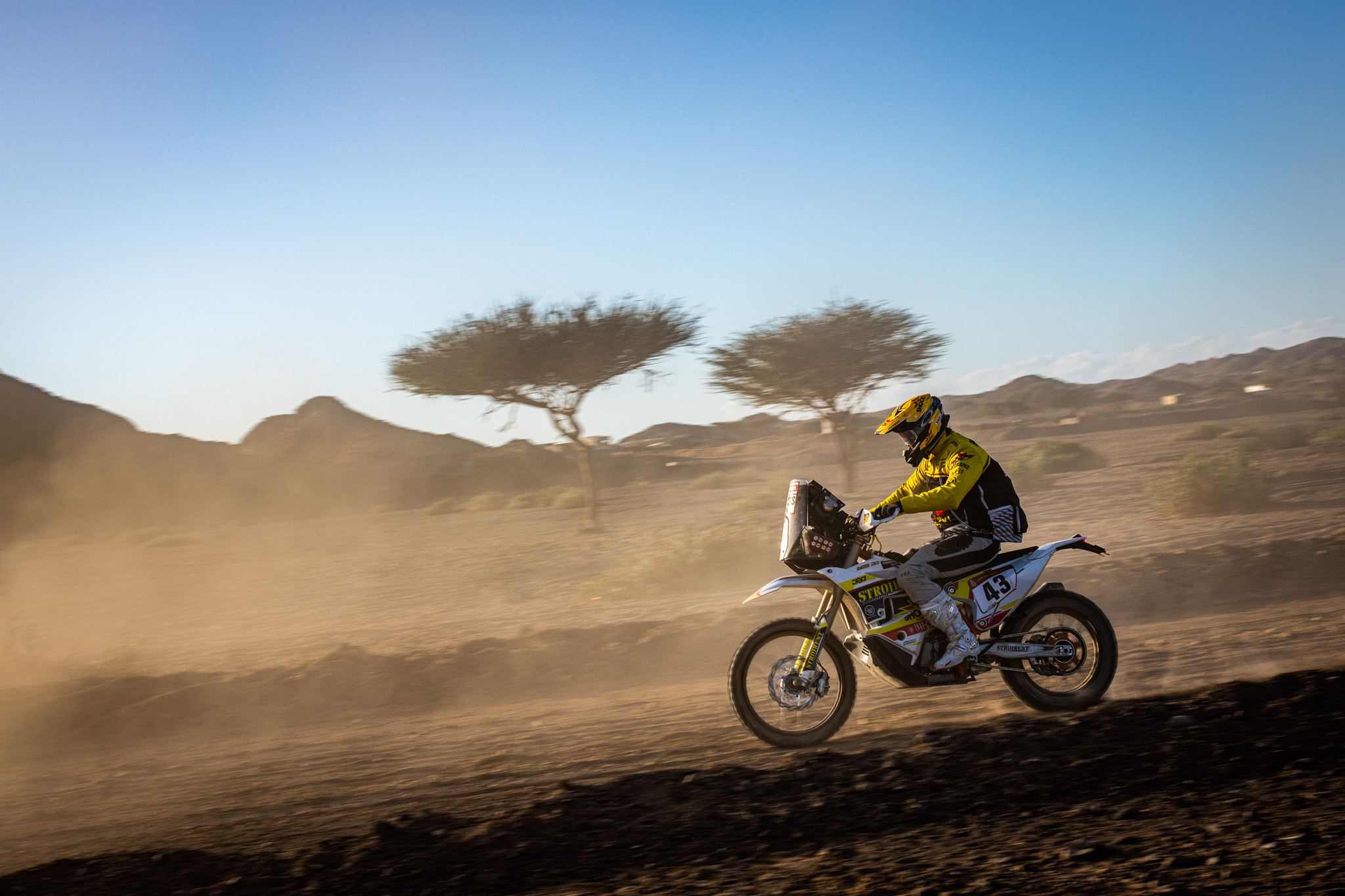 Jan Brabec si ve druhé etapě opět polepšil a do cíle dojel na pěkném 32. místě, celkově drží 31. pozici. A zdá se, že pro Honzu je na Dakaru zatím nejkrušnější brzké vstávání. Motocykloví jezdci vyjíždějí z bivaku nad ránem a kromě toho, že pro zarputilého spáče je náročné probrat se krátce po 3. hodině ranní, na brzkých přejezdech bývá také ukrutná zima. A právě vstávání a zimu Jan Brabec zrovna nemiluje, ozývají se mu železa v jeho nedávno operované noze. "Dneska jsem to objel na jedné noze. Trať byla samá skála. Netlačím na sebe, výsledek po předešlých zdravotních nepříjemnostech neřeším. I proto se mi jede dobře. Navigačně jsem neudělal žádnou chybu. Trochu na sobě cítím, že mi ještě chybí tak měsíc tréninku navíc. Ale aspoň to bude legrace, pojedu na pohodu a budu si to všechno víc užívat," hlásil Jan Brabec z bivaku cestou na zasloužený oběd.
Výsledky 2. etapy
*U hodnocení uvádím Top10, české a slovenské jezdce a jezdce z českého týmu Ondřeje Klymčiwa.
U Skylera Howese byl poté odečten čas za pomoc jinému jezdci a posunul se z 25. místa na 11. místo v etapě a na 16. místo celkově.
| | | | | | | |
| --- | --- | --- | --- | --- | --- | --- |
| P | Č | Jezdec | Tým | Čas | Ztráta | Penalizace |
| 1 | 18 | ROSS BRANCH | BAS DAKAR KTM | 3:39:10 | | |
| 2 | 3 | SAM SUNDERLAND | RED BULL KTM | 3:40:34 | + 00:01:24 | |
| 3 | 5 | PABLO QUINTANILLA | ROCKSTAR ENERGY HUSQVARNA | 3:41:31 | + 00:02:21 | |
| 4 | 7 | KEVIN BENAVIDES | MONSTER ENERGY HONDA | 3:42:50 | + 00:03:40 | |
| 5 | 16 | LUCIANO BENAVIDES | RED BULL KTM | 3:42:54 | + 00:03:44 | |
| 6 | 12 | JOAN BARREDA BORT | MONSTER ENERGY HONDA | 3:44:07 | + 00:04:57 | |
| 7 | 17 | JOSE IGNACIO CORNEJO FLORIMO | MONSTER ENERGY HONDA | 3:45:08 | + 00:05:58 | 0:01:00 |
| 8 | 2 | MATTHIAS WALKNER | RED BULL KTM | 3:45:09 | + 00:05:59 | |
| 9 | 10 | XAVIER DE SOULTRAIT | MONSTER ENERGY YAMAHA | 3:45:18 | + 00:06:08 | |
| 10 | 6 | ANDREW SHORT | ROCKSTAR ENERGY HUSQVARNA | 3:46:10 | + 00:07:00 | |
| 16 | 19 | ŠTEFAN SVITKO | SLOVNAFT RALLY | 3:55:09 | + 00:15:59 | |
| 24 | 29 | MILAN ENGEL | MRG | 4:01:38 | + 00:22:28 | |
| 11 | 59 | SKYLER HOWES | KLYMČIW RACING | 4:03:58 | + 00:07:42 | |
| 29 | 23 | IVAN JAKEŠ | JAKEŠ DAKAR | 4:11:28 | + 00:32:18 | |
| 32 | 43 | JAN BRABEC | BIG SHOCK RACING | 4:17:28 | + 00:38:18 | |
| 33 | 132 | MARTIN MICHEK | MRG | 4:18:10 | + 00:39:00 | |
| 36 | 47 | GARRETT POUCHER | KLYMČIW RACING | 4:22:08 | + 00:42:58 | |
| 50 | 130 | MYUNGGUL RYU | KLYMČIW RACING | 4:31:51 | + 00:52:41 | 0:22:00 |
| 56 | 144 | ROMAN KREJČÍ | IVAR CS TEAM | 5:01:56 | + 01:22:46 | |
| 59 | 52 | PETR VLČEK | PETR VLČEK | 5:13:57 | + 01:34:47 | |
| 106 | 68 | JAN VESELÝ | IVAR CS TEAM | 6:06:17 | + 02:27:07 | |
Celkové hodnocení po 2. etapě
| | | | | | | |
| --- | --- | --- | --- | --- | --- | --- |
| P | Č | Jezdec | Tým | Čas | Ztráta | Penalizace |
| 1 | 3 | SAM SUNDERLAND | RED BULL KTM | 7:05:22 | | |
| 2 | 5 | PABLO QUINTANILLA | ROCKSTAR ENERGY HUSQVARNA | 7:06:40 | + 00:01:18 | |
| 3 | 7 | KEVIN BENAVIDES | MONSTER ENERGY HONDA | 7:06:54 | + 00:01:32 | |
| 4 | 2 | MATTHIAS WALKNER | RED BULL KTM | 7:07:22 | + 00:02:00 | |
| 5 | 9 | RICKY BRABEC | MONSTER ENERGY HONDA | 7:09:33 | + 00:04:11 | |
| 6 | 18 | ROSS BRANCH | BAS DAKAR KTM | 7:09:41 | + 00:04:19 | |
| 7 | 16 | LUCIANO BENAVIDES | RED BULL KTM | 7:11:23 | + 00:06:01 | |
| 8 | 12 | JOAN BARREDA BORT | MONSTER ENERGY HONDA | 7:11:31 | + 00:06:09 | |
| 9 | 1 | TOBY PRICE | RED BULL KTM | 7:12:56 | + 00:07:34 | 0:02:00 |
| 10 | 6 | ANDREW SHORT | ROCKSTAR ENERGY HUSQVARNA FACTORY RACING | 7:14:46 | + 00:09:24 | |
| 18 | 19 | ŠTEFAN SVITKO | SLOVNAFT RALLY | 7:36:49 | + 00:31:27 | |
| 16 | 59 | SKYLER HOWES | KLYMČIW RACING | 7:43:20 | + 00:37:58 | |
| 24 | 29 | MILAN ENGEL | MRG | 7:53:06 | + 00:47:44 | |
| 30 | 132 | MARTIN MICHEK | MRG | 8:11:30 | + 01:06:08 | |
| 31 | 43 | JAN BRABEC | BIG SHOCK RACING | 8:14:23 | + 01:09:01 | |
| 37 | 47 | GARRETT POUCHER | KLYMČIW RACING | 8:32:51 | + 01:27:29 | 0:02:30 |
| 48 | 23 | IVAN JAKEŠ | JAKEŠ DAKAR | 9:04:05 | + 01:58:43 | 0:40:00 |
| 54 | 144 | ROMAN KREJČÍ | IVAR CS | 9:46:56 | + 02:41:34 | 0:05:00 |
| 55 | 52 | PETR VLČEK | PETR VLČEK | 9:51:58 | + 02:46:36 | |
| 47 | 130 | MYUNGGUL RYU | KLYMČIW RACING | 10:04:36 | + 02:59:14 | 1:02:00 |
| 115 | 68 | JAN VESELÝ | IVAR CS TEAM | 12:09:55 | + 05:04:33 | 0:03:00 |