Třetí červnový víkend byl v pražském Auto klubu Markéta uspořádán další podnik letošní sezóny mistrovství světa na ploché dráze. Zároveň šlo již o 23. ročník Velké ceny České republiky na ploché dráze seriálu Speedway GP. O úspěšnosti tohoto podniku také svědčí to, že si závody nenechala ujít spousta diváků, kteří vytvořili skvělou atmosféru.
Zdroj: TZ, Foto: Petr Makušev
Letošní sezóna mistrovství světa na ploché dráze pokračovala o víkendu třetím závodem a co víc, šlo o Grand Prix České republiky. Třetí závodní podnik sezóny byl zároveň již 23. ročník Velké ceny České republiky na ploché dráze a jelo se opět na pražské Markétě.
Závodní víkend začal pátečními tréninkovými a kvalifikačními jízdami, které ovládl švédský závodník s brazilskými kořeny Antonio Lindback. Díky tomu si mohl vybrat svou startovní pozici pro sobotní závod české GP, takže doufal, že dobré místo na startu zúročí hlavně při boji v první zatáčce. Druhý nejlepší čas zajel dánský jezdec Leon Madsen a třetí skončil byl britský šampion Robert Lambert. Všichni jeli velice vyrovnané časy a rozdíly byly v setinách vteřiny. Český závodník Václav Milík, který startoval na divokou kartu, obsadil 16. pozici. Kromě něj se slavnostního nástupu jezdců zúčastnili i Zdeněk Holub a Ondřej Smetana, kteří byli připraveni do závodu zasáhnout jako traťové rezervy.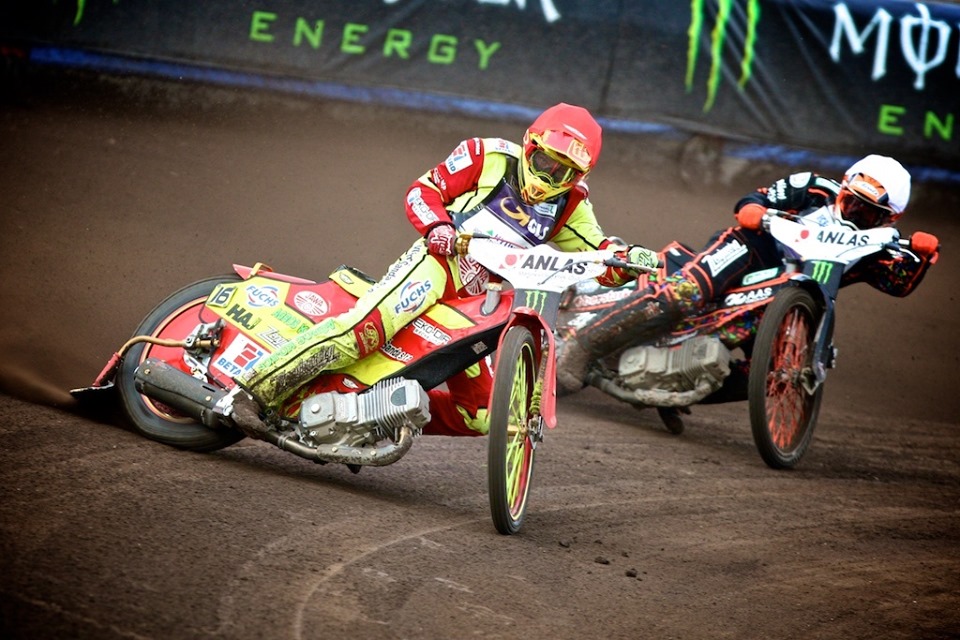 Celý závodní víkend vyvrcholil sobotními závody, které samozřejmě patřily mezi to nejlepší, co můžeme u nás na ploché dráze vidět. Vyprodaný areál sledoval vítězství ve finálové jízdě polského jezdce Janusze Kolodzieje. Na místě druhém skončil Leon Madsen a stupně vítězů doplnil Patryk Dudek, který je zároveň v celkovém hodnocení šampionátu Speedway Grand Prix. Václav Milík vybojoval čtyři body a celkově obsadil dvanáctou pozici.
Kromě pražských závodů se odjel také druhý závod seriálu mistrovství světa na dlouhé ploché dráze, který se jel v La Reóle ve Francii. Závod vyhrál německý reprezentant Martin Smolinski. Místo druhé obsadil domácí Dimitri Bergé a třetí pozici britský jezdec Chris Harris. Českým barvám tento závod moc nevyšel, když Martin Málek obsadil 11. místo a o dvě pozice dál skončil Josef Franc.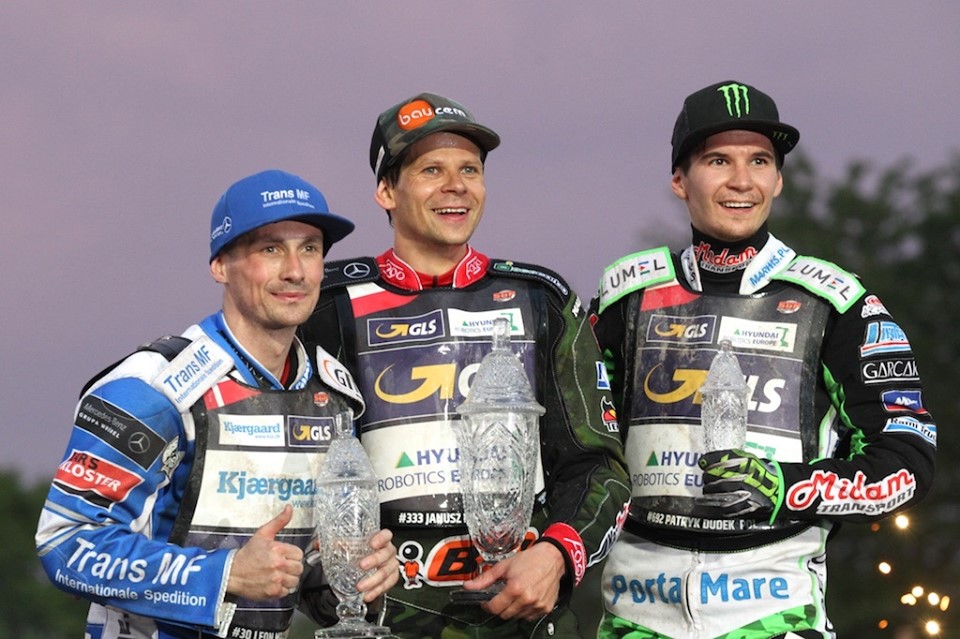 Petr Moravec – předseda komise ploché dráhy AČR
"Při pražské Grand Prix se opět ukázala kvalitní práce našich pořadatelů. Závody skvěle zvládli a potvrdili svoji vysokou kvalitu. Tak závod také hodnotila i mezinárodní Jury na čele s nejvyšším představitelem ploché dráhy FIM, kterým je Ital Armando Castagna. Problémem bylo samozřejmě počasí a předpověď s vysokou pravděpodobností srážek. Ta se naštěstí naplnila až po skončení závodu, proto musela být připravena tvrdší dráha a samozřejmě to částečně negovalo výběr závodních drah po pátečním tréninku. I tady se však ukázala zkušenost pořadatele, protože bodové zisky z jednotlivých drah byly nakonec zcela srovnatelné. To znamená, že nikdo nezískal žádnou výhodu."
"Česká plochá dráha však už jde dál k sobotnímu boji juniorů o nejlepší dvojici Evropy v Plzni. Ano, jsme pořadatelská velmoc, kluby žádné jiné federace nepořádají v pětatřiceti dnech pět závodů mistrovství světa a Evropy. Navíc vždy s výborným ohodnocením, tak jako nyní v Praze."
Příští závody Speedway Grand Prix se jedou ve švédském Hallstaviku 6. července 2019. U nás se pojedou další závody již 19. 6. 2019, kdy se ve Slaném pojede MMČR na ploché dráze družstev Extraliga. Na ty ve Slaném v sobotu navážou závody ve Flat track. Kromě toho se 22. 6. 2019 pojede finále evropského poháru dvojic juniorů v Plzni.