Valentino Rossi promluvil pro oficiální web MotoGP o letošní sezóně, dalších jezdcích Yamahy a budoucnosti po příštím roce.
Zdroj: MotoGP
Letošní sezóna nebyla pro Valentina Rossiho tou nejlepší v jeho bohaté kariéře. Dosáhl sice milníku 400. Grand Prix, nicméně výsledky nejsou takové, jaké očekával. V tuto chvíli je na průběžném 7. místě se 166 body, kdy do konce sezóny zbývá už jen jeden závod. Právě o letošní sezóně, problémech, kolezích na Yamahách, ale i budoucnosti, promluvil v krátkém rozhovoru pro MotoGP.com.
"Samozřejmě, že letošní sezóna byla těžká," zahájil Valentino Rossi svou řeč o letošním roce. "Nebylo to takové, jak jsme očekávali. Nebyl jsem dostatečně silný ani rychlý. Na motorce jsem se necítil dobře a v tuto chvíli jsme v těžké situaci, výsledky mluví za vše. Hodně jsem mluvil s inženýry o elektronice, hlavně o akceleraci a brzdění motorem. Problém se změnil a stal se standardním pro nás všechny, co používáme elektroniku Magneti Marelli. Vypadá to, že naši inženýři měli s tímto problémem ještě větší potíže a bylo to jako bychom mluvili jiným jazykem. Další problém je motor… Můžete si koupit výkon, můžete si koupit vývoj… Do motoru musíte investovat peníze a čas. Dalším problémem je to, že s tím bojuji více, než Maverick. Vypadá to, že potřebuji trochu něco jiného, než on, ať už je to v aerodynamice nebo něčem jiném, protože mám větší problémy v maximálce."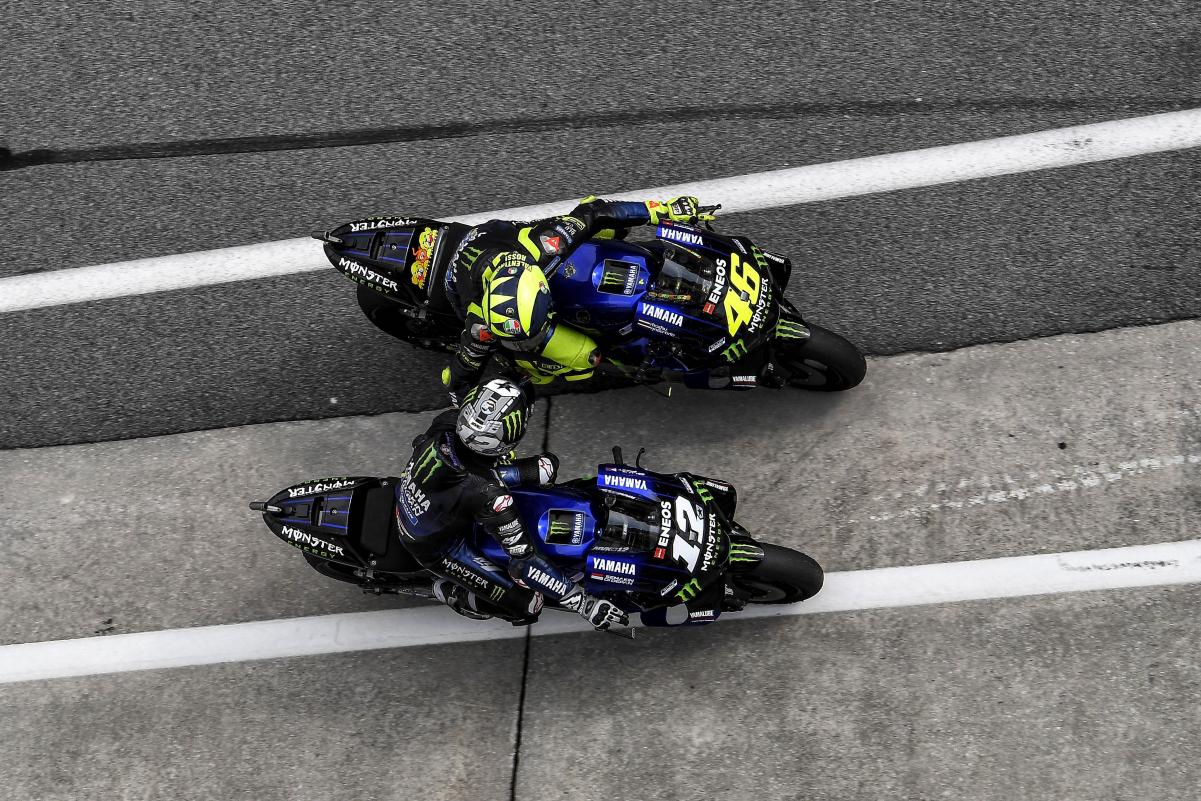 Velice dobrý vstup do královské třídy letos předvedl Fabio Quartararo, který jako nováček a na satelitní Yamaze často bojuje o pole position a stupně vítězů. Dobré výsledky zaznamenal i Valentinův týmový kolega Maverick Viñales. K tomu Ital říká: "Vypadá to, že jsou na tom lépe, než já. Jsou v lepší formě a vypadá to, že jim letošní motorka lépe vyhovuje. Maverick i Fabio jsou velice silní. Myslím, že spousta lidí očekávala, že bude Fabio Quartararo konkurenceschopný, ale určitě ne takhle. Někdy jsou zkušenosti dobré, ale někdy také ne. On začal od nuly a je schopný jen na motorce velice dobře. Je precizní a skvěle brzdí. Myslím si, že je to také tím, že se projevil jeho talent. Určitě je pro Yamahu důležité, aby Fabio jezdil i v budoucnu na M1."
Valentino Rossi také mluvil o blízké budoucnosti po konci letošní sezóny ve Valencii, kdy jezdce čekají důležité předsezónní testy. "Mluvil jsem s inženýry a vypadá to, že chápou, že do toho potřebují vložit úsilí, peníze, další inženýry atd., aby se pokusili stáhnout ztrátu. Vypadá to, že pokud budeme pokračovat v tomto vývoji, už se nikdy nedostaneme dopředu. Potřebujeme něco víc. Abychom poznali, zda to tak je, tak to uvidíme během této zimy a v příštím roce. Máme před koncem sezóny dva velice důležité testy – po Valencii a v Jerezu. Tam uvidíme, jak na tom jsme. Pro mě osobně to bude hlavně o tom co nejvíc pracovat s Davidem, který bude mým novým šéfmechanikem. Chceme vyzkoušet jiné věci, které by měly lépe fungovat. Pro mě bude důležité, abych poznal, zda jako tým dokážeme pracovat. Poté uvidíme, jaké to bude v příštím roce – hlavně při únorovém testu v Sepangu. Tam si myslím, že lépe poznáme potenciál nové YZR-M1 pro rok 2020. Bylo pro nás důležité otestovat nový prototyp již při testech v Brně. Novou motorku jsme již dvakrát testovali a poznali jsme, co je na ní lepší, než na té staré a co je horší. Doufám, že bude tento prototyp trochu jiný v porovnání s tím letošním. Upřímně, tento prototyp je něčím mezi. Už máme data, najeté kilometry a myslím, že v této práci musíme pokračovat, protože tak určitě pracuje i Honda a Ducati. Je to znamení, že Yamaha může být v příštím roce silná."
Samozřejmě, že je velkou otázkou, zda bude Valentino Rossi ve své kariéře dál pokračovat.
"Všechno bude záležet na výsledcích. Pokud budu silnější, než letos nebo budu bojovat o stupně vítězů, budu se snažit pokračovat. Pokud ne, tak uvidím. Hodně to záleží, jakou budu mít rychlost," uzavřel Valentino Rossi.