O druhém prázdninovém víkendu, 13. – 14. července 2019, se na okruhu Motorland Aragón konaly po páté závody Mistrovství světa juniorů FIM CEV Repsol. Čtrnáctiletého Ondřeje Vostatka, který je letošním nováčkem v prestižní kategorii Moto3, přijel do Aragonu podpořit tento víkend jako coach rider Karel Hanika.
Zdroj: TZ
Účastníci světového šampionátu absolvovali první tréninky ve čtvrtek a v pátek. Jezdci kategorie Moto3 začínali podle programu vždy ráno, kdy byly nejlepší podmínky z celého dne, protože jinak na trati panovalo velké horko a trať měla okolo 60 stupňů. Během celého tréninku řešil Ondřej Vostatek s týmem problémy s gripem a optimální nastavení podvozku. I přes to se každý trénink dokázal posunout dopředu a pod dohledem Karla Haniky postupně zlepšoval svůj čas na kolo.
V první sobotní kvalifikaci, která se jela ráno, byly lepší podmínky pro zajetí dobrého času než odpoledne. Ondrovi první kvalifikace bohužel nevyšla úplně dobře takticky a obsadil 29. místo. Odpoledne díky vysokým teplotám už nezrychlil a skončil nakonec na 31. místě.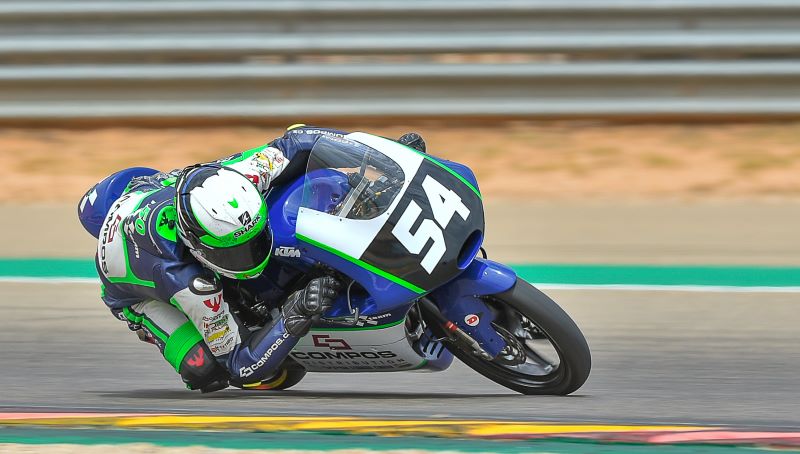 V závodě měl Ondra pomalejší start a propadl se o dvě až tři pozice dozadu. Hned v úvodu závodu a v první zatáčce došlo vpředu k pádu dvou jezdců a celé pole tím pádem zpomalilo a zhoustlo. Ze zadních pozic nebylo žádné místo na předjetí a možnost dostat se rychle dopředu. Ondřej se pokoušel probojovat dopředu prvních pět kol, než se pole roztrhalo na menší skupinky. V zatáčkách se mu dařilo soupeře předjet, ale na rovinkách mu to soupeři zase vrátili. Nedařilo se mu získat větší rychlost ani ze slipstreamu. Nakonec Ondra bojoval ve skupince o 25. místo, kde se neustále měnilo pořadí jezdců. Do posledního kola jel o 25. místo, které držel do poslední zatáčky před cílem. V poslední zatáčce ho zezadu atakoval soupeř na zadní kolo a Ondřej skončil těsně před cílem na zemi a závod pro něj tímto skončil.
Ondřej Vostatek
"Myslím, že ten agresivní útok v závěru byl naprosto zbytečný a můžeme být rádi, že jsme oba v pořádku. Mám naštěstí jen pár odřenin. Takže větší štěstí, než někteří kolegové z týmu. Jinak pro mě bylo úplně skvělé tento víkend pracovat s Karlem Hanikou, který mi dokázal hodně poradit a doufám, že bude ještě nějaká další možnost spolupracovat. Mám teď před sebou měsíční pauzu, během které se budu i nadále připravovat, abych mohl podat co nejlepší výkon. Závěrem bych chtěl určitě moc poděkovat za podporu všem, kteří mi fandí a věří mi. Díky moc!"