O uplynulém víkendu se odjely závody IRRC v Chimay, při který se také jely závody belgické Twin Trophy. Závodů se zúčastnil Petr Najman, který pro české barvy získal dvě umístění na stupních vítězů a co víc, nebyl daleko od vítězství.
Úřadující mistr České republiky ve třídě Twin Petr Najman se kromě našich závodů účastní také závodů v zahraničí. Letos jsme ho mohli vidět například v holandském Hengelu, kde oslavil vítězství a poslední červencový víkend zavítal do belgického Chimay. Zde se jely závody mezinárodního road racingového šampionátu IRRC, při kterých se opět pořádaly závody Belgian Twin Trophy.
Jak bývá pro Chimay typické, jezdce zde přivítaly opravdu vysoké teploty pohybující se nad 40°C. Během víkendu se nakonec ochladilo a bylo přes 30°C. I přes to, že se Petrovi nevydařil start do prvního závodu, dokázal se dostat do boje o vítězství a nakonec z toho bylo těsné třetí místo. Ve druhém závodě jeli Twinaři spolu s historickými Superbiky, takže bylo těžší se přes ně dostat. Jezdec týmu North Czech Riders ale nakonec opět bojoval vpředu a v cíli oslavil druhou příčku.
Nyní se Petr Najman připravuje na účast při srpnových závodech v Hořicích při závodech IRRC ve třídě Supersport. Zde se představí v sedle Triumphu Daytona 675.
Petr Najman
"S mojí účastí v Chimay to bylo nejisté a rozhodl jsem se na poslední chvíli. Po loňské zkušenosti jsem věděl, že tam bude velice silná a rychlá konkurence. Vzhledem k jiným pravidlům mají vyšší objem motorů, k tomu je to velice rychlá trať s dlouhými rovinkami. Nakonec jsem se rozhodl, že pojedu, abych nestál a hlavně jezdil. Očekávání nebyla velká a počítal jsem s pozicemi kolem pátého místa, tak jako loni. Po příjezdu nás přivítalo typické Chimayské počasí se 44°C, takže byl celý den po vybalení zázemí a přejímkách hlavně o přežití a osvěžování se.
V pátek se počasí umoudřilo a bylo o 10°C méně, takže "jen" 34°C. Nastoupil jsem do prvního měřeného tréninku, kde jsem obsadil druhé místo. To mě překvapilo, ale bylo znát, že mi oproti loňsku motorka lépe funguje, byla rychlejší. Za to bych chtěl poděkovat Honzovi Pavlíčkovi, který mi na letošek připravil motor a oproti loňsku to bylo na této trati znát. První kvalifikaci jsme jeli na suchu, což jsem dokázal vyhrát přibližně o dvě vteřiny. Poté přišla studená fronta a začalo pršet, takže jsem se rozhodl, že ani druhou kvalifikaci nepojedu. Bylo mokro, pršelo a nechtěl jsem riskovat pád. Díky první kvalifikaci jsem startoval pole positon.
V neděli jsme se opět probudili do mokrého počasí, ale už to vypadalo, že pršet nebude. Trať byla taková půl na půl, takže jsem do prvního dopoledního závodu zvolil mokré pneumatiky. To se nakonec ukázalo jako chyba, protože trať začala během závodu rychle osychat. Start se mi moc nepodařil a ztratil jsem kontakt s prvními jezdci. Během dvou kol se mi je podařilo dotáhnout a začali jsme společně bojovat. Neustále jsme si měnili místa od prvního do třetího a jeli v rozdílu půl vteřiny. V předposledním kole jsem byl první s lehkým náskokem, ale tím, že jsem jel na mokrých pneumatikách a trať už byla přibližně ze 70% suchá, tak jsem dostal highsidera na výjezdu na cílovou rovinku. To mě hodně rozhodilo a během toho mě ostatní opět předjeli. V posledním kole se mi podařilo zpátky dostat na druhé místo a do poslední zatáčky jel bok po boku s prvním. Opět jsem ale na výjezdu dostal dalšího highsidera, vyjel z dráhy a oba mě předjeli. Závod jsem dokončil na třetím místě, což mě trochu mrzí, protože vím, že to mohlo být lepší. I tak jsem v závodě získal hodně zkušeností, protože to byly parádní souboje.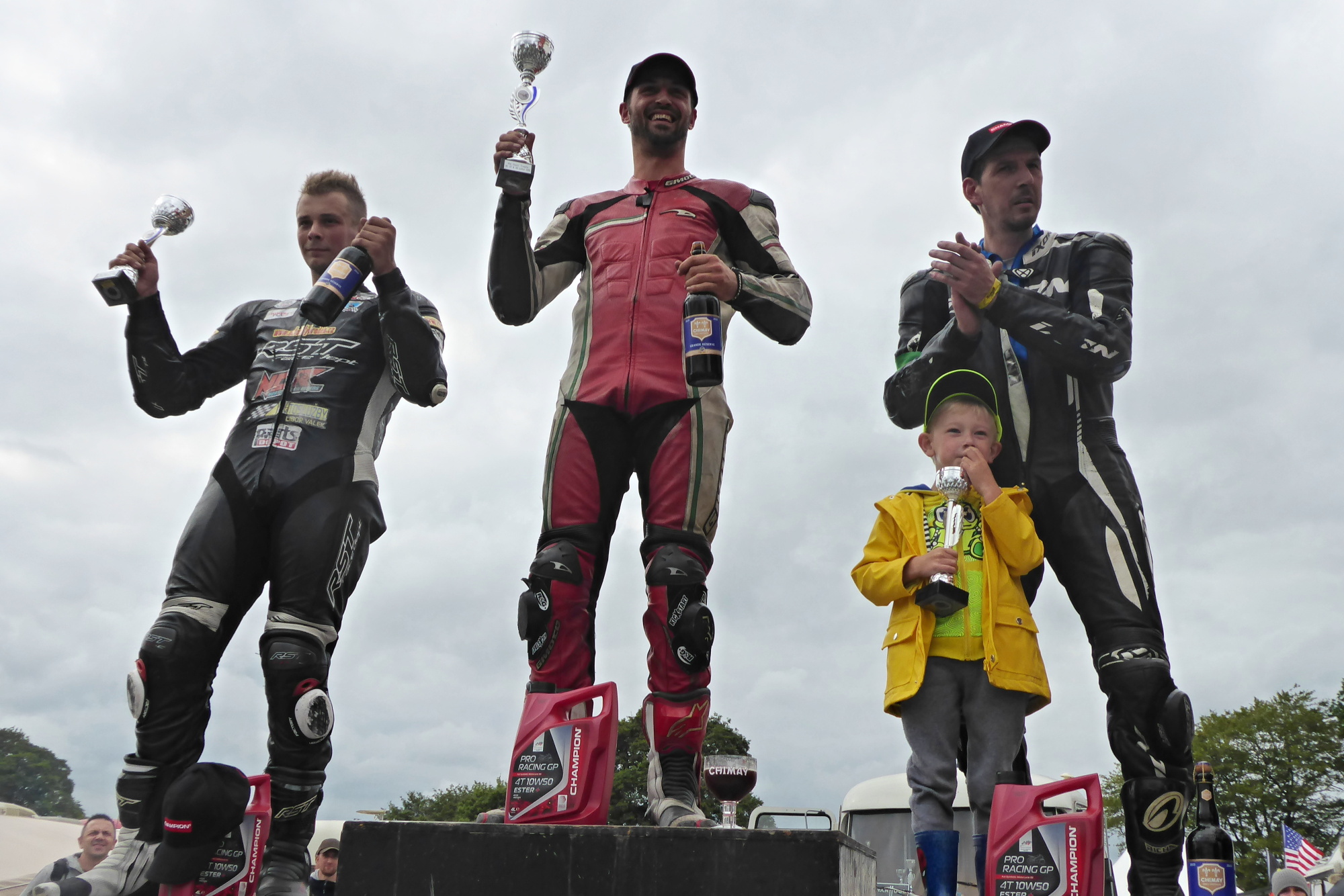 Druhý závod se jel úplně na suché trati. Start se mi podařil lépe, ale jelikož nám spojili závod se starými Superbiky, tak se nám tam v první zatáčce připletli a mě předjeli dva jezdci. Jel jsem tak na pátém místě. Přibližně dvě kola mi trvalo, než jsem se přes ně dostal, ale po zbytek závodu jsem vedl souboj s Jeromem Varletem o druhé místo. Dvě kola před koncem se mi ho podařilo předjet a vytvořit si náskok a do cíle jsem dojel druhý. První jezdec si jel víceméně závod se Superbiky, protože na suchu byla jeho Ducati 749 výkonnější. Oproti trati v Hengelu, která je techničtější a kde se s ním dá jet, mu v Chimay pomáhaly dlouhé rovinky.
Závody hodnotím jako velice vydařené. Počasí se nakonec umoudřilo a oproti loňskému pátému a šestému místu jsem nyní skončil dvakrát na stupních vítězů, když jsem získal druhé a třetí místo ve velké konkurenci. Navíc se oba závody jely v soubojích. To by se mi líbilo i v našich závodech, kdy by bylo v každém kole pokaždé jiné pořadí a jelo nás vpředu více. Nyní se o víkendu chystám na testování do Mostu s motorkou, kterou budu mít půjčenou na IRRC v Hořicích do třídy Supersport. Jde o Triumph Daytona 675 od Pavla Nováka. Za dva týdny se pak uvidíme v Hořicích, tak mi přijďte fandit."