Rodák z Mělníka a automobilový závodník Tomáš Pekař se naplno připravuje na letošní sezónu. Ta začala vítězstvím v Dubaji, následovaly testy a nyní už je jen kousek od ostrého startu sezóny v dalších šampionátech.
Zdroj: Tomáš Pekař
Ahoj Tomáši, letošní sezóna už se rozjela závody v Dubaji, jak je hodnotíš?
"Ahoj Evo, sezóna pro mě začala již v lednu vytrvalostním závodem v Dubaji. Německý team BASEGROUP koupil nové "náčiní" BMW M4 GT4, a tak jsme přesedlali z loňského Mercedesu GT4. Dubaj je vždy trochu speciální, ať jde o prostředí dubajských písků nebo o možnosti jezdit v lednu v teple. Do závodu jsme nastupovali s ambicemi na pódium, ale náš sen a cíl bylo samozřejmě vítězství, které se s notnou dávkou štěstí nakonec podařilo. 24 hodin je opravdu velký test techniky a nás jezdců, takže mě úspěch opravdu těší a je to krásný start do nadcházející sezóny."
Před pár dny jsi byl na testech a nyní jsme v Mugellu, co jste testovali?
"Po Dubaji jsem se účastnil dvou testů s Renault Megane TCR ve Španělsku a Anglii. V anglickém Bedfordu s námi testoval pilot F1 Daniel Ricciardo, což byla opravdu zábava a příjemné zpestření. Následně jsem potrénoval s monopostem LMP3 v Barceloně. Před pár dny jsem byl ve Spa Francorchaps, kde jsem se letos poprvé svezl s Renaultem Clio Cup a odtud přeletěl přímo sem do Mugella na další závod 24H Series s BMW. Tím začíná ostrá sezóna."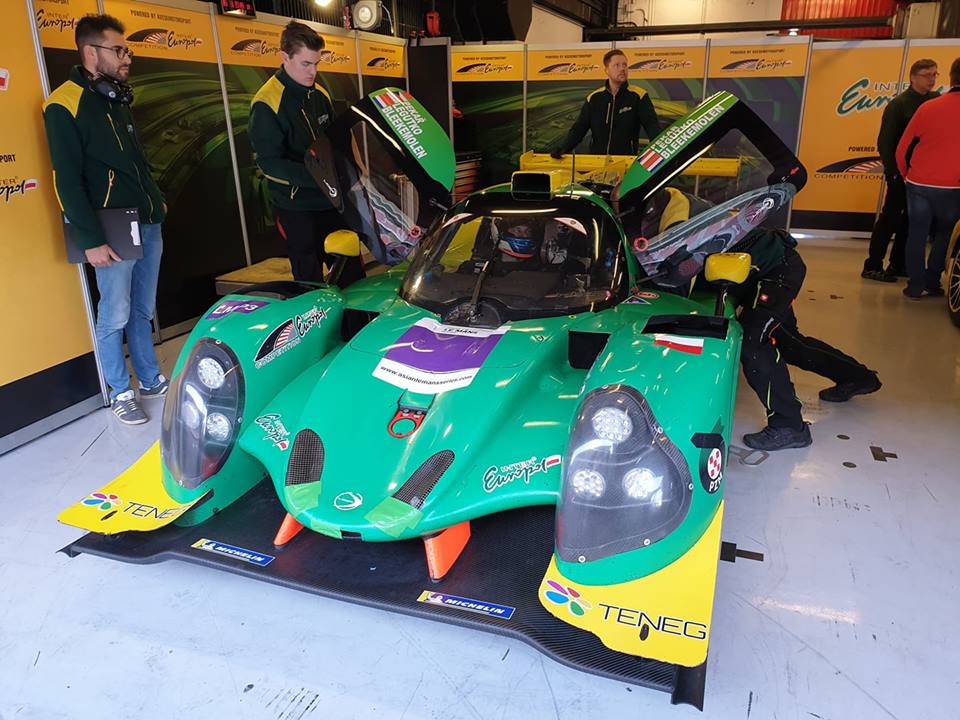 Můžeš nám představit trochu blíž svou letošní závodní techniku? Je v něčem jiná oproti loňsku?
"Letos jedu tři kompletní seriály: 24H series s BMW M4, TCR Eastern Europe s R. Megane TCR a R. Clio Cup Central Europe. Třešničkou na dortu je pro mě domácí závod na Mělníku v centru města, kde startuji s vozem Peugeot 306 MAXI."
Budou ještě nějaké testy během sezóny?
"Máme v plánu odjet několik testů s vozem TCR a Clio Cup. Před sprintovými závody je důležité mít auto naladěné na daný okruh, což v závodním víkendu není možné úplně zvládnout, protože jsou k dispozici jen dva tréninky. U vytrvalostních závodů není rychlost a nastavení na jedno kolo tak důležitá, tam jde spíš a perfektně připravenou startegii a po konstantním výkonu dovést auto do cíle bez nehody."
V motorismu to není jen o jezdci, ale i týmu, který dobře připraví techniku, případně dalších jezdcích, jaké máte cíle pro letošek?
"Ve vytrvalostních závodech jedu s teamem Besaplast, který je složen ze 3-4 rychlých jezdců, kteří reprezentují a propagují tuto stáj. Moje specializace je ale spíš sprintová v závodech na půl hodiny, kde musíte ze sebe i z auta vyždímat maximum. V těchto závodech je velice důležitá kvalifikace a příprava na ní. Když na startu stojíte v šesté řadě, máte jen velmi malé šance na to být na pódiu. S Megane TCR to pro mě bude letos premiéra. Jedu pod hlavičkou švýcarského teamu Vukovic motorsport, ale auto pro mě a stájového kolegu si budeme s jejich podporou připravovat sami. Tým zajistí auta, materiál a startovné. Dopravu a servis budou dělat moji lidé z mělnického Carpek Service. S Clio Cupem je to zase jiné. Carpek se v této soutěži pohybuje řadu let, vychoval mnoho závodních talentů z celé Evropy a mimo vlastních tří aut spolupracuje s dalšími týmy a jezdci. Z pohledu náročnosti a obsahu je to opět nejdůležitější projekt pro sezonu 2019."
Když se ohlédneme zpátky na tvou bohatou závodní kariéru, který úspěch byl pro tebe zásadní?
Asi úspěšné začátky v Octavia Cupu a poté v Clio Cupu od roku 2011, kde po mých výsledcích dal vzniknout mému týmu Carpek Service. Tam to všechno začalo. Kdybych měl zavzpomínat na konkrétní víkendy, tak musím vyzdvihnout třeba Nürburgring Nordschleife před 24h závodem, kde na stráních sedí 240tis. diváků nebo plné tribuny v Mostě při Truck Grand Prix. Divácká kulisa je to, co mě opravdu baví a naplňuje."
Čeho bys chtěl jednou dosáhnout? Co je tvým snem?
"Z pohledu závodníka bych se rád dostal do kategorie cestovních vozů GT3, která má dlouhodobě vysokou sportovní i technickou úroveň. Z pohledu mého tým bych chtěl vybudovat profesionální zázemí pro jezdce a jejich vozy. Uvidíme, jak se mi oba cíle vyplní. Udělám pro to maximum."
Máš raději vytrvalostní nebo sprintové závody?
"Vyrostl jsem na sprintových závodech a tento druh závodění je mi bližší. Cítím větší porce adrenalinu, moje koncentrace a preciznost musí být maximální po celou dobu závodu. Předjíždění a bránění pozice je těžší, soupeři vám nic nedarují a ke kontaktům na dráze dochází velmi často. Vytrvalostní závody mám rád pro jejich týmového ducha, střídáte se v autě s dalšími piloty, společně auto nastavujete a řešíte strategii pro zastávky v boxech atd."
Máš nějaký rituál před závodem?
"Hodinu před jízdou už nejím žádné jídlo a pak se jdu obléct. Jinak se snažím nepřipouštět si tlak a dělat běžné věci spojené s přípravou auta a mým vybavením až do poslední chvíle."
Děkuji za rozhovor a přeji hodně štěstí do sezóny!
"Také děkuji za rozhovor."