Ve španělském Aragónu tento víkend vrcholí letošní sezóna šampionátu Red Bull MotoGP Rookies Cup, kde jezdce čekaly dva závody. Filip Salač v tom dnešním celou dobu bojoval ve skupině jedoucí o stupně vítězů, ale pět kol před cílem po chybě soupeře spadl a veškeré naděje na dobrý výsledek se rozplynuly.
Zdroj: TZ, foto: rookies cup – G&G, vlastní
Sobotní program na okruhu v Aragónu ve Španělsku ukončili jezdci seriálu Red Bull MotoGP Rookies Cupu, které čekal první ze dvou závodů tohoto víkendu. Do něj startoval český závodník Filip Salač z pěkného třetího místa, takže mohl zůstat v kontaktu s největšími soupeři. Během závodu se držel ve vedoucí skupině, která bojovala o vítězství a zbylé pozice na stupních vítězů.
Filip Salač si své konkurenty hlavně kontroloval a chystal se zaútočit v závěru závodu. K tomu nakonec nedošlo, protože před ním spadl jeden ze soupeřů, kterému se už nemohl vyhnout a skončilo to pádem. Motorka se při tom poškodila, takže s ní nemohl dál pokračovat. Kvůli tomu Filip přišel nejen o pěkný výsledek, ale hlavně o šanci získat dobrý počet bodů do celkového hodnocení, kde do té chvíle bojoval o druhé místo.
Zítra Filipa čeká poslední závod sezóny tohoto šampionátu, ve kterém může ještě zabojovat o zlepšení výsledné pozice.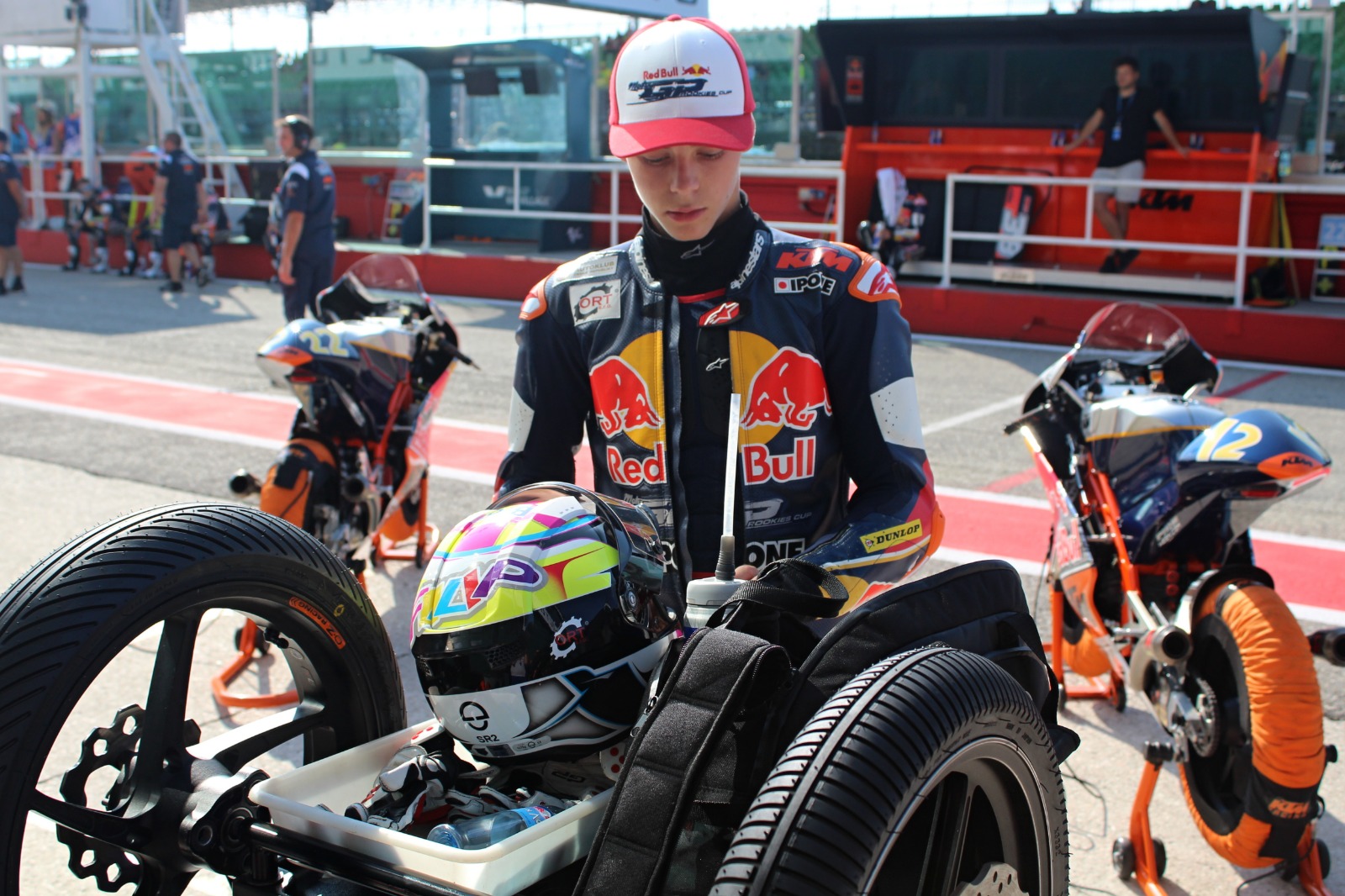 Filip Salač bezprostředně po závodě uvedl: "Start do závodu se mi moc nepovedl, ale poté jsem se to snažil rychle dohnat. Celý závod jsem se držel na třetí, čtvrté pozici a víceméně to kontroloval, protože byl závod dlouhý. Je tu velké horko, takže jsem šetřil pneumatiky i sebe a snažil se držet kolem zmíněného třetího místa. Zkoušel jsem si předjíždět a všude to šlo.
Poté mě ve "vývrtce" jeden jezdec předjel, ale na výjezdu ze zatáčky dostal highsidera a spadl mi přímo pod kola, takže jsem trefil jeho motorku a spadl. S mojí motorkou už jsem nemohl dál pokračovat, protože se zlomilo řidítko. Do zítra zkusíme zlepšit nastavení podvozku, aby to bylo ještě lepší, protože jsem měl během závodu trochu problémy s předkem. Doufám, že to zítra vyjde a udělám pro to všechno."
Dobrou zprávou je, že se Filip při pádu nezranil a zítra bude moci naplno závodit, když říká: "Jak jsem při pádu skočil přes jeho motorku, spadl jsem z docela velké výšky na bok. Ten jsem si narazil a nyní je trochu oteklý. Do zítra to budu ledovat, snad dostanu nějakou mastičku, ale v závodě mě to určitě limitovat nebude."
Zítřejší závod bude odstartován v 15:30 SEČ, pojede se opět na 15 kol a sledovat ho můžete na redbull.tv.